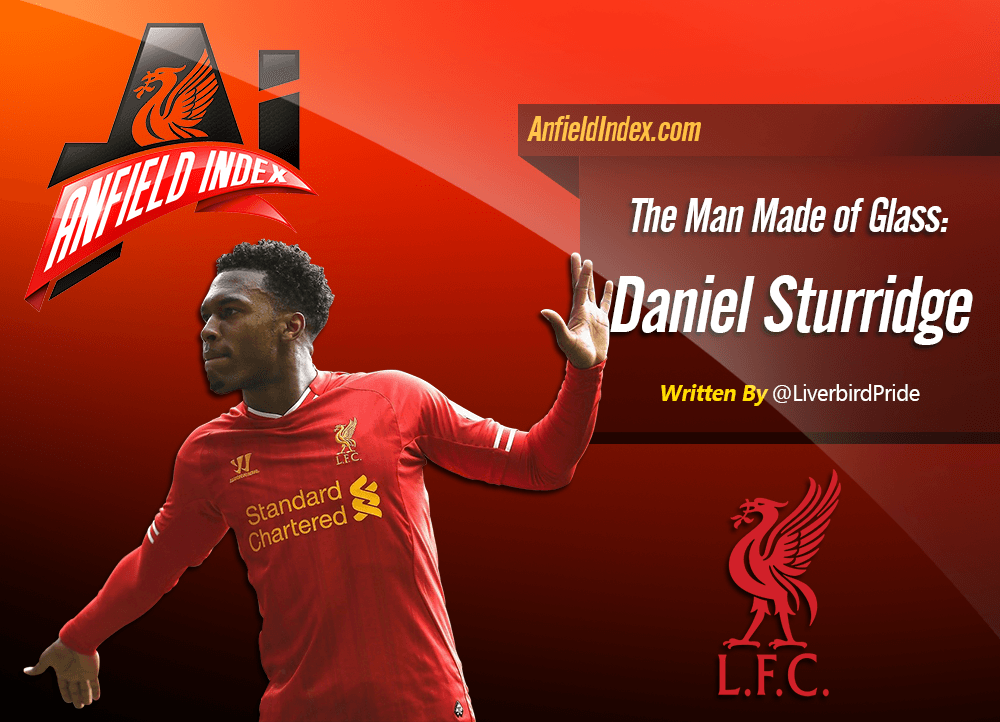 The Man Made of Glass | Daniel Sturridge
Against Aston Villa on Saturday, it was evident we lacked 'something' up front. I feel Sturridge is that 'something' – as well as Sterling, but he was on the bench.
On Friday the 5th of September 2014, English striker Daniel Sturridge, Liverpool's most prolific goal scorer in his first 50 games in the Premier league era, was declared injured with a thigh strain for up to three weeks*. *(If Sturridge is unfit for the entirety of three weeks, it would mean that he misses all games up to October 1st and would miss the Merseyside Derby.)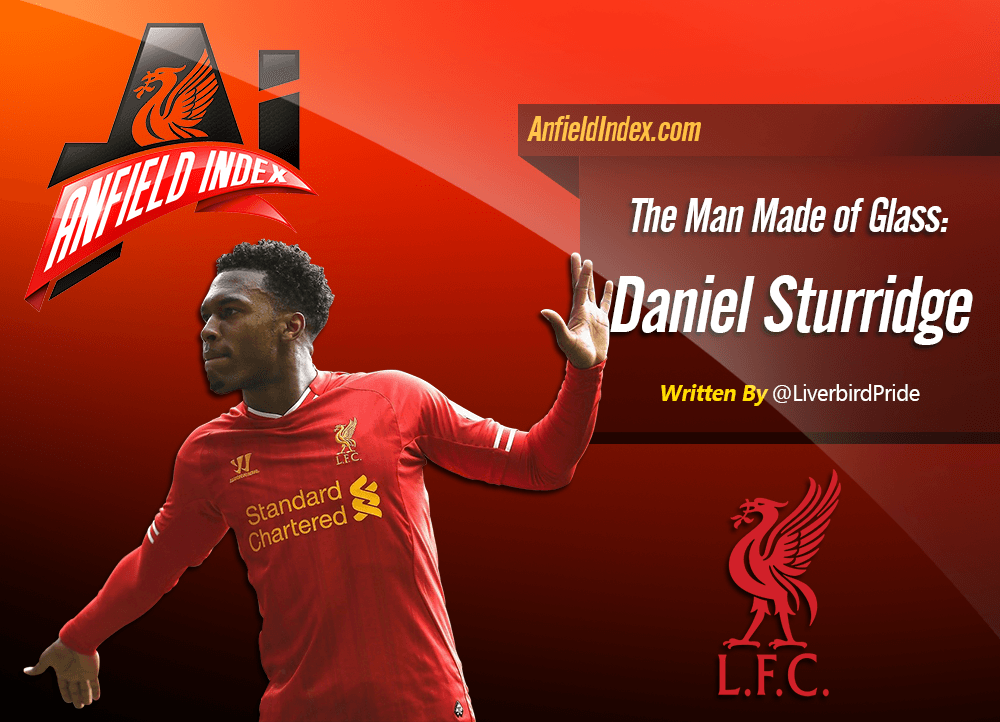 This was picked up on the dreaded international 'break' when Roy 'Vine hero' Hodgson did not follow Sturridge's specific training scheme on Friday morning, the same week he completed 90 minutes for an England international friendly against Norway.
Injury Record:
Without question Sturridge is one of the most injury prone players in the league currently. Almost every Liverpool fan and staff alike is getting knowledge of the fact that Sturridge is injury bound at least once per season. In his first full season for Liverpool in fact he suffered an ankle ligament injury keeping him out for about 2 months and again with a hip/thigh injury keeping the striker on the side-lines for approximately 13 days. Since then he has been ruled out on two more occasions (including this current one.)
His record for Chelsea and Manchester City is surprising also, showing that his hamstring is a re-occurring problem.
Specific Training Regime:
On the 12th of September, Brendan Rodgers admitted that he and Sturridge knew that the training regime for the England set-up was not going to maintain his fitness and that the injury was totally avoidable. It is reported that Sturridge was speaking to Hodgson regarding his regime but this was ignored, leading to the pull-up of his thigh.
Sturridge was started and completed a full 90 minutes in England's 1-0 victory against Norway and Rodgers was quoted as saying;
"From images I've seen, Daniel's actually sprinted with the ball nearly 50 yards, three-quarters of the pitch, to shoot and that's when he pulls up"

"That's where the issues are. We're obviously disappointed because we feel it could have been prevented."

"You can't wrap a blanket around the players and think they'll all be better, some players are different"
This specific regime Rodgers has spoken previously consists of the usual next day rest, and importantly for Sturridge, the 48 hour break post-match. It seems this is the perfect method to keep our main man fit as since it has come into effect he has not been  injured maliciously (until he went to play for England again).
Liverpool look set to be compensated for the loss of Sturridge as the FA prepare to pay het Reds up to £200,000 – three weeks of Sturridge's wages.
Coping without the man himself:
Transfers:
The many doubters of the Mario Balotelli transfer to Liverpool FC have surely been silenced. Had we not purchased Balotelli we would be reliant on one of three options;
1. Relying on Lambert (who is a good player) but mostly does not play our system.
2.  Relying on Borini (who again is a good player) but is not the man to lead our line.
3.  Bringing in a player in a panic decision, on possible high wages (e.g Bony).
Balotelli is a proven goal scorer, netting a total of 26 goals in 37 starts for AC Milan. His work rate seemed to be an issue, although he had the one of the highest number of presses against Tottenham with 18 pressing actions.
Brendan Rodgers frequently compliments Liverpool's commitment in the summer transfer window, bringing in many young or exciting talents. five of which are attackers (excluding Lambert and Balotelli).
Lazar Marković is an up and coming forward who is "destined" to be a world beater. Lazar will undoubtedly be an excellent addition and in Sturridge's presence may have a very important role to play.
Adam Lallana is a great addition (although the price wasn't great) he will be a fantastic option to add to our attacking line. His goalscoring and assist-making are well needed necessities to fill the void of Sturridge's absence
Divock Origi on loan at Lille for a season is risky – but good – business at the same time. He clearly has bags of ability and is only 19 years old. Until he plays for Liverpool, none of us can be certain whether he would be the next man to be Sturridge-esque.
Formations and Tactics:
It is evident that Liverpool FC adopted many formations over the past three years under Rodgers. A certain fan favourite however, is undoubtedly the 4-4-2 diamond. With the players at our disposal, it is unclear why Rodgers doesn't decide to use this tactic consistently. The last eight games Liverpool played while deploying the diamond formation have resulted in seven wins, one draw and of course no defeats. During this period we have netted 30+.
While of course we have deployed many other formations – including the "dreaded" double pivot 4-2-3-1 – none have been more effective than the precious diamond

(Courtesy of BassTurnedToRed)
With Sturridge's many injury concerns, this means that the England man has a big impact not only on our style of play and how we fluently move the ball, but also Rodgers' ability to select the 4-4-2 diamond more regularly. Basing the judgement on the info I have given above in the transfer section, you can see why Rodgers would prefer to switch up his tactics and use more fluid players with only one striker while Sturridge is nursing a problem.
Overall:
While the striker is one of our more important players in terms of how we play, he also has a major impact on how Rodgers selects the team the following match (Tottenham 0-3 – Aston Villa 0-1 for example.) Hopefully Rodgers – and the backroom staff – have the solution sorted in terms of his "training regime" and that a 'certain England manager' won't take as much risks next break.