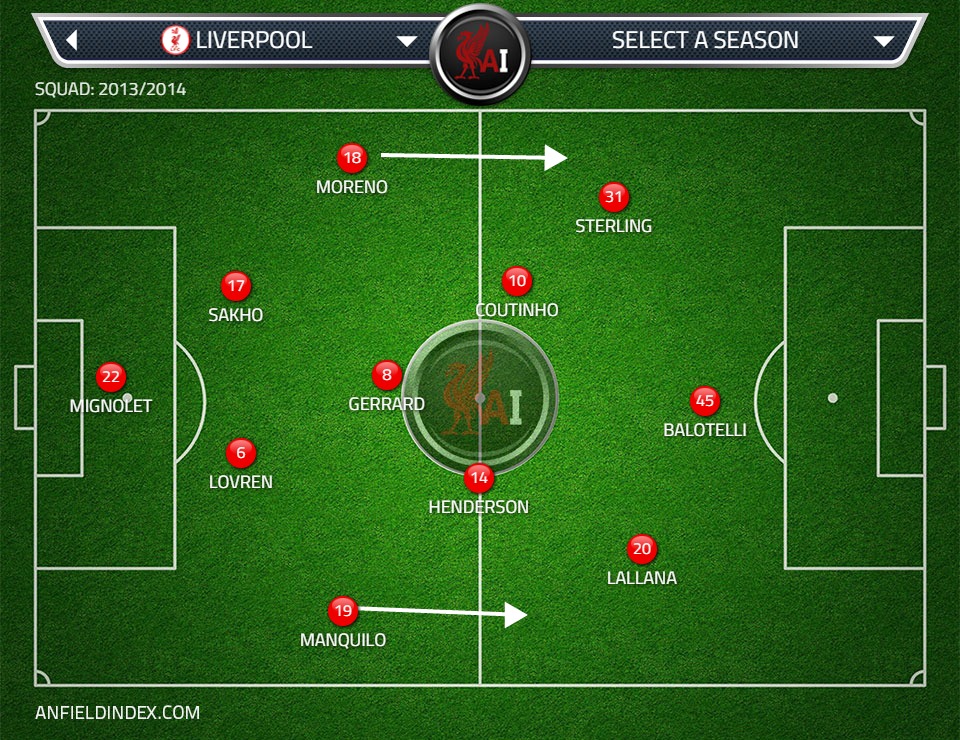 Liverpool 2 Ludogorets 1 In-Depth Tactical Analysis: Much To Improve On
Football has a funny habit of exposing almost every emotion you could ever possibly have. Occasionally, it even exposes ones you didn't know were possible for you to have.
Anxiety, elation, nerves, frustration, joy, anger, hilarity; all words that could be used to describe the feeling of a fan watching Liverpool's first Champions League match in five years. In all honesty, those words could be used to describe watching the last ten minutes alone. For any who had forgotten the stress, the agonising tension, the wild emotional shifts involved in watching a Liverpool team in the Champions League, they could hardly have had a game that would do a better job of jogging their memory.
For 82 minutes, a small club from Bulgaria, only formed this side of the last century, gave Liverpool more than just a little to think about. They worked hard, they kept meaningful chances for their big opponent to a minimum, they were comfortable running with the ball under pressure, they didn't seem overawed. And what's more, they created some extremely dangerous situations themselves. A post hit at 0-0, a chance that should really have been taken, showed just how much of a match Liverpool were in.
With ten minutes to go in the biggest game in the club's history up till this point, having more than held their own and having had the best chance of the match, Ludogorets were not far off gaining a point at Anfield. And with the dangerous counter attack situations being created, that point could possibly have ended up being followed by a couple more.
And then suddenly Liverpool's new Italian enigma comes up trumps. In comes the cross, a scrappy bit of play between him and two defenders, the ball goes loose and he's the first one to get to it and put it in at the Kop End. His first goal for the club, hopefully far from his last.
After another frustrating early-season performance, Liverpool have finally got what they wanted – the lead. Now is the time to seal it – close the game down, shut off the middle of the pitch that Ludogoret's have used on the counter for much of the game, and make sure you're not in a position where individuals will be more vulnerable if any mistakes are made.
Last minute of normal time; Sterling has the ball in the attacking half of the pitch. He's tackled. Transition. One pass takes six Liverpool players out of the game. Hamza receives, has space to turn and look for a pass. Sakho, who has been covering for Moreno, has left a gap between himself and Lovren which the latter fails to close. The ball is played between them for the substitute Dani Abalo to sprint onto. A half-decent opportunity, made a very simple one by Simon Mignolet running out to confront the Spanish winger, with no chance of getting there. All Abalo needs to do is take a touch and pass it into the empty net.
Liverpool have chucked the result away. Inexperience? Poor instructions? Too many new players playing together? Whatever the reason, a simple lack of common sense from more than or two has allowed the supposed novices of the group to get an equaliser. Further disappointment after the weekend's result.
The emotions are just becoming clear when suddenly a moment of madness from the Ludogorets goalkeeper opens the door again. Manquilo, the highest Liverpool player on the pitch, gets to the loose ball before Borjan in goal and is brought down for a penalty in stoppage time. Up steps Steven Gerrard. As composed as you could ever want in this scenario. 2-1. Three points on the board. Result.
Of all the feelings that could be expressed by any Liverpool fan after this match, the overriding one was surely relief.
Line up
Options were again fairly limited for Rodgers going into this match. Skrtel, Johnson, Flanagan, Allen, Can and Sturridge were all unavailable through injury (though in Can's case, he was also ruled out with suspension). Lazar Markovic, having been red-carded in the latter stages of last season's Europa League, was still serving his own suspension so Liverpool's starting eleven was always going to be relatively predictable. Sterling came straight back in after having being rested against Aston Villa on Saturday. Otherwise the lineup was unchanged.
The biggest question before the game seemed to be what shape Rodgers would choose to go with. There were three main options being discussed: 4-2-3-1, 4-3-3, or 4-3-1-2. Against Aston Villa, Rodgers had surprisingly chosen the first one.
What it did was it left the three centrally-positioned midfield players all arguably out of their best roles. Gerrard has less and less been able to perform in a 'double pivot' the longer his career has gone on and indeed, made the single pivot role his own during last season's title run-in. Henderson thrives when he is given freedom to play more vertically – to close down, to put players under pressure and to make direct runs to support the attack. Being in a central midfield duo restricts him to working with his partner, covering space and picking his moments to close down or to make a forward run. Coutinho can work well as a number 10 when there is space to counter attack but over the last year it's become clearer that his best position is instead as a number eight, where the pressure on him is less to orchestrate and dictate attacks in the final third, as playing in the hole in a 4-2-3-1 often requires, and more to operate alongside two other players in midfield who can support him and allow him to play his own game.
Clearly, it was a better option for Rodgers to move away from Saturday's experiment back to a shape he generally prefers. That left the diamond or the simple flip of the triangle as the main decision he had to make before the game. The former might have been enticing – the team had played superbly against Tottenham with that shape and here it would allow them to try and gain numerical superiority through the middle, meaning Ludogorets would be forced to adapt by playing very narrow.
And yet, there would have been clear problems with choosing the diamond. One of the key positions when playing a diamond in midfield is the two outside or lateral midfielders, sometimes referred to as 'shuttlers' in this shape. Because of the theoretically narrow coverage of the diamond, the shuttlers are forced to have to make up a lot of ground to try and support the flanks. If the opponent tries to overload or quickly switch play to the flanks, the shuttlers have to work very hard in getting across to deal with the width, yet not allowing space to develop either side of the pivot player. It's often a very demanding role to play because they effectively are required to support both the centre and the flanks at the same time. There are ways to make this easier but generally players who play here have to work hard and be very defensively intelligent.
When you have Allen, Henderson and even Can in these roles, the diamond becomes a very viable option – all three work very hard, are physically suited to the roles and can support the rest of the midfield when playing there. Without two of them though, the ability to play it is decreased. Lucas doesn't appear to have the mobility or fitness to play there for a full game anymore and with the starting lineup Rodgers had chosen, it was effectively a choice between Coutinho and Lallana. Coutinho himself has a pretty impressive work rate defensively but is much more suited to closing down in front of him rather than controlling space behind him. His lack of defensive intelligence makes it much harder to ask him to fulfil that role without it impacting both on his attacking play and Liverpool's defensive coverage.
On the other hand, Lallana was coming back from a knee injury and had played 61 minutes on Saturday against Aston Villa. Working himself back into full fitness, it would have been unwise to ask him to play in a demanding role that he's not used to.
Therefore it was clear that with the starting line up that 4-3-3 was going to be Liverpool's basic setup.
No midfield dictator means the attack struggles again
Rodgers' flipping of the triangle in midfield was a way of trying to make sure that Liverpool's combination in the middle of the pitch was right – that Gerrard, Henderson and Coutinho were in their most effective positions to support the balance in defence and attack.
These three players arguably lend themselves more to a transition-based game. Gerrard's most useful quality from deep is his ability to play long diagonal switches to open the game up or to find the full backs in space. When playing counter attack this can be extremely useful – quickly finding the perfect pass to players in open spaces who can then attack. Henderson is a direct player who is quick, puts players under pressure and can then support quick attacks when the ball is won. Coutinho excels when there is space, either to dribble into or to try and find the final penetrating pass to an attacking runner.
The combination of these three players means in games where the opponent leaves space at the back or is open on the defensive transition, Liverpool will cause problems. Arsenal found this out last season. So did Everton. So did a number of other teams. Leave space for Gerrard to play his long passes, leave space for explosive players like Coutinho and Henderson to run into or to play passes behind the defence and you will be punished.
Against low block teams however, it's different. This is the current tactical issue facing Liverpool this season – because of their attacking return last season (and not just the number of goals but the way they started games and the way they attacked), opponents are going to be far more likely to shut off space in their own half and to sit deep as a reaction to the team now. We saw it towards the end of last season. In March, Sunderland came with a back five and a deep block and made it very difficult for the team to get the win. Then, of course, Chelsea came with a similar game plan at the end of April, themselves almost six at the back, and took the victory which devastated title hopes.
This is the path that many teams will be following now when facing Liverpool. Aston Villa came to Anfield on Saturday and won with only 25% of the ball. Managers and coaches will have seen what Chelsea and Villa managed to do and look to copy from them. It's up to Rodgers and the players to find a resolution for it.
The midfield three of Gerrard, Henderson and Coutinho, though arguably the team's strongest personnel-wise, is more suited to playing in games where space will open up in the attacking third. Without that space, there can be issues in match control.
It's important to note, match control is not synonymous with possession. Against Ludogorets, Liverpool had 64% possession. Having the ball was not the issue. Yet the game was stale. This wasn't the quick, neat interplay of the title run-in performances of last season. Nor was it 'sterile domination', for the simple reason that there was no domination of the game. There was possession of the ball but the match wasn't being dictated with it.
The game was actually crying out for a Xavi-type player; a player who could orchestrate possession, always be available for the ball, retain it in midfield, keep the pressure up on Ludogorets and bring the attacking players into play.
Liverpool don't have this player. Gerrard is not someone who dictates a game through his ball retention in midfield and his ability to understand what pass needs to be made at each moment. His strength from deep midfield is much more based on his ability to play long diagonals and switches of play. In this game, he also didn't have that much space to work with. Henderson is not that type of player either – he plays too direct and suits a quick-paced match rather than  a slow, methodical one.
Coutinho though, was possibly the biggest problem. One of his most notable issues is how he plays when there isn't much space in the final third. Far too often he simply goes for the direct play; the killer pass. Against teams who don't concede much space behind and are playing fairly narrow in defence, this is a problem. And Coutinho had a very poor game. The situation most often called for him to keep ball circulation going. Too often he went for the penetrating pass. And almost every time, it ended up in a loss of possession.
This problem in midfield made it hard for the front three to have any impact on the game. Lallana in particular had very little influence. Fitness was probably a factor for his lack of impact, as was the fact it was only his second game for the club,  but with no player dictating play in midfield, he was possibly playing too high up the pitch. The helpful thing on Rodgers' part might have been to ask Lallana to drop deeper and to  get on the ball more, with Henderson making forward runs to support Balotelli if the situation so called for it.
Balotelli himself had a decent enough game. After a lot of criticism for his performance on Saturday, he had pressure to perform in this game. Some people have unfair expectations on Balotelli. He's not a player who is going to run into the channels time and time again or make constant runs into the box for a cross. Yet without much support and without quality play from midfield, he was persistent. There were little flashes; a lovely turn of his man which led to a chance for Lallana half way through the first half was the most memorable. And of course his eventual goal was his reward for keeping going – making the most of his chance despite being surrounded by two defenders. A scrappy goal but he took it well.
Sterling was also reduced to little flashes though his biggest impact in the first half was his movement to create space for Moreno on the overlap. With the lack of match control in midfield, it was hardly a surprise that the most space and opportunity was in the wide areas. Moreno's final ball wasn't consistently good in this match but his aggression in getting forward was when the team looked at its most promising. Again, it was the new full backs who gave the most impressive performances, both of them looking strong, enthusiastic to get forward and solid in individual battles defensively.
However when your best performances come from your full backs, you've left a lot to be desired in the centre of the pitch. Ludogorets played well throughout. It was hardly surprising they were prone to errors but they didn't do what it might have been tempting for them to do and simply sit back the whole game. On the ball, they were relatively comfortable in dribbling with it under pressure, they played a number of excellent wall pass combinations, they moved the ball at a quick tempo and they looked to exploit the space either side of Gerrard. Marcelinho in particular looked impressive, making a number of very good runs with the ball, creating dangerous situations. Their counter attack threat was there throughout and Liverpool did a poor job of shutting it off.
Change to the diamond
The team's best chance of the first half came from a transition, where there was space to attack into. Possession was won, a pass was played from the back, Sterling played it first time into Coutinho who then had space to run into their half. This was a good illustration of our strength – players counter-attacking at pace. Henderson making incisive forward runs into the space, Sterling the same. Coutinho with room to pick his pass, doing it perfectly. Unfortunately Lallana didn't take his chance.
This was the team's other problem in this game – not enough goal threat from midfield. It's a simple one but the impact is huge. Gerrard plays too deep to score consistently in open play now, Henderson has never got double figures in a season, nor has Coutinho. Lallana and Sterling both only just about got double figures in all competitions last season. The goal threat was Balotelli and he had little support.
Rodgers' main idea to change things round in the second period was to make a double substitution. This was a positive change; bringing on Lucas and Borini might not strike many as being game-changing swaps but they were what was needed here, given the lack of quality on the bench with all the unavailable players. Lucas brought better composure and ball retention in midfield than Coutinho had done for much of the match. Borini, the more impactful substitution, took some of the pressure of Balotelli and looked lively.
The change also meant that the team switched to the diamond. This put more pressure on the full backs to provide attacking dynamism in the wide areas, something they both responded to. It also freed up Sterling by moving him inside, and Balotelli, who now had a partner against the Bulgarian defence.
The change initially seemed to have a positive effect. Gerrard had a good chance with a header on goal from a lovely cross from Manquillo and the team generally moved the ball more quickly and effectively.
Yet at the same time, the game became increasingly open. This was a double-edged sword. In attack, it meant that there was more space to run into, which clearly suited the team's skill-set and quality. But it's hardly a way you want to win a match and the downside was that there was space for the away side on the counter attack. Lucas's lack of mobility did nothing to help prevent these dangerous situations, nor did Gerrard and his increasing tiredness and with the pressure on the full backs to get forward, Liverpool's transition defence was too easily exposed.
Ludogorets' equaliser a sign of poor intelligence
In a game where the team had struggled, the common-sense thing at 1-0 with a minute of normal time remaining was to shut up shop. That didn't mean Rodgers had to tell the players to sit deep in their own half. But it did mean more control was needed.
The fact that the equaliser was conceded on a counter attack was alarming. Maybe it was a lack of experience or an underestimation of the opponent. But one pass taking out six Liverpool players was a situation that should never have occurred.
Moreno's positioning in particular had a big ripple effect for the goal. The simple thing to say was he did not need to be so high up the pitch in the last minute of normal time with the team only 1-0 up. Because he was so high up, Lucas was positioned towards the left flank, covering for him, which created space for the pass to Hamza. And further behind, Sakho was also positioned towards that side, which left the space for the pass to Abalo. Admittedly the goal could have been avoided but for a mistake from Lovren and a far bigger one from Mignolet, but there was a worrying lack of intelligence from the whole team in that scenario and it's something that will have to be learnt from.
Conclusion
The main thing is that the Champions League campaign is off to a win. Whatever the performance was like, we have three points on the board and that is something to be very positive about, especially after the disappointing loss at the weekend.
However, there are a lot of lessons to be learnt from these last few days. Playing against deeper, compact defences is something the team is going to have to get more used to and quickly. The lack of a match-dictating player in midfield, combined with the general lack of goal threat from there is an issue that Rodgers is going to have to find an answer for. It cannot be found in merely changing formations, whether it is 4-3-3, 4-3-1-2 or whatever shape is chosen. That balance is very much a work in progress and the new players are going to have to gel quickly in order to make that transition easier.
And a certain Daniel Sturridge coming back in might be helpful as well…