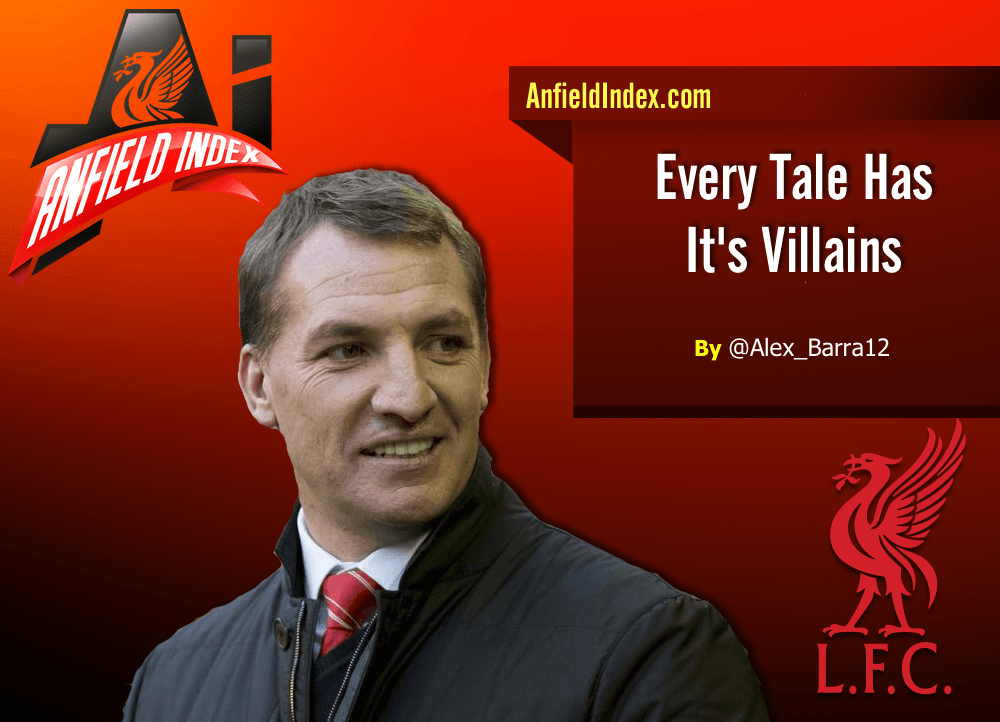 Every Tale Has Its Villains | Liverpool FC
Like the Joker to Batman. Like Moriarty to Sherlock. Like Scar to Mufasa.
Every hero has the dark shroud overcome them at significant points of the story. Yet there doesn't seem to be a cure in sight. Every tale has it's villain, and Brendan Rodgers' Liverpool has certainly met theirs; and conveniently, as if it wasn't painstakingly obvious already, the Villains are the Villains. That is to say, the apt nickname of Aston Villa football club is the thorn in the side of a surging Brendan Rodgers side still attempting to find its feet.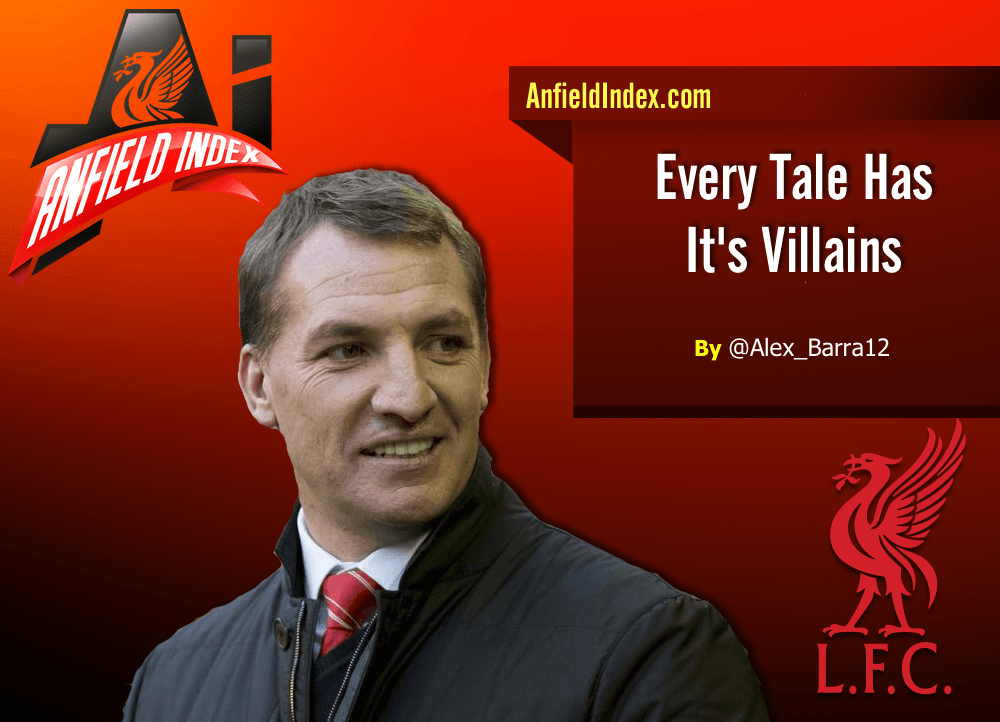 Did we fall? Yes. What did Christian Bale teach thousands of encapsulated people sitting in front of a movie screen? Even heroes have bad days. You just need to pick yourself up, dust yourself off, and move onto the next fight. Ultimately, victory may well be claimed, but the path to greatness is littered with bumps and bruises, this is just another one of them.
That being said, there was an overriding, lingering pervasion around Anfield when the bell tolled and the spirits sank…
Not again….
As the dreaded ninety-minute mark edged ever-so-close, the previous eighty-eight emphatically disappointing. Similar treatment had been given at Chelsea, though surprisingly without as many dirty tactics (stemming from a lack of Roy Keane's influence presumably)
It was another Brendan brain-lapse.
They occur every year, and the result wasn't as surprising as the tactics employed, to be honest. The 4-2-3-1 formation was used to great effect against Southampton last season; we lost that 1-0. Then again, it was deployed to be of scintillating use against Southampton earlier this season, with the lively pairing of Lucas Leiva and Steven Gerrard providing excellent mobility and movement between them, not being caught out by a wandering James Ward-Prowse or Dusan Tadic whatsoever. And, of course, it was employed in the corresponding fixture to the one just past us – though most Liverpool fans are in agreement that there was indeed no football match on this past week – to fantastic effect, where we were made to look like the slowest side on the planet, failing to cope with an attack operating at the speed of sound. That went swell, didn't it? Probably about as well as England's World Cup campaign; where Jordan Henderson and Steven Gerrard opted in a double pivot – though the pivoting in itself was a fraudulent and rare affair, without moving forward to great effect. And Roy Hodgson's side was a definite success.
That, of course, is negligent, frustrated sarcasm stemming from the issue hiding in plain sight.
Why, oh why, did Brendan even think about doing it?
Well, apart from sheer optimism, there are a few causes. International break left us licking our wounds; and if this was the corresponding fixture six months from now, it wouldn't have caused such a stirring of our first team's confidence, with the six new purchases afforded the time to settle in and get to know not only one another, but the pace of the team and the pace of the competition. Roy Hodgson's negligence can be blamed for that; denying Daniel Sturridge's rest day about as bizarre as the fact he's even in the job in the first place.
Joe Allen's injury, too, can be blamed elsewhere; Gareth Bale pretty much summing up the situation when he said of the 3G synthetic pitch that hosted Wales vs Andorra: "That was the worst pitch I've ever played on." International weekend was not kind to the Redmen, unfortunately the toll it took on our very being epitomised everything we are about.
Such is the way that football infects our lives, ingratiates itself within our very souls and then lets us down when we least expect it. Players get injured, teams lose games.
Now, can we all just take a deep breath?
It's unlike Brendan Rodgers to go through a period of time with an element of predictability. The percolating aura of "anything can happen" was the driving force behind his side's mercurial sprint to the Premier League title, and though they fell on the final hurdle, the velocity and immense excitement brought about in the penultimate stretch was simply magnificent to behold – all stemming from the unpredictability of a Rodgers-led Liverpool side. There were hiccups then, just as there are obvious hiccups now. And despite the vexatious rollercoaster that was last season, there is still reason to believe that his Liverpool side can sweep opposition away with a blistering storm of attacking presence, mixed with a more settled and proactive back four that doesn't make the average Liverpool supporter sick to the stomach when they see crosses whipped into the six-yard box.
If you sit back and take a look at what Brendan Rodgers has got, you can see why Villa's trip to Anfield proved successful for the Birmingham side, and why that's not necessarily detrimental to Liverpool's season. The formation was a mistake, and it's becoming clear that the most devastating (for opponents) and exciting (for supporters) way forward is the midfield diamond. It suits this side to the letter, and though we invested £45 million in two attacking midfielders, operating as flat wingers in an attacking midfield three was unsettling – not only for supporters, but for the figures of Adam Lallana and Lazar Markovic.
Lallana, granted, did not set the world alight with his performances against Villa and Ludogorets as a whole; though dig deeper and you'll find – as with Markovic – the ingredients for success. His close control saw him link-up fairly well with Balotelli on a few occasions, and let's remember that this is a man without a pre-season, playing 120 minutes in plus a closer-door friendly, coming back for a knee-injury; he's not exactly going to burst onto the scene with a blaze of glory and goals. Similarly, Lazar Markovic seemed restricted by the formation, opting to cut inside more times than play a traditional "Stewart Downing-esqe" style as a flat winger, and his scintillating pace and control didn't exactly have the greatest context in which it could be flaunted; a parked Aston Villa bus in front of him. That being said, the promising signs are there from a twenty year old still adapting to the Premier League.
So, with our lessons now learned formation wise, there still exists the supposedly "leaky" defence, which given the knee-jerk responses of pessimists, is seemingly unfixed from the catastrophe of last season. Except that's untrue. Entirely and convincingly untrue.
What we've got is a back four from Spain, France, and England. Two marauding Spanish fullbacks with immense talent, two centre backs – both with a single season in the English game – with differing styles right now, but with a collective idea of acting on the front foot. Given 10 or so games, the things that are becoming apparent – such as individual mistakes – will either be ironed out, or made to be redundant, because the ball's already back in our control. Dejan Lovren's mistakes are evident through his game; an attack-breaking front-footedness that we haven't been privy to in recent times, but mistakes can easily be ironed out, especially as Mamadou Sakho is showing the prowess to spot when his ambitious partner pushes out to stop an attack. Both recover the ball exceptionally well, both are exemplary in the tackle, and with two fast, determined fullbacks tracking back and saving the pair when things do go wrong, everything actually seems rather auspicious. The fact of the matter is; what the defence hasn't got right (positional awareness for example) can be ironed out. But think to yourself, would you rather go back to the shaky assembly of Martin Skrtel and Glen Johnson, dysfunctional as they are, or a promising back four yet to even play a full ten-game-period between them?
Therein lays our conundrum. Getting behind a team that got so close to the title is always exciting. But this isn't that team; this is a Brendan Rodgers unit still finding their feet. And our Villains took advantage of that as only Villains can – by locking us out of our own game. Is it the end of the world? No. Because even in the darkest of schemes, the Heroes always find a way back to their feet. So we dust ourselves off, get back up, and we rise.