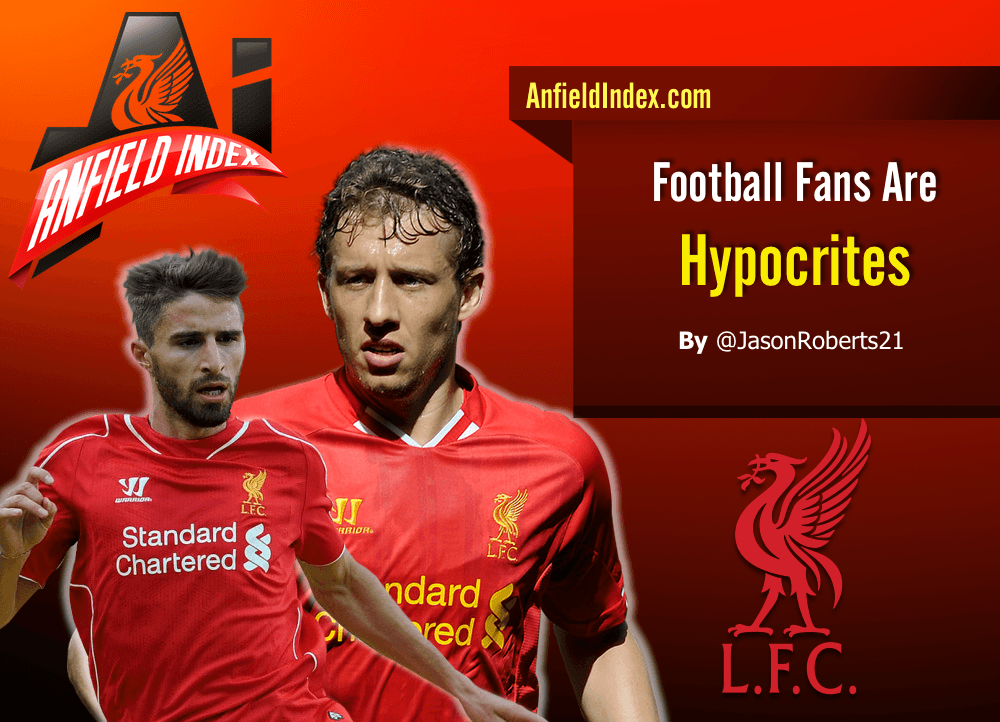 Football Fans Are Hypocrites
If I were to call you a hypocrite, chances are you'd be at least a little offended. After all, nobody likes being called names do they? However, as a football fan – whether you like to admit it or not – being one is almost second nature. In fact, if you're not one I would go as far as to say that you are actually in the minority.
As football fans we are naturally passionate about the club we support, always at the mercy of bias towards our team and even the most level-headed amongst us can be influenced by our feelings and emotions. We want nothing but the very best for our club – financial stability off the pitch and the best players on it. We crave success and demand that everybody representing the club do everything in their power to ensure it.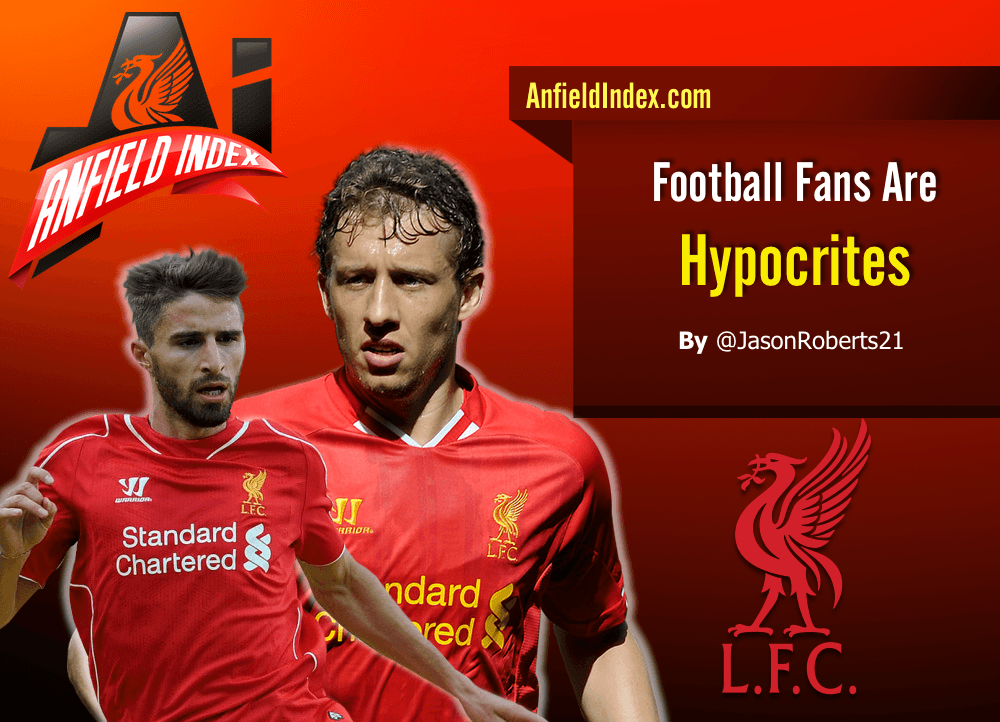 But something else that we inherently yearn for is loyalty. More specifically, loyalty from the players and from the manager. It is something that we place massive significance on when showing our respect for certain players – Jamie Carragher as a rare breed of home grown, one club players; Daniel Agger for rejecting the advances of "bigger" clubs in his time with us; Steven Gerrard for a combination of the two.
However, there is a fundamental flaw with this mindset – it only matters when it suits. Not sure what I'm getting at? To help spell it out we need look no further than two players currently plying their trades at our beloved Liverpool FC: Lucas Leiva and Fabio Borini.
Since joining Liverpool some 7 years ago, Lucas has endured a turbulent relationship with the fans, experiencing both peaks and troughs, with the latter far outweighing the former. Brought in as a young box-to-box style midfielder with a growing reputation, the pressure wasn't really on him initially with the more established midfielders Xabi Alonso, Javier Mascherano and Mohamed Sissoko ahead of him. However as those 3 departed, his importance grew as did the glare of the spotlight and the scrutiny of the supporters.
Repackaged as more of a defensive midfielder (arguably out of necessity more than anything else), he became a lynchpin in the midfield, playing an important role in the latter stages of the Rafa Benitez tenure and in the disastrous period that we were managed by the current England boss (I try not to mention him by name where possible!). There is certainly a debate to argue that in those periods he was one of the best of a bad bunch (Christian Poulsen anyone?) however, there is little doubt that he was seen by most as a significant key player, whose absence was felt when serious injuries kept him out for long periods.
Absence certainly did make the hearts of many fans grow fonder for him. So much so that even as recently as last summer, following Carragher's retirement, it was seen as a toss up between him and Agger as to who would be appointed vice-captain as a result of their loyalty (there's that word again) and their influence. But as more time has passed playing the high octane, exciting brand of football we have now come to expect under Brendan Rodgers, the more it has become obvious that the serious injuries have taken their toll and that he struggles to keep up the pace. Furthermore, the emergence of Henderson, the importance of Allen, the moving of Gerrard and the acquisition of Can have further compounded the belief that his days are numbered at the club.
Now I can already hear you saying, "That's football. He's not good enough and needs to move on" etc etc. Fair comment, but it begs the question – where's the loyalty? This is a player who has been at the club for 7 years, has openly declared his love for Liverpool FC in the past and was being touted as a potential vice-captain just over a year ago! Yet our fans are now demanding that he leaves as he is not good enough, not wanted and some have even taken to social media to direct abuse at him.
A similar situation has occurred recently regarding Fabio Borini who has also been deemed not good enough by many and his reluctance to leave – when we accepted significant offers for him over the summer – caused outrage to some sections of our fan base and once again resulted in online abuse. How dare this lad reject the advances of other clubs to try and establish himself at Liverpool? Apparently he's a greedy so and so for staying (despite the fact that he would have earned more money moving). The respect for him wanting to stay was far outweighed by the ill feeling and dogs abuse that he received for "robbing" the club of a transfer fee in excess of £10m.
Now, imagine that it was one of your favourite players at the club – Coutinho, Henderson, Sterling – that we had just received an offer for which the club could not refuse. What would your reaction be? Would you demand loyalty from that player? If so, you are a hypocrite. Would you say it's in the best interest of the club as the money can be used to strengthen the team? If you think that way you are a realist …. But no less a hypocrite as you can justify an important player leaving, even giving your blessing, but not afford the same respect to the Lucas Leiva's and Fabio Borini's of this world.
Before anybody thinks that I am taking the moral high ground, believe me I'm not. I'm as much a hypocrite as the next supporter. When Suarez flirted with Arsenal I was outraged with the prospect of him "doing a Torres" and demanded loyalty from him. After the support the club had given him and having defended him as a fan, I felt he owed us at least one more season and called him every name under the sun for trying to manoeuvre a move away to a rival. I was adamant that I may forgive but would never forget. Cue him staying, producing the form of his life, us finishing 2nd and then receiving a ridiculous fee for him – I have forgiven, forgotten, think fondly of him and have a pet fish called Suarez. I AM A HYPOCRITE!
Furthermore, take our new superstar Mario Balotelli as another example. Over the years I've remained adamant that I don't like the fact that he's better known for his off-field antics than for his footballing ability. Ignorantly I've dismissed his contribution to the success of the team's that he's played for and instead placed him in a box marked "bad apple". It wasn't until our interest in him became serious and a certain Dave Hendrick pulled me up on Balotelli's contributions that I opened my mind to the possibility that I could be wrong about him. So now with every piece I read about him, every new Instagram post showing his antics and every time I see him out on the pitch for us, my affection for him is growing and I am providing further proof that I am a indeed a hypocrite.
If you really think about it and are honest with yourself, the chances are that you're a hypocrite too.