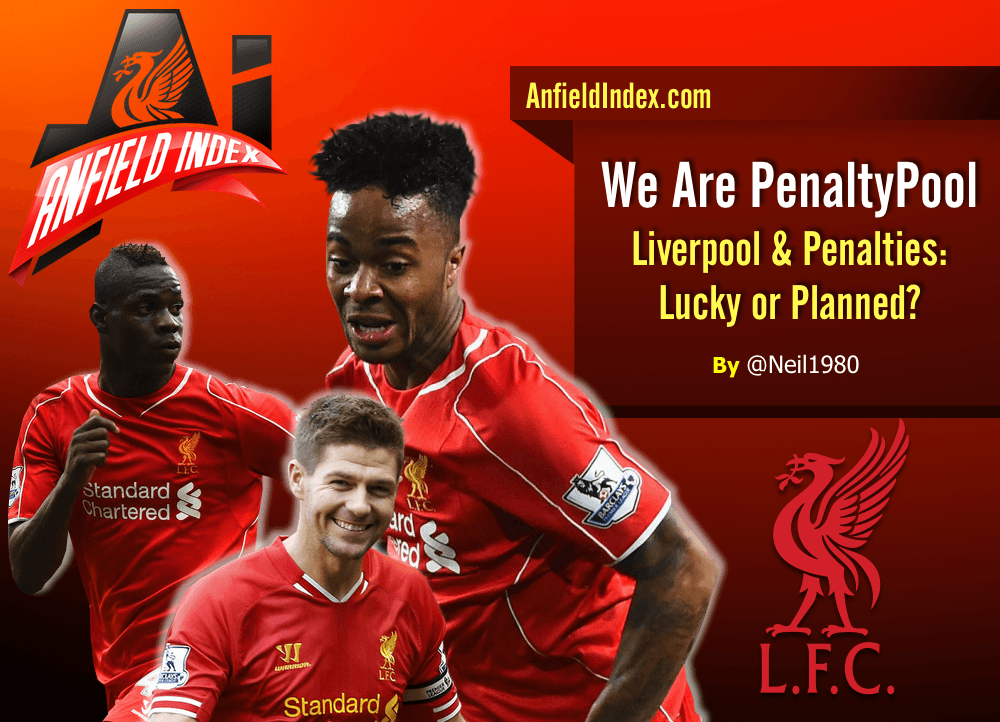 We Are PenaltyPool! | Liverpool & Penalties: Lucky or Planned?
The best way to get over a defeat is to win the next match; so the the old adage goes, and who are we to argue? Happily, participating in four competitions means you never have to wait too long for a chance at redemption. The ignominy of Saturday's teatime capitulation, to a Stewart Downing inspired West Ham, abides in the background of our thoughts still, however resplendent in their novelty the bright, shiny memories of a bizarre, epic League Cup encounter, now occupy centre stage in the minds of most LFC fans.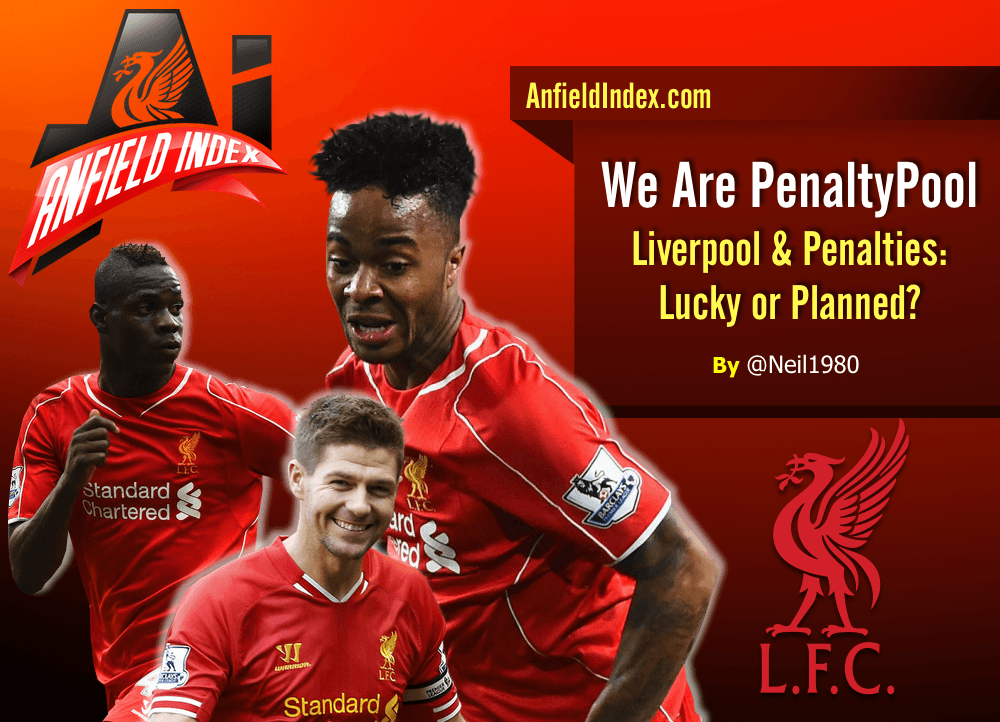 What a match it was! Yes, it was only a Capital One Cup match; however, we witnessed a young Scouser score on his debut for the club, and saw a prodigal son, and fan favourite, net what looked like the clincher, before tired legs and weary minds gifted Middlesborough an equaliser from the spot in the 122nd minute. A monumental shoot-out followed. A shoot-out which began with a save; Mignolet getting the better of Bamford at the second time of asking. The Chelsea loanee, Bamford, would have to take a third penalty, before finally Adomah missed for Boro, with the score at 14-13.

That Liverpool were forced to go to penalties by conceding goals in the fashion that they did, won't have shocked too many LFC fans, given the performances and results over the  last few weeks. In truth the Reds bossed the game, and should've had a larger cushion; however! Brendan Rodgers will take many positives from the game, mind you – a game which provided vital playing time for some of the newer and fringe members of the Liverpool squad. One of those positives resides in the quality and composure displayed during the penalty shoot-out. This could prove vitally important as the Reds remain involved in three knock-out competitions, and a wealth of options from twelve yards is a handy weapon to have, especially given  Rodgers's side's propensity to win spot-kicks from open play.
Of the 20 teams in England's top flight last season, Liverpool won, by far and away, the most of any side. This won't come as a surprise to many fans of any club – commentators, pundits and journalists left us in little doubt with their coverage of the fact. PenaltyPool, amongst other witticisms, rolled off the tongue of countless, somewhat jealous, and less forgiving, opposition fans.
Twelve spot kicks in all, twelve in thirty eight games, a ratio of almost 1:3. That amounts to five more than Chelsea, who were joint second on the list, along with Manchester City, and more than double United's total of five. You can see where the jealousy came from then, and how the cries of foul play, diving, favouritism and ultimately PenaltyPool became more or less common place.
What constitutes a clear penalty? What's soft, or not? Ball to hand, hand to ball? All often matters of opinion, and not worth getting into here. However, the numbers show the rewards and, for me, little surprise springs from them. To earn so many penalties, the highest in the last ten years of Premier League history, a tally that's only been equalled twice in that time, suggests more than coincidence and/or luck.
In order to win penalties, you need to have the ball in the opponents 18 yard box. You don't necessarily need to spend half the match there, but it makes sense, that the more touches you take in your opponents box, the higher your chances of winning a penalty. Luis Suarez had more touches inside opponents' areas than any other Premier League player, and consequently, as a team, I'm almost certain that Liverpool did too. One contributory factor.
It's one thing having touches in the other penalty area, another to have skilful players with rapid feet adept at taking on and beating a man, going at an opposite number and drawing a foul, or putting the ball somewhere which encourages an instinctive lunge from a defender, with hand or foot (the first penalty against West Ham last season came from Suarez doing exactly that, forcing Tomkins to deliberately handle). These desirable skills become crucial in the opposition box, and clearly bolster an individual's chances of winning an "Elfmeter" (as the Germans say).
Suarez displayed all the talents for gaining penalty awards, but did not remain alone in his artistry. Liverpool's team brims with players who love to attack a man, and drive directly for the penalty area or dead ball line. Sterling, Sturridge, Coutinho, Markovic all have dancing feet, pace and intelligence; whilst Joe Allen and Adam Lallana possess cleverness and tactical awareness, also helpful tools in the pursuit of spot-kicks. It's in Sterling that many facets of Suarez's all round game display themselves more and more. The eager, young student learnt many things, including how to make life agonisingly difficult for defenders within their own 18 yard box.
We've already seen Liverpool awarded two penalties in seven games this season, both vital in their own way, and both utilising the skill-sets mentioned. Allen's neat first touch and change of pace tempted the inexperienced Dier into grabbing a chunk of his shirt, however briefly. Whilst others may have passed quickly, Allen's awareness and bright thinking won the team that penalty, which made the score 2-0 and effectively ended Tottenham's challenge. Against Ludogorets, Manquillo's persistence in closing down the goalkeeper, and alertness to touch it past him and wait for the contact, provided Liverpool with an unlikely get out of jail free card in the 94th minute (in direct contrast to the incident against Boro), sealing a win of the utmost importance.
Like Sam Allardyce bemoaning the decisions (referred to above) which gave Liverpool victory against his side last season, so opposition fans took to Twitter to whinge about the award last Tuesday night. One Chelsea fan wrote:
"good to see Liverpool can always find a penalty to save them"
Clearly that was meant as sarcasm, however in this case I would agree. It was good that Liverpool found a penalty to save them, it was probably the only remaing chance to get three points. When you have brave players, with nimble minds, and fancy feet, prepared to take defenders on and really examine the opponent's abilities; when you take touches in the box and are concise and focussed in attack, you will force mistakes, you will win penalties, and when you have lads that can stick them away, you're going to score them! It stands to reason.
So, rather than taking it as stick with which to be beaten, or a source of embarrassment which puts you on the defensive, react with pride when a jealous Manc or a bitter Blue has a pop at you over penalties. It isn't luck, it's skill; it isn't a fluke, it's a plan. We are PenaltyPool, tra la la la la!