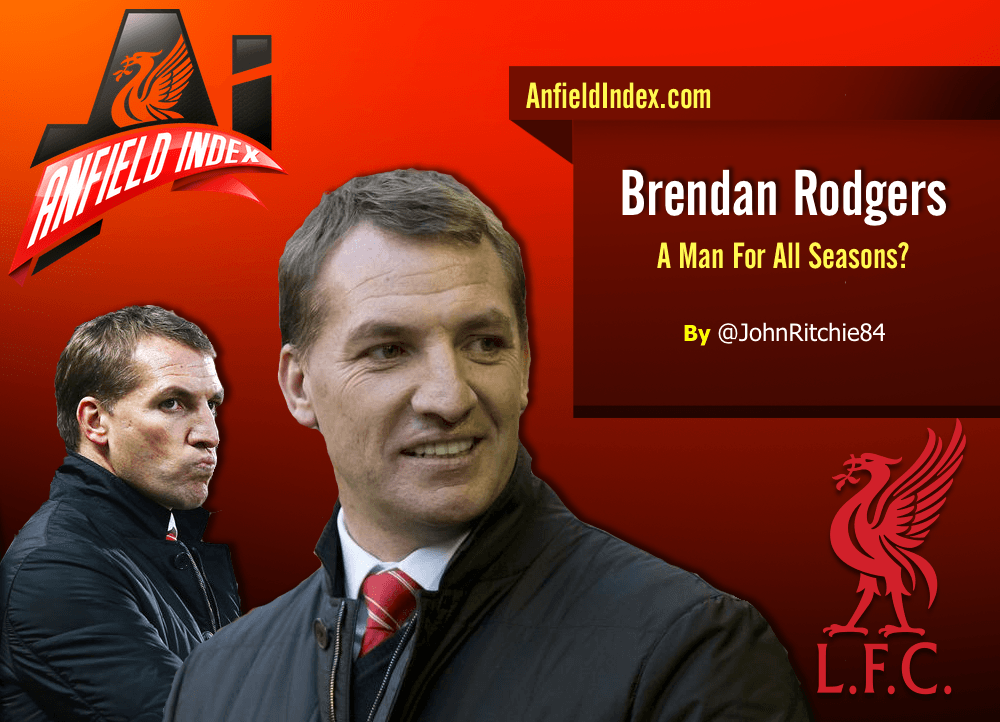 Brendan Rodgers: A Man For All Seasons?
Fuming is one way to put it. Disgusted another. Sadly, not surprised.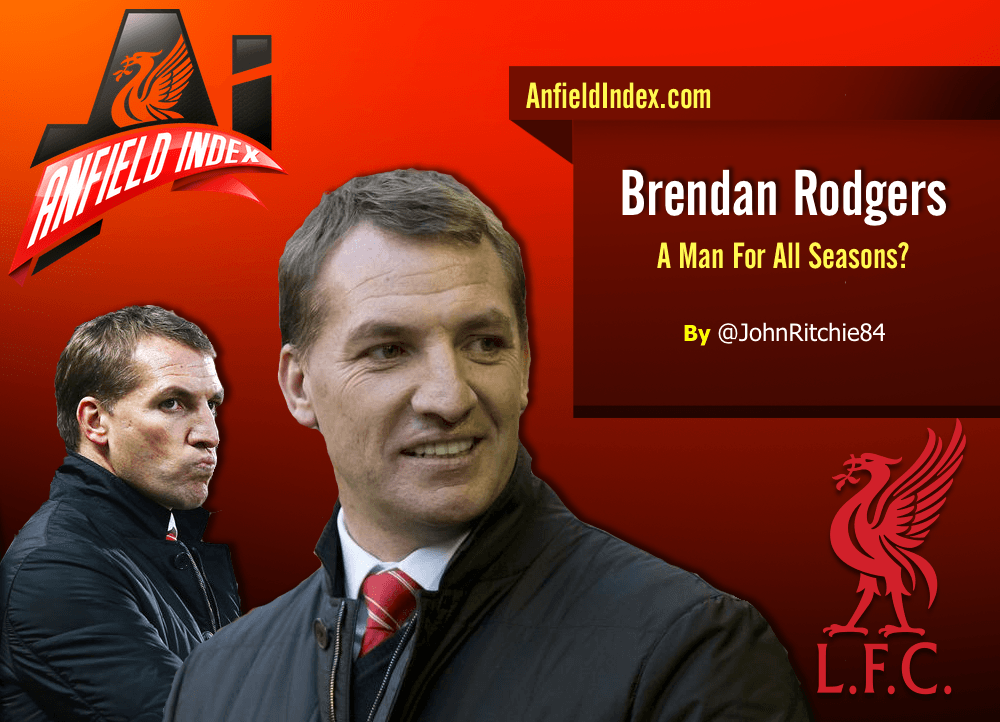 It's been a full 30 odd hours since the West Ham game. I've been quiet, composed (to a degree) and quick to check myself before sending a tweet in rage at the issues that have been brewing for a while.

I've been through a strange time lately. Moving back home to Scotland and driving 111 mile round trip on a contract assignment I have until december. It's left little time for podcasts and writing. I've not been binned, some of you will have mixed reactions to such news. Just busy.
There's also been issue of a debate raging in my country about our future. Independent or not. Free at last? Or take the good with the bad. I've done a lot of thinking and soul searching these last few weeks. Ever talk to yourself in the car?
Or maybe that's just me.
Yet those discussions to myself, those dark nights of the soul that are my daily trip across the M8,that heartache of a 'NO' vote and the strange start to the season, it's lead me to a conclusion that only creates problems, not solutions.
A lot has been said about Brendan. I talked to Gags (Mr Anfield Index for those of you who are wondering) about it. My view, a stubborn genius in waiting. A man who's undoubted quality as a coach is tempered only by the fact that he's also sure of his ability. We all love confidence, but great leaders are also humble, and have a team around them who they trust.
When asked about who he turns to in a recent interview on the excellent Anfield.FM, his answers revealed a lot about the man that is Brendan Rodgers;
"My son, a good player with a wonderful view of the game, but to be honest I trust myself."
Even the best aren't ever that sure of themselves. Shankly, Paisley, Fagan, Kenny and Rafa. They all had a team around them of professionals who could get the best out of the game. When the boot room fizzled out, so did Liverpool. When Rafa's famed assistant Pako Ayestarán left the club, it marked a downward spiral in terms of his relationship with the players. We were never the same again, great moments yes, but trophies would not come again
Great leaders need great teams, but also confidantes, and friends.
Gags is quick to check me, the poor man has so much on and yet he's a quiet calm in my relationship with Liverpool. "Don't be too harsh" he'll always say. He'll get annoyed but yesterday we were different. Yesterday he agreed that I had a point. The two of us mystified as to why we're seeing these performances.
Lately in press conferences he's been brash. Annoyed when people question him. On TalkSport the other week he expressed his disappointment that the bookmakers and punters had written them off. "Look at what we did last season" he said. There was a frustration there, it was almost as if he saw the lack of confidence from the collective onlookers as a personal insult.
No, not an insult Brendan, just maybe a reality check.
A few weeks ago, the Yes campaign went into the lead for the first time. From 36% to 52% in under to months. A stunning turnaround, but one that came to early. Had that poll happened on Wednesday, the result on Friday would have been very different. Scotland, I'm confident would have been an independent country today.
Liverpool's stunning league campaign last season is true of that. Brendan always said it was a year ahead of where he thought he would be. What we're seeing now is a club that's not truly ready for the expectation.
It's not the talent on offer that's the issue, we have options. However concerns over the ability of our captain, the worrying signs our defence is no improvement on the 50 goals plundered against us last season, the attack that is yet to gel. Now, five games in, is not the time to judge with any real analysis or conclusions. The sample is merely too small.
However further comments from Daniel Agger over the weekend give us a deeper insight into the man that is Brendan Rodgers. A man who has the look of greatness, however maybe a manager who is still coming to terms with the task at hand.
Daniel's comments could be those of a man who's sad to have left Liverpool. Strange comments in the sense that the club did him a £7m favour in letting him go to his first love in football. The club that allowed him to leave to become a superstar. Yet insightful because this is a man who has nothing to gain, he's never been one to show malice.
Like it or not, since Rodgers arrived there has been a pattern emerging, once quiet, yet now consistent. Confident and arrogance, qualities every great manager needs in abundance. He's done wonderful things with our players, and produced some stars who will do England well over the next eight to ten years. But he must now take heed at what those around him are saying.
Our issues are clear to fans and as we've seen for a while now opposition scouts who will go back and tell their bosses to put a ball into the box, press Steven Gerrard and run at Glen Johnson. Goals are guaranteed.
Maybe the solution is that the circle of trust needs to be widened. It's a simple solution, yet it's not an easy problem to solve.
As the Yes Campaign licks it's wounds in Scotland, there's signs that this story hasn't reached it's conclusion. It's not the final page of the book, just a new chapter. With over 10,000 new members signing up to the SNP in just 2 days with No parties staying quiet on member numbers. Could it be a butterfly revolution? Who knows. The next steps are all dependant on how they react over the coming months and weeks.
Liverpool will move on from West Ham, however it must be done quickly. Longer term Brendan has some soul searching to do. You can't ignore the obvious for too long. You can't react by expelling them, when that person tells you the things you don't want to hear.
As my good friend Jim Fishlock wrote the other day on Brendan; as much as we love him and respect him, the man from Northern Ireland has blind spots. Everyone has. Is he a man for all seasons? Who knows.
Yet the thing, the ultimate difference been those who succeed and who don't is very simple. It's recognition that there's a problem and taking steps to fix it. Time will tell if he does. I for one have faith in him to do so.