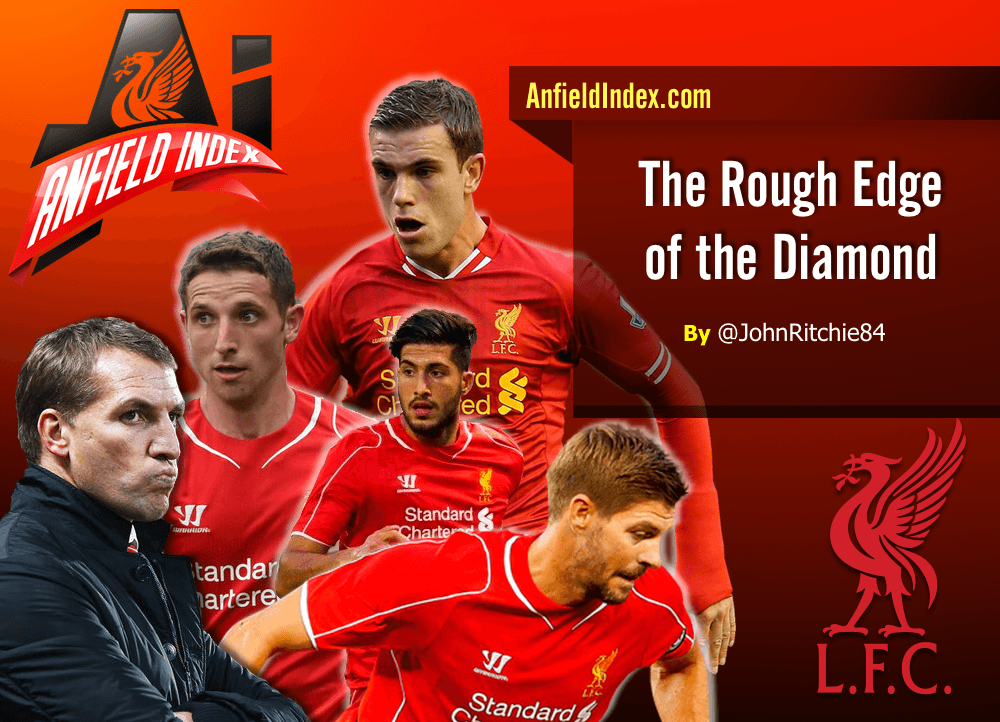 Liverpool FC: The Rough Edge of the Diamond
Right. Let's get this clear up front. Me and tactics? It's like asking David Cameron to be compassionate.
However, lately, I've made an effort to try and make sense of this Liverpool side. Watching it all I'm so confused as to what on earth it is we're trying to do. Why play Gerrard and Lucas as a two? Why rest Raheem in the Premiership and then play him in the League cup? Why can't we create chances?
Lots of why's and not a lot of obvious answers.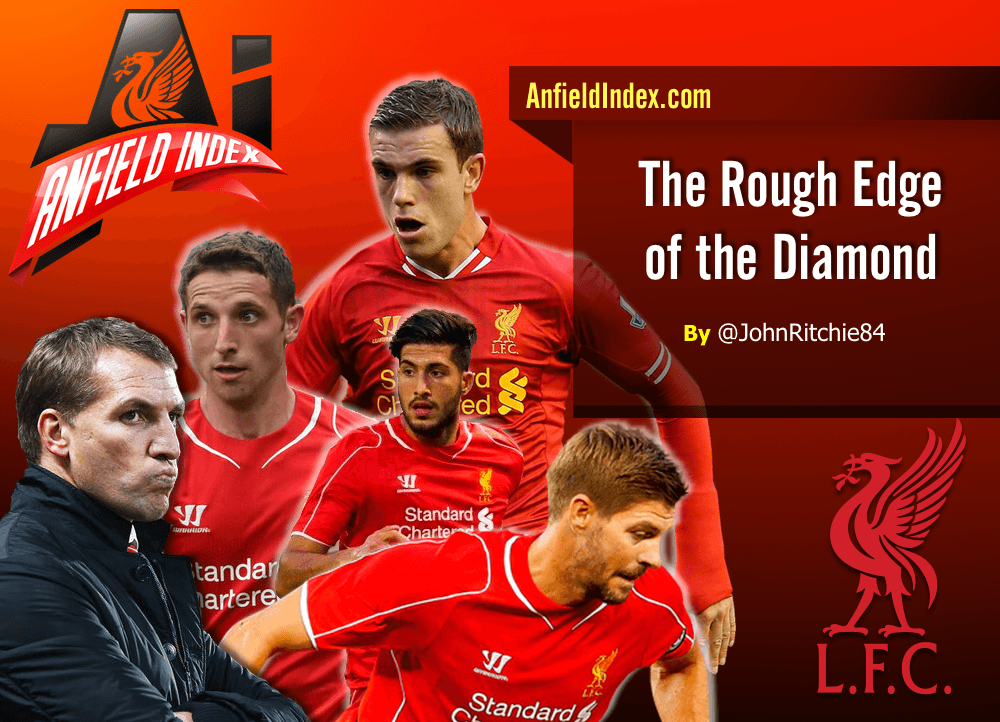 It's been one of those starts to a season we're all too familiar with. We've seen it before, we'll see it again. Football goes in cycles. As the sun rises, it will surely set (Well actually, it doesn't! But that's for another day). Yet you get my meaning. Form ebbs and flows and luck plays a massive part. Nothing is ever really consistent in football, especially in the modern day.
But tactics remain, there's only so many things you can do with how you set a team up. 4-4-2, 3-5-2, 4-2-3-1, 4-3-3, a diamond. The possibilities are endless. Yet it's the details that matter. When to press, is it a high press,  a medium press. What about overloads? Total football or death by football?
Do you keep it tight as we hear ad nauseum from our punditry overlords? Be expansive? So many questions and various individual reasons as to why and why not?
The only correct answer in the final exam is, does it win you games?
Yet for Liverpool fans there's a theme. It's not so much an a footballing concept, no it's much, much more than that. It's an Icon. A man. A footballing great. It's Steven.
Gerrard and his role in this Liverpool side has dominated the headlines lately. Twitter and forums are alive with discussion. Why is he playing poorly, why this, why that. "DROP HIM" demand some. With all due respect, we're not asking the right question. Sometimes before you get to the detail, you've got to set the strategy. Take it up a level and then go down and execute it.
So taking it up a level, looking at the what first brings you two the question we really need to answer is,  why a midfield two? The reality is, like many of you, I've no idea.
But, and here's where I'm in for pelters, proper 'YOU CLUELESS NONCE' type stuff. Or something straight from the books of Karl Marx depending on who it is…
But I've tried to do what I do in my day job and look at the consistent variables and identify the biggest problems.
So when you don't have goals, what do you do? It's an interesting conundrum. But logically, you keep things compact. Or at least you try to.
If we looked at the world cup in 2010, the four top sides all played with a variation in 4-2-3-1. This gave teams like Germany the best of both worlds. When you have Schweinsteiger and Khedira acting as a double pivot, the former sat deeper and released the ball into attack. Khedira would join the play together and has the legs to join into the attack. But it was solid, it allowed Ozil the freedom to play and Mueller to sit off the shoulder behind Klose with Podolski cutting inside. Not a bad option when you have Lahm and  Boateng complimenting either flank with a half decent defence and a goal keeper in a class of his own.
It doesn't mean you park the bus, or that it's not entertaining. Indeed they beat England 4-1 and Argentina 4-0. When it works, it works well.
Germany compact and disciplined in the middle, gave their attack freedom to play. The issue is when you run out of ideas, you need to do something else. And in that tournament, the Germans didn't quite make it.
In a weird way, It reminded me of Mourinho's Internazionale, the system that truly brought the best out of Wesley Sneijder. All sounds great when you have the likes of Thiago Motta or Esteban Cambiasso sitting in behind.
I remember Mancini saying it was all his team. That may well have been the case, but Mourinho gave them a system and they swept across Europe, in a season that would return three major honours, including the Champions League.
In Liverpool's case, we want to bring the best out of Sterling and to a degree, Coutinho. We want to give them freedom to play but not at the expense of goals. We have an attack that is yet to gel, the final ball seems to laboured and less natural.
Rodgers is very self-aware. He will know this. He'll know only too well we need to be better defensively. So whilst we're not very good up front, maybe he wants to keep things tight, be more compact, more patient.
Look at what happened during Ludogorets when we switched to a diamond. Some swashbuckling attacking play,  however the result was that it allowed us to be carved open and a better side would have run riot. For all it's beauty, sometimes it's the rough edge of the diamond.
As soon as we open up people run straight through.
Whilst Gerrard is not Schweinsteiger, he's not Pirlo, he's not Cambiasso. But he's Steven all the same. Adaptation takes time. Once Allen, Henderson and Can all get fit, you can be sure we'll see changes. We won't see Steven as regularly as we used to. We may not even see this system again. Who knows, maybe we may even get that destroyer we all desire, which I doubt. We just don't have the personell.
However in times of you need to close the gaps. It's not ideal, and it hasn't worked for us, but maybe, just maybe we can understand the logic.
If this was the thinking, then Liverpool need to have a look at the continual paradox which is their transfer policy. None of the players bought this summer fit that mould required to play in such ways. There's a confusion in the halls of Melwood at the moment. Here's hoping, like last season, we find the solutions rather soon.