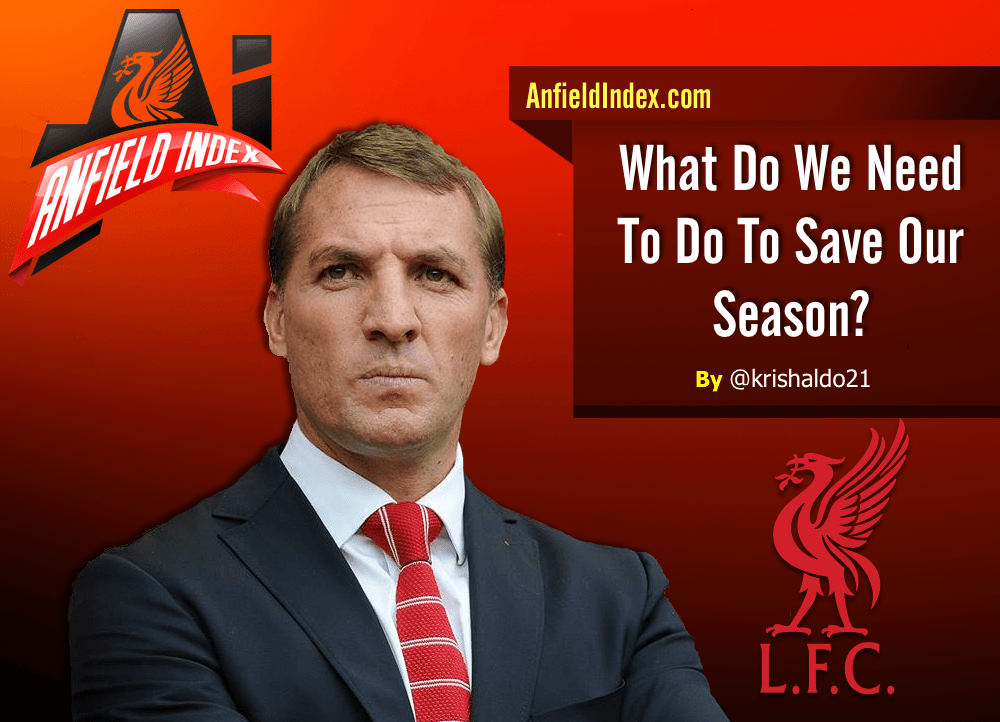 Liverpool FC: What Do We Need To Do To Save Our Season?
This article is being written in the immediate aftermath of a Jagielka thunderbolt that robbed two points from Anfield. What was a very decent performance from the Reds, was let down but the inability to put the ball in the net to secure all the points. Points we were definitely in need of. At the time of writing (i.e. before the rest of the weekend's fixtures have been played), Liverpool lie in 10th position, with just seven points from their opening six games. Just two more than the much maligned Man Utd but also just two behind 4th placed Arsenal (albeit, both have games in hand).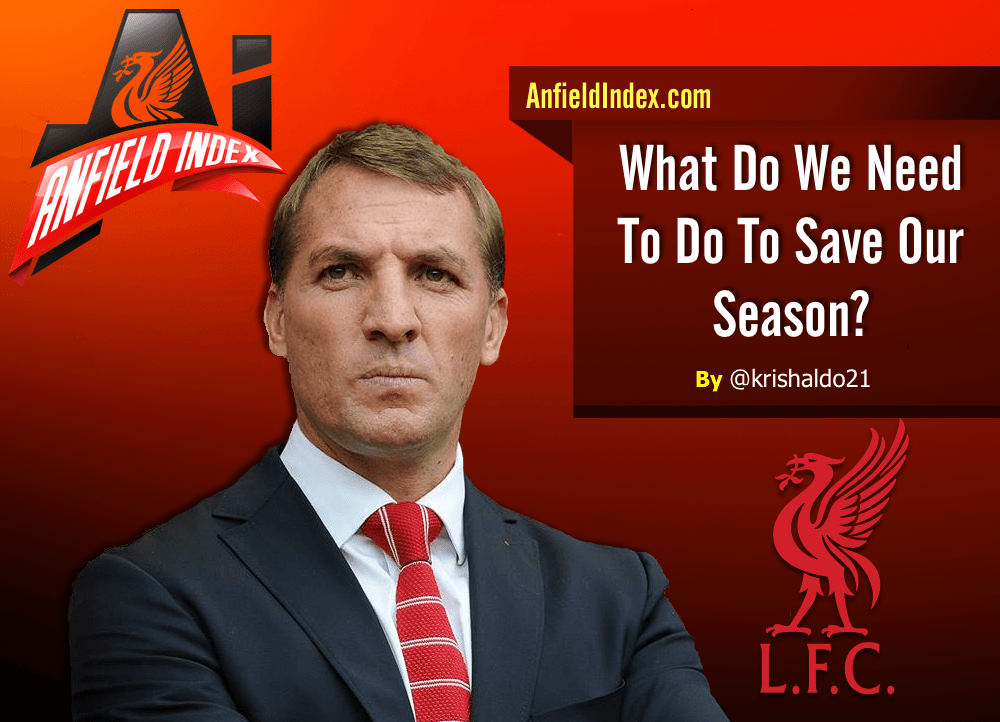 Whilst it's far too early to write off an entire season, there are question marks over our current form. It is generally acknowledged that to attain a 4th place finish, we need to gain (on average) 2 points per game (PPG) = 76 points over a season. This total would be enough to secure a 4th placed finished in all but two of the last 19 seasons. However, one of the two seasons when it wasn't enough, was last year, when Arsenal amassed 79 points.

If we look at the number of points required to finish in each of the top four positions over the last 19 season (i.e. since the league reduced in size from 22 teams to 20) we get a graph like this:
What this shows is that the points totals we now need to get into the Champions League positions is getting closer and closer to title winning form. I would suspect the the financial input from Abramovich and Sheik Mansour have increased the number of competitive teams in the league, making it a much tougher place to be at the top (even if Man Utd tried to make it easier for everyone else).
So where does this leave Rodgers and Liverpool?
I think we all agree that Champions League football next season is imperative. It will increase our cash flow, enable us to gain better sponsorship deals, help us keep our better players and, perhaps most importantly, attract the players we want to take us to the next level.
Since 2003 (when Abramovich bought Chelsea) the average points needed to get 4th is 69.2.
Since 2008 (when Mansour bought City) the average points needed to get 4th is 72.4.
In the last two seasons (a small sample, I accept) the average is 76 points.
If we accept that the points needed to obtain 4th place is getting higher, 76 points should be the minimum target this season. And as mentioned earlier, this is equivalent to 2 PPG. With a points total of a mighty 7 from 6 games, our current PPG stands at 1.17. So, to get 76 points from our remaining games, we need 69 points from 32 games. Or 2.16 PPG, which over 38 games is just shy of 82 points.
Can Rodgers' Liverpool do this?
Since taking over at Anfield, Rodgers has averaged 1.8 PPG. Not a fantastic amount, but if you remember, his first season was the epitome of what one would call a 'transitional season'. The second season began in the same vein, but in the latter part of the season (particularly after the Hull debacle) we really kicked on.
In the 25 games that followed that defeat, we averaged exactly 2.4 PPG (which over 38 games would be an incredible 91 points). If we take an even bigger sample (from January 2013 until summer 2014) we average 2.1 PPG.
Things have clearly changed from that season. We have European football now, 3 of our first choice back 4 are brand new to the club, against Everton our ten outfield players consisted of SIX new players, we have injuries to key personnel (namely Sturridge and Allen) plus there is the Luis Suarez factor (who would have been banned until the last game of October if he'd have stayed anyway).
On the positive side of things, Sterling has stepped up another level, our full-backs look like they have played football before, we DO have key players to return (things would look much worse if we had a first choice XI out there underperforming) and once this many new players 'click', performances and therefore results, should improve.
And mainly, what we have seen from Rodgers is that he plays the 'right' way. His character is of a man who doesn't give up and rest on his laurels when things aren't going well. He will adapt and alter his approach, and not rely on translating 35 year old methods from Halmstads to Malmo, to Orebo to Neuchatel Xamax, to the Swiss national team.
For me, Rodgers and Liverpool have given themselves a tough task of finishing in the top 4, but given past performances and results, it's far from impossible and if performances improve the way they can, I'd be quietly confident of being in Europe's elite competition next season too.