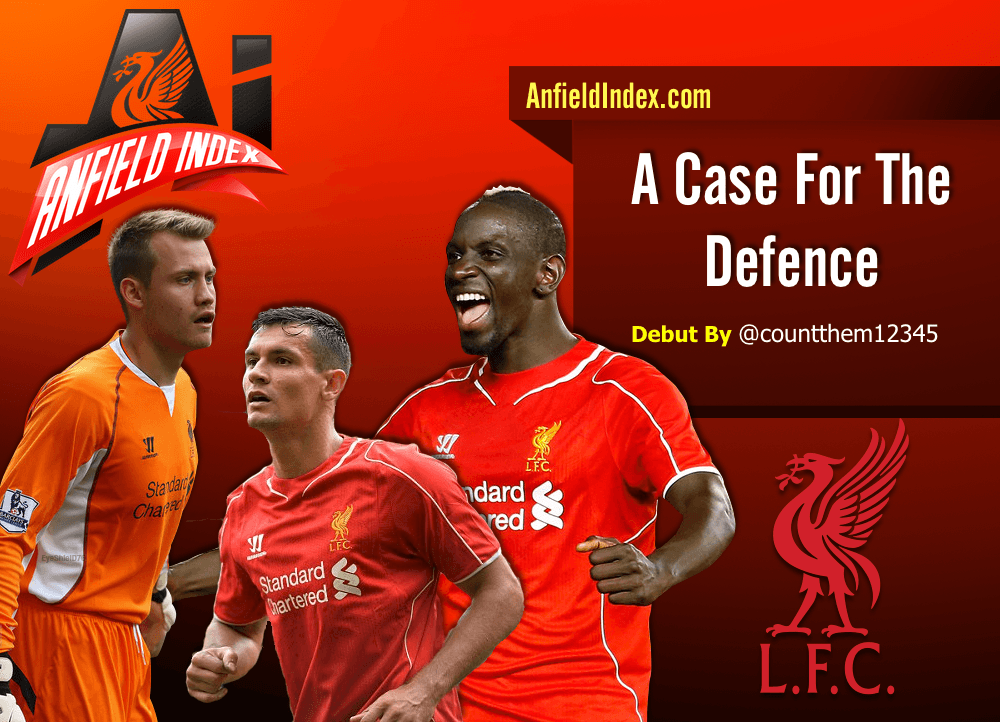 Liverpool FC: A Case For The Defence?
If ever there was a good time (and there are many) to cut off contact with Twitter it was on the final whistle after Liverpool's defeat to West Ham. The post-defeat staple diet of hysterical over reaction, scape-goating and abuse aimed at players was served up in super-size helpings. A comment that 'Brendan Rodgers is a dead man walking' from a 'supporter' was the last straw.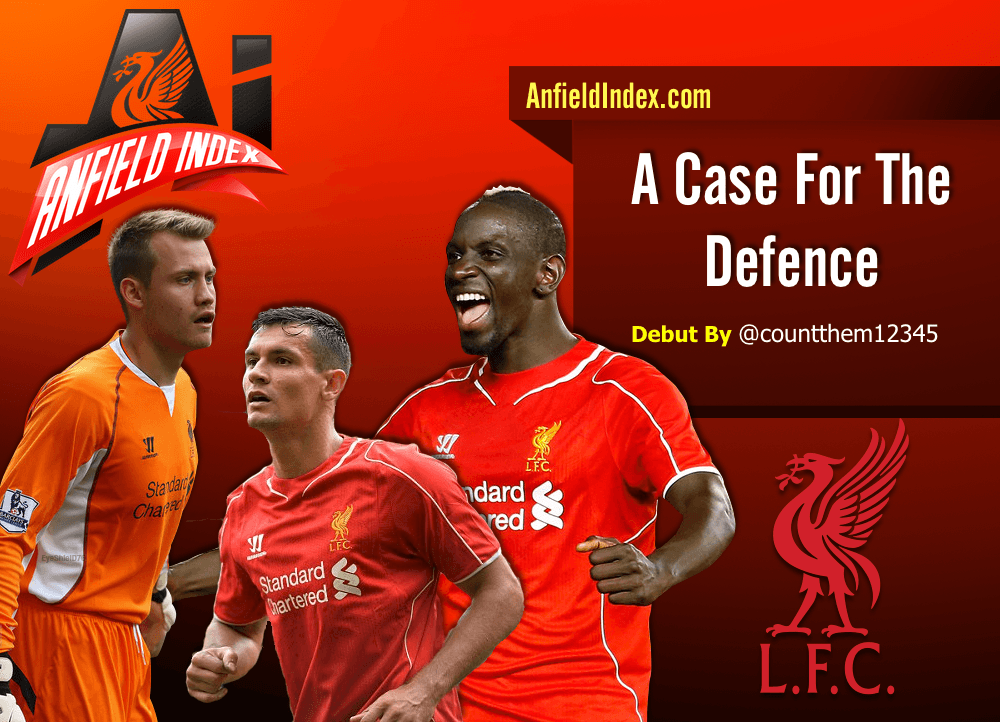 After a period of social media detox, I re-emerged wondering whether there was at least a rational kernel to the gloomier predictions of the soothsayers. Both Gerard Houllier and Rafa Benitez followed seasons when they guided Liverpool to second by a series of mistakes, leading to decline and fall of the team and the end of their own tenures.  So perhaps our resident Cassandra's comment, though premature, was not as inconceivable as my initial indignation suggested.

Which brings us to the vexed subject of our defence. Because, no matter how overblown much of the criticism that followed the West Ham defeat, what cannot be denied is that the team's defending this season looks no better – and arguably worse – than the 2013/2014 vintage. If this issue is not resolved it threatens to be the wet rot that undermines the very real foundations of progress made under Brendan Rodgers to the point that it could become his nemesis.
The first point to make is that it cannot sensibly be suggested that the manager is indifferent to defending and has done nothing to attempt to address the problem. Adding two new full backs, a new central defender and a new goalkeeper to follow is certainly not consistent with a manager complacently sleeping on his oars. But spending is never of itself a panacea and the fact that having done so, things do not seem to be improving begs questions not just about some of the purchases but, more fundamentally, about the framework within which the manager is asking the players to operate.
Part of the difficulty with discussing defensive problems is that the component parts of a good, bad or indifferent defence are multi- faceted such that to suggest the problem or solution can be dealt with in one or two changes is simplistic. A good defence not only requires good defenders but also trust and organisation between the defenders, the goalkeeper and  defensive contributions from other outfield players. If one or more of these elements is absent then good defenders can start to look mediocre or worse, with the result that  the need for changes in the defensive set up could be identified; but, the wrong changes made with potentially good players jettisoned as a result of systemic failures wrongly attributed to their own shortcomings.
Against this background there has been much debate about the merits of in particular, Dejan Lovren, Mamadou Sakho and Simon Mignolet but fair assessment is difficult given the systemic chaos that appears to surround them. Whether they are contributors to that chaos or players who could thrive in a more coherent framework is not easy to say with confidence. There has been more heat than light at times in this particular aspect of the debate, with detractors of each player straining to interpret every goal or error as being in some way attributable to their mark.
This was exemplified by the goal conceded against Ludogorets. The Lovren detractors seized on the fact that the Ludogorets player had managed to run in behind Lovren and beat him to the through ball. In reality this was the least egregious error which led to the goal, particularly given the run and through ball were well timed. A review of the goal shows wider culpability. Firstly, the otherwise excellent Moreno made an unnecessary run forward in the dying minutes of a game when he would have been better advised to remain in a defensive position. When possession was turned over our defence was immediately in difficulty as a result.  The usually positionally-sound Sakho then takes up an incorrect position as the counter attack develops, concerned by the attackers outside him but leaving a huge area inside him, into which the through ball can be played. In this situation the priority should have been to slow down the counter attack by closing that gap, buying time for the other recovering defenders, Lovren and Manquillo, to recover and then slide across. The ball carrier would then either have to take on Sakho or pass wide which, though still threatening, would give time for defence to organise. Instead Sakho is caught in no man's land, leaving the immediate through ball on, which is duly delivered into the gap he has left.  Mignolet then turns a chance into a lock through really poor positioning when narrowing the angle resulting in a goal, which not only demonstrates the multifaceted nature of our defensive problems but also the selective manner in which even thinking observers  can selectively  analyse a situation to confirm a preconception about particular players .
On the personnel issue, my instinct is that the long standing problems in both full-back positions will be solved by the talented Moreno and Manquillo, subject to some coaching input to smooth out some of the rasher tendencies that go with the territory of young defenders. In central defence there may be further changes down the line, with Rodgers apparently unconvinced by Sakho and Skrtel seemingly never far away from a reversion to his accident prone type, even though he earned the modest accolade of the best performing of the central defenders at the club last season.
Meanwhile, Dejan Lovren is an enigma. His form in his final season at Lyon might have dissuaded anyone from buying him. Yet prior to that his form had seen him cited in 2010 as one of the 100 best young players in the world. Southampton's leap of faith in purchasing him from Lyon after his radical downturn was repaid handsomely with performances of the type we are yet to see in a Liverpool shirt. The suggestion that his form of last season was illusory, the product of being protected by Victor Wanyama and Morgan Schneiderlin does not stand up to scrutiny. Good though that midfield screen was (and more on Schneiderlin later) Lovren was recognised by not only Southampton fans but also respected professional critics such as Jamie Carragher and Gary Neville .
The fact remains his form in a Liverpool shirt to date has been poor. Apart from the point already made about  broader systemic failures undermining individual confidence and performance, there is force to the argument that Lovren is trying too hard to impress at the moment. While Mark Lawrenson may be derided for his style of punditry, he was a top class defender and his recent piece in the Liverpool Echo was on point in this regard. Lovren's main weakness, even at his best, is a desire to be too eager to win the ball when it is not there to be won and this characteristic seems to have been amplified at the moment. The manager needs to address this issue with Lovren now to address this problem .
In all likelihood the current group of central defenders will be that which sees us through to the end of the season. If the current issues are not addressed then change will become inevitable whether the fault is truly that of the individual or the system. Should that situation arise, Tiago Illori is a defender made for the current system, with ability on the ball and genuine recovery pace essential in central defence if defending with a high line. Whether Rodgers rates him or considers him another unsatisfactory signing imposed on him by the transfer committee is another matter.
 Change will almost inevitably occur in the goalkeeping position. Mignolet may be a good shot stopper- a priority given the openness of the team defensively – but that is a minimum requirement and it is not unreasonable to expect a more commanding presence in addition, given the resources and standing of Liverpool F.C. Whether Victor Valdes is the solution is another issue. His distribution and communication may be superior to that of Mignolet but he was often the weakest link in an unconvincing Barcelona defence, which was protected to a considerable degree by  domination of possession and pressing high up the pitch.
What is certainly true is that when Liverpool's midfield is functioning optimally  the defence is less exposed. At its best the midfield has a high intensity pressing game which wins possession back quickly or, at a minimum, denies the opposition the time on the ball to pick passes which can expose a high line defence. It has been apparent for some time that the best performances come when Jordan Henderson and Joe Allen are the central part of a diamond in midfield. Emre Can has the potential to play in that role and his recent injury exposed the reality that has been evident for some time, namely that Lucas and Steven Gerrard will struggle if played together in the same midfield. Even the energy of Henderson cannot overcome this deficit and at West Ham he struggled to sustain his excellent form in attempting to do more work than was possible even by his own Stakhanovite standards. Add to this the difficulties in asking Gerrard to play three games in a week and everything points to the need for a further defensively-minded midfielder. Arguably, when shopping at Southampton this summer Liverpool overlooked the best target of all in Morgan Schneiderlin. Whatever the identity of the target, this should be a priority for the January window.
The least expensive element of the remedy but the biggest elephant in the room is the issue of coaching.  At times the defending has been so poor that it is difficult to believe that there is any defensive coaching at all. Some of the mistakes are so basic that they arguably should not arise from or even need to be coached into players at this level but they occur so frequently that some remedial work is clearly needed.
A common trait in our defenders is trying to win the ball when it is not there to be won or there is no need to make a challenge at all. As commented above, Lovren has been guilty of this on a number of occasions. Sakho also came to this country with a reputation for rashness and while he has curbed that tendency to a considerable degree his reckless and needless challenge on Edin Dzeko in the game against Man City at Anfield last season could have cost the game and demonstrated the tendency remains present. Skrtel's fondness for committing to a sliding challenge has also been curbed to some degree but in the same game he unnecessarily went to ground against Aguero leaving Sakho exposed to a 2 on 1, which was nearly converted by David Silva. The first goal against West Ham arose from a free kick where Moreno tried to win a difficult ball, was turned and found himself on the wrong side of the attacker and concedes a free kick when simply positioning himself  goal side of the attacker would have prevented the cross. It is possible to keep a high line and press the ball without making this error. A perfect example of this type of defending at its best is the Moreno goal against Spurs where he presses Townsend immediately upon his receipt of the ball and wins possession without going to ground or risking getting turned.
The  Carragher/Neville video analysis of Lovren for Southampton against Man Utd. contains other examples. So it is possible to defend aggressively but not recklessly, but defenders on our books who have shown that capability are not achieving the correct balance consistently enough.
Over and beyond this, is the abject defending from set pieces exemplified by some bewildering mismatches between attacking player and defensive marker which suggests little thought has gone into this – or it would be even more worrying if these match ups were planned in advance. There is also the persistent trait of our defenders to focus solely on the attacker at corners to the point where they can have no perception as to where the ball is. This is poor defending – you must be touch tight to the player you are marking but keep the flight of the ball in your peripheral vision so you can respond and make a challenge for the ball as it arrives rather than forgetting about the ball altogether and relying on the referee ignoring the WWE-type moves.
Brendan Rodgers has come out after a number of games and cited individual errors as being the cause of the defensive issues. This is true to a point but when defensive errors occur with such regularity that response – which can be seen as code for 'don't blame my coaching, blame the players' – wears thin.  The repetition of positional errors, errors of over commitment, the now predictable loss of attackers by markers at corners and/or legitimate shouts for a penalty due to defenders wrestling with no focus on the ball suggests a pattern Rodgers cannot and should not deny. There is no doubting Brendan Rodgers' ability as a man manager and as a coach capable of building an excellent attacking team. But the best managers can recognise their own weaknesses and bring in others to compensate. The appointment of a defensive coach to address the issues highlighted has become an urgent priority and Brendan Rodgers needs to swallow any pride preventing him from making such an appointment before that pride is followed by a fall.