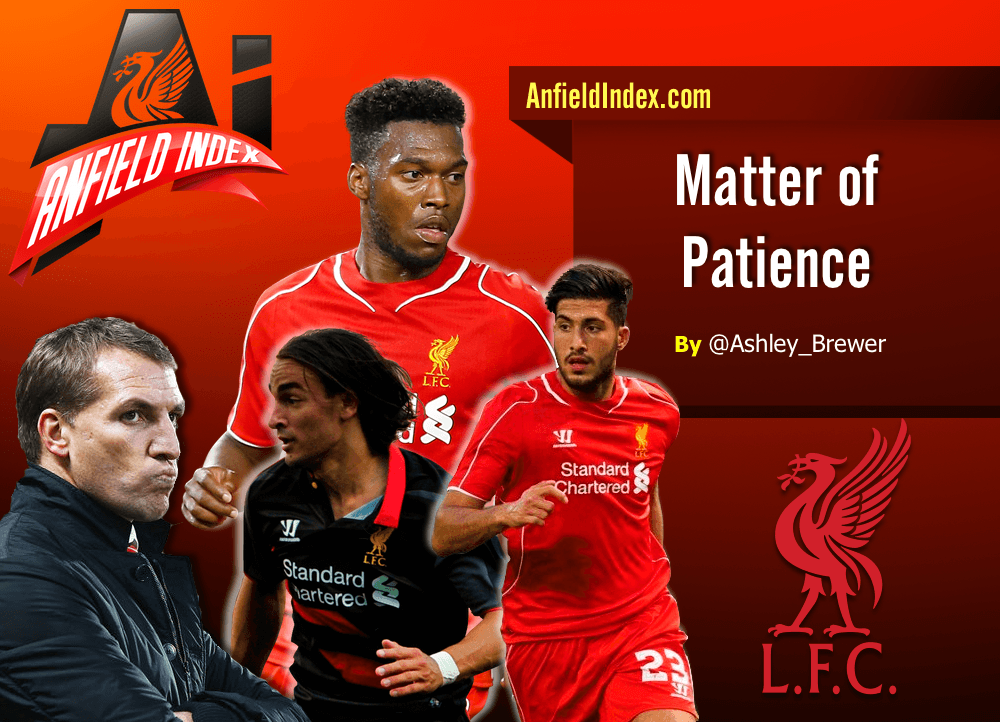 A Matter of Patience | Liverpool FC

Patience is a virtue and we want everything instantly – not in a minute, not in a day or so, we want it now. Or at least it appears to be that way.
It is true the season has not got off to the best of starts and Liverpool's Champions League return didn't start overly convincingly against "that Bulgarian pub side". The two wins, one draw and three loses which make up the first six Premier League games isn't exactly what the fans want to see, especially after last years exhilarating exploits but I'm don't think the aura of doom and gloom is justified.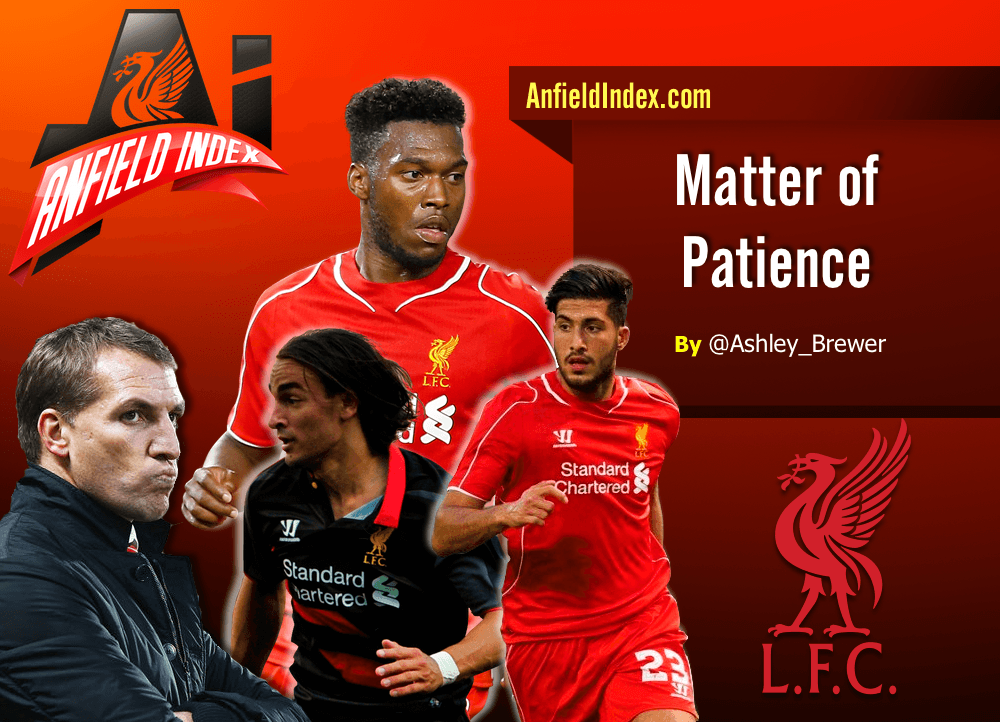 When the fixtures for this year were released I wasn't too confident of Gerrard and co. would begin with a bang. Sod's Law suggested that Southampton would walk away from Anfield with smug look upon their face, while trips Manchester City and Tottenham Hotspur making up two of the first three games made it a very difficult start. In a weird twist of fate, we actually did better than I expected in those, and have gone down hill in the games I thought we would pick up the points.
I won't sugar coat it, the Aston Villa and West Ham games were hard to watch. It wasn't because the opposition sat deep, but the total ineptness of Liverpool ability to create anything in these situations, reverting to thumping it into the box against teams for which dealing with aerial balls are their bread and butter.
The lack of creativity, of threat is of course a bit concerning but to look as far as the end of the season based on those two results is a bit over the top for me. For one, you have to take into consideration the key players we are missing.
A mistimed and mismanaged international break (aren't they all?) left Brendan Rodgers without the defence occupying Daniel Sturridge, and the metronomic play maker and pressing demon Joe Allen.
The latter's presence was evidently missed against Sam Allardyce's Hammers as they were allowed to waltz through the left midfield area without being pressured to give to the ball away: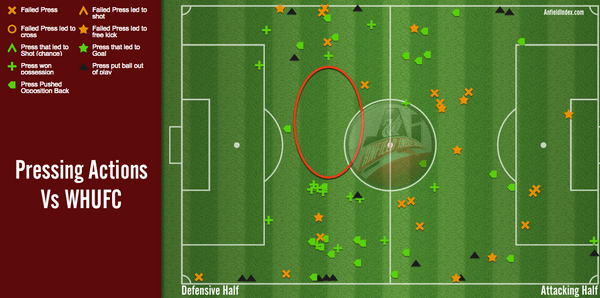 The loss of 20 year old Emre Can also robbed the manager of something different; a more direct, powerful option to have in midfield.
Another factor is the recruitment drive which happened in the summer. You may have noticed there are one or two new faces. Due to the injury crisis which annoyingly happened just as European and Cup games started to make an appearance on Tuesday and Wednesday nights, meaning rotation is impossible and forcing Rodgers to field players who have played with each other for a matter of minutes or who aren't quite 100% ready yet.
One of which is Lazar Marković. In his case, it is obvious that with a great price tag comes great expectation, to put a twist on the line from Spiderman. The Anfield faithful have been spoiled during the last two years when it comes to players coming in and performing brilliantly from the off, such as Philippe Coutinho and Sturridge. If anything, we got lucky, because those occurrences can be a rarity.
For the Serbian we have to show patience. Comparisons to the Jordan Henderson situation are everywhere but that's because they are true, somebody who is written off so early really can go on to become important. He's 20 years old, has just moved to a new country and has largely not played his favoured game, and against sides who have conceded hardly any space for him to run into.
That is just one example, patience has to be shown for him, as well as all of the new signings. It has to be shown for the team while it gels and learns how each of it's new additions play, their strengths and weaknesses. It'll take time, it'll be frustrating, and I can't promise that everything will turn out perfectly, but that's football for you.
To quote a man much smarter than myself:
"Patience is bitter, but its fruit is sweet."