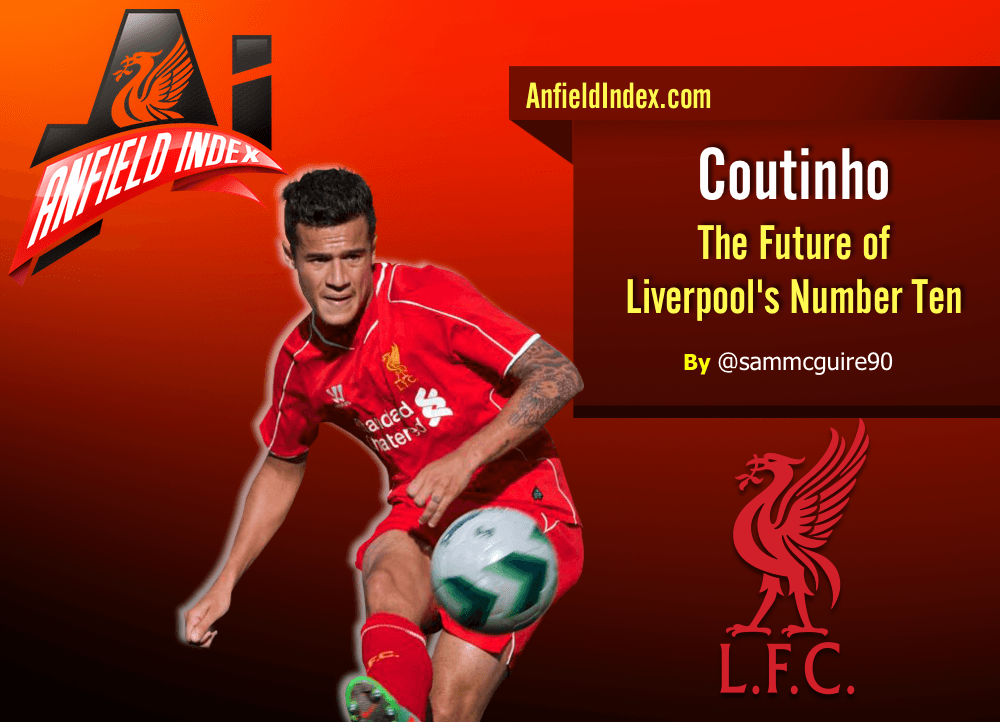 Coutinho: The Future of Liverpool's Number Ten
Liverpool's number 1o may not be best suited for the role of his number. The performance of Stewart Downing in the number '10' position against Liverpool made a few people take note of how the personnel tasked with making that position work is forever changing in the Premier League.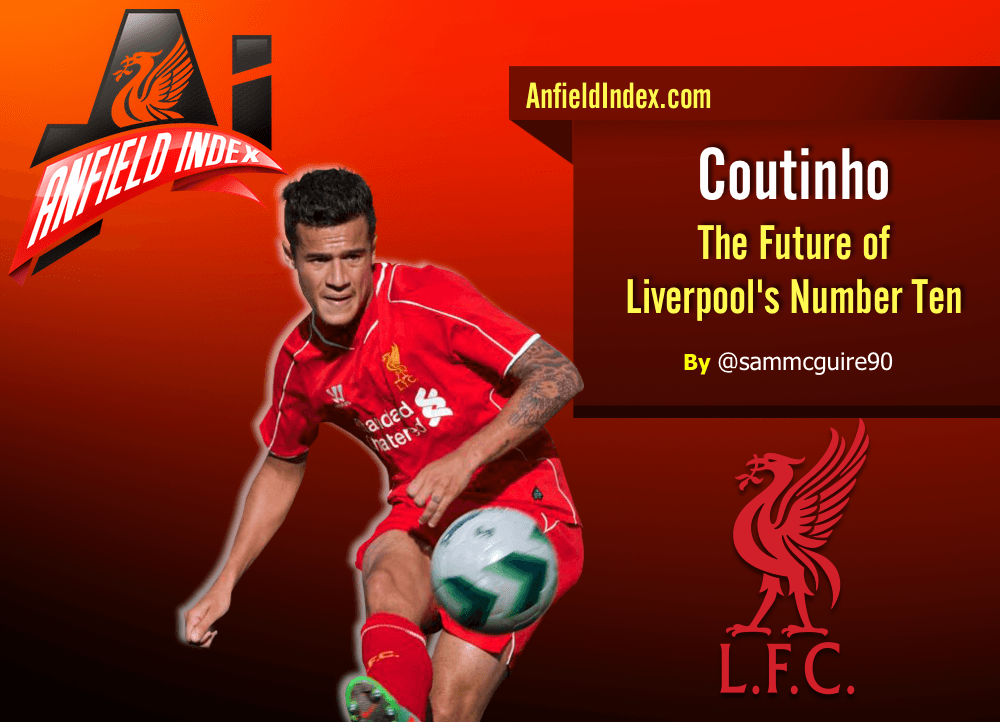 Examples of teams playing a quicker player in that position, for the purpose of counter attacks, is becoming the norm for teams who aren't the best with the ball. Liverpool fans have experienced it twice in the last month, Richardson for Villa and then Downing for West Ham. Both had a devastating effect in that position due to the directness of their play. Gerard Houllier tried to be ahead of the curve when playing Ashley Young as a number 10 during his time as Villa manager, but it wasn't so effective back then. Instead of having a wide midfielder who can cut in, they're using a wide midfielder centrally, enabling him to drift and have more of a say on the game.

It is a step down from how foreign teams play with a number 10, look across to Spain and you'll see Barca and Madrid utilising Messi and James Rodriguez in that position. Both brilliant on the ball, both have magical left foots and both can finish. If you divert your attention over to Germany, the top two clubs there have a number of players capable of playing in that position. Bayern have Goetze, Muller, Thiago and even Robben all capable of playing that role. Dortmund have Reus and Mkhitaryan. A quick glance towards Italy, who have had some fine number 10's over the years and you'll still find Totti plying his trade in and around that area of the pitch. All irrepressible and irresistible players, all versatile and all match winners.
All of those players capable of pulling the strings for their teams, turning a match on its head with one single pass. It's a thing of beauty when one of those players does something magical and gets an assist. English teams flirted with the idea of having a playmaking number 10, but it's considered a luxury . Very few can afford that luxury in the physical and fast paced Premier League. You need eleven players to compete; they all need to put in a shift defensively, which some number 10's don't. Arsenal, Chelsea, Liverpool, Utd, City, Southampton and Spurs all have number 10's that when used properly could be a sight to behold.
Arsenal have Ozil, who during his time at the Emirates has been used primarily on the left, being deemed too lightweight for the number 10 role. Chelsea have Oscar, who performs well in patches, but due to his industrious style and work rate plays more games despite the lack of goals. Manchester United currently use Rooney as their number 10, despite having a better one on their bench in Juan Mata. The latter falling victim to the overrated, Shrek-lookalike England captain, in spite of being superior in every department.
Manchester City have an embarrassment of riches. The most obvious choice would be David Silva, who is everything foreign teams look for in a number 10, yet for tactical reasons City play a 4222 formation. They also have Samir Nasri who can fill that position and Yaya Toure. Toure isn't the stereotypical number 10, he is pure power and pace yet it works so well in this league. Spurs could play Eriksen as a number 10, but he doesn't have the stamina, or the physicality to perform to a high standard in that role. Southampton can use their newly acquired Saido Mane to play in that position if required. A player with confidence, bags of quality and massive potential that could ruin many premier league teams single handed.
Then we come onto Liverpool FC. The midfield maestro that is Philippe Coutinho has all the traits of a number 10. When on form he is unplayable for the opposition, he spots passes a magnifying glass couldn't see and as Daniel Sturridge would advocate, he's a joy to play in front of. Liverpool fans expect too much from him though. The fans have this quixotic view of him and all expect him to perform every single game but it's an impossible feat. Feeling the pressure, we see Phil try too hard and his passes are sometimes over hit, under hit or simply cut out when an easier pass is on. With the signings of Adam Lallana and Lazar Markovic, coupled with Raheem Sterling's awe-inspiring performances behind the striker last season, it's going to be quite a feat for Phil to get that number 10 role.
Rodgers' tinkering on the way to leading Liverpool to a magnificent second places finish, saw Coutinho being deployed as one of the two either side of the deepest midfielder in the diamond formation, which worked to great effect. Not only did Phil hold his own, he was also throwing himself into tackles against much larger opponents, before picking passes from deeper with devastating results (for more details on this please contact Arsenal FC and Everton FC).
This masterstroke from Rodgers was vital for Liverpool, fitting the best XI players at the time into a formation that worked.
Tweaking his position
The Coutinho we seen in pre season is different to the one we seen in the Premier League games with the exception of a brief spell against Everton. He's started games as a left 'winger' and as an attacking midfielder, but it's obvious for Phil to be effective he needs to be deeper. With the versatility of this squad, and the amount of games this season could Liverpool see yet another change in position for their Brazilian orchestrator?
Coutinho in a Diamond
Fans may feel ambivalent towards resting Steven Gerrard, but how productive  could this potential line up be?
Phil at the base, receiving the passes from the defence and starting the attacks from deep. He has the ability to take the ball himself, running past players being in the knowledge that Allen and/or Henderson can fill any gaps left behind. Phil also has the eye for a pass.  With the movement of Henderson, Sterling, Sturridge and Balotelli ahead of him he would be able to start counter attacks from deep with one flick of his marvellous right foot. Allen is in the midfield to retain and recycle the ball, which he does so well and did to great effect for Swansea under Rodgers' guidance. The flexibility of this three also enables them to swap positions and drag opponents around the pitch, something Liverpool currently lack in the midfield being used.
Coutinho in a 433/4123
Again, Phil is the deepest of the midfield three, starting the plays off as the deep lying playmaker. Again this formation allows Allen and Henderson to play their natural game well, in the knowledge Phil can beat a man and retain the ball. The movement of the front three would have Phil salivating and would probably see Liverpool getting the best out of him. This three can also change from a 1-2 to a 2-1 with Allen dropping beside Phil if the game needed that.
Why the change?
Having watched plenty of Iniesta for Barcelona, a 'utility' midfielder that performs to a high standard wherever he is played. Whether it be centre midfield in a three, attacking midfield or even left wing/forward, he creates and retains the ball. Coutinho is in the Iniesta mold, a fantastic dribbler who creates something from nothing.  He could well be just as effective as the Spanish World Cup winner, if Liverpool manage to get him on the ball more. Iniesta isn't the most prolific midfielder, he doesn't grab *too* many assists either, but he does get quite a few second assists (the pass before the assist).
This isn't a given, you'd be foolish to second guess what Rodgers has planned, but this could be the next phase in Coutinho's progression at the club. Yes he did score important goals last season. However, with the club adding players in that area and it being common knowledge Coutinho isn't the best in front of goal, would it be such a bad idea? With teams dropping deeper against Liverpool, why not give their playmaker a view of the whole pitch ahead of him so he's better situated to pull the strings.