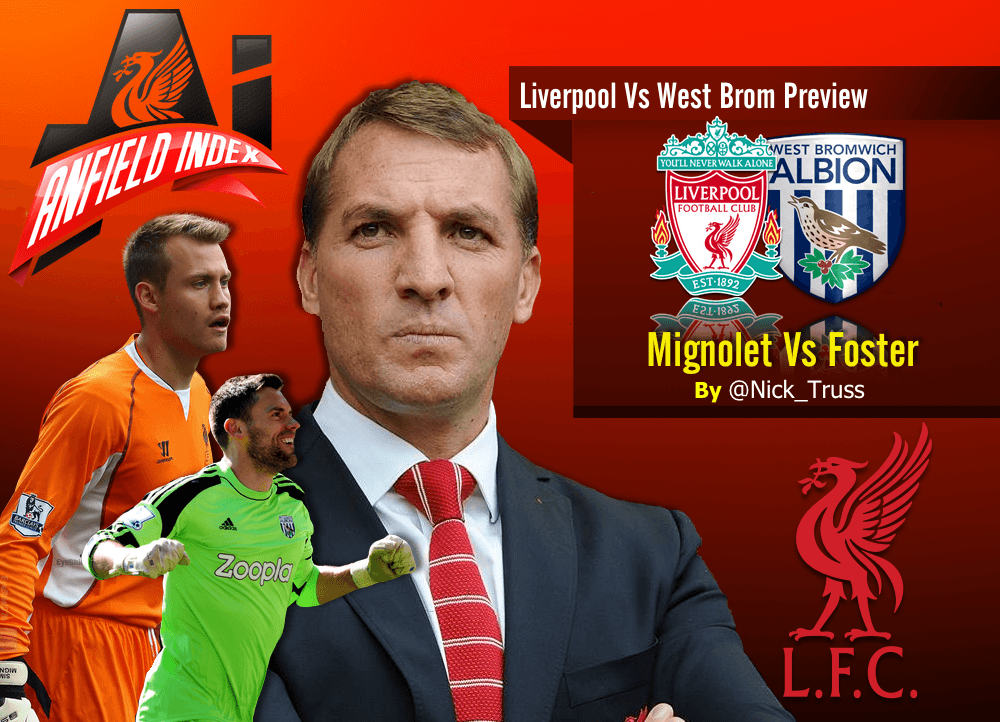 Liverpool vs West Brom including and Mignolet vs Foster Comparison
A new month and hopefully a new start for Liverpool in the Premier League, as West Bromwich Albion travel to Anfield for Liverpool's first 3 o'clock kick off of the season on Saturday. September should have been a month to remember for Liverpool as they re-entered the UEFA Champions League after a 5 year absence. However, Liverpool's Premier League form has definitely made it a month to forget for the Reds, as they picked up 1 of 9 available points. Two unconvincing cup wins have given Brendan Rodgers' side some hope, but Liverpool's priorities lie in the Premier League and staying in Europe's top competition.

Head to Head
West Brom have had the upper hand against Liverpool in the last 5 premier league games; winning 3, losing one, and drawing the 5th. Liverpool fans will remember a Kolo Toure mistake allowing Victor Anichebe in to equalise in the most recent fixtures in February. Brendan Rodgers lost his first ever competitive game as Liverpool boss against West Brom in a 3-0 defeat at The Hawthorns.

Team News
Turning up slightly late to the derby last week, I managed to catch a glimpse of Daniel Sturridge arriving at Anfield (also late) whilst rushing to the turnstiles. Myself and the rest of the Liverpool fan base are eager to see if Daniel Sturridge will make the squad for the weekend having missed every game since being left in the capable hands of Roy Hodgson, Liverpool have not had the same attacking impetus in Sturridge's absence; only scoring 1 Premier League goal from open play. Today's confirmation that Sturridge will not be included in the England squad for the games next week has come as a huge relief for all surrounding Liverpool Football Club. Mamadou Sakho (Thigh), Joe Allen (Knee), Emre Can (Ankle), Glen Johnson (Thigh), Suso (Groin), and Jon Flanagan (Knee) are all likely to miss out.
West Brom will be without Liverpool loanee Andre Wisdom for obvious reasons. Left-back Pocognoli will face a late fitness test, however as mentioned by Dan from @BaggiesFacts on Jim Fishlock's brilliant Match Preview Show (listen here) he should start the game on the left of a four man defence. Other injuries include Silvestre Valera (Groin), Victor Anichebe (Groin) and Brown Ideye (Ankle)
Daniel Sturridge makes his way into Anfield before the Merseyside Derby. Picture courtesy of @BlogBeth taken on an iPhone whilst rushing into the ground so excuse the quality you can see the original image on instagram here
Possible Line-Ups
Liverpool: Brendan Rodgers has some huge decisions to make regarding his starting line-up for Saturday; it's awful to say this so early but this is a must win game for the Reds. If Sturridge is fit does he risk further injury by putting him in from the start or does he give Mario Balotelli another go up top on his own with Sturridge as an option off the bench. We saw at Stoke last season that Sturridge can impact games regardless of where he starts them. My major concern about our recent form is the clamour for Sturridge to be thrown straight back in, with the International break coming up it maybe be worthwhile trying to protect him, giving him a week off and having him fighting fit for the run of games following.
Mignolet, Manquillo, Skrtel, Lovren, Moreno, Gerrard, Henderson, Coutinho, Sterling, Markovic, Balotelli.
West Brom: 3 Wins in a row for the Baggies coming into this one with Striker Saido Berahino finding some form, Andre Wisdom's absence will enforce a change for Alan Irvine with Cristain Gamboa his likely replacement.
Foster, Gamboa, Lescott, Dawson, Pocognoli, Gardener, Brunt, Yacob, Morrison, Sessegnon, Berahino
Simon Mignolet vs Ben Foster
Simon Mignolet's place as Liverpool's number 1 has come under severe scrutiny over the past few weeks following a string of terrible performances. Ben Foster has enjoyed a good spell at West Brom since signing on a permanent basis from Manchester United. No longer suffering under the weight of pressure from playing for a big club as well as a solid run of games has helped him develop and regain his spot in the England squad (after his returning from international retirement.)
Goalkeeper statistics aren't the best available in the current market, but with Liverpool's apparent goalkeeper crises it seemed apt to run this comparison. All stats are in Per 90 minute metrics, Image shows 2014/2015 and 2013/2014 stats for both players.
So far this season both goalkeepers have played all 6 games and 540 minutes. Simon Mignolet has let in 1.50 goals with a saves per goal of 1.33 per 90 compared to Fosters 1.17 goals conceded and 1.43 saves per goal, last season the figures were 1.32 goals conceded and 1.70 saves per goal for Mignolet and 1.59 goals conceded with 1.42 saves per goal for Foster.
Neither goalkeeper has kept many clean sheets over the past 2 seasons: Mignolet has 0.17 clean sheets per 90 this season having kept 1 at Spurs, and this was 0.26 for the whole of last season which isn't much better. Forster has 0.50 clean sheets per 90 whilst last season he only managed 0.17 in 26 games for the Baggies.
In terms of dealing with the ball, both keepers have made 0.33 punches per 90 this season, whereas Mignolet made 0.76 punches per 90 last season with Foster only making 0.21. As for catches Mignolet had made 2.67 per 90 this season and made 2.24 last season. Forster had made 2.33 catches this season and 2.47 last. These stats don't, however, show the situations in which the punches/catches were made; lots has been made on goalkeepers being dominate of their area in recent weeks, Monday Night Football even saw Gary Neville doing his best impressions of Mignolet in his tight fitting suit. This put further pressure on Mignolet and the media spotlight is firmly on him to up his performances and push Liverpool towards that coveted top 4 spot.
Prediction
A must win but extremely difficult game against a side we've struggled against in recent times. I'll take any form of 3 points, a scrappy 2-1 with a return of Penaltypool will do just fine.