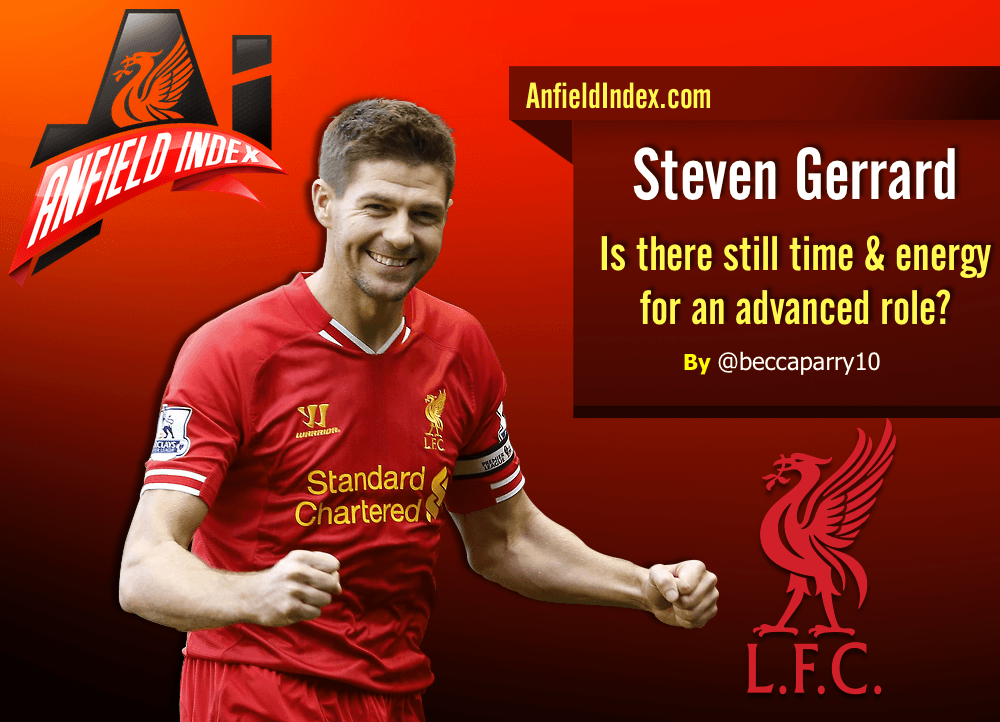 Is there still time & energy for an advanced role in Steven Gerrard?

When you think of the best moments in Steven Gerrard's career, you think of a few years ago, and back towards the Istanbul days. The further forward, higher up the pitch, scoring goals, getting in good positions, type of role that he took on so well, and made him one of the most legendary names in football history.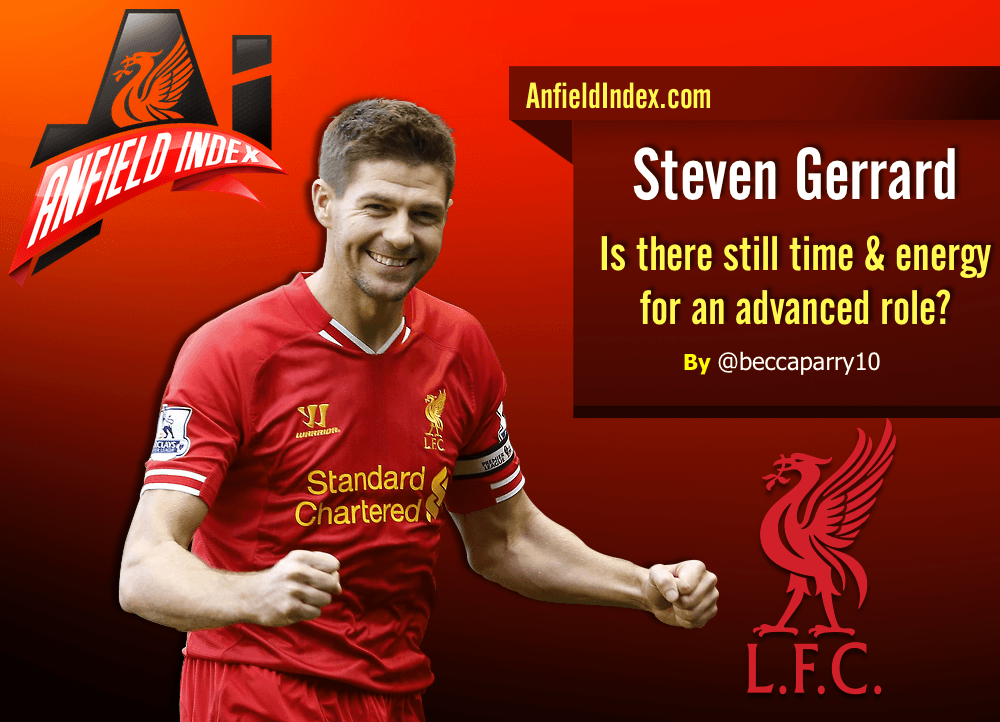 Granted, even though we all wish a player of his calibre could play at this intensity forever, it can't be done. No 34 year old can take on a 5 piece defence, playing a la Jordan Henderson and carry on week after week until they're 37/38.
And ever since Rodgers have come in, we've seen the gradual transition from creating and powering forward, to the covering and defensive role that we have seen glimpses of before, and early in his career.  Because he's developed into such an all-round and complete player through his career, it's not like we've been seeing a completely different Steven Gerrard, but more like the different aspects of his game are coming to light.
That being said, the critics have been coming out of the woodwork, after the start of this season hasn't exactly been Gerrard's best. There has been a lack of spark in his game, giving the ball away at times, and not being as big a presence as we are used to.
The question has been poised to whether we will be seeing Steven Gerrard to his full potential if he is in a holding defensive position. At the time when it was first mentioned that this transition would be happening, it seemed like the best thing to do in terms of prolonging his career. But if he is struggling to make the same impact in this position, are the club and Gerrard himself willing to risk time in his career in granting him to push forward, almost slotting straight back into that number 10 role like when Fernando Torres was here.
The reason why this has been brought up is because of the activity between Gerrard and Balotelli during the second half against West Brom. In football, even when you're captain, unfortunately people are going to be criticising when you've had a few bad performances. Those few interactions with Balotelli brought back memories of what the captain can bring to the table when he's playing in that position.
When Gerrard played with Torres, they scored 54 goals between them in the 2007-08 season, and that's in Sturridge and Suarez territory. It's been said ever since Torres' decline, that he would have never been the player he was then without the support of Gerrard behind him.
If he is to take this position on again, we all know there would be consequences in terms of playing time. However, you'd hope that with the promise still shown on Saturday, will highlight the need for a balance to be struck between the two, fulfilling the career of Gerrard before his age does take it's toll on his body. You could take the view of him becoming a bit part player like Frank Lampard, as he continues to crop up with the big goals, even for Manchester City.
But it makes you think, wouldn't you rather see the best of Steven Gerrard while we still can?