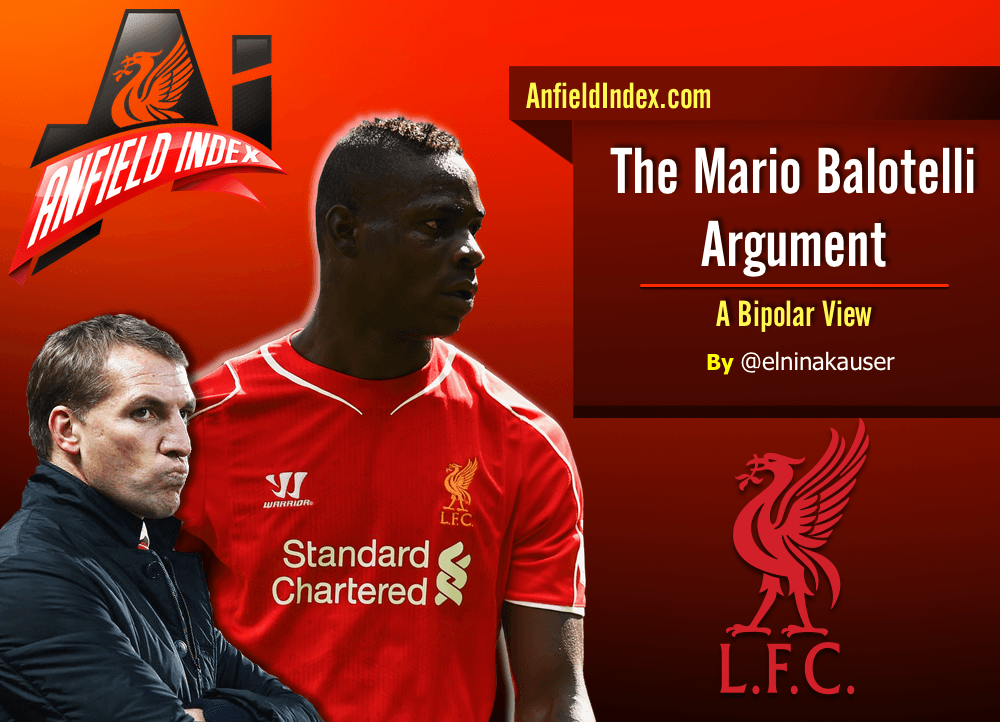 The Mario Balotelli Argument | A Bipolar View
Now I'm not the biggest Mario Balotelli fangirl, you only have to listen to my debut on the AnfieldIndex podcast to know my sentiments on 'Super Mario' (by the way I'd never call him that). I couldn't quite understand the mass hysteria around this signing from our fans. Yeah he's a big name in the game and you can't grumble at the fee we were about to pay for him but, in my opinion, he was limited in his ability and I've always believed he thinks he's better than he actually is. It was probably unfair of me but I kept comparing Mario Balotelli to Luis Suarez but the only commonality between them was neither one of them were a shrinking violet.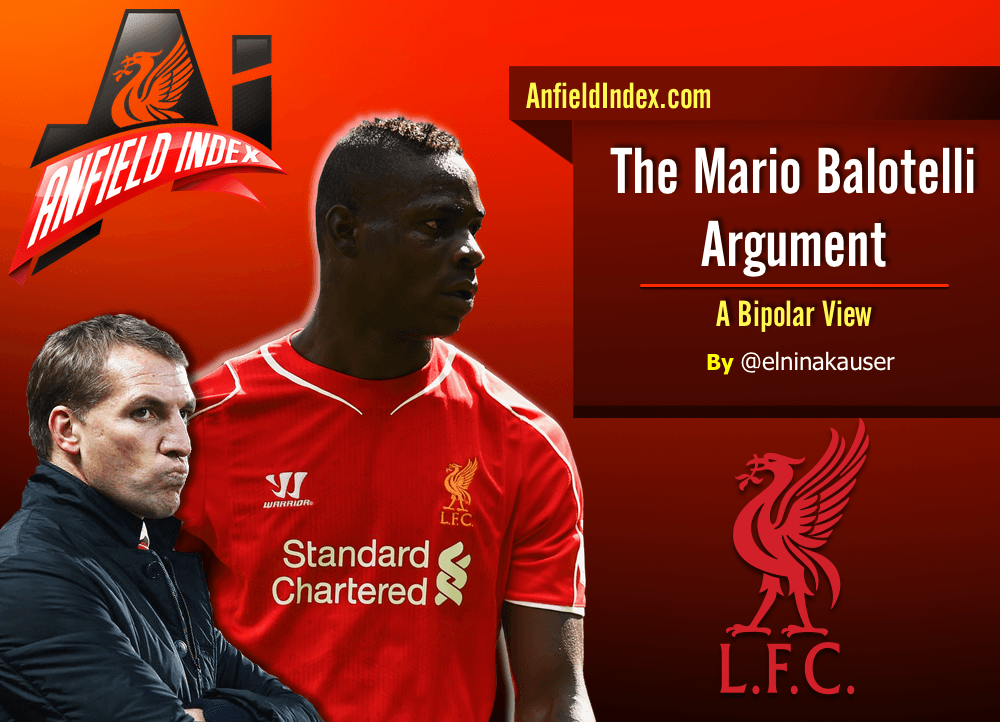 So the inevitable happened, Mario Balotelli became a Liverpool player and I had no choice but to accept it. I've always wanted every player to do well in a Liverpool shirt and Mario is no exception to that rule. I'm not one of those pig ignorant fans who would cut their nose to spite their face just for the sake of being proven right in a heated debate, nothing is bigger than the club and I'll gladly take one for the team or twenty if Mario would be so kind as to oblige. As I said on the podcast: "prove me wrong Mario".
Mario has featured in five games for the Reds in the Premier League and I find myself going all girl interrupted on him. I'm often listening to two very conflicting voices in my head that I can't block out despite how hard I try. A full on heated debate with myself on the ability of Mario Balotelli and the services of the AnfieldIndex podcast panel are not required here. Allow me to present both sides of argument – I'm having a word with myself.
The optimistic voice gently whispers and champions Mario's work ethic. There's no denying Mario seems up for it he's even been seen defending corners. The Italian has looked very much a team player for Liverpool aside from the Villa game but lets be honest the whole team was shocking, so you can't place the blame solely on him. He looked sharp against Ludogorets after his goal even though it came on the 82nd minute. The shackles seemed to be off and I saw flashes of brilliance from Mario.
However the pessimist within me suggests that Mario Balotelli's deep positioning is the very reason why he's not scoring. He becomes static and anonymous in deep positions. He's also quite clumsy; Mario is often guilty of losing the ball when making forward runs. The main reason why Balotelli was bought was to create a moment of magic but judging him from the games I've seen him play he's very reliant on his team, if they're quiet so is Mario and that simply isn't good enough, we need a game changer a leader in attack not a sheep and coming to life in the last 12 minutes of a game and scoring his only goal against Ludogorets does not make Mario Balotelli a world beater, harsh but true.
The optimist within me pipes up yet again. Team spirit is essential in any sport and Liverpool FC thrives on this quality and I cannot fault Mario on this. He seems to be getting on well with his team mates, even Steven Gerrard has been posting pictures of Mario on his Instagram whilst players such Sterling and Sturridge seem to be besotted with his infectious character. Surly this off-field chemistry will be a recipe for success on the field?
The Mario Balotelli cynic is not so convinced. I'm sorry but we didn't sign Balotelli to become a BFF (best friend forever) with Sturridge and Sterling. He was bought in to score goals and assist his teammates with chances. I don't care for their selfies or their social lives. The chemistry must be apparent on the pitch and right now it is practically non-existent. Mario is struggling in his role as a lone striker in the absence of Sturridge. This is something he must come to terms with. As Sturridge is an injury prone player Mario must make forward runs and help his teammates out so they are able to play a ball to him. He's not getting the service you say? I say he's too deep and not only isolating himself but the midfield. I find that formations and style of play must be catered to him and as a result players must be dropped or forced to play a different role due to his limitations as a striker. Lets not forget, Mario was benched against West Brom.
The optimist attempts to salvage this debate with a last ditch attempt to defend Mario Balotelli and the levels of maturity he's displayed since he's come back to the Premier League. Going back to those horrific performances against Aston Villa game and West Ham, Villa and West Ham constantly targeted him, two teams who reverted to old skool tactics of kicking the lumps out him. Despite their best efforts to rile Mario and yes, the Hammers goalie Adrian was in on the action too. Mario walked away with a yellow card, I'm not going to lie I did hold my breath and gasp for a few moments it could have been a lot worse given his track record.
Right hold it right there, enough of all the hypothetical and optimistic nonsense- time for some Mario Balotelli home truths (The cynic within me is peeved off, pulling out all the stops or stats in this case). Mario Balotelli has played a part in 5 premier league matches; he's had 334 minutes of playing time. He's had 23 shots, not bad you say? Well, only 7 of those have been on target and he's failed to test the keeper at any time. Mario Balotelli has attempted 9 shots inside the area and 14 outside. Shoot long range all you want, we have Gerrard who can do that and still test the keeper. Having said that his pass completion is at 74%, which is very respectable. On a bad day Suarez would average in the high sixties so I can't grumble at that although, that is the last time I'll compare the two. Now for the numbers that matter, he's got picked up one yellow card and has failed to score in the Premier League, that's right 0 goals in 334 minutes. Not to sound like a broken record but let' not forget he was dropped against West Brom due to this factor.  The stats don't lie.
However, there's a long way to go and writing off Mario Balotelli would be unfair and a tad premature. He needs to deliver performances such as the Spurs game otherwise as things stand, its pretty much game, set and match to the pessimist.