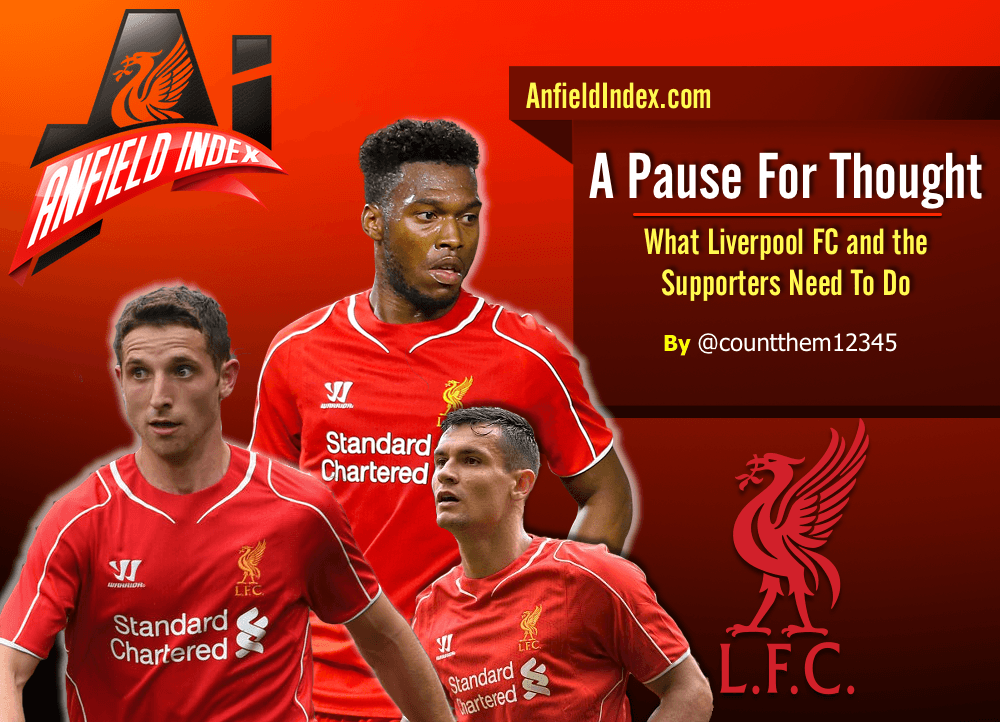 A Pause For Thought | What Liverpool FC and the Supporters Need To Do
Unwelcome though international breaks usually are for many Liverpool supporters, this time may be different. While it may be argued that  the momentum of a much welcome win against West Brom may be lost as a result of the break, this will be more than offset by the benefits of recuperation time and hopefully a return to fitness of, in particular, Daniel Sturridge and Joe Allen, together with Emre Can and Mamadou Sakho.
Another benefit is that this hiatus allows time for considered reflection on the season so far. So here are some thoughts for Brendan Rodgers, FSG and Liverpool supporters.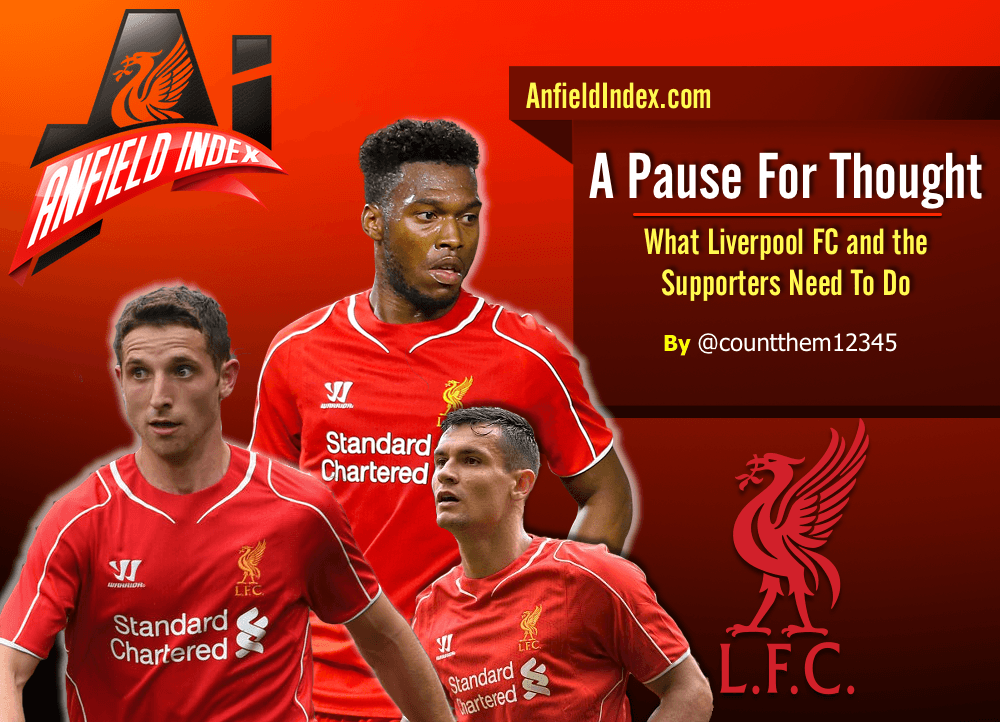 KEEP CALM AND SUPPORT THE TEAM
Aside from the Tottenham game and some aspects of the Everton game, performance levels have not come close to those seen in the second half of last season. But then again, it would appear to be easy for many to forget that performance levels prior to January last season were similarly inconsistent-remember Southampton at home, Hull and Arsenal away, for example? Even in the games we won at the start of last season the performances were stuttering. To which some may answer that results are what counts and the points on the board at the start of last season compared to this season are telling. But last season the only 'big' opponent we had to face in our first seven fixtures was a hardly sparkling Manchester United and at Anfield at that. This season we have had away fixtures already at Man City and Tottenham already.  A fairer comparison is to look at the corresponding fixtures last season against the same teams which Liverpool have played this season  and in this  respect we had 13 points compared to this season's 10. So in terms of performance and results there is not that much between the two seasons, suggesting the laments of the prophets of doom in the media and social media are at least premature and overstated on the evidence at this stage. Certainly, we need to improve-and this will not happen automatically-but some perspective is in order. We are one point off fourth place despite some tough fixtures, significant injuries and the inevitable teething problems associated with new players integrating into the team.
All of which brings us to the response of supporters to the difficulties of recent weeks. Certainly, it is the job of the team to excite enthusiasm in the supporters rather than primarily vice versa. But it should not be a one way street. While Anfield can still generate unparalleled atmosphere the support at a number of home games this season has been muted and at times unhelpfully impatient, that's if you can get to the game – if you can't, you can always try buying the Liverpool tickets available here. Of course, this phenomenon is not unique to Liverpool or an entirely unprecedented phenomenon at Anfield. By the mid-1980s the atmosphere at 'standard' home games often exuded a complacent expectation that the game should be won within the first fifteen minutes and irritation if this was not the case. The problem of success breeding unrealistic expectation is, perhaps, human nature. But by  the mid-1980s  this was more understandable: there  was a mature team at the height of its powers which had proven it could dominate. In 2014 we have a young and still developing team which exceeded all expectations last season and yet the level of expectation seems similar to that experienced in the 1980s. More understanding of this reality , more patience and  greater vocal encouragement are in order.
The same could be said in relation to our supporters on social media whose least attractive side has been exposed by the run of poor form. The response of many to defeats and disappointing individual and team performances has lacked any sense of perspective and has verged on the hysterical. Beyond the pale are the so called 'supporters' who directly address abusive messages to players. These are a despicable minority but regrettably the problem goes wider. It was dispiriting to see a message from a writer on a  LFC  supporter website tweet a message to Simon Mignolet during the Man United game asking why he could not make a save like David De Gea. This encouraged a follower of the writer to reply-copying in Mignolet-that "Valdes is coming soon". How either thought this was constructive or appropriate is opaque .This may not be abuse in the narrowest sense but it is part of the barrage of taunts and destructive criticism which players cannot realistically avoid in the age of social media, particularly given many laudably seek to engage with supporters by this means. Yes, they are paid well to perform and balanced constructive criticism goes with the territory. But they are still human and they-and their performances- will be hurt by the stream of invective which is directed at them especially when it comes from their own supporters.
While there may always be a mindless minority who hurl direct abuse there is a responsibility on the rest of us who wish to discuss the team, management and players to do so in a balanced and constructive fashion. There are some  widely followed supporter-commentators on LFC matters who pursue individual players with all the balance and fairness of a medieval witch trial, straining to find every fault in their quarry, denying any conceivable merit or mitigation and dismissing any dissenting opinion with demagogic rhetoric which would have made a member Stalin's inner circle blush . As the example above illustrates, this targeted criticism can set the tone and embolden their fellow travellers  to be more direct in their criticism. There is more of a continuum between the persistent targeted criticism of these commentators and the direct abuse levelled at players than some of these critics would care to acknowledge. While all supporters are entitled to views on team matters our criticisms should be balanced both in the assessment and language used. So in that spirit…
WE NEED A DEFENSIVE COACH
The best managers in any field, including football, are good delegators no matter how hard working and talented they are themselves. They are sufficiently self aware to recognise their own weaknesses and co-opt help to address these issues. Brendan Rodgers is clearly an excellent ,and still developing, coach but in his time at Liverpool he has not demonstrated an aptitude for organising a defence capable of performing to a high standard in the Premier League.
The usual answer from Brendan is that most if not all of the goals conceded are the result of 'individual errors'. While this may superficially absolve himself and the coaching staff of any responsibility for defensive issues, this argument does not stand up to scrutiny. It is unsurprising that statistically a great many goals can be attributed to 'individual error' given that the majority of goals could have been prevented by a defending player's action at some point. But many of the errors are of a recurring nature which can and should be addressed. For example, when defending set pieces many of our players focus on the player they are marking virtually to the exclusion of any awareness of the ball. This goes beyond Skrtel and Lovren (though both are serial offenders) but was in evidence, for example, in the Middlesbrough game where Ricky Lambert could be seen facing away from the direction from which the ball was being delivered while staring intently at the man he was marking. This is poor basic defending and our persistent difficulties in dealing with set pieces should be telling the manager that something is systemically wrong rather than result of individual lapses.
Other issues include poor positioning especially the failure to reduce gaps between defenders- see the goals conceded as a result of errors by Skrtel against Southampton, Lovren against City  and Sakho against Ludogorets . There is also the tendency of our defenders to  try to win balls when they cannot  and do not need to do so. Examples which led to goals here include Moreno for conceding the free kick for Wet Ham's first goal, Lovren's foul on Berahino against West Brom which, though it should not have been a penalty was a  clear foul and a tackle he simply did not have to make. There are numerous other examples where free kicks have been conceded in dangerous positions and yellow cards given where a defender should have stayed on his feet.. This issue may be the result of players misapplying the manager's strategy of pressing the ball with a view to regaining possession but whatever the cause , the issue needs to be addressed.
So the point is that there are identifiable patterns here which suggest the problem is systemic rather than purely individual. While we can debate the merits of each player in the defence, few would suggest that all are so flawed as to be fundamentally not good enough to play for the club. Indeed, Manquillo and Moreno are arguably  the best full back pairing at the club for some years. The manager needs to accept that better coaching of the team collectively and individually is required. Given the time he has had to bring about such improvements he would be well advised to accept that the presence of a specialist defensive coach may improve issues while allowing him to focus on his own strengths.
THE DIAMOND IS OUR BEST FRIEND
One of the myths that Brendan Rodgers dispelled last season was that he was tactically dogmatic. Both in formation and approach, the team that thrilled us in the second half of last season was far removed from the 4-3-3 tiki-taka style with which he had hitherto been associated. He deserves credit for his pragmatism in recognising the traits of his squad and adapting the formation and approach of the team to maximise those qualities.
It is frustrating, then, to see us revert to 4-3-3 or 4-2-3-1  when none of the strikers we have is well suited to play the  lone central role and when this also precludes the use of Raheem Sterling in the central role at the tip of the diamond which gets the most out of his abilities. Brendan has talked about the need for players to break the lines and Sterling can do this best in this role. Jordan Henderson's energy is also wasted when he is required to play alongside Steven Gerrard as a deeper lying midfielder in a 4-2-3-1.
Our record and performances when comparing the two systems are in stark contrast and provide all the evidence needed  in favour of the diamond. So don't overcomplicate things-stick to what works and the results will follow. To some extent the fluidity that the diamond allows will also help address the next issue…
MORE URGENCY WITH AND WITHOUT THE BALL
A notable contrast between the majority of performances this season and those in the second half of last season has been the lack of speed of movement both in pressing to regain possession and also when we have possession. The latter is particularly understandable given the presence of new faces in the team familiarising themselves with the runs to make for still unfamiliar team mates. However, addressing the slow pace with which we are moving the ball must be a priority if we are to improve our attacking play after the break. Occasionally, moving the ball faster and more progressively may increase the risk  of turning over possession but that risk is outweighed by the benefit of penetration which is harder to achieve with slower but more telegraphed movements  both of players and  the ball.
Some of the criticism of Mario Balotelli has been overblown and at times bears the hallmarks of finding evidence to fit a pre-conception in the manner referred to earlier(for example , the 'lazy' stereotype  has been thrown at him despite some genuinely  hardworking performances). But one area of real improvement required from Balotelli is a willingness to pass the ball earlier and move into space for a return, though he is not alone in needing to improve in this respect.
The decline-or at least inconsistency-of our pressing game has been disappointing. Of course, the presence of new faces can still be a factor here: pressing is not just racing blindly after the ball but rather doing so in a coherent fashion which does not leave pressers isolated and wasting effort. Until the newcomers adapt to the system, coherent pressing will be hard to achieve. All the same there has been a singular lack of energy which contrasts sharply with the pressing of last season. The major exception to this was the Tottenham game .It is no coincidence that Joe Allen started that game and that Emre Can was available to bolster the pressing effort as a substitute. What must be recognised is the centrality of the pressing game to our success and, in turn, the centrality of players of the Henderson, Allen, Can ilk who can execute that plan. Brendan Rodgers was correct in his view that the loss of Jordan Henderson to suspension following the Man City game at Anfield dealt a critical blow to our title chances as there was nobody else quite like him. This brings us to the next point…
NO SLEEPING ON OUR OARS DURING THE JANUARY TRANSFER WINDOW
It is widely acknowledged that securing top players during the January transfer window is problematic. The best players are often at clubs who are challenging for honours and are unwilling to let them move mid-season. But it is fair to say that recent history shows players of real quality can sometimes be acquired in this window-think of Suarez, Sturridge, and Coutinho just from our own recent experience.
Rumour has it that FSG were puzzled by the inability of the transfer committee to identify defenders in last January's transfer window. If so, they were not alone. Much work was done in the summer and those writing off many of the new acquisitions at this stage should think on how Jordan Henderson has been transformed from the diffident player struggling to make an impact in his first two seasons to one of the most important members of the team at present.
All the same, the evidence of the season to date demonstrates there are some areas where the work was left unfinished in the summer transfer window and which, with the right acquisitions, could make a significant impact in the second half of the season and years to come.  A genuine defensive midfielder who could allow Steven Gerrard to be rested for some games or pushed forward as was the case against West Brom is top of the list. Saul Niguez or William Carvalho would fit the bill and would be effective now but also part of effective succession planning
There are other issues which may arise: if Fabio Borini leaves, a further mobile goal scoring striker who can fulfil the role of challenging and/or covering Daniel Sturridge will be a priority given how sorely he has been missed in recent weeks and the reality that he appears likely to periodically miss a certain percentage of games going forwards.
A FINAL THOUGHT
The season may not have started as we wished but each of the seasons under Brendan Rodgers has seen improvement as the season progressed. If the management and players can implement some or all of the points above-and supporters do their part also-the overblown angst of the last few weeks will be a distant memory.