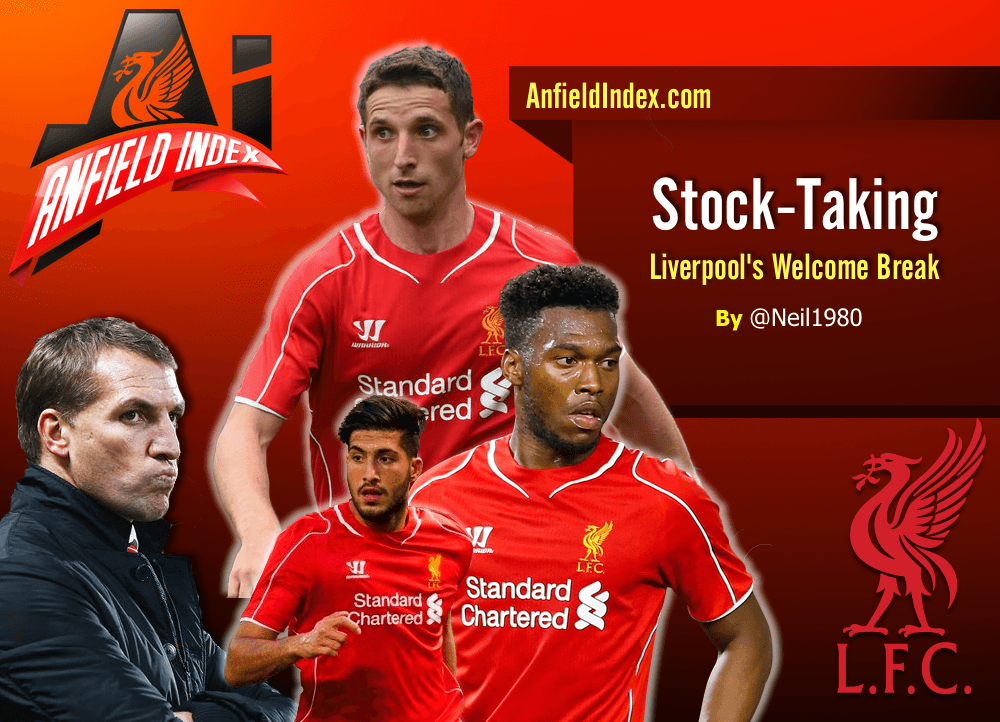 Stock-Taking: Liverpool's Welcome Break
Seven games into the season and we've arrived at the second international break already. Ordinarily, I have no time for these most unwelcome of interuptions to weekend life. Like most Reds, and fans of other clubs I'm sure, the highlight of my weekend is watching club football. It's what we look forward to, what we think, talk and in some cases write about all week, and the difference between a win or a loss has the power, should one allow it, to make or break each weekend, and the days which immediately follow.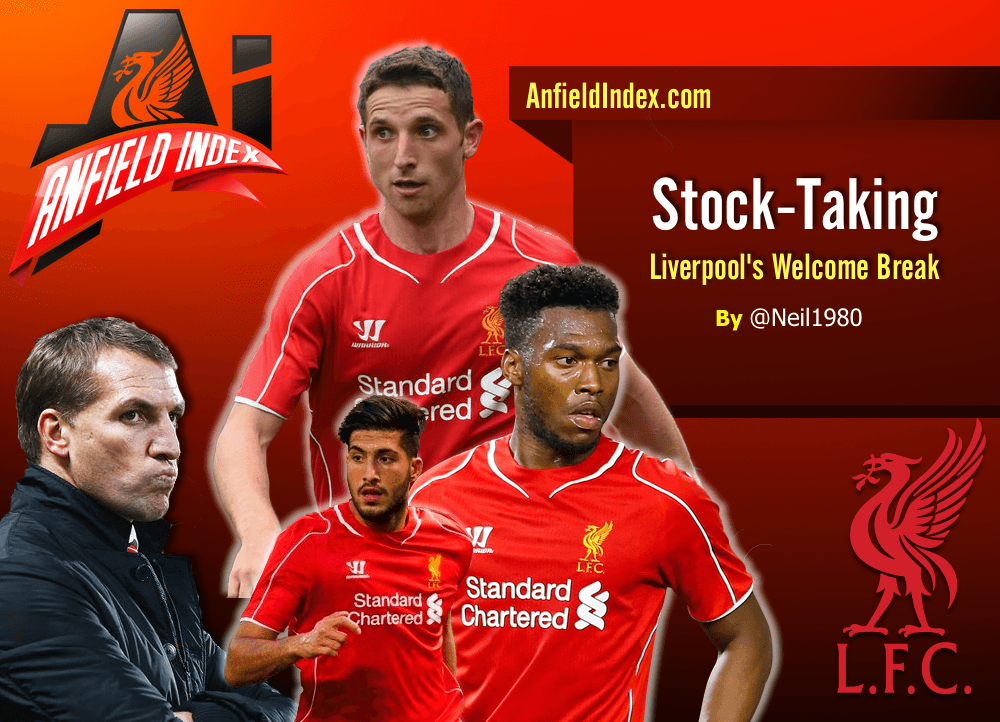 This time however, irritating as the dearth of club football may be, one could certainly argue that the international break has come at a welcome time for LFC, and the fans. It's been well documented that the Anfield club hasn't enjoyed the opening spell that anybody associated with it would've wished for. Injuries to key personnel; a tough fixture list; the necessity of bedding in new players, along with indecision in defence, and uncertainty as to the best eleven, have all combined to give the Brendan Rodgers, the players, and fans an uncomfortable two months. So uncomfortable that many believe they may lose out on a Champions League spot – place a bet with Betfair on whether Liverpool will qualify again.

The pause in Premier/Champions League action gives Liverpool's stricken stars a great chance to recover from their respective knocks. Neither Daniel Sturridge nor Joe Allen has been available for selection by Rodgers since the Tottenham game; easily Liverpool's best performance of the season so far. Allen's injury has been compounded by the damage done to Emre Can whilst playing for the German U-21 side, meaning that midfield cover has had to be provided by Lucas – a situation which has been far from ideal.
With Sturridge, Can and Allen obviously excluded from this round of qualifiers, Steven Gerrard retired, and Mario Balotelli out of favour under Conte for the time being, Brendan Rodgers will have been hoping for those squad members who have been called up, to return injury free. Unfortunately that will not be the case, as Dejan Lovren has already had to pull out of Croatia's squad, and could be unavailable for the match at Q.P.R. a week on Sunday.
Lovren's injury, coupled with Sakho's thigh strain is hardly good news for Rodgers. Liverpool's new look back four has struggled to find a level of form or consistency so far. The full-backs have settled in expertly for the most part, but it's been centrally where the problems have been. Lovren has looked like a bull on roller skates in a fine porcelain and crystal emporium, whilst Sakho has done little to silence critics who see him as ungainly and nervous in possession – Bambi on ice is an analogy which has been used. Skrtel, Rodgers' "go to" centre-back has been his usual self – unconvincing and unable to adapt to changing circumstances as they unfold – and with Kolo Toure inspiring precious little in the way of confidence, in front of a goalkeeper whose self belief seems shattered, Brendan Rodgers has a conundrum on his hands with the clock ticking.
Work on the training pitch over these two weeks could prove vital in Liverpool's quest for clean sheets, solidity and understanding at the back. At the very least, Sakho's injury means he'll stay at Melwood for treatment, and with time to work with the players between games much more limited this year, a full fortnight for Rodgers, Pascoe et al to work with the defence is likely no bad thing.
As for us fans: a little respite; a chance to take stock, and apply some perspective to our campaign to date is, at this juncture, quite a healthy prescription. The disappointment of the Villa game, and the capitulation (within seconds) against West Ham were horrible moments in this fledgling season; the domination and ultimate humiliation of Spurs at White Hart Lane, undoubtedly the current peak. If I were pushed though, I'd have to say that the win over West Brom last Saturday was the most pleasing performance/result in terms of where this season can lead us. Anything other than victory, and the likelihood of top four would've been questionable. The victory however, and the manner of it – responding quickly and upping our game, to bat away the challenge of a side in great recent form – appeared to be a signal of intent from the Reds that last year was no fluke; a warning that Liverpool have not gone away.
That signal was as pleasing as it was necessary; the belief can return. The issues remain: the defence needs work, and the goalkeeper situation is unclear – with Victor Valdes touted in some quarters to complete his medical with the club during this pause. However, Liverpool fans can now look forward to having an almost fully fit squad after the international break.
Sturridge's return will likely see a switch back to the diamond/box-kite formation, with Sterling dropping back into the 10, whilst Allen's return in midfield will offer far greater energy, pressing efficiency, and more effective, composed ball retention than has been available in his absence. Balotelli and Sturridge looked to have formed an instantaneous understanding, and the mouth waters at them potentially clicking long-term. On the back of last week's victory, Reds can hope to watch their side put a run of victories together, and climb the table; with the fixture list kind to us over the next month, it mightn't take much to make us dream again!