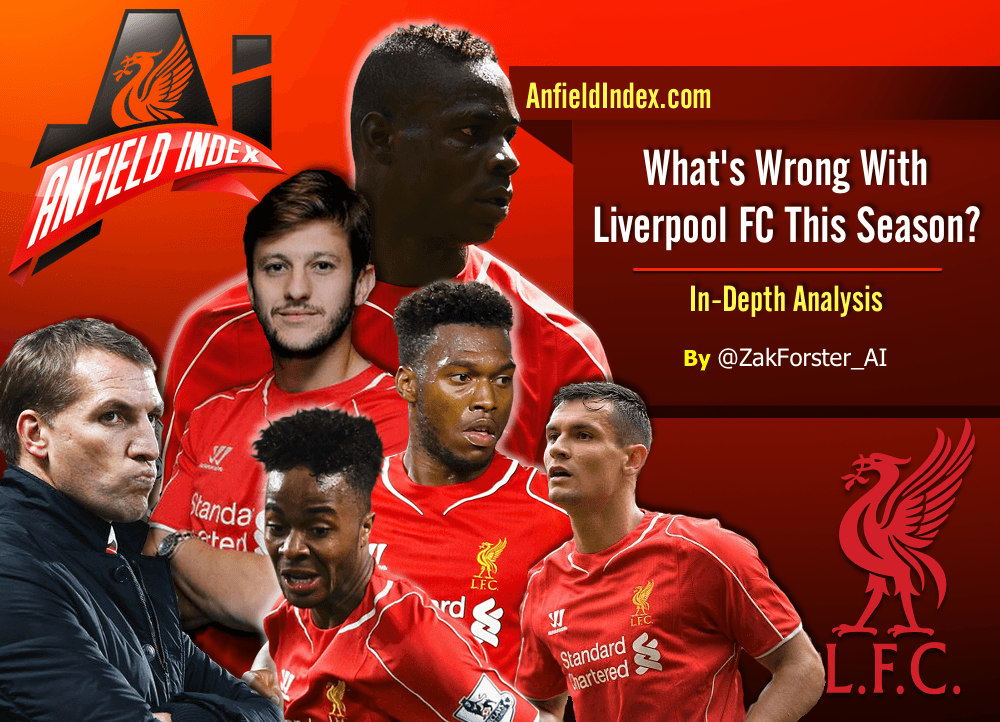 In-Depth Analysis: What's Wrong with Liverpool FC this Season?
What a difference a summer break makes. Brendan Rodgers had Liverpool playing some of the best attacking football the Premier League had ever seen during the latter stages of last season, but now the Northern Irishman is facing question marks over his credentials and player signing policy. Seemingly, Liverpool have morphed into an ugly duckling version of themselves. A version of themselves that cannot break down supposedly weaker teams, a version of themselves that relies on individuals rather than the collective unit and a version of themselves which has lost its vision and identity. Put lightly, it's been a bad start to the 2014/2015 season for Liverpool.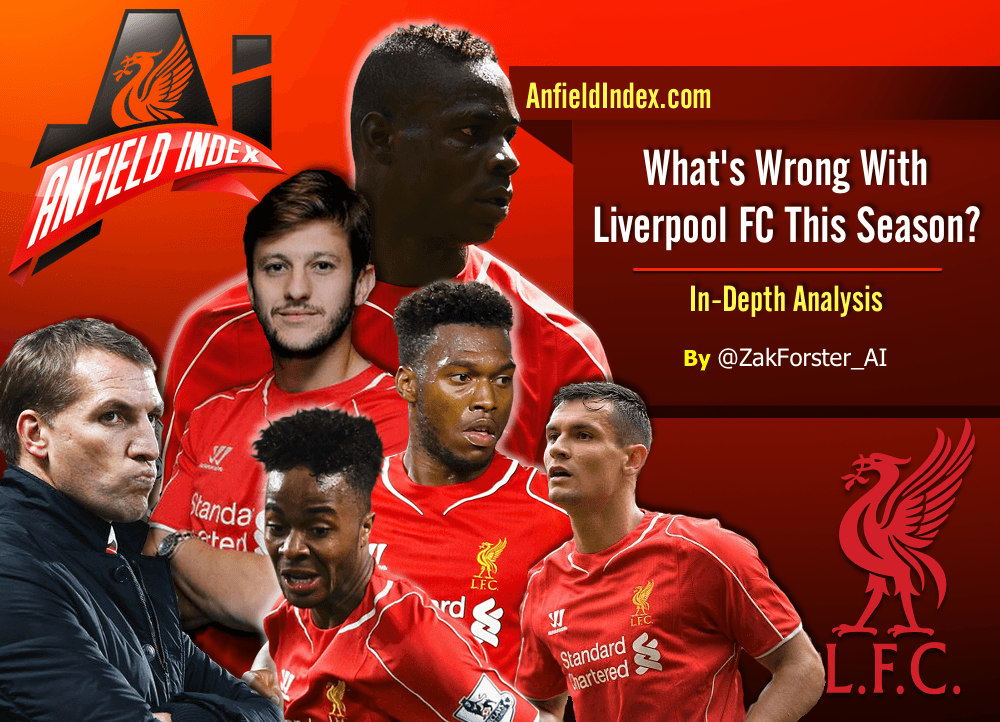 Defeat in the recent European match against Basel was a new low for many Red supporters with a majority, including myself, taking to Twitter and other forms of social media to vent their frustration at the current state of the Liverpool team. Things got a little more positive after the victory over West Brom but there were still clear signs of things to improve upon and the previously mentioned Twitter meltdown, upon which I embarrassingly embarked upon, is what this article will be based on. This is my take on what has gone wrong this season and whether these issues can be fixed.
The offensive transition is sluggish – and that's being kind
One of Liverpool's greatest weapons from last season's title challenge was the quick break: the Reds' ability to turn defence into attack was something to behold. Liverpool would press the opposition into cul-de-sac after cul-de-sac before finally regaining the ball and breaking in a blur of electric pace. Raheem Sterling, Luis Suarez, Philippe Coutinho and Daniel Sturridge would power towards the opposition goal before the victims could even think about defending. The best example of this was the scintillating 5-1 victory over Arsenal at Anfield.
Liverpool's third goal that day, a fine breakaway goal created by Jordan Henderson's relentless pressing of Arsenal playmaker Mesut Ozil, is a fantastic example of offensive transition working at 100% capacity.
Above, we see Henderson pressing the German World Cup winner and dispossessing him at 15 minutes and 51 seconds. Nine seconds later and the ball is in the back of the net:
The same can be said for Liverpool's fourth goal in what was a breathtaking display of attacking football from the Reds:
Here, we see Coutinho, Henderson and Jon Flanagan pressing in a general area around the Arsenal left and Liverpool right. Eventually, the Reds coax a mistake from the Arsenal players and Coutinho nips in before Jack Wilshere can reach the pass from his team-mate. Seven seconds later this happened:
Arsenal's defending on the day didn't help them but Liverpool's offensive transition was simply lightning.
The reason that Liverpool have struggled to use this weapon thus far is simple: injuries. Daniel Sturridge's, let's call it accidental, demise at the hands of Roy Hodgson stopped Liverpool from using this lightning-like weapon for a number of reasons. Firstly, the ball constantly finds itself at the feet of Mario Balotelli – a much slower player in terms of how he plays and holds the ball up and secondly, the lack of striking options once the attack forms. As seen against Arsenal, Liverpool had four or five attackers in goal scoring positions just seconds after regaining the ball, this season, however, the Reds have found themselves undermanned upfront with Balotelli often unwilling to penetrate the six yard box or even work the channels. Sturridge's return will help Liverpool in this regard.
Hodgeball and bad luck
This should be a much shorter section to dissect because it requires little tactical discussion – much like a Roy Hodgson team talk. As we've already discussed, Hodgson did his best to rid Liverpool of their focal point but there have been a number of other injuries which have ripped Liverpool's "much improved" squad to bits.
Each injury has affected the squad in different ways; Sturridge's thigh injury robbed Liverpool of their ability to attack at speed with two strikers on the field. One of the most profound ways in which the Sturridge injury affected Liverpool is the method they create chances and where these chances are attempted from. With two strikers on the field Liverpool's quality of chance was far higher than it has been with one striker ploughing away upfront alone. Here's a graphic which shows Liverpool's attempts from the game against Spurs:
As you can see, Liverpool created a lot of openings around or inside the opposition six yard box – often in the centre of the goal between the two posts. This is with both Sturridge and Balotelli on the pitch at the same time for most of the match – meaning one was always in the box and the other could create. The next graphic is from the Everton match – Liverpool had more attempts but so many were from outside the box with Liverpool looking a shadow of themselves from the Spurs game:
Aside from the Balotelli chance which was tipped onto the bar by Tim Howard, there were very few clear openings for Liverpool and the amount of shots taken from beyond the 18 yard line is worrying to say the least – clearly, without two strikers Liverpool are unable or not confident enough to break down a Premier League defence.
Additionally, injuries to Joe Allen and Emre Can meant Rodgers couldn't rotate Steven Gerrard (except in the Capital One Cup). Flanagan has been missed at full-back with Javier Manquillo unable to rest (he's just 19 years old) due to Glen Johnson's injury. Other injuries to Adam Lallana and Lazar Markovic in pre-season meant two of Liverpool's hefty signings couldn't bed in properly until the season was well underway – this always meant Liverpool would be playing catch-up in terms of fitness and points as players felt their way into the season. Injuries to Mamadou Sakho, Martin Skrtel and Dejan Lovren are even more frustrating because none of the senior centre-backs have been able to form a partnership, which must be seen as a continuing reason for Liverpool's poor defending.
The injuries have clearly taken their toll on Liverpool and the injury crisis has forced Liverpool to play a number of different formations and systems. That handsomely leads us onto the next point…
Who are we?
Some of the blame here is laid at the feet of Hodgson and some of it at Rodgers' doorstep. This season, we've seen Liverpool deployed in 4231, 433 and 442 diamond formations. The diamond is easily Liverpool's best system when everybody is fit and firing because it allows Liverpool to press in midfield with the "3" behind the tip of the diamond and the Reds always have two strikers on the pitch to work the channels and the centre at the same time.
Here, using the Anfield Index Tactics Board, we see Liverpool's strongest eleven players in the formation they are most comfortable with – they promptly thrashed Tottenham 3-0 at home:
This formation sees the pressing of Joe Allen, Henderson and Sterling coupled with the variety in attack with Balotelli and Sturridge. This was Liverpool's team before the international break when Hodgson caused Sturridge's thigh injury during a standard training session – full of verve, pace, power and cohesion.
This is the side the faced Basel in the second round of Champions League group matches:
This is Liverpool minus Allen (injured with Wales) and Sturridge (Hodge'd). We see here a clear 4231, a formation that was hugely effective for Rafael Benitez around 2007 and 2008 (it is no longer in fashion shall we say). Liverpool's players played with much less attacking speed on the day with Gerrard's main strength and purpose of being in the side robbed – the skipper was unable to launch quickfire balls into the channels because the one striker on the pitch was unwilling to use the spaces out wide. Balotelli did not play badly, nor has he in any of his appearances thus far (although his decision making must improve), but his tactical brain was not set up to be playing alone and the thinking behind his purchase was clearly to play him alongside Sturridge not without him.
Now here's the blame part, identity-wise. Firstly, Hodgson, Christ I'm so bored of talking about him – I'm really sorry about this, he injured Sturridge and forced Rodgers into a lone striker system with Lambert too similar to Balotelli and Borini just not cutting it. Secondly, Rodgers, as he clearly wanted this 4231 formation to be a thing. He played it against Southampton at the start of the season (although in his defence he had no Balotelli and no Loic Remy to partner Sturridge so perhaps blame is too harsh here, although he isn't innocent this season). Thirdly, internationals; Liverpool couldn't use a three man midfield effectively in the Basel game because they couldn't muster three decent central midfielders together. Allen was injured, Emre Can injured his ankle with Germany's U21's whilst they were 6-0 up against Romania and Lucas can't press to save his life – not without giving away a Charlie Adam-esque foul anyway.
All in all, Liverpool need to get back to being the pressing, pacey, energetic team from last season and that should happen against Queens Park Rangers in the next fixture. The strikers can be paired back together (Sturridge, Balotelli), the midfield three should be reformed (Gerrard, Henderson, Allen) and an in-form Adam Lallana can play at the tip of the diamond if Sterling is in need of a rest. The defence can do what they want – Sakho should be back in with Lovren's injury set to see him miss out.
Rodgers has two eyes on the attack, and none to spare for the defence
Remember when I said Rodgers wasn't innocent either? Well, this is it. Rodgers' eye for defenders is poor. It's been pretty shoddy ever since he arrived too. In terms of management, he is still very young so he could quite possibly overcome this weakness in his game in a few years' time, however, at the moment it's costing Liverpool points.
This isn't some witch hunt that has begun to affect the players, it's a genuine thing. Gerrard, Skrtel, Lovren and Simon Mignolet are a poor defensive core unit. This is a fact. Each have their own good games, but very rarely, if ever, are they at the same time. This leads to mistakes. Each has their own glaring flaws too. Skrtel loves to dive-in when he's dragged out wide because he's so uncomfortable he wants the ordeal to end as quickly as possible so he jumps in and either gives away a foul (see West Brom) or he gets skinned (see Manchester City 13/14, Anfield). Either way, Skrtel isn't hanging around near that white line thing. Then there's Lovren, he likes to dive in for the love of it, either that or he's uncomfortable during any point when he's stuck between those white line things (see penalty decision vs West Brom). Simon Mignolet is often found to be an adept shot stopper, the save from Nacer Chadli earlier this season is testament to that, but the other aspects of his game like clear communication and penalty box control are poor – which are the reasons that Thibaut Courtois continues to beat him to the Belgian 'keeper shirt. Then there's Gerrard, whenever he's isolated one on one he is vulnerable, this isn't meant to be an insult but it's something that is downright obvious. Our midfield three of Gerrard, Henderson and Allen is nothing like Juventus' Pirlo, Pogba and Vidal/Marchisio so Gerrard's fellow midfielders simply cannot protect him all the time – this leaves Liverpool's already skittish centre-backs vulnerable to direct assault, which is, to put it simply, a terrifying ordeal for us supporters. Rodgers has failed to fix this central issue despite the money and time afforded to him – he must improve.
Set pieces – the now great enemy
Liverpool seem to be struggling with set pieces at both ends of the pitch. Last season we simply couldn't defend them but we scored them for fun. Now, the Liverpool set piece machine has ground to a halt, which is negating yet another of Gerrard's great strengths; you may have noticed that Gerrard takes a smaller amount of dead balls this season – with Lallana, Balotelli and Coutinho taking corners and free kicks much more frequently than in previous seasons. However, although this is good planning for when Gerrard hangs up his boots, it simply isn't working in the short term and I believe the Reds need to get back to some consistency with their set pieces – perhaps this isn't the issue, perhaps Liverpool became so impressive from set pieces last season that they stopped practising them. If that's the case then they seriously need to oust that lazy attitude because standards are seriously starting to slack.
The lack of threat from our own set pieces is a worry but the threat from opposition set pieces could derail our season. For example, the Basel winner. Skrtel, too busy wrestling The Undertaker (in his mind), heads the ball backwards with his eyes closed; the ball then hits Lovren on the back and ricochets towards Mignolet's goal; Mignolet has a split second to react so I'll give him the benefit of the doubt here, the 'keeper scoops the ball away from Manquillo who could easily clear the ball with his left foot. The ball is then dead centre of Liverpool's six yard box and Marco Streller smashes it into the roof of the net. The farce level for that goal was literally comical – it needs fixing.
What can we take from all of this?
Well, firstly, we can assume that with Allen and Sturridge coming back in the starting eleven, Liverpool will be operating as close to last season as possible. There'll be two strikers and a midfield trio of Henderson, Allen and Sterling/Coutinho/Lallana who can press opponents along the midfield and in their own half.
Secondly, it's not as bad as we thought. At the time of writing, Liverpool stand one point behind the Champions League qualifying spots with all to play for in the European group too. Things can be remedied and since the Sturridge injury – the focal point of our team, which needs backing up with a quality striker (Remy anybody?) – the team have been trying to pick up points as best they can before we get back to full efficiency. It's been a damage limitation job and it's gone about as well as we could have hoped.
Thirdly, we've been unlucky, both with injuries and decisions to a certain extent – West Brom shouldn't have had a penalty and Gareth Barry should have been sent off within 10 minutes of the Merseyside derby.
I hope this piece has made people feel a little better about Liverpool's prospects this season, at the very least I hope some people understand some of our weaknesses better and that these weak spots could be remedied soon enough with a fitter squad. However, this piece does not highlight everything wrong at the moment. Squad disharmony is another factor and some players simply look unhappy at certain times. Balotelli is another factor that could be discussed as he tries to fully understand what is needed of him – other than entertaining Instagram posts.
Let's see how this season pans out, it's this scribblers opinion that we'll be alright when push comes to shove – I hope you agree?