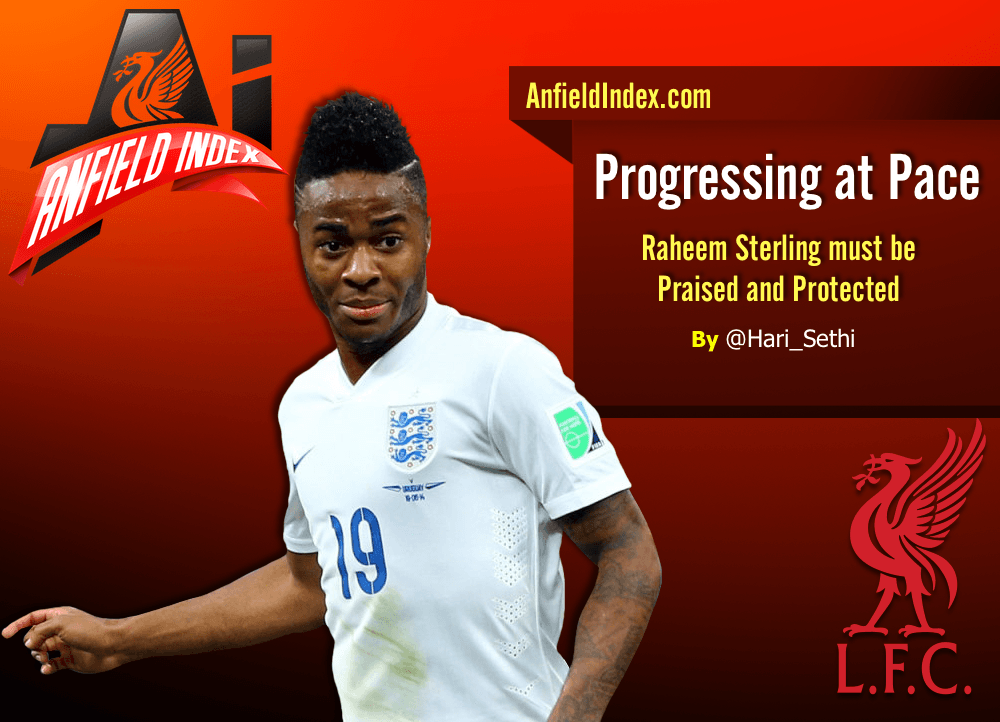 Progressing at Pace : Sterling must be Praised and Protected
Raheem Sterling's rise to prominence over the past 12 months will likely see the young talent sign a lucrative new contract at LFC in the coming weeks, however, the pace of the forward's progression has also seen him burdened with great responsibility at the age of just 19.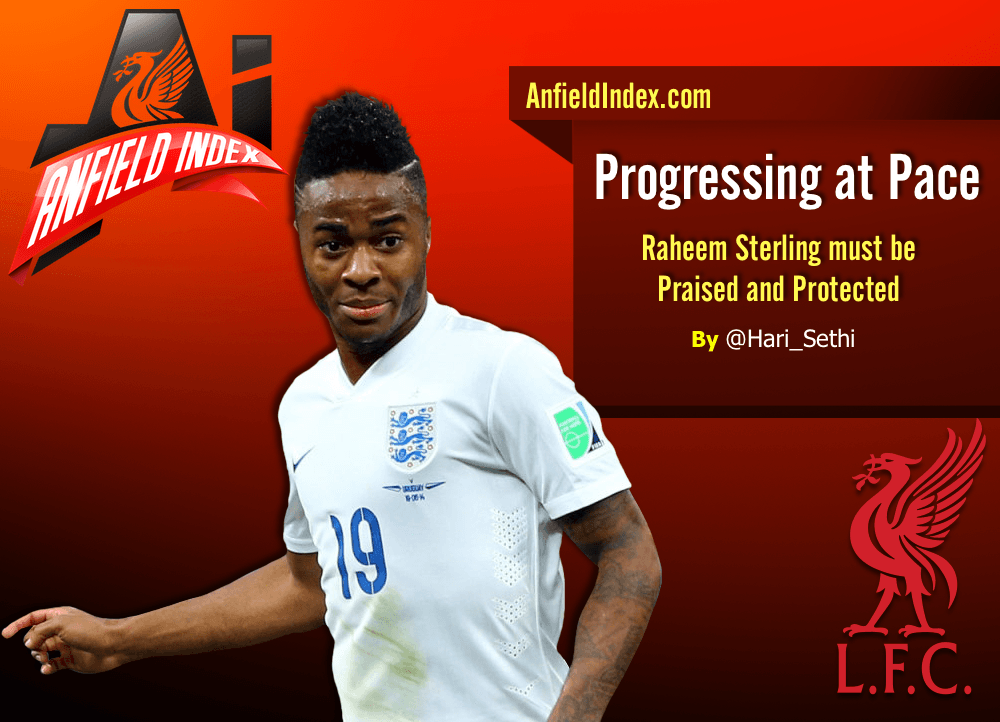 Having suffered a disjointed start to the 13/14 season under Brendan Rodgers where Sterling failed to truly establish himself in the brief substitute appearances he was afforded, many fans (wrongly) began to question whether he had what it took to make it at the top level. Yet 12 months on and the only fears you're likely to hear voiced from fans as far as Sterling's concerned is why he isn't the starting line up that day.

Such has been Sterling's contribution to both club and country that it's very easy to forget how young the forward is and how careful those managing him must be to ensure he achieves his full potential without burning out prematurely.
English football's recent history is littered with examples of young players prematurely encumbered with the expectations of a nation, their steady progress upended as they're thrown into contention in the hopes they gloss over the flaws of a previous generation.
Arsenal's crop of talented youngsters has felt the brunt of this detrimental delirium in recent years with Wilshere, Walcott and Chamberlain all rushed into the fore at both club and International level. Whilst offering these players experience at the highest level is tempting and somewhat valuable, charging them with a workload similar to that of the senior players surrounding them only increases the chances of physical and mental malaise.
In Rodgers' first season, a debacle of a summer transfer window meant the manager felt forced to thrust talented youngsters like Sterling, Suso and Wisdom straight into the first team. It wasn't until the acquisitions of Coutinho and Sturridge in January 2013 that he finally felt comfortable enough to relieve them of what he openly regarded as premature responsibility.
As a result of the poor summer window, the 12/13 season saw a 17yr old Sterling amass a total of 1,748 mins of playing time. A year later he'd notch up 2,218 minutes as Liverpool narrowly missed out on the title. Just two months into the start of the 14/15 season and Sterling has already played 1,105 mins of football; all of this following a draining first World Cup campaign.
It's little wonder that the youngster has complained of fatigue yet perhaps what's proved most mentally debilitating to the player is the increased pressure on him to produce. Injuries to key personnel and the departure of Luis Suarez have meant Rodgers has felt forced into overly relying on his young star often looking to him to inspire an underperforming side to victory.
Whether Rodgers should have used Sterling more sporadically to manage his fitness with greater care is up for debate; playing him for over two hours against Middlesbrough in a Carling Cup tie was certainly a questionable decision. Yet with injuries forcing the manager to integrate a larger number of new players into his side than he'd initially have intended to, it's little wonder that Rodgers has turned to player's like Sterling whom he can trust to produce a high level of performance.
In recent games for Liverpool signs of Sterling's growing mental fatigue had become increasingly obvious as his usually meticulous touch and considered passing began to desert him throughout matches. Whilst Sterling's physical performances have still been to a high level the technical elements of his game in which he has been so proficient over the past 6 months have started to seem like hard work for the youngster.
Heading into the International break, which Liverpool fans have come to dread in recent months, Sterling finally expressed his feelings of fatigue to England manager Roy Hodgson in a private conversation, which in hindsight should've remained that way.
However, rather than taking responsibility for the decision to rotate Sterling and provide Lallana with a chance in the side, Hodgson chose to publicise the youngster's comments thus placing him at the centre of the latest overblown 'scandal' to plague the national team.  Whilst it's possible Hodgson was merely seeking to be upfront about such an issue, by explicitly referencing Sterling's claims of feeling tired he exacerbated what should've been a relatively straightforward issue.
Though Sterling's honest admission was welcomed by England manager it was  greeted with cynicism and contempt from many fans, with plenty eager to regurgitate ill judge comparisons between underpaid soldiers and pampered professional athletes; yes, that happened again.
Ill informed former pros began to weigh in on the debate with Stan Collymore and Alan Shearer both expressing their indignation that a 19yr old footballer could possibly be tired only 2 months into the season.  This overblown reaction was not unexpected however, as British football's out-dated and stubborn obsession with a 'bulldog/stiff upper lip' mentality has prevented many from educating themselves on the facts that modern day sport science lays bare.
Rather than lambasting Sterling for feeling tired we should instead be praising him for the maturity his admission demonstrates. As Rio Ferdinand pointed out via Twitter, many English players (Rooney & Gerrard to name just 2) have often let their pride get in the way of making more sensible decisions when it came to their personal fitness.
The fact that the 19yr old Sterling feels comfortable enough to be upfront and proactive regarding such an important issue is incredibly encouraging and only emphasises the positive footballing education he and other youngsters are receiving at Liverpool.
Hodgson's reaction to the furore has been suitably clumsy with the England manager questioning the evidence behind Rodgers' claim that explosive players such as Sterling and Sturridge require a longer recovery period than that of their teammates.
Always eager to wade into any debate involving the fitness and injuries of professional footballers, Dutch coach Raymond Verheijen was quick to offer his own informed opinion. In a series of tweets Verheijen dismissed Hodgson's comments over a supposed lack of evidence on recovery sessions stating the following:
Sterling's age means that his body accumulates fatigue quicker than older more physically developed players and takes longer for him to rid himself of this fatigue and recover effectively.
Explosive, pacey players have a greater number of fast twitch muscle fibres than more balanced players. These fast twitch muscle fibres take longer to recover as less blood and oxygen flows through them in comparison to slow twitch fibres.
Without extra time to recover, explosive players such as Sterling quickly accumulate fatigue in their body that leads to slower reaction times and less control over their body during explosive actions. (i.e. poor touch following a dribble etc)
Verheijen's opinion is hardly the be-all and end-all but the extent of research and work he does on the subject suggests he's well qualified to criticise Hodgson for acting so oblivious/suspicious towards something he admits to know little about; though fans of clubs he's managed will tell you that's nothing new.
Whilst it's clear Rodgers is keen to protect Sterling from burnout England must follow suit and not mould their team into one that's overly reliant on a teenager still learning his trade.  Hodgson must also overcome his now widely publicised inability to communicate effectively. Rather than treat Rodgers' advise on fitness with his trademark irascible scepticism, he most allow himself to recognise what methods work for specific players in order to protect one of the country's star assets for years to come.