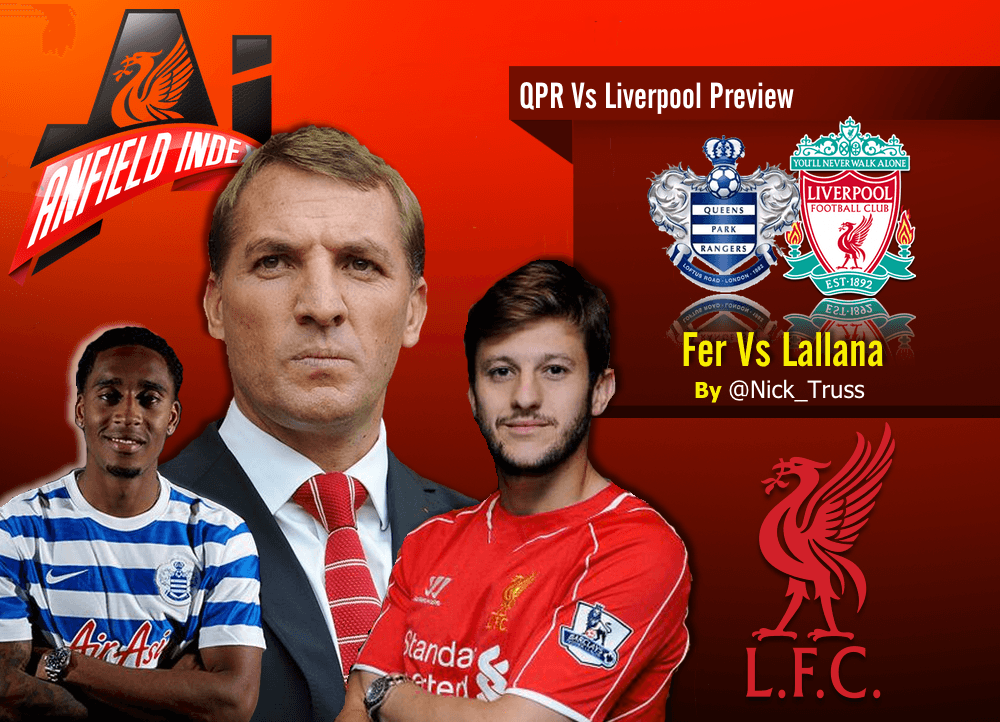 Liverpool vs QPR Preview | Lallana vs Fer Stats Comparison
Sturridge has been Hodged, Sterling has been Hodged and well we've all be Hodged in recent months. Regrettably the Hodging has yet to finish this year with one more international break to come in November.  Liverpool have 7 vital games before then including a double-header against European Champions Real Madrid and Chelsea at home.  This Sunday seeing Liverpool travel down to the capital to face 'Arry Redknapp's Queens Park Rangers, after a torrid September Liverpool got Octobers Premier League run off to a winning start at home to West Brom and will hope to build on that and with QPR struggling so far this season, this is surely a must win if Liverpool have any hopes of a top 4 finish.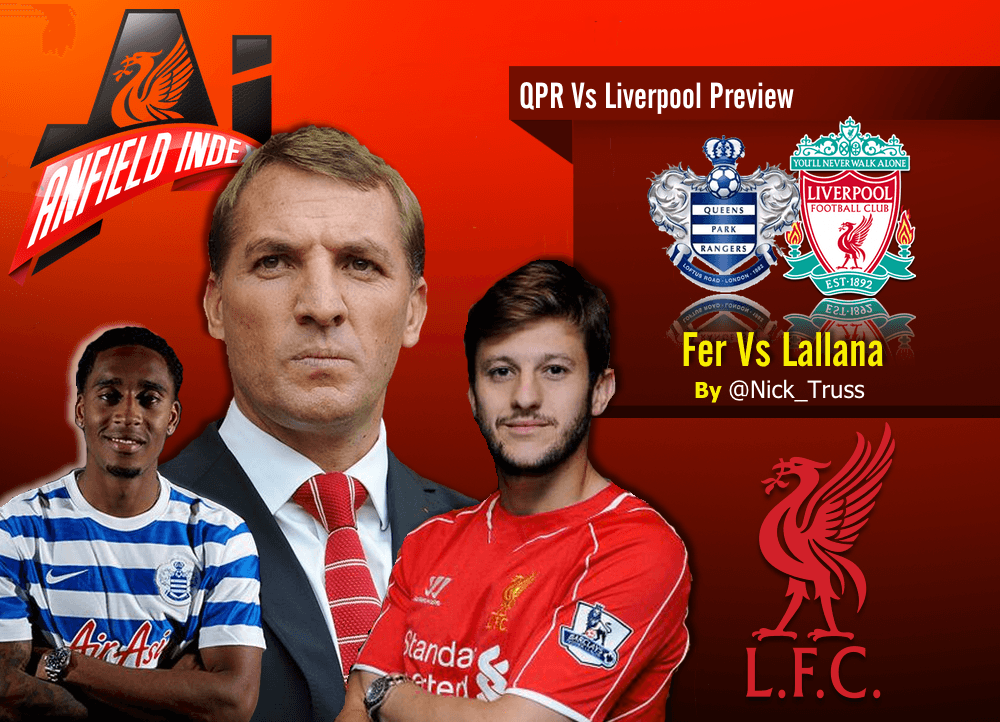 Head to Head
QPR spent the whole of the 00's in the lower leagues of English football meaning the sides have only met each other 4 times since the turn of the Millennium. Liverpool have won 3 of these games without conceding a goal, however the one time Liverpool did concede they did it in some style, conceding 3 goals in 14 minutes throwing away a 2 goal lead. To make up the 5 results we have to go back to the 1995/1996 season which saw Liverpool win 2-1 with goals from Mark Wright and Robbie Fowler, that season would be QPR's last in the Premier League until their return in 2011.

Team News
Liverpool could have a near full strength squad heading into Sundays match at Loftus Road, Emre Can, Joe Allen, Glen Johnson and Daniel Sturridge are all likely to return, with Mamadou Sakho and Dejan Lovren facing a late fitness tests. If the latter two don't pull through it will certainly be hearts in mouths for most Liverpool fans as Skrtel and Toure make up the centre back paring, more worrying is whether it will be this pair facing Cristiano Ronaldo , Gareth Bale and Karim Benzema next Wednesday. Suso and Jon Flanagan remain on Liverpool's long term sick list.
Joey Barton could make his return from a hamstring injury on Sunday; however it could come too soon for the controversial central midfielder. QPR's only other injury concern is Alejandro Faulin whose ACL injury will keep him out for the remainder of the season.
Possible Line-Ups
Liverpool: Does Brendan Rodgers risk Daniel Sturridge ahead of Liverpool's biggest game in 5 years on Wednesday or does he; like many Liverpool fans have suggested need to prioritise the league and staying in the top 4 at the expense of a potential early Champions League exit.
Johnson or Manquillo? Personally I'd go for Manquillo as he hasn't done much wrong in his short time at Liverpool; however Rodgers is a huge admirer of John Glenson so he could start. As for the centre backs; injuries could mean that Liverpool have no other choice than to play Martin Skrtel and Kolo Toure for this one.
Mignolet, Johnson, Skrtel, Sakho, Moreno, Gerrard, Henderson, Allen, Sterling, Lallana, Balotelli.
(Sturridge to come off the bench to score)
QPR: QPR have a squad any FIFA 2008 player would have been proud of, however trying to predict the XI for Sunday is proving a very difficult task. QPR have played 3 different  defensive  partnerships so far this season, Ferdinand, Dunne and Caulker have played 123 minutes conceding 4 goals, Ferdinand, Onuoha and Caulker have just 45 minutes conceding 1 goal and QPR main partnership this season has been between Ferdinand and Caulker who've played 462 minutes conceding 11 goals, that's one every 42 minutes.
Green, Isla, Dunne, Caulker, Ferdinand, Hill, Kranjcar, Sandro, Fer, Mutch, Austin.
Lallana vs Fer
This week's comparison is between two new signings; Liverpool's number 20 Adam Lallana and QPR's Leroy Fer. Fer was a shining light in a very dim Norwich side last season; could it be same old story for the Dutch Midfielder?
Adam Lallana has played 231 minutes less than Fer after suffering a pre-season injury, clocking up 285 minutes in 4 games for Liverpool compared to Fer's 516 minutes in 6 games for QPR. In terms of creativity it's Fer who comes out on top making 2.09 key passes per 90 minutes and creating 2.27 chances per 90. This compares to Lallana's 0.95 key passes and 0.95 chances created per 90. Last season was a different story for Lallana and Fer. Lallana created 1.84 key passes per 90 and created 1.98 chances compared to Fer's 1.06 key passes and 1.10 chances created. Leroy Fer has an 84% pass completion rate since the start of last season with Lallana averaging 85.5%.
The lack of Daniel Sturridge has meant little running between the lines of the defence; therefore it has been increasingly difficult for Lallana to thread balls through and create chances. His performances since his return from injury have given Liverpool fans some real hope that the £23 Million price tag was worth it, scoring a fantastic goal in Liverpool's 2-1 win over West Brom in the last fixture.
This brings us on to goals scored, that goal against West Brom was Lallana's solitary goal so far this season, whereas Fer is yet to find the net. Lallana came out on top in goals scored last season with 0.26 goals per 90 compared to Fer's 0.11.
Lallana's work rate has really stood out so far this season, if you listen to the Anfield Index podcast you will have heard Gags speaking about pressing stats, Lallana was the top presser in the Merseyside Derby and came in 2nd in the match against West Brom just behind Philippe Coutinho. Unfortunately these stats are not available on Leroy Fer. One measurement of pressing in the public domain could be interceptions; Lallana has made 0.95 interceptions compared to Fer's 0.70 per 90 this season, Last season Lallana made 1.08 interceptions with Fer beating this with 1.24 per 90 with Norwich.
Prediction
There are no easy away games but if Liverpool have any hopes of getting a top 4 spot then these are the teams you have to beat. QPR haven't won since the end of August and look like they can't be bothered so hopefully we see the Liverpool of last season and win 4-0.