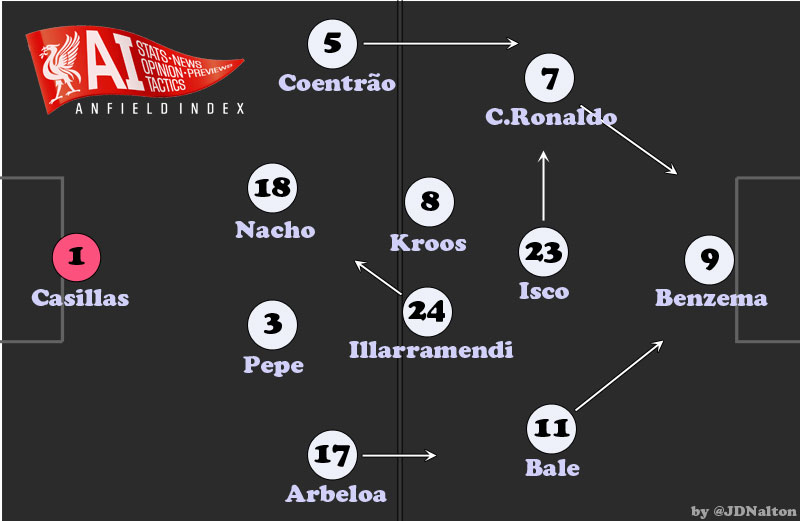 Liverpool v Real Madrid Preview - Opposition Scouting Report
From Champions League group stage debutants Ludogorets Razgrad, to the most successful team in the history of the competition, Real Madrid; Liverpool's return to the European elite has thrown up a mixed bag of a group which will see the defending champions roll up at Anfield on Wednesday evening.
It should be one of those European nights at Anfield, but given Liverpool's recent defensive troubles the game will be approached with a mixture of excitement and trepidation. These feelings are only intensified when you consider Real Madrid have scored a total of 30 goals in 8 league games, and Cristiano Ronaldo alone averages a goal every 42 minutes in La Liga.
Previous versions of these previews have gone on to describe the upcoming opponents' style of play, key players, tactical set-ups, and footballing philosophy. However, when you're assessing one of the highest profile clubs in world football, there's not much which isn't already known. So with that in mind, here's a look at the finer points of Real Madrid's game, and an attempt to find some solace for Liverpool fans fearing the worst.

Manager & Philosophy
Buy all the attacking players. Win. If that doesn't work, sell them and buy some more.
This is a simplistic view of the Real Madrid blueprint, and not far from the truth, but much more is needed behind the scenes to arrange these expensive parts in the correct order. The club require a manager who is able to control and motivate the millionaires in the squad, as well as one who can create a system of play which gets the best from them. On paper there's probably no-one more suited to the role than current manager, Carlo Ancelotti.
Ancelotti has experience managing top players on the big stage. It feels like that's all he's ever done. He can count amongst his managerial honours: two Champions League wins with AC Milan, a league and cup double with Chelsea, a league title with PSG, and a Champions League / domestic cup double with Real in his first year as manager.
He's the man who finally brought La Decima to the club; something which Jose Mourinho, Manuel Pellegrini, and Fabio Capello all failed to do. In terms of managing millionaires, you don't get a managerial CV much more suitable than one which lists stints at AC Milan, Chelsea, and Paris Saint-Germain.
Ancelotti achieved last season's success by setting his team up to attack with pace, power, and precision. Probing balls from deep in the midfield will be mixed with forward runs from any of the back four, but especially the full-backs. Inside forwards, or inverted wingers on either side, give both full-backs the opportunity to overlap, and precision passing from a technically perfect midfield trio can begin the onslaught.
Madrid's lack of patience is admirable, and if things aren't moving quickly enough you can expect the front players to switch places, centre-backs to storm forward, or the attacking midfielder to slip into a false nine position as they attempt to bamboozle the opposition defence.
Weaknesses?
As you can imagine, this attack-from-all-quarters mindset leaves Real susceptible to the counter-attack, should the opposition dare attempt one, and they've conceded nine goals in eight games so far this season.
If Liverpool can get Raheem Sterling on the ball, running at the centre-backs behind exposed central midfielders, then the Reds could have some joy on the counter. It would be better still if he were joined by an in form Lazar Markovic, but the Serbian youngster has struggled at Liverpool so far, though he does have European experience with previous clubs Benfica and Partizan Belgrade.
As with any football team who emerge as an attacking juggernaut, Real Madrid have accusations of poor defending levelled at them, but it comes with the territory.
This said, Real have in their ranks one of the best young defenders in world football in the shape of French 21-year-old Rafael Varane, as well as hostile defensive stalwarts Pepe and Sergio Ramos as options at centre-back.
The club will play one of their most important games of the season on Saturday when they face Barcelona at The Bernabéu, so Liverpool could hope that their players and manager have one eye on El Clásico… or is this clutching at straws?
Tactics
It's safe to say Ronaldo and Bale play from the wing, rather than on the wing, with the Portuguese moving into a role as a second striker should the opportunity arise. In the game against Elche earlier this season, Gareth Bale played up front as Karim Benzema sat on the bench to further demonstrate their versatility. As already mentioned, their full-backs will regularly push forward on the overlap, but former Liverpool man Alvaro Arbeloa offers a slightly more defensive option at right-back should they chose to use him.
A double play-making pivot of Luka Modric and Toni Kroos offers lots of creativity from the heart of midfield, and whilst neither are defensive midfielders, they provide more than you might imagine in this area of the game. If they do want to shore things up in midfield, Asier Illarramendi or Sami Khedira could be used in deeper roles.
Real Madrid's possible tactical set-up v Liverpool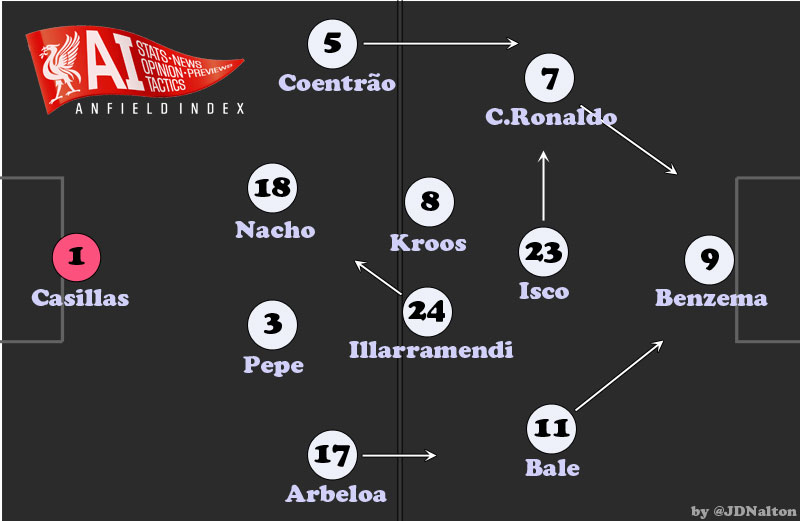 Given the recent news that Gareth Bale could miss the game due to injury, here's an alternative line-up with James Rodríguez and Isco playing behind the pace of C. Ronaldo and Javier Hernandez. This creates a 4-2-2-2 like formation, with full-backs providing width. Cristiano Ronaldo will still drop left to receive the ball, whilst Hernandez will look to make runs off the back of defenders for the creative players behind to play him in.
Key Players
Rather than highlight the obvious players, here are a few of the less familiar names who might be in and around the squad for the games against Liverpool.
Asier Illarramendi
Illarramendi is probably the most defensive of Real's midfielders, but he also has an eye for a pass and can instigate attacks from deep. The Spainish youth international was a star in the Real Sociedad midfield, and the excellent all-rounder was summoned to Madrid in the summer of 2013 at a cost of €32m. He could start in front of the back-four to help stifle Liverpool's threat on the counter (for example, mark Raheem Sterling).
Isco
As with Illarramendi, the fact that Isco is a squad player shows the fantasy-football like depth of Real Madrid's squad. Aged just 22, he's the typical Spanish technician in the mould of Juan Mata and David Silva, and the right-footed schemer would walk into the first eleven at most other clubs. Passing, movement, vision, and skill – Isco has the lot.
Dani Carvajal
A diminutive but determined right full-back, Carvajal is one of many impressive young Spanish full-backs to emerge during the last few years, and could be seen as the right-sided version of Liverpool's Alberto Moreno. At 22, Carvajal looks set to eventually replace Alvaro Arbeloa for both club and country.
Raphaël Varane
Fitness permitting, Raphaël Varane will be a mainstay in the French defence for the next decade. The 21-year-old has the potential to become one of the game's greats, and will be hoping to be a regular starter for his club side for the rest of the season.
Nacho
Relatively inexperienced for a 24-year-old who has been at the club since the age of 11, but the 5'10" (179cm) defender already has several honours to his name. Short in stature for a centre-back, but football history teaches us that this isn't always a disadvantage. Nacho will sweep around a more pro-active defender, and look to pick out opposition through balls in a high line as well as feeding passes forward himself.
Javier Hernández
The former Manchester United poacher has been on Real Madrid's radar for some time now, not least for his pull in the Mexican market. He's a lively, quick attacker who scored an uncharacteristic goal from outside the box on his debut for the club. Could trouble Liverpool's defenders for pace, especially if they're preoccupied with Bale and Cristiano Ronaldo
Keylor Navas
Madrid's 27-year-old reserve goalkeeper was one of the stand-out players in Costa Rica's World Cup fairytale. Navas was part of a heroic defensive unit which conceded just two goals on their way to the quarter finals where they were knocked out by the Netherlands on penalties. An agile, pro-active goalkeeper – the former Levante number one will have long term plans to be more than just back-up at the club.
Álvaro Medrán
Made his début in the 5-0 win at Levante prior to the Liverpool game, and whether he travels with the squad to England or not, he could be one to keep an eye on in the future. Another promising player off Spain's conveyor belt of technically gifted midfield players, Medrán recently signed a four-year contract with the club and could have that extra bit of star quality to succeed at a club like Real.