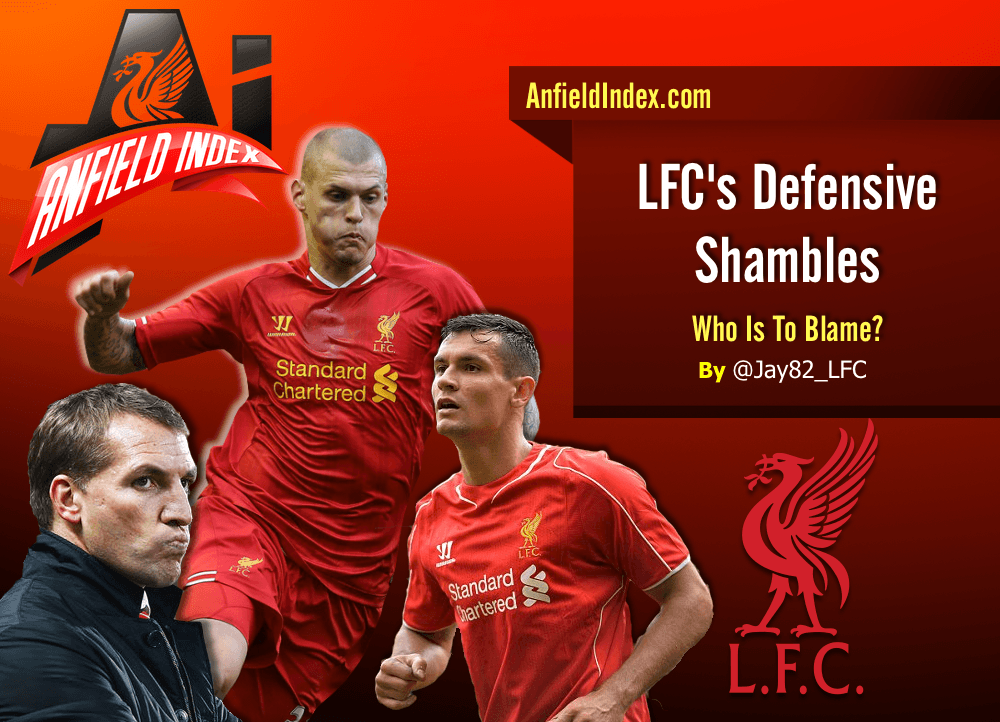 Liverpool's Defensive Shambles - Who is to Blame?
Fabio Aurelio, Sami Hyypia, Jamie Carragher and Alvaro Arbeloa. Now that was a solid back four. You felt confident going into games under Benitez with those four at the back. Well organised by Carragher, and Hyypia read the game magnificently. Time to stop drooling folks and wipe that smile of your face as that was back in 2009 and a distant memory from now!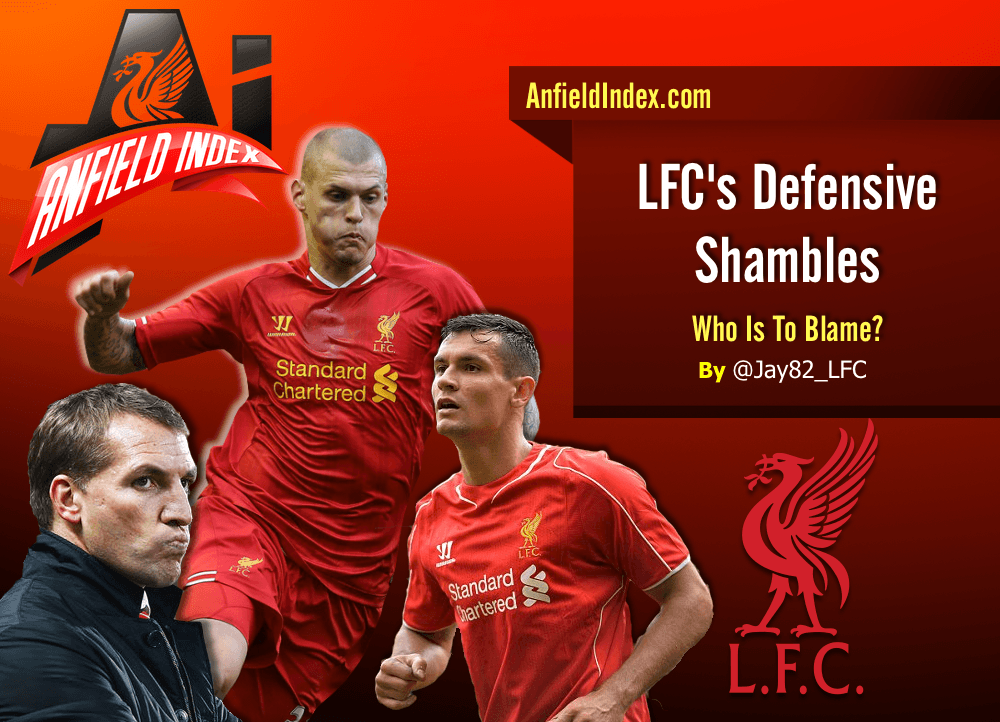 In Brendan Rodgers' first season in charge at Liverpool we conceded 43 goals in the Premier League. Rodgers' favoured back four was Jose Enrique, Daniel Agger, Jamie Carragher and Glen Johnson.

The following season saw Rodgers bring in Mamadou Sakho, Tiago Ilori, Aly Cissokho and Kolo Toure in defence and Simon Mignolet in goal. Meanwhile, legendary defender Jamie Carragher retired from football. Whether it was our attacking style or our defensive set up simply getting worse, Liverpool conceded 50 goals in the league.
In July 2014, Rodgers stated:
"(Defence) is a place where we want to be better, there's no doubt about that. It wasn't good enough to concede that many goals, considering the amount of possession we had and amount of goals we scored."
Rodgers sold Daniel Agger in the summer and brought in Alberto Moreno, Dejan Lovren and Javier Manquillo. Meanwhile, Andrew Wisdom, Sebastien Coates and Tiago Ilori were all allowed to leave on loan.
Despite Rodgers bringing in the players he wanted and with a key focus to improve defensively, we have already conceded 12 goals in 8 league games. If we continue on that basis, we will concede a whopping 57 goals this year.
So what is going wrong?
In the past we have all pointed the finger at certain individuals. Simon Mignolet, Jose Enrique, Kolo Toure, Martin Skrtel – and more recently Dejan Lovren – have all been heavily criticised particularly on social media sites for their poor displays.
Surprisingly, one individual has escaped a lot of the criticism and that is a certain Brendan Rodgers. Now, this article is not intended to start a 'Rodgers Out' campaign. He is definitely the right man for the job and I have faith in him to get things right.
However, I cannot ignore that defensively we are getting worse year on year, despite Rodgers now starting his third season at the club and bringing in players that he and the transfer committee have agreed upon – if they didn't, they wouldn't be here!
What has Rodgers failed to do?
Lovren signing
The strangest decision in Rodgers' tenure has been the signing of Dejan Lovren. Whilst Martin Skrtel scored a few goals last season and performed well in certain games, he was at fault for many of the goals conceded last year. Bearing in mind he has been at the club for a number of years, he had no excuses for his poor defensives displays.
On that basis, the sensible strategy would have been to sign a brilliant right sided centre-back.
Instead, Rodgers kept Skrtel as his first choice centre half and brought in a left sided centre-back in Dejan Lovren, relegating Mamadou Sakho to the bench. Whilst Sakho hasn't convinced at all times in a red shirt, it was his first season at the club and at 24 years of age is only going to get better. He is strong, has pace and has leadership skills – evidenced by his dislays for both PSG and France.
Lovren in my mind is a decent defender but has several flaws and is in no way an upgrade on what we already had. You only need to look at Bobby Zamora dominating him on Sunday. He has been directly responsible for the majority of the goals we have conceded this season and Rodgers hasn't taken action once. Meanwhile, both Sakho and Balotelli have both paid the price for mixed displays and been dropped
Whilst Lovren can be criticised, surely the buck stops at Rodgers for retaining Skrtel and replacing Sakho with Lovren.
Lack of defensive midfielder
Another key failure has been to recruit a top class defensive midfielder. The reason Lovren excelled last summer was due to the pairing of Victor Wanyama and Morgan Schneiderlein ahead of him, who provided an excellent screen. Whilst Steven Gerrard is an important player, he has already shown this season that he can often struggle in that role when pressed. You only need to cast your mind of Downing running rings around him in our defeat to West Ham!
Again, whilst blaming Gerrard is easy, Rodgers has had three seasons to bring in a defensive midfielder in the class of Javier Mascherano who did such a brilliant job for the defence under Benitez. Instead, he has chosen to play Gerrard in a key position despite his ageing legs and sometimes poor positional play.
Keeper situation
Simon Mignolet's performances declined last season and he has been unconvincing this season too. Failure to bring in a top class rival for this shirt is another reason for our poor defensive displays. The confusion between Mignolet and the centre-backs is all there to see due to Mignolet's indecisiveness.
Whilst Brad Jones seems to be a great guy, we needed someone to put some real pressure on Mignolet. Ideally a young promising keeper would have been ideal. Again, Rodgers and the club have failed to act.
Back to basics
Rodgers has signed several defenders in his short time at the club – some hugely overpriced – and yet still we haven't improved defensively.
The key question I ask is what does Rodgers do on the training ground on the defensive side? We hear a lot about the passing drills and our attacking style, but what is done defensively?
I don't believe for a second that we don't work on our defensive set up as a team that has defended so poorly surely must be working hard on this. However – whatever we are currently doing is evidently not working and as the stats show, we are actually regressing.
Has the time come for Rodgers to bring in a defensive coach and change the goalkeeping coach? Will Rodgers swallow his pride and give up some of his control so that others can work on the defensive side? Do we need to change our scouts? Whether we improve defensively will be based on the answer to these questions.
I pray Rodgers can fix our defensive issues, however, the bedding in time is well and truly over for Rodgers and he now needs to take decisive action in order for this team to improve at the back.
What changes would you make to our defensive set up? Who is to blame?