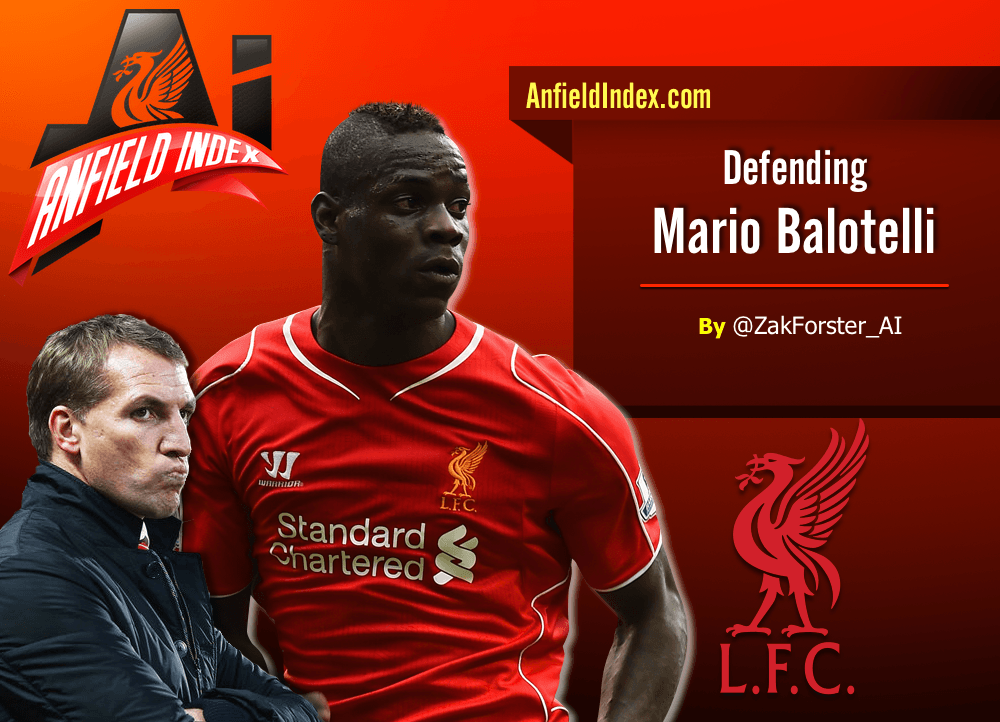 Defending Mario Balotelli
Apparently the time it takes for a player to be completely written off is getting smaller. Balotelli has made just eight appearances for Liverpool since his summer time switch from AC Milan and already the lively Italian is a flop, a failure, garbage to be jettisoned as quickly as possible. We've been here before haven't we? Peter Crouch, Lucas Leiva, Jordan Henderson, Joe Allen, and now it's Balotelli's turn. All those players were written off after slow starts to their Anfield careers and each has gone on to claw back much of the respect they lost during the early stages of their stays at L4. You'd honestly think we'd learn by now but we never will – especially not with social media existing as it does today. Just picture Peter Crouch's early Liverpool appearances and imagine the Twitter meltdowns, scary as hell.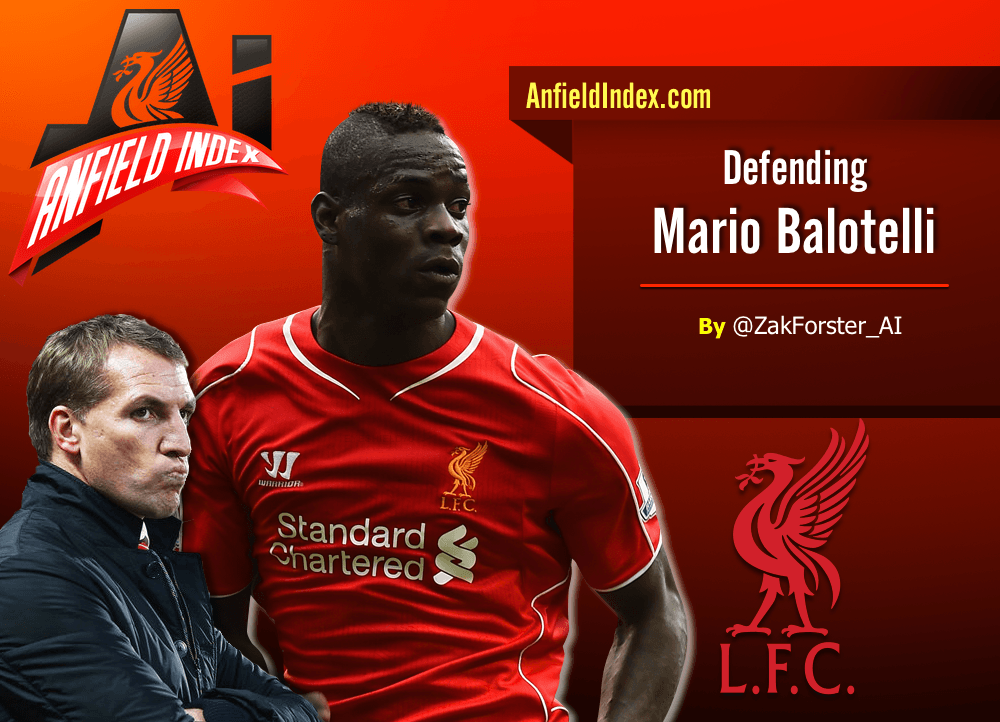 It took Crouch 1,229 minutes to score his first Liverpool goal and it was one of the worst goals I've ever seen – that scuffed shot that happened to take the dirtiest deflection of all time before looping over the hapless Wigan Athletic 'keeper – yet Balotelli has already been ousted from many Liverpool supporters' future plans. Of course, it's right to analyse and criticise when it's necessary but abuse and non-support is far more detrimental to a player's fortunes than a little goal drought. Which is why we must keep supporting him.

Speaking from a post Madrid perspective, I think the criticism of Balotelli is harsh – especially with the brunt of the media attention around the loss focusing on the swapping of the Italian's shirt with Portuguese defender Pepe. Much of the media frenzy surrounding the game has centred on this minute event as if to deflect attention away from the relatively tentative performance. Balotelli is being thrown under the bus by supporters and media alike and it isn't fair to focus this much blame onto one squad member.
I'm still in the camp that will stick up for Balotelli – even if he nibbles Steve Bruce at the weekend. It took me until the day Andy Carroll left the club for me to stop supporting him and the same will be done for our new Italian. Going back to the QPR game (not that we want to) I've found myself convinced that the chance he spurned with Alex McCarthy's goal gaping was harder than it appeared on television. Of course, the net is free, there are no defenders in sight and the 'keeper is dead in the water, but there's still a very important factor – the football. The ball itself is coming towards Balotelli at speed, in the air and at an awkward height – this chance is not a tap-in, as so many believe. This scribbler has played amateur football for about 15 years and I can tell you (although many of you will already know – sorry to you guys and girls) that this kind of situation gives you a horrible rush of adrenaline at the worst possible time. Normally, a professional player should score – this I admit – but a pro player low on confidence and misfiring with the media and support on his back can find this a really difficult chance to finish. It's with this reasoning that I kept hold of my sanity in the aftermath of the miss because if that was me I'd have expected myself to score, however, if I'd been playing poorly for a number of games or somebody was on my back the pressure might have got to me and I believe that's what happened to Balotelli – so, in my own way, I understand how the chance could have been missed. That's my logic anyway.
I also think it's a problem saying he doesn't work hard enough. Balotelli works hard enough off the ball – he's tracked back and won the ball on a number of occasions, he's headed clear a few times, he's pressed individually and as a pack with his teammates and he's tried to help out at set pieces. It's clear to many that Balotelli is willing to work hard for the cause. The problem is his work when Liverpool have the ball – and it isn't the problem you might think. Balotelli isn't lazy when Liverpool have the ball, he just isn't of the right profile to fit into Liverpool's attacking patterns – which makes him appear lazy. Hear me out. Balotelli is a player who needs a partner beside him and Daniel Sturridge's enforced absence has crippled his playing style. With this being said, Liverpool did not sign any other strikers deemed worthy to start football matches during the summer and that means Balotelli has to be moulded and augmented to ensure he is useful in this kind of scenario – a scenario where he is the lone front man in a formation that requires solid movement when your teammates have the ball. This kind of augmentation with a player who has already moulded himself throughout his career will take time but Brendan Rodgers and the Melwood coaching staff can improve him in this regard, we just need to be patient and support him because support and understanding are far more useful tools than anger and ridicule when it comes to motivating players.
There's also another crumb of comfort for the Reds' faithful. However, I think a lot of people are ridiculing this kind of theory but, again, hear me out. Luis Suarez was easily as wasteful as Balotelli when he first joined.
*BOOOOOO*
*HISSSSS*
I know, I know. Balotelli will never be the player Suarez is but they both had the same problem when they hooked up with Liverpool. They both made/make the same wrong decisions with shots flying wide from silly angles and distances when teammates were in better suited positions and both needed/need time to get to know their fellow Reds – their movements, skill sets and the level of trust in each other will grow. Balotelli will never be as good as Suarez but if he can stamp out the same problems as Suarez using the same teammates, coaches and manager then he'll be a success at Anfield.
We could go into further detail with regards to Sturridge's injury but we all already know that Balotelli needs to adapt – with time – and that when Sturridge returns we'll be better. The key is that next time Sturridge gets injured, and he will get injured, Balotelli will be far more comfortable with his surroundings, his teammates and his manager's needs. So for now, back him and sing his song as loud as you can.