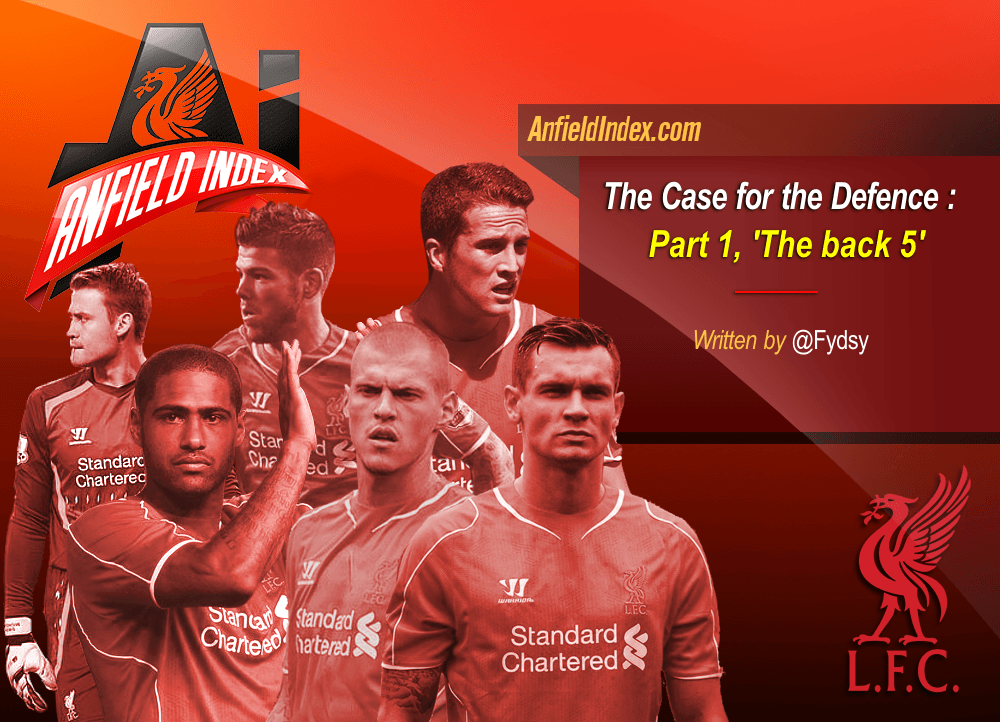 The Case for the Defence: Part 1, 'The back 5 of Liverpool'
Last week, on the 'Jumpers for Goalposts' pod in one of our more serious moments, we took a look at the travails of the Liverpool defence…notice please, I specifically say 'defence', not 'back four', 'central pairing' or other, more targeted breakdown. There is a reason for this, and one that surprisingly perhaps, when having so many recent defenders among their number, the various Sky, BT, BBC and other media commentators rarely seem to address – in my old fashioned view, despite having specific or even notional defenders, as Shankly once said, you attack or defend as a team.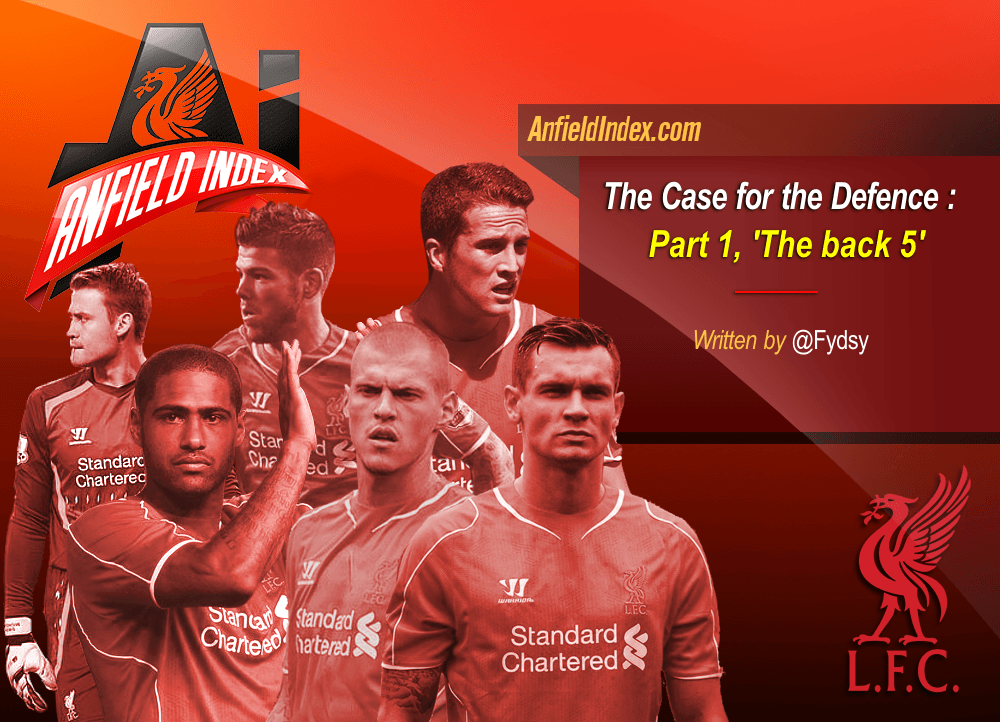 That being said, let's look at this bigger picture by starting at the very back and working our way forward, through the individuals, their effect on the collective, and finally the collective itself. Memory Lane – both recent and more distant may be invoked in support of my thesis, but then if you've read my other stuff or listened to the pods, you'll have expected that, wouldn't you?

Simon Mignolet is a decent keeper, a fine shot stopper and as we've seen, is more often than not good in a one to one at closing down an oncoming striker and making a block. They are his strong points. Also, when he gets a fist on a ball, his punch will usually get it reasonably clear of the immediate danger area. However, I do feel he punches when sometimes it really would be as easy to catch – perhaps not always the 'modern way' some shall say, but surely sometimes, we see enough of it from the very best keepers to know that catching a cross or a shot is still good practice whenever possible and can quickly turn defence into attack. The incrementally poorer sides of his game reside largely in his decision making. This would include when to come and when to stay – communicating loudly and clearly with his defensive set up BEFORE we concede rather than yelling at them afterward, his judgment of crosses – especially at set pieces and, for someone so good at narrowing the angles in a one-on-one, he gets beaten at his near post from angles unfavourable to the attacker far more than he should. Oddly enough, the first thing I noticed back in his earliest days in the Red's goal was how poor and often slow his distribution was…it hasn't improved. This not only slows down your momentum in attack but can expose you defensively when you should be in a position of strength – it allows the opposition to regroup and press. All of this cannot be good for the confidence of those in front of him, either immediately in front, or further up the pitch – made worse when the team is – correctly in my opinion – expected to build from the back – although perhaps we do this too often to the detriment of runners further forward who have found space.
Glen Johnson has become a pet hate figure for many over the last two years or so. His good points largely consist of his ability to put in a good cross and get down the wing when we attack to support the forwards and increase the numbers available, allowing forwards to take up more lethal positions and chipping in with the odd goal and raking shot of his own. Though it pains me to say it, this has become a less effective part of his game over time and too often now he runs down blind alleys or has the ball taken off him and isn't always the quickest to get back and make a recovering tackle – his positional sense defensively, once a reasonable cornerstone of his game, seems to have deserted him somewhat in recent times. I thought at one point, the sum of his niggling injuries over recent times were hampering his form, but just may be that time has now become his enemy.
Like Glen, Martin Skrtel is another pet hate for many, yet for me – this time with less justification. For those who like their stats, he features highly in the PL for tackles won, headed clearances, blocks and even is top on clearances made. He did of course, score 4 own goals last season but in a defence barely more stable than the current incarnation but, then again, he netted 7 in the league at the right end. To get the best out of Skrtel, he needs a strong partner he can trust. Despite all the received wisdom, he is a capable CB.
I had high hopes for Dejan Lovren when he arrived, Soton fans I knew told me we were on a winner, a view shared by Messrs.' Carragher and Neville on the TV. So far, it hasn't worked out that way to put it mildly, and although he did Ok against a fairly neutered Hull a few days ago, he was not really tested. One of the progressive differences between him and Skrtel is that Skrtel can, and often does play a telling ball from the back that turns defence into often sometimes goal scoring attack – Lovren seems to prefer the 'hoof it anywhere' method – often gifting it straight back to the opposition. For a tall CB he doesn't seem all that good at headed clearances either – getting his head on the ball, yet just as frequently playing it in to danger. Again, unlike Skrtel, he seems largely incapable of timing a sliding tackle to break up a dangerous break, regularly ending up on his backside and out of the game as the attacker scampers past him. Too round him off, he also has a penchant for occupying the same space as his defensive partner. This one would think, could be easily sorted in training – one wonders why it has not been so. My hopes for Lovren are fading. Like almost all of our newcomers, he had very little to no pre-season training with the squad, partly thanks to the World Cup, partly thanks to Soton's reluctance to let him go…but as shown by the quick adaptation by former team mate Lallana, this valid excuse only holds so much water. I will however, personally only make a real judgement at the end of the season.
An almost immediate bright spot among the new boys has been Alberto Moreno. He has pace, can tackle (though understandably more work is needed in terms of timing/positioning) can whip in a mean cross, has a fierce shot and scored one fantastic self-made goal from start to finish that reminded one of Riise in his pomp. Moreno has had issues and made mistakes, but no more than those any new player from a foreign league would have, and less than most. He was one summer buy I really wanted, having previously seen him play a fair bit. He has much still to learn, but shows every sign of being able to learn it all. A genuine talent.
Javier Manquillo is young, raw, can tackle, has pace and a nose for getting forward but has a few questions over his positional sense, his tackling at times and his crossing – none of which are too serious and should easily be addressed in reasonably short order. As with Moreno, there is no doubting his commitment and some of our defensive travails of late are due in part to the newness of having him, Moreno and Lovren being thrown in together as they learn to play in the team – that element should be gone by mid-season. A stronger, more dominant keeper of course, would no doubt speed this up.
Jose Enrique has missed almost a year of his career due to a bad and persistent injury, which led to untrue salacious rumours among internet warriors. We all know what he brings to the table when he is at his best, and as such I'm happy to wait until he has more games under his belt and the defence as a whole has been sorted, one way or the other.
This leaves two missing players in the main – Mamadou Sakho and the soon due back from injury, Jon Flanagan. I was told by someone who knows more than I do, that Flanagan (had he been fit) would have played ahead of Manquillo while the latter had a chance to learn the LFC ropes and bed in…it's interesting to think how that may have changed things even on its own, almost as interesting as those LFC fans and the odd pundit who don't rate him. There are aspects of his game still to fully develop, but then as I've illustrated, the same can be said of Moreno and Manquillo – and there is no question of Flanagan giving it less than his all.
Mamadou Sakho is the enigma in Liverpool's defence. Widely, though not universally regarded as our best CB, some claim he has fallen victim to Brendan Rodgers' perceived partial dismissal of players he didn't have a major – or any – part in signing. My mate and fellow AI'er Dave Hendrick says Sakho is a fantastic defender, by far the best we've got – I don't think this is strictly true. In contrast, another 'Jumpers for Goalposts' regular, my old friend and Times Football Editor Tony Evans, says Sakho 'can't defend' – I don't think this is wholly true either. In my view, Sakho is good defender, who at times is still caught out after less than a full season by the sheer pace difference and the requirements of the PL as compared to the slower, less vital football played in Ligue 1, where he played with the then best team in that league – at least when selected. His play for France is if anything, a little more indicative of his potential abilities. Sakho is himself only 24 – often overlooked, and as this is my article, I will at least in part side with Dave H. and say I think Sakho and Skrtel should be our starting back CB pairing at this time. They do largely understand each other and play the right spaces accordingly whereas Lovren has had obvious struggles with this basic concept. Sakho is usually very good in the clearing tackle, the headed clearance and has made some very telling blocks. He has been caught a few times positionally, his distribution can be weak and he has not infrequently been robbed while dithering when bringing the ball ponderously out from the back, at which times he has been often far too slow (a charge one can lay at much of our back four and midfield as a whole, more of which in Part II), Sakho's commitment is never in question, however – and he has the makings of a very fine centre-back.
Kolo Toure was and remains a back-up CB, mostly capable despite a few slip ups, he'll never be a starter unless a rash of injuries makes it so and therefore I'll let him be.
In Part II, I'll discuss the midfield defensive issues and conclude with my views on the 'Bigger Picture', and what in my unprofessional but hopefully well-tempered view, needs to be done.
Jan is also co-host of the excellent Jumpers For Goalposts Podcast – you can listen to their latest show below!