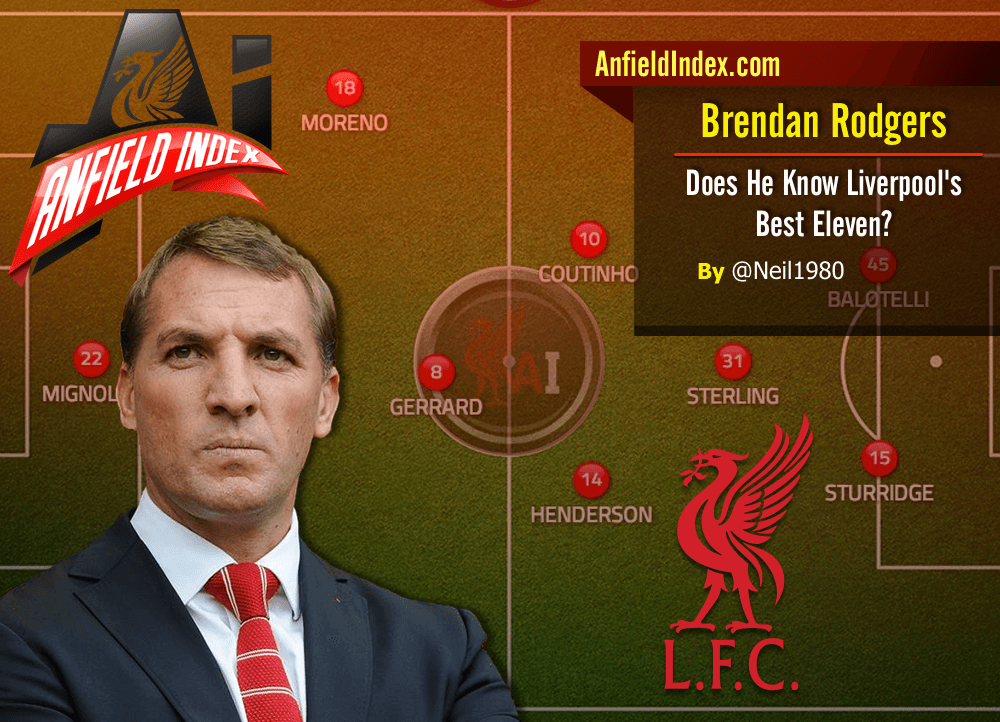 Does Rodgers Know Liverpool's Best Eleven?
Three games in six days represents a tough week for any team, even Liverpool. A midweek date with Ancelotti's "Galacticos Mark II" was never going to be plain sailing, and the distraction (albeit a welcome one) of playing the planet's biggest club, made team selection for Saturday's league match (against Hull) all the more difficult for Brendan Rodgers.
Managing team selection, rotating the team, bringing players in and out of the side at the optimum time to maximise their talents, remains key for any boss of a top side. It's a task that Brendan Rodgers is having to get to grips with for the first time this season. As such, we can't expect him to get things right all the time; realistically all we can hope for, expect even, is for him to get more correct than not. However, following a first half against Hull which was largely drab from the home side, and bereft of any real creativity or quality link-up play, not to mention goals, many Reds were left pondering the big question – does Rodgers know his best XI?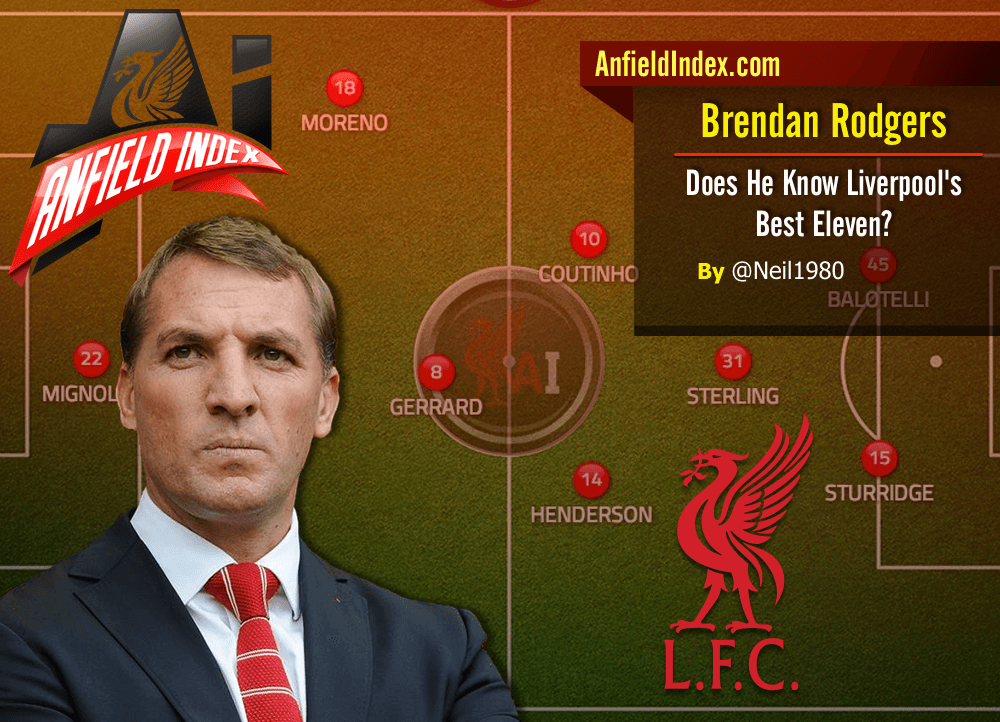 The game against Hull saw Rodgers "rest" Jordan Henderson and Philippe Coutinho (despite subbing both on 60 minutes against Madrid), whilst Glen Johnson was also left on the bench; Javier Manquillo came in at right-back, with Joe Allen keeping his place, alongside Emre Can, who was in for Henderson. Mario Balotelli was again left in not so splendid isolation, as Sterling and Lallana tried, mostly in vain, to get close to and link-up with the striker. On 60 minutes, Rodgers pulled Allen and Lallana, for Coutinho and Lambert, changed the shape in midfield and pushed two up front. This had the desired effect, as the Reds began to lay siege to the Hull 18 yard box, and really should have found the back of the net with at least one of the several very presentable chances created.
The question however, is why? Why keep our most dynamic midfielder on the bench, alongside our most creative player? Why substitute both early against Madrid, in order to leave them out of the next starting XI? Why persist in playing a system which fundamentally undermines the striker you're selecting? Why select your 33 year old captain for his third game in a week, when he clearly needs a rest? Perhaps you want to win the game from the bench, as I've heard suggested; but, again the question is why? Why try to win a game in thirty minutes when you have ninety?
Many more questions than answers were thrown up by Saturday's odd team selection; however, it seems clear to me that Rodgers is not quite sure what Liverpool's best XI is at the moment, and how he should deploy his line-up most effectively. I tweeted a few times to that effect and, in response, was asked what my Liverpool team would be, this article is the result.
For fans of LFC and those that write about the club, deciding on a best XI is, of course, all about opinion; everyone has their own and their reasons why, so here's an insight into what I think is our strongest team (assuming fitness).
Mignolet gets the nod between the posts. He has to really! A fantastic shot-stopper, who we're trying to convert to a sweeper-keeper, Mignolet may not be the long-term answer, but Brad Jones is no competition.
Manquillo gets the nod at right-back. Glen Johnson may carry a ball well, but what he does with that ball is never good enough, often meekly and sometimes ridiculously surrendering possession all too frequently. Manquillo's ability to get back in when he loses possession, his grit, his engine, and prowess in stopping crosses makes him an obvious choice defensively. Coupled with Johnson's shortcomings in these areas, his inability to challenge in the air, or even cover when others are out of position, make Johnson somewhat of a liability in any back four. Also, worth remembering that Johnson isn't in the club's future plans, whilst Manquillo is, meaning it makes much more sense to incorporate him more now. Johnson as an impact sub, in the last 20 of games we are well on top in but need a goal, is a decent option to have too.
Moreno obviously gets the left-back spot. The young Spaniard is the future of our left side, whilst unpolished as yet, his performances have shown great promise. Enrique  can provide cover if necessary (which is ideal for him anyway), until Jon Flanagan is fully fit.
Centre-back is a key area for Liverpool, especially in light of some of the terrible defending we've seen in that position so far this year. This, for me, is where Rodgers dropped his biggest clanger in the summer transfer market. Simply put: he signed the wrong player. Liverpool needed a strong right sided centre-back to compete with Skrtel, we didn't get it. With a fully fit squad, Dejan Lovren doesn't improve our first team, certainly not at left centre-back. Mamadou Sakho is our best centre-back, and even if you dispute that, there's irrefutable evidence that he's certainly our best left sided centre-back. A fit Sakho goes straight into the team; he should on his return. He's better in the air, he's better on the ground, his passing is better, he's more intelligent, he covers, and most importantly, we concede far fewer goals when he plays.
Who to play beside Sakho is a real conundrum too. Rodgers has opted for Skrtel; Skrtel seems to be his "go to" defender, which is another Rodgers anomaly given that Skrtel is reactive, sits deep and plays off the back foot – the opposite to what Rodgers supposedly likes. We have a terrible clean sheet record when Martin Skrtel plays, and like Lovren, when he's on the pitch we concede at a rate of practically two per game, compared to an average of less than 1.4 per game when Sakho plays. Kolo Toure offers experience, but his nervy displays last year were less than convincing. In all honesty I'd probably stick with Skrtel there (although it's far from ideal), as he partnered Sakho for the many of LFCs biggest wins last season, and the options remain scant.
In midfield, Steven Gerrard still just about picks himself. He should be used more sparingly these days though; rotated with Can when the opportunity presents itself, but Gerrard at full capacity remains a vital cog in the Liverpool time-piece. Henderson and Coutinho make up the triumvirate. Both have energy, tenacity, and great pressing frequency and efficiency. Coutinho has dazzling ability to create and link the play, wonderful footwork to beat a man and the clinical talent to bisect a defence with a throughball. We all know about Hendo's energy, but his tactical awareness, on and off the ball, his range of passing, and his developing habit of arriving late in the box, are all priceless attributes to have. Above all though, it's their desire, persistence, workrate and tenacity, that make them perfectly suited to playing in advance of Gerrard, allowing the captain more time on the ball to pick his passes.
The front three shouldn't be too surprising to most readers. The trio of Raheem Sterling, Daniel Sturridge and Mario Balotelli, would scare any defence in world football. The combination of pace, strength, vision, tactical awareness, and clinical finishing is hard to match, wherever you care to look. Balotelli hasn't really shown what he can do yet – due to Sturridge's injury – but when they were paired together we saw flashes of how good the partnership could be. Sterling's a phenomenal young talent, and he'll only get better if managed correctly.
Sturridge's recovery can't come quickly enough for all concerned with the club, particularly the likes of Sterling and Balotelli, who could do with having someone else to shift the focus from them, and ease the pressure which has been building. His goals, running, hold up and link play make a massive difference to the way his team-mates play around him, and consequently how the team performs as a whole. There's been a lot of talk about Balotelli being Suarez's replacement, in actual fact Sturridge is the replacement for Suarez, in terms of adding the extra threat to our game; Balotelli and Sterling become the supporting cast. Some Liverpool fans still don't get just what a difference having Sturridge makes to our team; he's vital.   As for pundits and fans of other clubs, they haven't a clue; all they talk about is Suarez  – Sturridge has almost been forgotten – but when he returns, we'll see a a pacier, much more potent Liverpool attack.
Liverpool's strongest eleven then, my idea of it at least. Whether it's a 4-3-3 or the diamond, or my preferred box kite formation 4-2-2-2, (the formation should be tweaked depending on the opponent) that team is easily good enough to finish high up in the top four of the Barclays Premier League, wouldn't you say?
First Team: Mignolet, Moreno, Sakho, Skrtel, Manquillo, Gerrard, Henderson, Coutinho, Sterling, Balotelli, Sturridge
Subs: Jones, Johnson, Lovren, Lallana, Markovic, Lambert, Allen, Can
*In the continued absence of Sturridge I'd opt to push Sterling forward and bring Lallana into the ten, or play Lallana from the left in a 4-3-3, with Sterling and Balotelli*
What do you think is LFCs strongest XI?
You can use our formation builder – The AI Tactics Board and share your team on twitter here: anfieldindex.com/tacticsboard. Once tweeted out – we will then RT it for you to create debate!