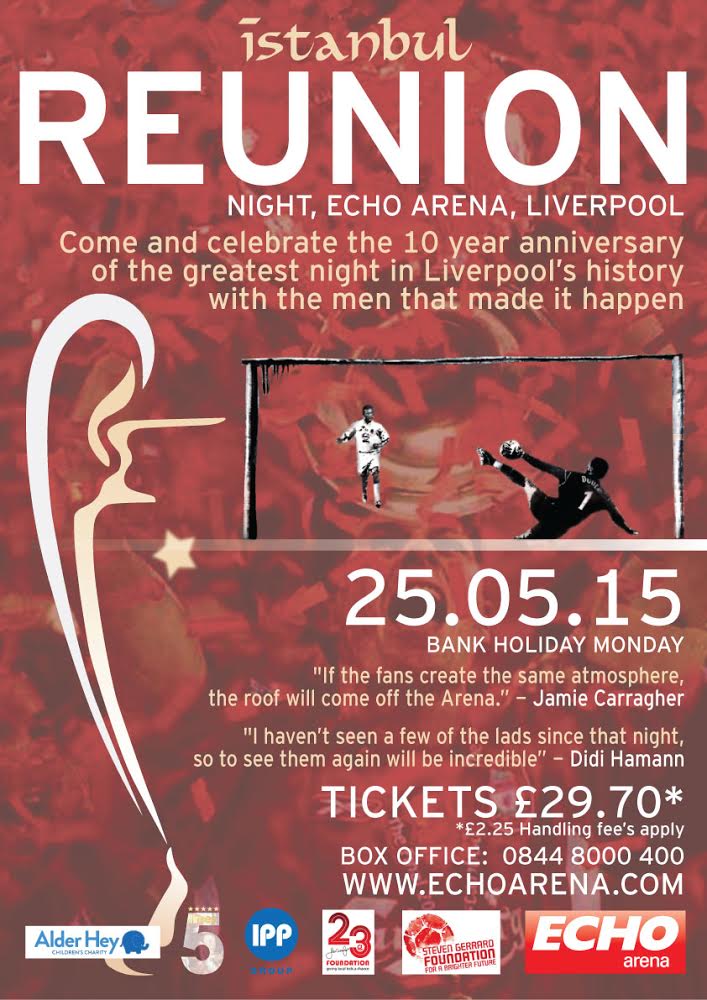 Istanbul Re-Union from 5Times!

PRESS RELEASE
October 28th 2014
COME AND CELEBRATE THE 10 YEAR ANNIVERSARY OF THE GREATEST NIGHT IN LIVERPOOLS HISTORY WITH THE MEN THAT MADE IT HAPPEN.
Ask any Liverpool fan to name the greatest match in the club's illustrious history and the chances are they'll say 'Istanbul'. Well Istanbul comes to the Echo Arena Liverpool for an incredible night on 25 May 2015, marking the 10th anniversary of that incredible night in the Ataturk Stadium where red-shirted heroes carved their names with pride to see Liverpool claim their fifth European Cup crown.
And a decade to the day, Monday 25 May 2015 those same Liverpool players will be gathering to celebrate that anniversary at the Echo Arena – and you can be there to join them for an exclusive one-night only event, The Istanbul Reunion Night.
For those in Istanbul, the game is permanently seared on their memories. For those who watched on television, it will surely go down as one the most amazing nights of their lives. For those too young to remember but who've heard all about it from family and friends, this is a chance to finally savour the experience.
We'll be reliving the game with comments and commentary from those at the heart of the Miracle of Istanbul. They'll take you through the build-up, the nerves, the tortured emotions as Milan went 3-0 up.
But they'll also talk about the sheer enormity of the comeback, the tension of the penalty shoot-out and, finally, the euphoria of seeing Steven Gerrard hoist the cup above his head as Liverpool sealed their place in history.
Jamie Carragher Liverpool's vice-captain on the night said: "If the fans who were in Istanbul on the night come and create that same atmosphere, the roof will come off the Arena."
Jared Ayres, CEO of the IPP group who is helping put the night together says
"It's a privilege and honour to be involved in re uniting the squad that achieved Liverpool's most famous and greatest night of modern times and to be able to do this in our home city is pretty special. This is one night not to be missed"
This is sure to be an emotional, unique night.
Show – Echo Arena Liverpool –  25 May 2015

Tickets go on Pre sale at 9am on Thursday 30th October to register for pre sale go to www.5times.co/istanbul 

Tickets go on general sale at 9am on Friday 31 October
To book tickets log on to www.echoarena.com
or
Call the Echo Arena Box Office on 0844 8000 400
Tickets priced £29.70 (incl. booking fee)
*Plus £2.25 handling fee per order
Or call in to Ticket Quarter in Queens Square (Liverpool City Centre, located within the Mersey Travel office), where tickets are available over the counter for all Echo Arena events and many other venues across the region.