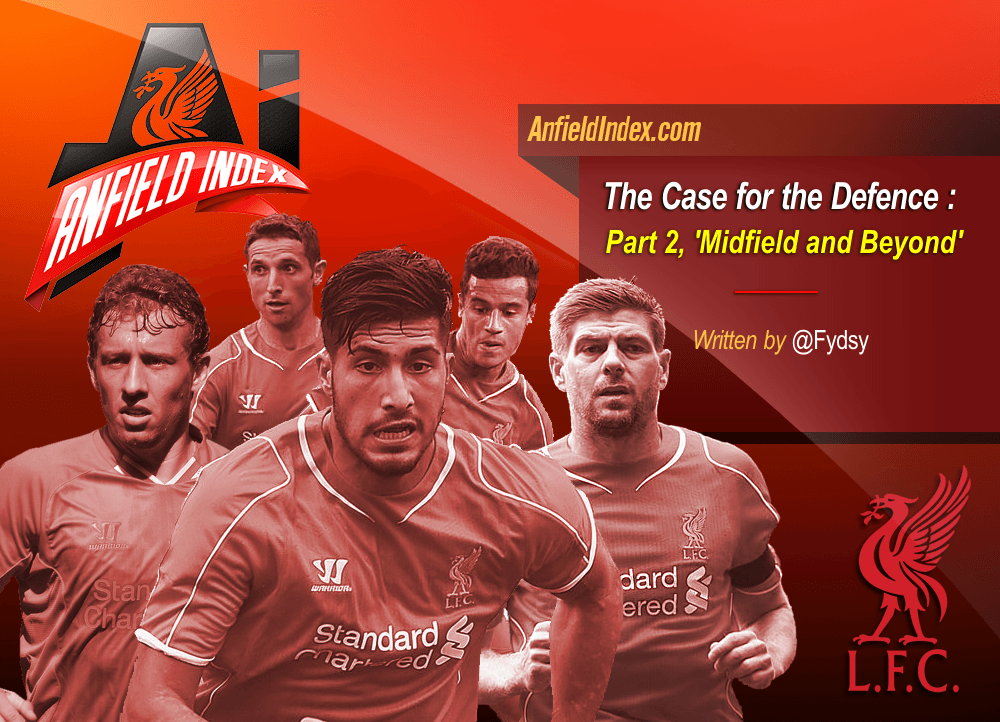 The Case for the Liverpool Defence Part 2: 'Midfield and Beyond'
In Part I, I looked at the individual members of the back '5' (including the GK), and the most likely rotational or still to return individuals, each with their own pluses and minuses. In Part II, I want to look at the midfield options and striker responsibilities relative to defence, the overall strategy and tactics employed (the two are not the same) and how the gears of overall defence do – and often don't – mesh.
Liverpool essentially have six midfield first or rotational choice options, though some of the younger players coming through from Melwood are also on the cusp – more on them another time. Let's start with the individuals most likely to play.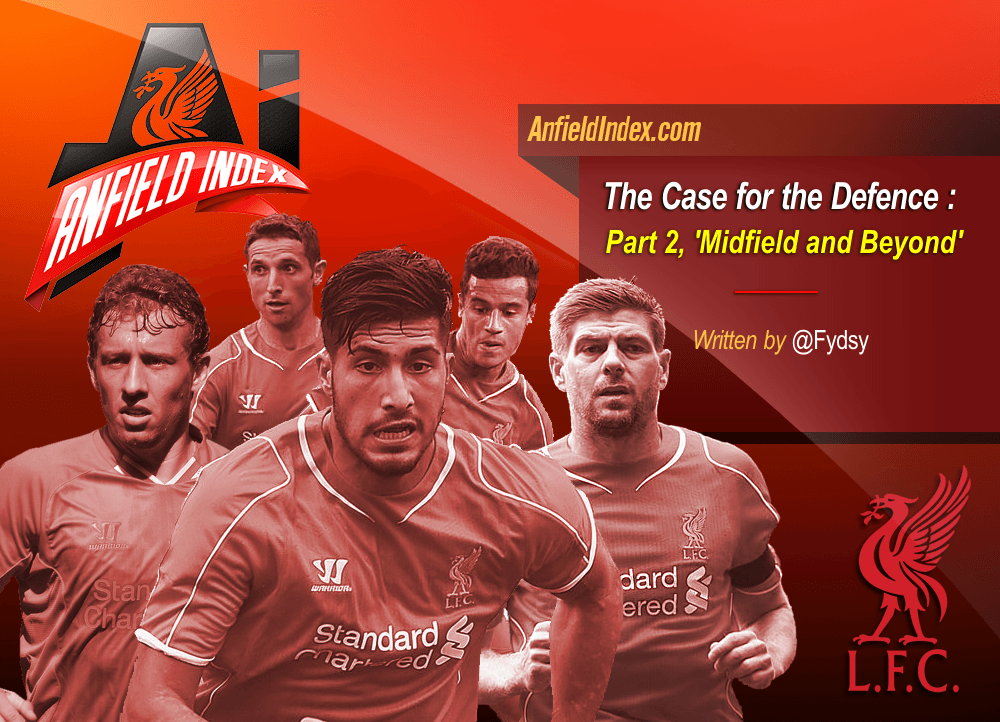 Lucas Leiva is the nearest thing we have to a definitive defensive midfielder, though it's fair to say given his ability to find a defence splitting ball and always trying to keep momentum moving forward rather than sideways or laying it off backward if he can, he can be more than simply 'defensive'. Having had a string of serious injuries, he rarely gets a full game at this juncture and it's fair to say that minus the own goals, his scoring record is up there with Carra's. Many say his 'legs have gone' which in my opinion, at least partly misunderstands his role where positioning, timing and distribution are far more important than speed. Others say he gives away too many fouls. Considering his primary role revolves around defending the back four, show me a DM that doesn't give away a lot of fouls, certainly Mascherano, Alonso and even Souness in their time did, and few defensive midfielders gave away more fouls than Vieira, Keane and Essien in their pomp. Generally, when Lucas plays, depending on who he's partnered with, we do look that bit more resolute in the middle. Like all DM's but the showiest, or those who score regularly, despite his long-standing status as a focus for many of those who like a scapegoat, much of his good work goes unnoticed.
Steven Gerrard is one of the great Liverpool players of all time, and certainly in living memory – even for an old fart like me. Stevie is now 34 and clearly not as ultra-dynamic as he once was, yet especially when getting forward, shows he still has a powerful and inspirational contribution to make. He is most often now played as an ersatz DM, the idea being he can spray the ball around to the forwards – and although being a DM is not even close to his natural game and has caused problems for him and the rest of the team, the manager persists with it. On this, I agree with my old friend Tony Evans of the Times – using Stevie as a DM is not the best use of material. He offers far more when played further forward, and his presence as a DM may adversely affect some of those around him such as Henderson, who curtails some of the better parts of his natural game to accommodate the manager's desire for Stevie to be in the holding role. I disagree with many who think he should be dropped. He should be played further forward where he can do more damage to the opposition, though I also believe he should be rested more often.
One of the 'steals' in the transfer market of the last few years was the acquisition for modern day peanuts of Philippe Coutinho from Inter Milan, where, although temporarily a starring feature under Rafa Benitez who rated him as one of the best young talents he'd ever seen, on Rafa's exit found himself not even picked to warm the bench too often. Go figure. Coutinho was one of those rare players who on arriving at Liverpool, hit the ground running and in full flow, showing what he could do and bring from day one. An interesting comment from a team mate to a friend of mine was 'he gets us moving, and at pace – if he has an issue, it's that he sees great opportunities and possibilities that sometimes we don't, making some passes look bad, but that's because he's quicker in the head than we are sometimes'. Coutinho is another of our midfielders who benefits best from a high tempo pressing game, which he is a master of. Give him runners and he will find them with an often impossible yet telling pass. Defensively, he brings a lot to the table for such a young and seemingly physically slight player. Not afraid to mix it, he can be dogged in the tackle, the chase and the harrying of the opposition. The only other player for Liverpool in my lifetime I can think of who was anything like him was Terry McDermott in his prime. I'm told Liverpool have had 3 major offers in the last year, the latest in the late summer, for him to go to a more 'exotic' club…the club and the player were not interested. I for one am very grateful for this.
Emre Can has been brought in as the long term replacement for Steven Gerrard, but with the bonus that he won't need a year or two in the reserves and can play now. Young, strong and capable of the same mazy runs and fierce shot that remain Gerrard's trademarks, he has already shown glimpses of the player those of us who watched him in the Bundesliga and Champions League know him to be.  At 20 years of age, he is already impressive in a role few reach maturity at until usually in their mid to late twenties. It will take a little time for him to find the exact pace and measure of his new club and league, but Joachim Loew regards him highly as a future leader of the German National team for good reason. As he gains more experience, expect him to be eased into Gerrard's current role. He can tackle, break up play, start and even finish an attack and again when fully bedded in, his defensive qualities will be a major boon.
Jordan Henderson is without doubt one of the two genuine successes of the last Dalglish era, and unlike the other, one Luis Suarez, the most enduring. Brendan Rodgers wanted to offload him to Fulham during the early part of his managership, but Hendo was not interested, despite the fact at the time (though many will deny it now!) enough fans saw him as another 'expensive mistake'.  To Rodger's credit, if a player passionately wants to stay and fight for his chance, unless there are other concerns we, the fans may be unaware of, he will generally back them despite offers on the table. This has certainly borne fruit with Henderson, and looks like it may yet with Borini too. Henderson has since become a vital part of the England set-up, being a not irregular goal-scorer, an able tackler and excellent presser, but has shown also the development of his eye for a cutting pass and his burgeoning ability to actually make it stick. Defensively, he is almost always a plus, with innumerable vital tackles and blocks, clearing headers and tireless on the break once danger is thwarted. He is – when Liverpool are on form – always in the face of the opposition, breaking up play or even stopping it from getting going in the first place. Whatever shape Rodger's second Liverpool incarnation post-Suarez will take, Henderson, now vice-captain, will be a vital part of it.
Joe Allen, the unfortunately monikered 'Welsh Xavi' has had a mixed time at Liverpool. Starting well, he then had a very difficult period that was to be compounded by repeated injuries. Two years on, he is now beginning to look the player most hoped he would be. Like Henderson, Allen is all action. A good tackler, he is another that can break up play and get an attack going from a negative start point. He doesn't yet possess the range of passing and vision that Henderson does, and it's fair to say he still tends to need more touches on the ball than is optimal for a higher tempo system of play. Like Lucas, he adds a level of solidity when played in the middle but offers more pace in the attack when played further forward or when the team is on the break. Again like Henderson, he is capable of offering some protection not only to the back four but even those midfielders who may be playing behind him by attempting to break up or at least slowing down opposition play further up the field.
What is notable in terms of all our more regular midfielders is that the best of their abilities are shown when Liverpool play a higher tempo, pressing game – something missing far too often this season.
Defending from the front
Long before Ian Rush became famous for it, Ian St John, Roger Hunt, Bobby Graham and Kevin Keegan epitomised the Shankly mantra of '…defending from the front, attacking and defending as a team, you must play for the team and not be selfish'. Luis Suarez was also an adherent to this kind of forward play, not just getting back and tackling at times on the flank of his own box, but heading away corners and making telling clearances – but that may also be by virtue of the fact that not being involved in all aspects of the game to someone with his fierce desire, was unthinkable. Adam Lallana is another who typifies this approach, always pressing, harrying, not afraid of a tackle. I count him as a forward even though he's often seen as an attacking midfielder – mainly because so far, that's how we've used him. The point is, it's part of the Liverpool philosophical and tactical DNA.
Forwards who interfere with the back play of the opposition, always looking to break up play, steal the ball from an unwary defender or midfielder and turn defence quickly into attack while already in the opposition half are manna from heaven to any forward-thinking team and manager. Balotelli and Sterling have both shown at times they can do this and do it well, as has Daniel Sturridge. This is a new side to Balotelli's game, famously saying to Rodgers 'I don't do defending' who replied 'You do now!' To his credit, when he remembers, it has become a growing and vital part of his game.
Tactics, Strategy and the 'Bigger Picture'
The way a team plays, it's overall style, the system it is best suited to over the course of a season, a competition etc. is best defined as 'the strategy'. The different ways it employs that strategy depending on opposition, injuries and form usually referred to as the formation, can be seen as the 'tactical' aspect. For my money and according to the words that come from Brendan Rodgers, the Liverpool strategy is largely about attacking. Attacking with pace, tempo (pace can be seen as pure speed, tempo as the maintenance of this speed over a period of the game), pressing and relentless energy, wearing the opposition down, not allowing them to play the game they might wish to. The tactics that have worked best for this approach thus far, have been the central diamond (with various players at the tip and base) and full backs pushed on as effective wing-halves harking back to Ramsay's England but again, with more pace. Three issues arise from this – balance, central solidity and cohesion from front to back. If any of these 3 factors fail, the defence is exposed – either because the cohesion has fallen and the gaps between midfield and defence have become too stretched and the two wing-halves are caught upfield, because the central solidity has fallen away or been by-passed/outnumbered and the back four (or two if the wing-halves are still caught upfield) are again exposed, or if the balance itself, i.e., the working unit is disrupted, resulting in the pace and tempo being lost from the game and ergo the initiative handed to the opposition.  Overall, last season, all of these 3 factors were mostly in harmony, on some days, devastatingly so – but the fragility of such an approach if it cracks can be best shown by the 51 goals Liverpool shipped in the course of the league season. Despite our 101 goals for and some of the most exciting and blistering performances in living memory, no team has ever won the league when shipping so many goals. Brendan Rodgers task is to find these 3 factors again in the absence of his best weapon, Luis Suarez, to make the back 5 work more harmoniously and repeat last season's strategy but with tighter tactical control. Except for small instances, he has thus far failed to achieve this. With new players still finding their feet and bedding in, some to a greater or lesser extent than others, the desired outcome may yet be attained. Without doubt, Liverpool will improve over the season and I expect some exceptional displays once we do and everyone is fit and ready – but much work remains to be done and questions over Rodgers ability or lack thereof to think appropriately and cohesively around defensive issues, strategy and tactics will continue to dog him until it is put right.
Despite some fans concerns, and various wild media hyperbole, money will be available to strengthen the squad in the January window and certainly a need for serious completion and possible replacement for Simon Mignolet is a genuine target if the right candidate can be found. A young and more defensive minded holding midfielder is also under consideration, which despite many fans wishes, was not the case in the summer. Attacking options are also – of course – under constant review.
Rodgers will never admit freely any possible need for defensive help from a coaching perspective, though rumours continue to grow that some of his own staff disagree quiet markedly on this…will he be eventually persuaded or even over-ruled? We don't know – time will tell, but if the strategy can be restored to a more optimal output, the tactical refined, polished and tightened as the season develops, players acclimatise to the club, their roles and the aforesaid strategy, it may become a moot point.
The future or the defensive side of Liverpool's strategic and tactical security is not beyond hope – but much work remains to be done.