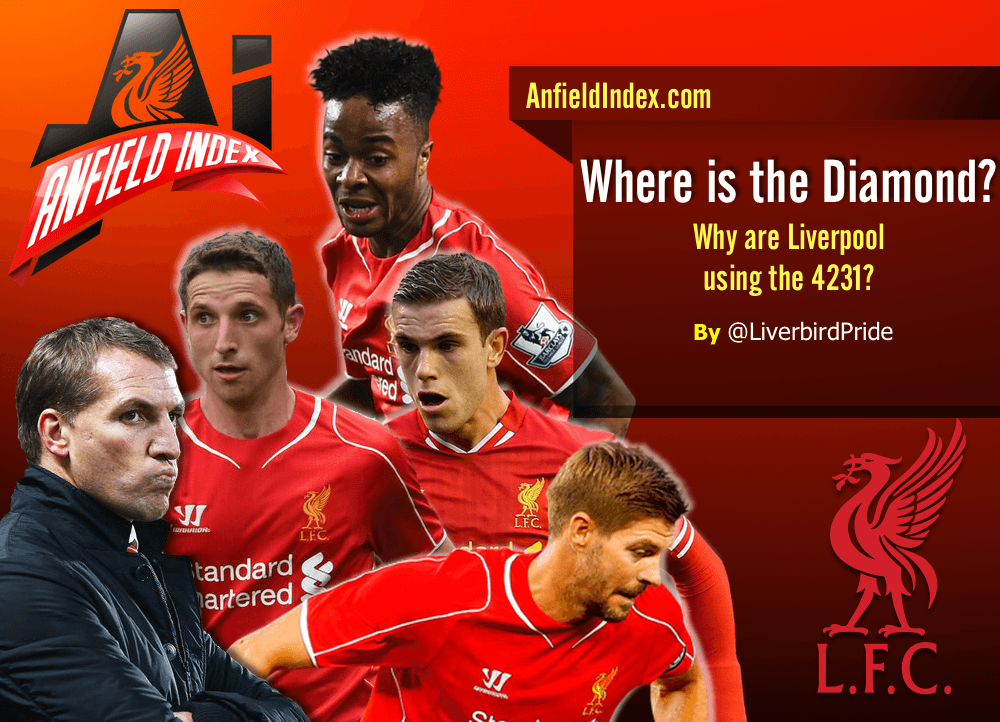 Where is the Diamond? | Why are Liverpool Using the 4231?

In mineralogy, diamond is a metastable allotrope of carbon, where the carbon atoms are arranged in a variation of the face centred cubic crystal structure called the diamond lattice. Now in simpler terms, a diamond would be a pretty damn good formation for LFC in this moment in time.
Whereas the 4231 on the other hand..
Adaptation
In the season of 13/14, whilst trying to squeeze two of the most prolific goal-scorers into one starting XI, the diamond formation seemed a match made in Heaven for Brendan and his squad. Liverpool netted an impressive 101 goals last term (only to be out-done by the champions Man City). Conceding 50 goals in total on the other hand was publicly criticised (most notably from Brendan himself). Could this be due to the system that was put in place? Well, along with the personnel in defence, yes it is.
Adopting the 442 diamond tactic continuously exposed Liverpool's defensive weaknesses for the majority of the time, but the major contrast was the success it brought for our forward line. Luis Suarez, Daniel Sturridge, Raheem Sterling and Phil Coutinho scored a combined total of 65 goals which is staggering and shows the excellence of the system implemented going forward.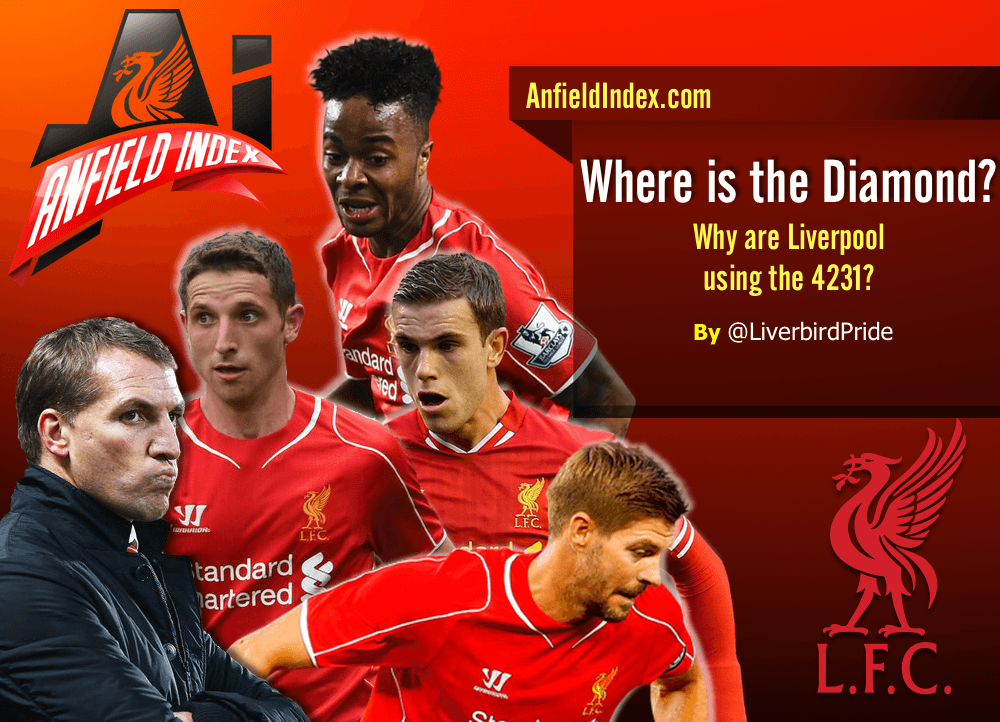 The curiosity begins
So why isn't Brendan using this formation? Your guess is as good as mine. I do have a few ideas however. Brendan loves his 4231 and until Sturridge comes back miraculously quickly it seems that isn't going to change. His reasoning from my point of view is this:
He feels the players that are at his disposal clearly are not good enough.
A 4231 not only allows the two attacking full-backs to push ferociously down the wing (which is his preferred style of play) with the wide attacking midfielders to cover, it enables the centre-backs to then push slightly wider and higher with the make-shift defensive midfielder(s) to push into the CB position, creating a solid backline and a solid attacking force.
This would be the case for the 13/14/15 Southampton who used this 4231 formation exquisitely. Not LFC. Liverpool have one makeshift defensive midfielder in Steven Gerrard and another man who is compelled to become isolated and needing to run twice the amount of his natural game to act as Gerrard's legs in Jordan Henderson, Emre Can or Joe Allen. The only actual player who his natural position is DM has sadly deteriorated due to injury and is now residing at home, mocking people over Twitter with classic comebacks, such as:
"With your mum you prick." – We love you Lucas.
Getting back to my point, while using this specific system makes sense from a defensive point of view for Rodgers, it is evident it does not. Not only is our defence the problem, but we seem to be anonymous in our attack which made us so deadly – and quite frankly covered up our defence.
Personnel and their impact
Mario Balotelli
Mario Balotelli – the man the Reds pinned all their hopes on at the end of the transfer window – was needed to full effect when Sturridge picked up an injury on international duty almost two months ago. His debut seemed full of promise, but it was to be short lived as he would go scoreless throughout his LFC league career up to this point. It is evident – last 20 minutes against Hull for example – that when a striker is paired with Balotelli, the attack is automatically more fluid.
So why continue with the same emotion draining tactic? One theory I've come across is this;
Brendan at times can be a little proud and a little obnoxious, I'm sure we can all agree. Most recently when asked about maybe bringing in a defensive coach he explained,
"There is no way we are bringing in a defensive coach… It's just a lack of coaching and will improve over time."
"I was up until 4:30am… It wasn't that I couldn't sleep, I was just thinking of ways that I could make us better and improve certain aspects of our play."
Dejan Lovren
So this being the case, let's take our number 6 into the discussion. Dejan Lovren appeared to be Brendan's pride and joy. A price tag of £20m raised quite a few eyebrows, and the quality being paid for was also in question.
Last season at Southampton, Lovren appeared to play reasonably well in the eyes of some. There, he was given the freedom to roam whenever he wanted to. Why? Because Mauricio Pochettino played a 4231. The only difference between our system and theirs, is the fact that The Saints have two of the top five DM's in the Premier League, we don't. This is why our defensive frailties are still appearing larger than ever. Lovren playing in a system that doesn't suit him makes him effectively error prone. Brendan being proud comes into this discussion because he wants this transfer to work more than anybody, hence the continuation of trying to emulate the Saints' set up last season.
Adam Lallana
Adam Lallana, another man that Brendan's praise was dubbed on is another reason – in my own opinion – for this method being put into place. Being deployed for Southampton on the wide attacking midfield position was what would have been most suited for the 26 year old, and what is Brendan trying to deploy? You know what I'm about to say right? Similar to Lovren, Rodgers is trying to fit Lallana into a system that he is used to, to show followers that he was worth the effort and money distributed. I say no more.
Martin Skrtel
Martin Skrtel on the other hand is another story from another manager. Rafael Benitez was well known for being able to keep a clean sheet. This would often result in a deep defensive line. Martin Skrtel was used in this system and he is visibly two yards behind our defensive line in most cases. The problem this poses for Liverpool is that Brendan plays a high line and when Skrtel is falling back, teams can exploit this and create chances via hoofing the ball over the head which has been so far an effective technique this year when playing us.
Daniel Sturridge
"The Man Made Of Glass." This is what Daniel Sturridge has recently been known as. His injury/injuries that he suffers while playing for either Liverpool or England clearly have a massive impact on Brendan's choice of tactic. All we have to do to find this is the case is to rewind our memories back to the start of our mesmerising 13/14 season when we were left with one (capable) striker. In the beginning Suarez was still serving the remainder of his ban and Sturridge was called upon to write his name in Anfield Folklore.
Brendan changed his choice of formation for the home bout versus Stoke City to the infamous 4231, and granted it worked, quite well actually. Keeping three clean sheets and scoring goals was just what the doctor (Brendan) ordered. This would make a person wonder if this impressive start is playing mind games with Brendan, and he feels the same results will surface.
Summary and final notes
To summarise my article, the diamond formation has a great attacking outlet and suits Mario Balotelli better than most other formations. Like all tactics of course, it does have its flaws. A team who uses the diamond formation is more likely to concede on average 0.7 goals more, which would be worrying for LFC, all things considered.
The 4231 pivot has intentions of a great defensive structure and works to full effect with a squad that is suited to using it. It is more suited to the players Adam Lallana and Dejan Lovren as this is how they were playing for the Saints.
I think one thing is for sure, Brendan needs to get back to old ways as much as possible considering the current form we are in. This would be aided with the arrival of the diamond, so while we wait for that to take place, let's just sit, wait, and support!