Just under two weeks ago we saw Real Madrid come to Anfield and give Liverpool a lesson in what it's like to play at the top level of European football. With four seasons out of the Champions League, and a group of players and staff with little experience of the competition, we saw a meek, timid performance, which served as no more than a training session for Real Madrid pre-Clásico.
It was a display the likes of which we've rarely seen at the old stadium, and many fans, old and new, would struggle to recall a performance in which the opposition were shown so much respect, both on the pitch, and from the stands.
The Spaniards rolled up without the world's most expensive player, but managed to replace him with someone even more impressive in the shape of Isco. And speaking of shape, the absence of Bale saw something of a 4-2-2-2 formation with James Rodriguez taking up a role on the right, and Isco working on the left. The pair used the positions to drift in onto their stronger feet, and play passes inside to Ronaldo, Benzema, Modric, and Kroos. This is shown in their combined passing map below (from Squawka), with James's brilliant assist for Ronaldo highlighted in blue.

Isco & James of Real Madrid – completed passes v Liverpool – Anfield 22/10/2014
If Liverpool are to counter this in the return game, you might suggest that a double pivot in the deeper regions of midfield working in tandem with the full-backs, could do the job, but given the apparent inability to play this system effectively whilst Steven Gerrard is in the line-up, it might not be the best idea.
If the Reds line up with a 1-2 formation in central midfield, as part of either a diamond or 4-3-3, then the 2 could keep an eye on Isco and James, but then this leaves Real Madrid's own central midfield pair free to create attacks from deep. Given that these two players could be Luka Modric and Toni Kroos, then this might not be the best idea.
Modric and Kroos, along with Isco, were the Madrid players most involved in the game at Anfield. The German number eight completed an impressive 88 of his 90 attempted passes (98%), 24 of these finding his partner Modric, with 18 going to Isco just to the left of him. Modric's numbers were equally outstanding, with 90 of his 95 (95%) passes finding their mark. He also had the most touches on the ball of any player on the park.
Real Madrid player positions v Liverpool – 22/10/2014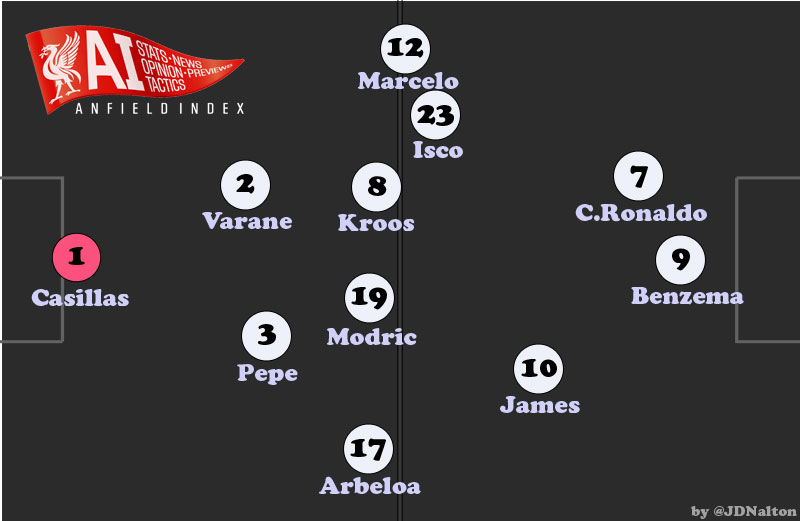 Liverpool's shape against Newcastle at the weekend might give an idea of how the team plan to counter these dangerous duos. Jordan Henderson and Raheem Sterling dropped back to wide midfield positions when the team didn't have the ball, and these could be the players given the task of marking Isco and James in defence.
This would leave the middle pair of Joe Allen (or Emre Can) and Steven Gerrard to deal with the advances of Modric and Kroos, or whoever Real decide to put in these positions for the next game.
The football machine that is Cristiano Ronaldo needs no statistical analysis to demonstrate how good he is, and he'll have either Karim Benzema or Javier Hernandez on hand to poke home any scraps, as Benzema did with ease last time out.
With Johnson playing a more defensive full-back role against Newcastle, we could see Liverpool's right-back assigned to Ronaldo, with Martin Skrtel alongside providing backup for when the Portuguese inevitably makes the breakthrough, or for when Madrid's full-back overlaps. This leaves the remaining centre-back free to mark the striker, at least in theory.
Whilst it's not nice to concentrate solely on stopping the opposition, a side like Real can't be left to their own devices as you focus only on your own attacking game-plan. For Liverpool the transition from defence to attack will be of utmost importance if they're to have their own plan of attack, and Madrid do have a few weaknesses.
The right sided midfielder could exploit the gap left by Marcelo, the strikers could take advantage of Real Madrid's exposed central defence, or Alberto Moreno could provide crosses in from the left to unsettle Iker Casillas.
If Mario Balotelli lines up with a strike partner, which you'd hope he would, then his hold up play when dropping deep and then speed once he gets running into the box could cause problems for the opposition. He just needs a partner to link up with, or another presence in the box to detract some of the attention from him.
The Italian's two goals for Liverpool so far have come from crosses, suggesting that the two players who've provided them for him – Moreno and Borini – should both be part of Liverpool's attack. This isn't to say they should aimlessly hit balls into the box, and it'll be important to make the right decisions in the final third, as a cut back to the edge or dribble into the box could be more effective depending on the situation.
Borini's work of the ball would also be useful, and he could be used to put pressure on the opposition centre-backs, preventing them from finding the easy pass to Modric or Kroos. An in-form Lazar Markovic would also be ideal for this second striker role, and whilst he's not in form, a game such as this where Liverpool aren't expected to win could be a chance to test the young player in this position.
It'll be another struggle for the Reds, and the travelling Kop will have their work cut out if they're to raise the spirits of a side bereft of confidence, but you'd hope to see more spirit and more fight in the collective than was shown during the embarrassing recent fixtures. This is the level which these players, and this manager, want to be playing at, and it's time for them to show that they deserve to remain there in the seasons to come.