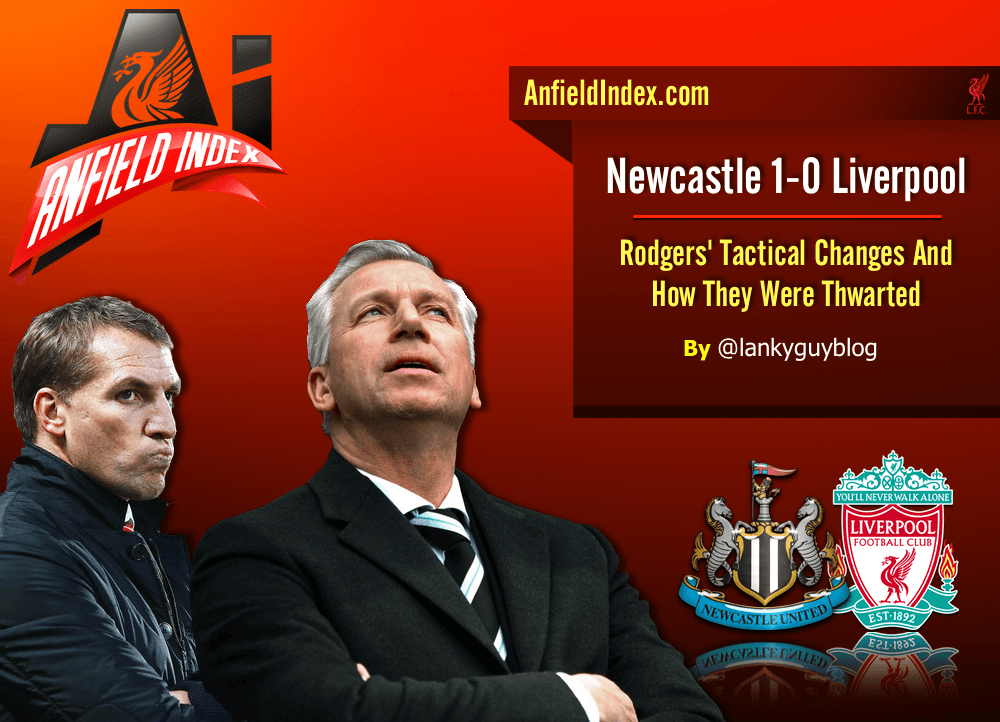 How Rodgers' Tactical Changes were Thwarted | Newcastle 1-0 Liverpool
It was around this point last season that Liverpool were playing a back three. The basic idea behind it was to free up Sturridge and Suarez, allowing them to to play up front together whilst keeping a strong enough base behind them. This system lasted just over a month until the 2-0 loss to Arsenal at the Emirates, where Rodgers switched to a narrow 4-4-2 at half-time and from then on in, kept a back four for the rest of the campaign.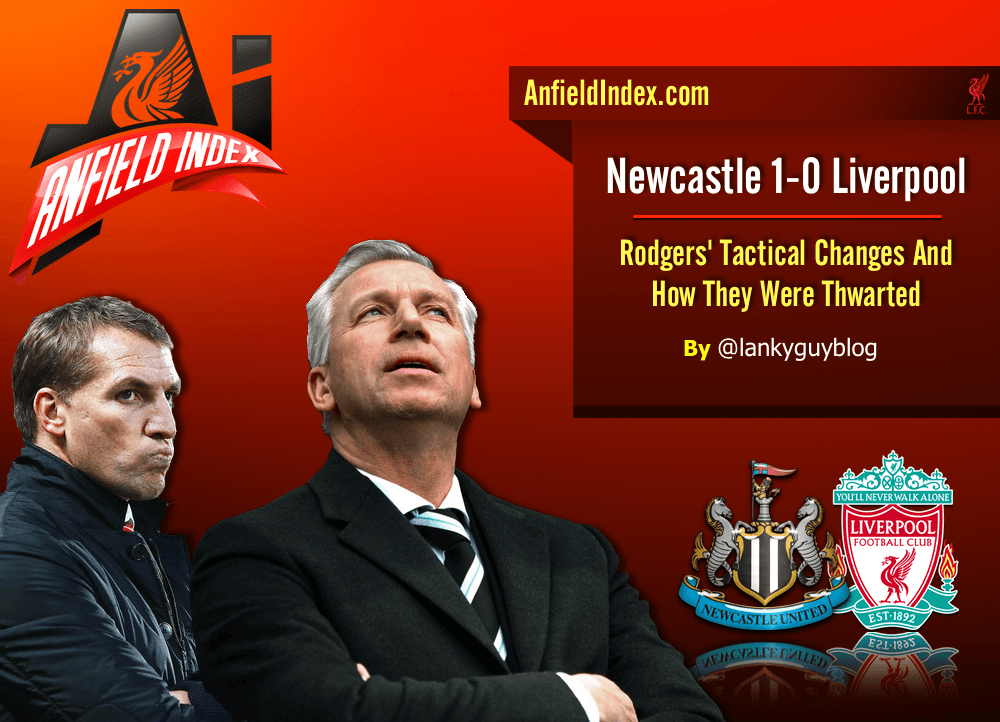 To merely say that Liverpool played a back four for the rest of the season would be misleading; in possession of course, it was often still a very clear back three. Gerrard, who was moved to the no. 4 position from January onwards, would drop back between the centre-backs when possession was won, the centre-backs themselves split wide and the team initiated possession from this base.

Many opposition teams did not want to push three men up onto this back three, lest they concede space between the lines to Suarez, Sturridge or Coutinho and so this allowed Liverpool comfortable possession in early build up, meaning the team could move it forward much more easily (Sunderland were one of the only teams who did push three men up when Liverpool were in the 'initiation phase' and noticeably forced turnovers through Mignolet kicking long in trying to avoid Sunderland's press). So though Liverpool were generally playing a 4-3-3 or a 4-3-1-2, in possession this quickly shifted to 3-4-3 or 3-4-1-2.
In this game, Rodgers arguably did the same but in a quite different way to how he has previously done it. Off the ball, he went back to the 4-2-3-1 shape that he has employed a few times this season. Henderson was wide on the left, Sterling on the right, Gerrard and Allen were  positioned alongside each other in the centre and Coutinho played behind Mario Balotelli.
In possession though, the team shape was very different. Moreno pushed up immediately when the ball was regained, Johnson tucked in, Henderson moved inside to the inside left channel between the lines(or half space) and Coutinho occupied a symmetrical position on the right. Liverpool therefore became a 3-2-4-1 in possession.
Why did Rodgers make this tactical change?
There may be a few reasons Rodgers went with this change: theoretically it gave the team plenty of options in the middle of the pitch. With Allen and Gerrard playing as holding midfielders and Coutinho and Henderson positioning themselves in the half spaces between the Newcastle wide players and central midfield, Liverpool effectively had four players in midfield. With Moreno and Sterling playing high and very wide, that also gave the the team five players in or around the final third of the pitch.
Perhaps Rodgers felt that with Newcastle playing at home having won three games on the bounce, they might come out and bring the game to Liverpool, trying to pressure high up the pitch and attack them. With an aggressive game plan, they may have been liable to leaving space between the lines and with four midfielders in possession, the team could exploit any spaces that Newcastle left.
It was fairly clear that a big part of Liverpool's success was going to be dictated by how much space they could create between the lines for Henderson and Coutinho. First of all, Balotelli needed support – the Italian has had a lot of criticism for his performances since he's arrived but has often had little support up front, either through service, link up play or just generally having players close to him. Getting players around him, linking with him and running off him was very important, with Moreno and Sterling so wide.
Secondly, the whole change in shape would basically become redundant should Henderson and Coutinho be unable to impact the attack. The positioning of both of them made them key in connecting all areas of Liverpool's play in possession – they neither played as central midfielders, nor particularly as number tens but played as attacking midfielders in the inside channels. Their positioning was such that they could link with the centre-backs, the deep midfielders, the (very high) wing-backs and Balotelli up front. That made the team fairly reliant on opening up space for them so that Liverpool could play through the lines. It was clear that the team set up was, at least in part, looking to dominate through midfield and particularly through those two players.
Newcastle thwart Rodgers' plan
As already said, with Newcastle's regained confidence after winning the previous three games, Rodgers perhaps thought that Pardew might have been inclined to approach this game in an aggressive manner and try and take the game to Liverpool.
The issue was that Newcastle just didn't do that. Though they may not have expected Rodgers to go into the game with the particular tactical and positional setup(s) that he did, they adapted intelligently to this new game plan. Rather than pressing high, the home side were largely disciplined in their pressuring – they generally positioned their block in their own half of the pitch. Out of possession Sissoko played on the same general line as Cisse in a rough 4-4-2 shape (though he did drop alongside Abeid and Colback more and more as the game went on, making a 4-3-3, or a 4-1-4-1).
The big problem for Rodgers was that Pardew's side effectively left the three CBs alone. Sissoko and Cisse very rarely went to pressurise them, preferring to stand off and mark Allen and Gerrard. This enabled Abeid and Colback (and Sissoko when he dropped in) to stay deeper and concentrate on shutting off space for Henderson and Coutinho.
This is illustrated below:
Both Abeid and Colback worked very hard in shutting off these passes. This effectively ruined Liverpool's attacking flow – Ciise and Sissoko forced the four players to be disconnected by dropping off and marking Allen and Gerrard and Abeid and Colback intercepted the hopeful passes from deep intended for Henderson and Coutinho. This was enough to stop Liverpool playing through midfield.
A simple look at the positions of Newcastle's interceptions highlights this:
Far too many times, Liverpool attempted straight passes from deep looking for Henderson or Coutinho. This was a problem with the team's system – Newcastle thwarted the fact that Liverpool had four players playing through midfield simply by leaving the back three free and dropping onto Allen and Gerrard, making up the numerical advantage Liverpool theoretically had. That disconnected Liverpool's midfield and made it very hard to dominate through the middle, despite the theoretical numerical superiority the team had.
This would explain why there was so much horizontal possession at the back and this was why the game was very drab for long periods. There was possession but little control – the team could hardly be said to have been dictating the flow of play and whilst Newcastle didn't exactly threaten the defence for most of the match, they were comfortably stopping any offensive impact from their opponent. The back three were largely redundant, only able to circulate easy ball possession at the back. Gerrard and Allen were generally marked and so dropped deep, making it difficult to associate play through midfield. Thus, possession was dominated but for no purpose.
Liverpool's possession was therefore often lost either through trying to find passes to Henderson or Coutinho through midfield or through hopeful long passes forward.
A number of adjustments needed to be made to get the system working. For a start, Moreno and Sterling were both playing very high as wing-backs in possession; they were often both positioned along the same line as Henderson and Coutinho. Whilst the aggression in positioning was understandable, it made Liverpool even more disconnected. Neither of them were a consistent passing option for the outside centre-backs and Newcastle's wide men also blocked the passing lanes to them fairly well. Sterling in particular was isolated out wide, playing too high up, not getting enough touches on the ball and only able to be found through hopeful long diagonals. For a player who can be such a substantial threat, he clearly wasn't being used in a way that he would make an impact on the game.
This brings to focus something that should have been essential, especially once Newcastle had 'worked out' Liverpool's system. If the change in system logically required Liverpool to dominate between the lines, then enticing Newcastle with the ball in deep positions was extremely important. The team needed to provoke their midfield to close down early ball possession and therefore open up the Newcastle block. Two or three times this happened in the first half – Colback reacted to a pressing trigger and closed down aggressively high up the pitch, leaving Henderson with space behind their midfield.
Yet for most of the game, Newcastle were allowed to concentrate on controlling this space. None of the back three are particularly impressive in constructing play from deep, and here they didn't seem to try and entice Newcastle's midfield or frontline out of position. Rather, they continued to have simple, meaningless possession in deep positions, or attempt hopeful passes forward, whether it was long passes bypassing the midfield or trying to squeeze the ball through to Henderson or Coutinho. The team was often split up into two parts and the lack of rotation in midfield, matched with the slow tempo, made the play far too predictable. In short, Liverpool's system in possession was effectively broken through Newcastle's defensive adaptations and they didn't dominate because of this, nor adapt effectively enough to change it around.
Changes?
The second half unfortunately remained much the same. Gerrard caused problems for Newcastle on a few occasions with long passes behind the defence without pressure on the ball but this was a largely isolated threat.
Rodgers did try to change things by bringing on Borini for Allen and playing him just off Balotelli, towards the left (moving back to play on the left of the 4-2-3-1 when defending). This however, was largely missing the point – the issue was in deeper positions, not up front and it led to Coutinho having to drop deeper to connect with Henderson and Gerrard, rather than linking with the front two. It also hollowed out the midfield.
The Newcastle goal came from Glen Johnson attempting an extremely speculative long shot but it just emphasised Liverpool's lack of ideas in trying to break through the Newcastle defence; occasional, isolated threat, lack of cohesion, not dominating through midfield, ultimately leading to poor turnovers.
With ten minutes of normal time to go, Rodgers took Coutinho off and brought Lambert on, changing to a 4-2-4. This was desperate measures to try and find the equaliser – create 1v1s against the Newcastle back line and put them under pressure. This hollowed out the midfield further, making the team even more unable to play through the middle and forcing them to go long or play down the flanks. It was an end-of-game ploy to see whether Newcastle would make a mistake and seeing as there had been virtually no threat for the previous eighty minutes when the team had clearly wanted to exploit the middle, Rodgers decided to completely change it around to see if any threat could be created through a direct 4-2-4. Unfortunately no good chances were created, nor was the ball held onto for long enough to keep up consistent pressure.
Conclusion
This was an interesting positional/shape change from Rodgers to try and dominate the game and one that had a certain level of sense about it. Unfortunately, it was not carried out effectively enough to actually bring any reward and Newcastle dealt with it very comfortably – alarmingly so. Rodgers should not be happy with how easy it was for them to break Liverpool's system and spoil any cohesive flow through midfield but he also didn't respond to it effectively enough either. It was a theoretically promising but unrewarding shift and with two big games coming up against Real Madrid and Chelsea in the next week, Rodgers is going to have to again try and find new solutions in what will be far tougher games.