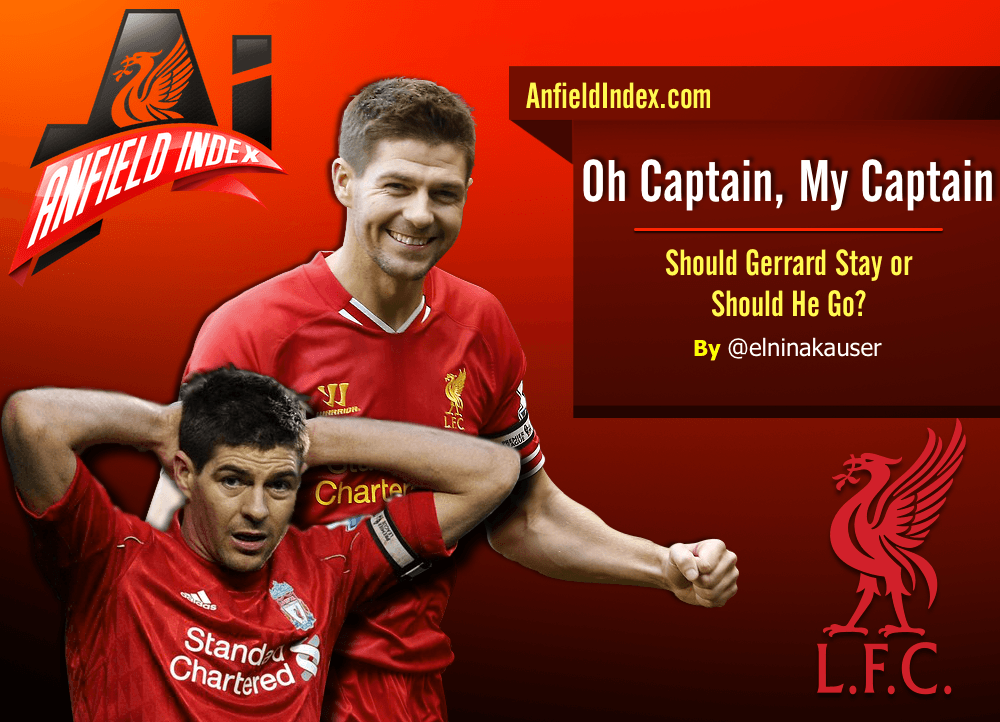 Oh Captain, My Captain: Should Gerrard Stay or Should He Go?
It's always been a personal belief of mine that no player is bigger than Liverpool Football Club. This motto has served me well when I thought I'd have died of a broken heart when players have exited the club, but Liverpool Football Club and I have always bounced back and gone from strength to strength. Then came the rumours that Steven Gerrard might leave his beloved Liverpool if he wasn't offered a contract extension that met his demands.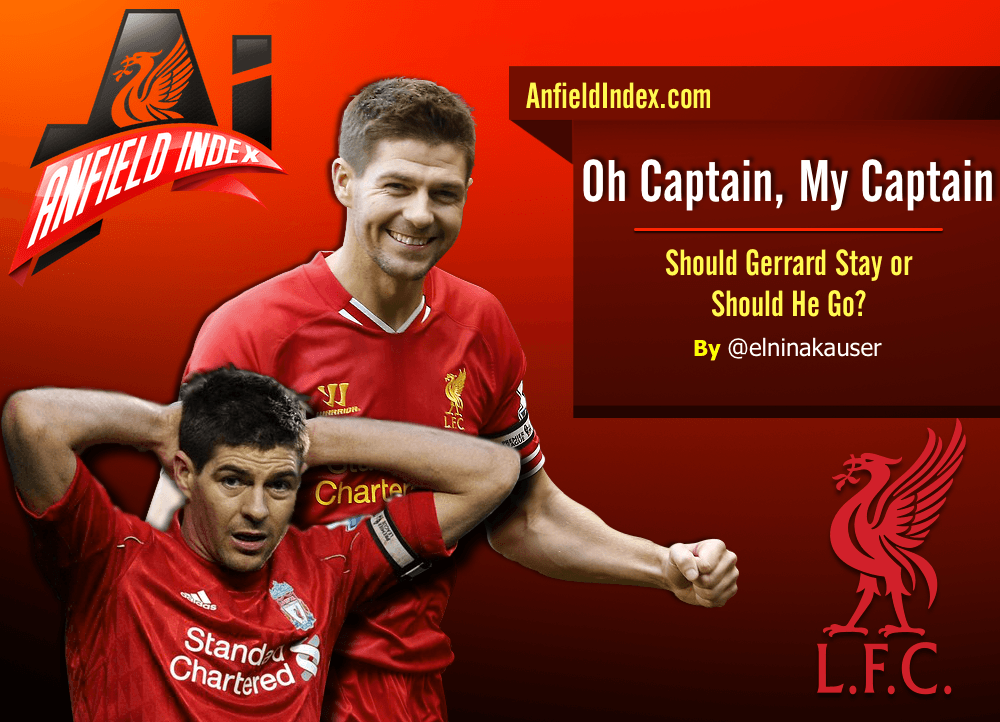 Unthinkable right? The thought of him wearing any other club's jersey just makes me shudder to the core after all he is Mr Liverpool. The thought of him not leading out Liverpool at Anfield just feels alien. Imagine another set of fans singing his chant (not the slipping one obviously) after he scores a screamer (granted its been a while)? A player coming to the end of his career is inevitable but it was always my belief that Gerrard would retire at his boyhood club. Is there a player who can carry the weight of his number 8 shirt? Actually scrap that- that shirt needs to retire – the thought of anyone else wearing that shirt would send me and every other red over the edge.

The fangirl within me thinks its ridiculous that the club won't pander to his demands. How many times has Gerrard been the savior for the club, he's dedicated his whole career to us. Is this how we treat a legend by snubbing him?  What must Gerrard be thinking? What must the footballing world think of us as a club?  These were some of the questions that were running through my head as I heard the news.  Enough of my opinions time to approach this piece with level head – okay here goes.
Why would Liverpool offer a short-term deal?
Lets start with the obvious; his age. At 34 he's no longer a spring chicken and playing at such a highly competitive level has taken a toll on the Liverpool captain. His recent performances suggest so too as he is not the old Gerrard we've grown to know and love. His involvement within the game lessens and he's unable to make the same impact on games as he did for us in previous years. Lets not forget last season he was most prolific from set pieces, which haven't been too bad this season with three goals to his name. However Gerrard's last goal from open play dates all the way back to February 3rd 2013 at the Etihad.
Why would Gerrard want a deal that meet his needs?
Well, its quite self-explanatory isn't it? To stay at his beloved club for as long as possible and end his playing career there. The desired deal would offer Gerrard stability and secure his position however, if his needs are met, Gerrard must accept that he will have to feature in games when he is required rather than starting every fixture therefore taking a backseat for the good of the club he loves so much. Being one of the top earners at Liverpool he'd also secure a longer pay day at the end of his career and this would be another reason to ask for a longer deal.
If Gerrard's contract is not renewed what options does he have?
Realistically it seems unlikely that Gerrard will opt for another Premier League team for obvious reasons, well here's hoping anyway. Could Europe be a potential destination? Given Gerrard's desire to win a league title what options does he have? Bayern, Juventus, Madrid and potentially Barcelona? He'd certainly be granted a league medal with the clubs mentioned above given their dominance within their respective leagues and Europe. They'd be ideal for him, but lets be honest do they need him with the strength and depth they already possess in that role? Can Gerrard really compete for his place against the likes of Alonso, Schweinsteiger and Martinez at Bayern Munich?
Is a player such as Gerrard who is coming to the end of his career really an option for Barcelona who have Mascherano, Rakitic, Busquests, Xavi, Iniesta or Real Madrid who have Kroos and Modric? Serie A might be a slow paced league and would be suitable to a 34 year old Gerrard but Juventus have quality players such as Pogba, Vidal and midfield maestro Pirlo. There's no denying that the Gerrard of six years ago would have walked into any of those sides and clubs would be biting our hands off to sign him but sadly I fear that if any of those clubs did come in for Stevie he'd be rotting on the bench as he wouldn't be able to compete with the world-class talent they already have at their disposal.
With Gerrard landing a move to a big club looking highly unlikely a potential move to the United States and a certain MLS could be a more realistic and suitable move as it's a great retirement home for players who are coming to the end of their careers and it would potentially be a great destination for his family and they'd easily settle in. It would also be a savvy move for any MLS side as Gerrard is a big name and he's a very marketable brand.
If this happens what are the odds of Manchester City bringing him back on loan and that whole Lampard and Gerrard debates kicks off just like the good old days?
The preference for every Liverpool fan would be that Gerrard settle for a shorter contract and hopefully earn another with consistent performances. Taking all the points above into consideration its not ideal for Gerrard to leave Liverpool and with the MLS being his only realistic option you'd assume a player of Gerrard's calibre would want more of a challenge which he'd get with Liverpool in the Premier League and hopefully in the Champions League again next season.