There was singing, there was cheering, and Adrian Chiles was made to look a bit of a spoon on live television; you'd be forgiven for thinking the Liverpool fans partying in the Spanish capital had just watched their side complete a memorable win over the European champions in their own back yard.
They hadn't.
As news trickled through that Brendan Rodgers had made wholesale changes to his side which lost at St James' Park at the weekend, fans, pundits and journalists alike banded together to write their obituaries for the Reds' chances for a win. His move was a disgraceful submission and a slap in a face to all supporters, especially those who traveled to Madrid, apparently.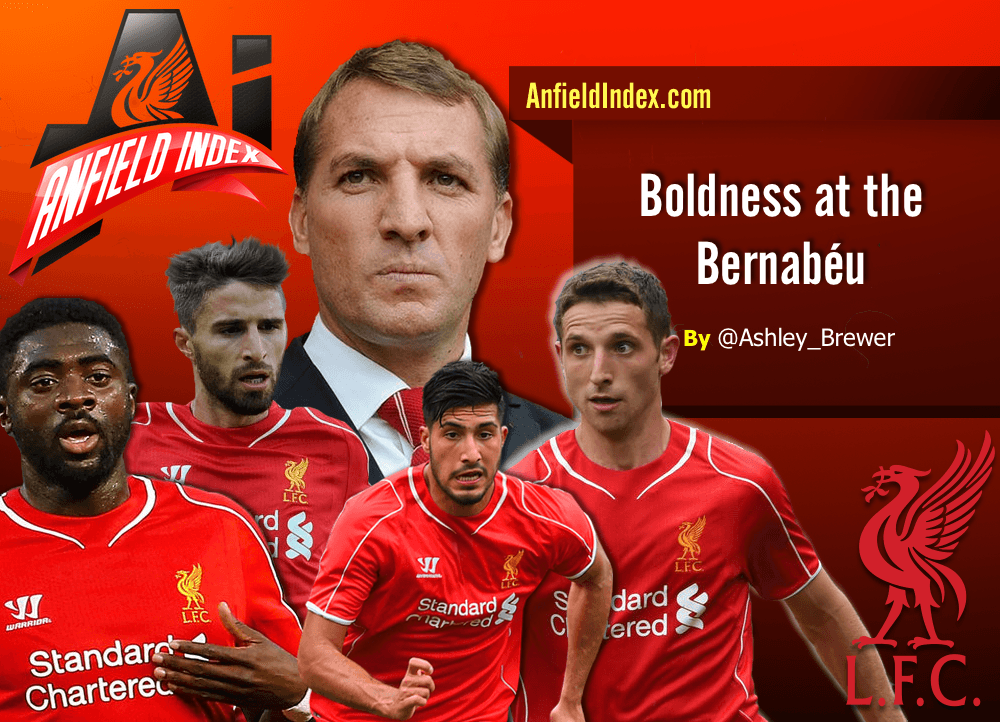 Those in the ground looked really sore from that slap as they out sung 70,000 plus Los Blanco fans from the beginning.
Upon initially seeing the team I may have let my mind enter the same mindset for a split second; this time last season the thought of seeing Liverpool take on the continents elite with the same aggression, speed and overall quality in the same vein as they did while ripping apart the Premier League from January onwards. That team now a memory, a shadow of it's former self, reality set in:
"Fuck it" I muttered to myself.
Watching the game against Newcastle United I was completely appalled. There was no fight. No tenacity. No energy (I hope you at home were playing Brendan Bingo). It would have been a slap in a face if players who have those type of performances were rewarded with the opportunity to play Champions League football at a ground like the Santiago Bernabéu.
Something needed to change, as it has done for weeks, and Rodgers did just that as wishes for under performing "stars" like Dejan Lovren, Glen Johnson and Mario Balotelli were dropped from the first team were granted. You would think such a gift would be met with a thank you, a sigh of relief, but it wasn't.
Accusations of white flag waving and the manager going slightly mad were flying everywhere, but I for one, armed with the knowledge that regardless of what happened qualification from the group would still be in our own hands, quickly came around to the idea.
What happened though, bar the result, surprised many. Liverpool actually played quite well. The opening minutes with buzzing from the energy exuded from the players as they pressed to win the ball, and when they had it, which was quite a lot, they used it well with some good passing from back to front. The striker ran into space and made himself available. It was tenacious, there was fight, it had everything last season had except a goal for their hard work.
The addition of Lucas at defensive midfield and Kolo Touré next to Martin Škrtel made the team more solid defensively than it has been for months, mainly thanks to the veteran Ivory Coast international who put in a real leader's performance. The Real Madrid goal came from some world class football, rather than a gift on a silver platter courtesy of a calamitous error as so many this season have been.
They weren't creating a lot, but Liverpool were able to stay in the game, they weren't getting taught a lesson as was assumed would happen.
The only real criticism one would have of Rodgers from this game would be the substitutions he made in the second half, all three failing to really add to the game. The logic behind Philippe Coutinho and Raheem Sterling coming on made sense, they were just unable to get a foot in, but Steven Gerrard coming on for Lucas was bewildering.
The Brazilian enjoyed a decent game up to that point and I personally thought he deserved to see the end of the game, and when the captain came on all he brought to the attack were a couple of failed Hollywood balls.
Applause from both sets of supporters for their teams, for different reasons, rang around the historic ground at the final. Real 1 Liverpool 0. No last minute equaliser for the plucky, re-energised visitors today and yet another loss, but that didn't matter as songs of Colin Pascoe's shorts filled the Madrid air.
People can look down on the reaction at the final whistle from people like me all they like; yes, we lost, but we also saw our team play well. It's not deluded, and it isn't small time. It's taking joy that after weeks of playing terribly, there was a spark, and a reason for the first team "stars" to look over their shoulder and pick up their form before they are dropped again.