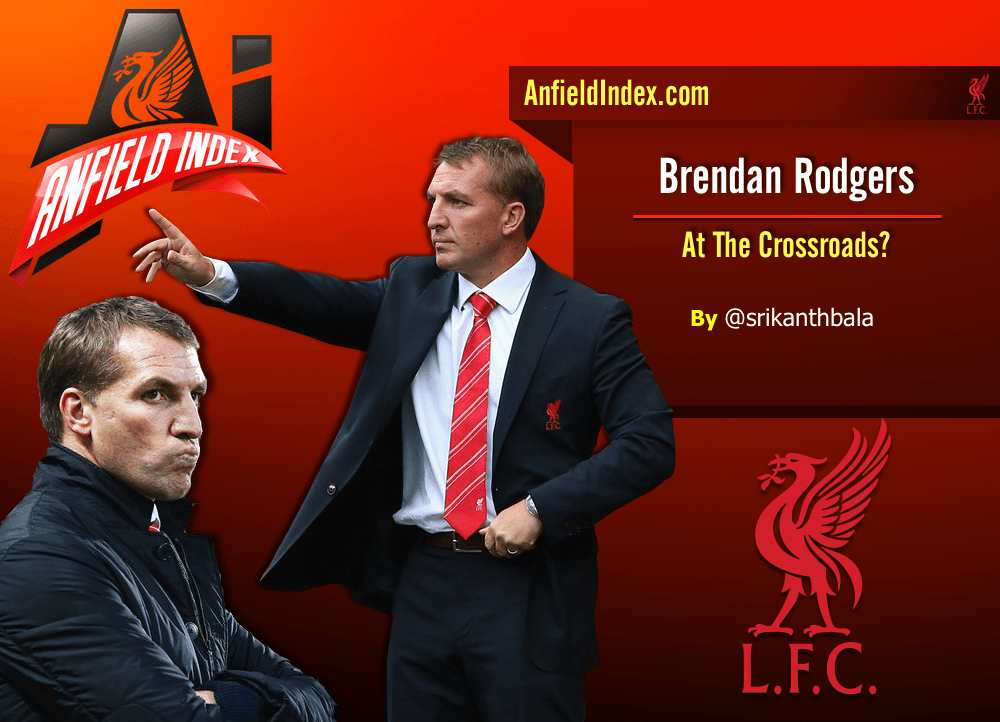 Brendan Rodgers: At The Crossroads?
As I am writing this piece, I admit there is a surge of anger within me, and that it is not advisable to write under such duress. But I also want to make sure that I do not lose the perspective, so I am going against the grain and penning this down.
Liverpool now officially seem to be in crisis. Our beloved club has gradually nudged towards the tub of incompetency in the last couple of weeks, and the game against Chelsea ensured that Liverpool sailed into the incompetency tub rather than being nudged into it. The points tally now is officially in Roy Hodgson territory.
What this week has also shown is some incompetent decision-making aided by some muddled thought process behind it. If there is some long term thought behind it, then it is unfortunate that common supporters like us are unable to see it.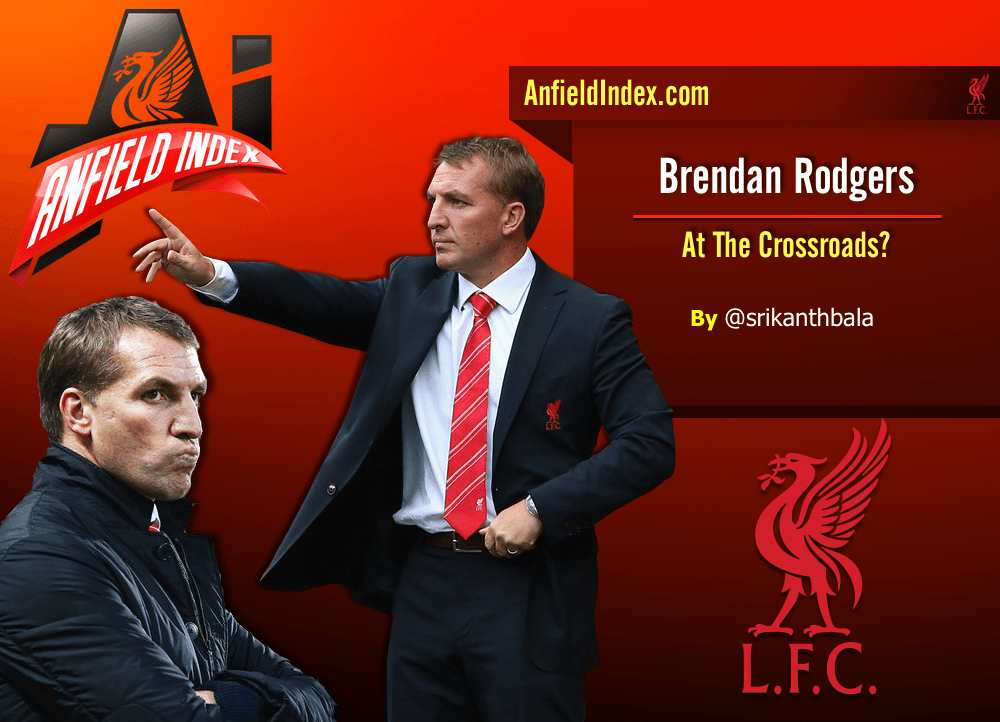 Defence
When you've got the ball 65-70% of the time, it's a football death for the other team. We're not at that stage yet, but that's what we will get to. It's death by football. You just suck the life out of them.

This was one of the initial things stressed by Brendan during his first season at the club. What is not sure is whether this is any more valid now. The ball seems to be treated like a ticking time bomb, and no one wants to keep it. The passing seems to be in a hurry and lacking thought. The Chelsea game saw possession repeatedly being gifted to the opposition on a plate. It was our good luck that Eden Hazard was kind enough to repay our debt in equal measure.
As for our defenders, especially the centre-backs, they somehow are becoming more or less 'ball-magnets'. They seemingly enjoy a huge share of touches of the ball, and somehow do not make good use of it. Lovren especially seems to be enjoying this hazardous game of putting his keeper and fellow centre-back under pressure by passing to them in high risk conditions, rather than explore other options. The good performance from Mignolet at Madrid, in the absence of Lovren, should not be looked at as a coincidence.
Midfield
We play with 11 men, other teams play with 10 men and a goalkeeper

Well Brendan, the thing is this, all that is said above is fair, but it does not look like we are playing with 11 men, and it is imperative that Brendan starts realising that Gerrard need not play every game.
By playing Gerrard every week as the sole 'controller', you are taking out his usable strengths, also compromising the fellow passengers (well that's how it looks!) in midfield. Therefore it almost looks like we are playing with 9 1/2 men. So with his actions, Brendan has started disproving what he himself stated. Again, Lucas at Madrid, at the base of the midfield, assisted by mobile midfielders, in absence of Gerrard surely looked to be working better and is an option which we could have stuck with.
Attack
When we have the football, everybody's a player

Well, then Balotelli is definitely not a player, as he never seems to have the football, thanks to our midfield.
When there is an insistence on playing a lone forward upfront, ahead of a midfield which prefers to keep the ball on the floor and look for through balls or 'raking' passes (cliché alert!), what you would ideally want is a roving, mobile striker, which Balotelli  is not. There are 2 ways to overcome this issue:
1. Partner him with an option upfront
2. Play Borini upfront (the only fit, mobile striker currently)
To do the same things over and over again and to expect different results has been daft since Einstein's days, so not sure why there is a need to play Balotelli upfront on his own and ensure that he gets crucified every game.
Other Pressing Issues (Not the on-field pressing which seems to be in absentia)
I always say a squad is like a good meal – I'm not a great cook but a good meal takes a wee bit of time, but also to offer a good meal you need good ingredients
1. Who has decided the good meal on the menu? – Rodgers
2. Who has decided the ingredients which make up the good meal? – Maybe Rodgers, maybe the committee, maybe a compromise between both, in a nutshell – no one knows for sure.
3. What is an agreeable 'wee bit of time' ?
These are some of the questions fans would like to know more on. Our costliest signing this season is Adam Lallana, who has played 127 minutes out of the last 360 minutes in the Premier League,and none in the last two games. Games where we were flat, and deservedly lost.
The last two games were perfect scenarios to use someone like Lallana. When he was bought, it was said that his movement off the ball and clever turns and flicks would enable Liverpool to break open teams who defend in low blocks. Well, Newcastle and Chelsea games were a perfect recipe to bring on Adam Lallana. The question is, if we are not going to bring him on in such games, then what was the purpose of signing a player who is expected to start performing right away?
Another problem to be pondered over is the reluctance to play Coutinho and Lallana together. It is not that we are seemingly blessed with too much creativity that we can play only one of the two. The latter half of last season clearly showed that Coutinho was beginning to relish, and more importantly shine in a deeper role, so there is no reason we cannot use both of them in specific roles. Baffling does not even begin to explain this.
We might have lost 5-0 [if he started with those missing players]. We are certainly not a team on the back of five or six wins and my selection is made easy because of performance level. That hasn't been the case at all and I don't think any other players would have put in the performance we put in
Rodgers put out a strongly worded argument for picking the team he did against Madrid midweek. In doing so, he put his reputation on the line thereby also putting the legacy of the club's past tradition on the line. Though Liverpool lost, there was a glimmer of hope and satisfaction to see the manager mincing no words to suggest that no one can take their places for granted and that selections are based on 'Form, rather than fame'
Fast forward 4 days, the team sheet against Chelsea had one change from the team which played against Newcastle, with Can coming in for Allen. What the team sheet also said (without actually saying it) is that the above quote is a pile of rubbish and that the players were indeed 'rested' for Madrid.
Kolo Toure showed he was an outstanding professional by stepping up his performance level to put in a man of the match performance, though he has played very fleetingly. He was rewarded with a place on the bench.
Lucas showed he could play the lone controller role aptly, against a plethora of stars. Benched again.
Lallana. Benched.
Manquillo. Solid defensive performance. Not in match-day squad (though there were rumors he was not fit).
In came Lovren, Gerrard, Henderson, Sterling and the rest of the team. In came another flat performance which now is beginning to suggest being par for the course. More worryingly it also seems to suggest that the 'meritocracy' buzzword is no longer part of the course manual, and that mediocrity has superseded it. All these point to a clear case of crisis and turmoil.
I believe a young player will run through a barbed wire fence for you. An older player looks for a hole in the fence
Adam Lallana, Dejan Lovren, Rickie Lambert were signed as Premier League proven players and were expected to create an immediate impact.
But either players are not being provided enough time to provide impact (as in the case of Lallana), or are being provided too much time (in the case of Lovren).
Gerrard has been shown up. Sterling has stagnated. So has Henderson.
Brendan, you are chipping away at the edges of that hole.