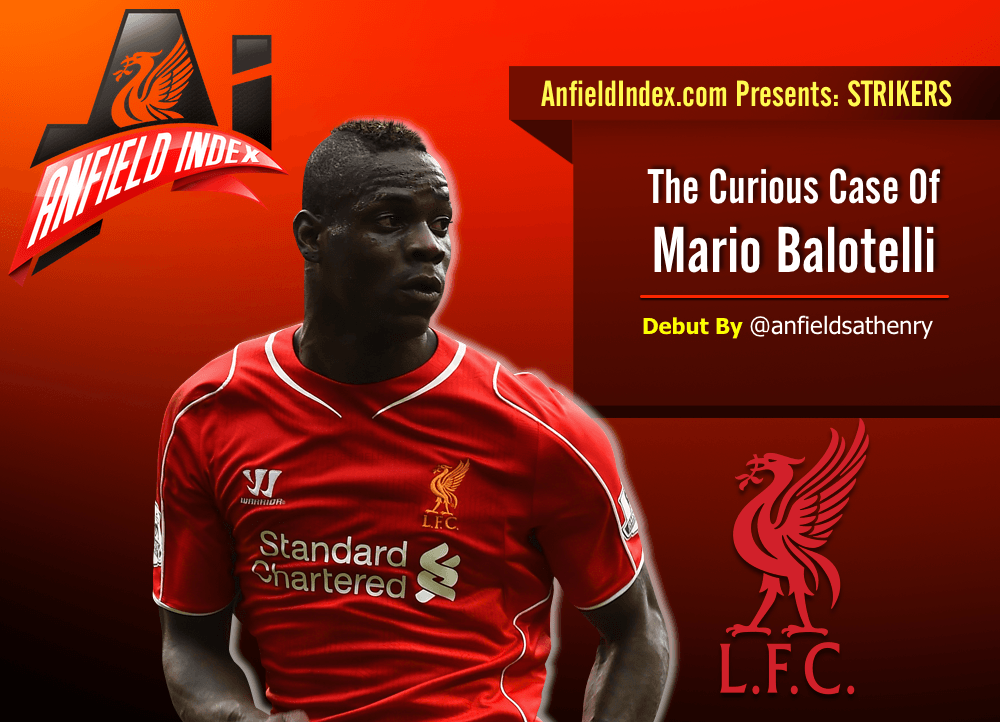 The Curious Case of Mario Balotelli
 "If it was my choice, I would always go with two strikers. It's the way I like to play, but Brendan asked me to play as the first striker."
These are the words of Mr. Mario himself, back in October. Balotelli has been heavily criticised in recent months by practically everyone in football. Everyone has an opinion on Balotelli and one dominant theory is that he is just not suited to the lone striker role. He himself says he has never played that way and is having to adjust to that role at Liverpool. You can see how he has struggled in the role, which has become necessary in what has turned into the lengthy absence of glass man Sturridge.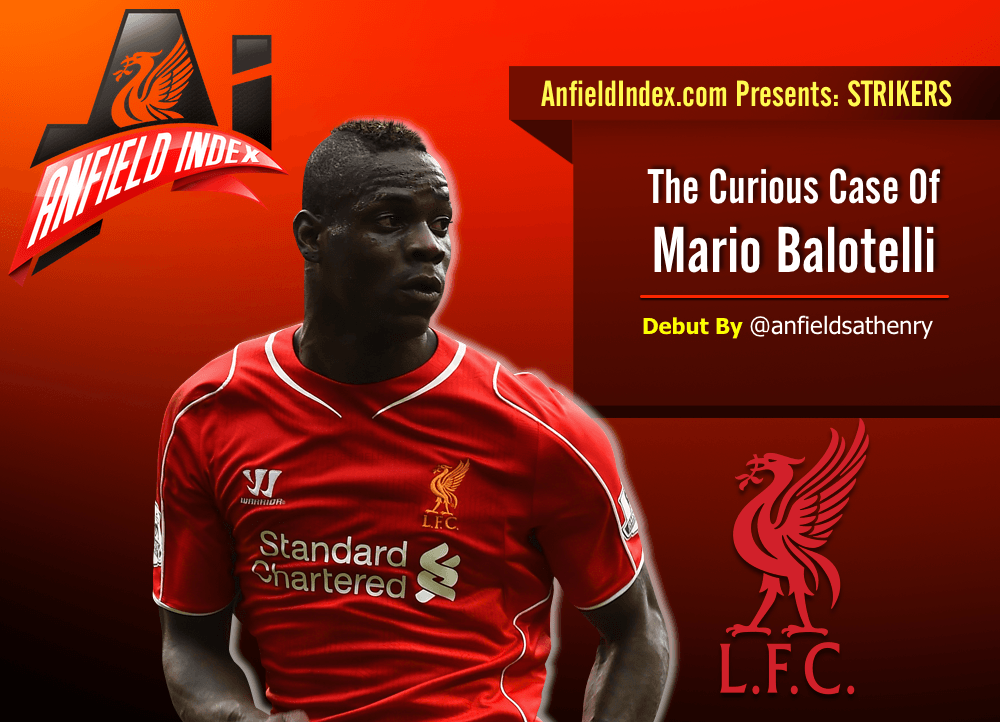 Is he a lone striker?
He must be adjusting to his role at Liverpool since he has scored just two goals since his arrival and continues to underwhelm with his performances. The Chelsea game was a typical case of his troubles. With virtually no impact, he was almost a ghost during the game. In such a huge game it would have been a great time to find form and kick start something in the team. Predictably though he didn't manage a shot on target in the game and frustratingly was more disruptive than inspiring in attacking play. He created exactly zero chances and was caught offside four times during the game. Not wrongly called offside, but actually standing in an offside position. That must get underneath Sterling's or Coutinho's skin. Everyone is struggling but to have your striker standing offside with no pressure on him, it must be extremely disheartening. His hold up play was just as dismal as he gave the ball away more often than not. He set the tone for his performance early on, caught offside after Skrtel's long pass not even attempting to bend his run in the fifth minute. Then two minutes later his layoff on the edge of box goes straight to a Chelsea player.

Balotelli has never been the proactive runner like Sturridge. His game has never been about that whether at Milan or Man City, he has always had a certain lazy charm about him often just being in the right place at the right time or unleashing a thunderous shot from nowhere. In the lone striker role though he must be able to do such things, bring people into play and offer options upfront for runs. Movement has to be essential does it not? Something apparent that has been a problem, is that he is not making the right moves in the box when the crosses come in. More than once this season he has been at the back post when he should be making a run towards the front post. In the Chelsea game, on the rare occasion Sterling did manage a cross into the box, it was a beauty. Just before half time. from the left wing it was placed right in between Courtois and his defenders. Maybe in another universe, Sturridge would have been running straight onto it and easily placing it into the Chelsea net to put Liverpool ahead. Balotelli however is several paces behind Sterling and is nowhere to be seen when Sterling's would be perfect cross arrives. From recent evidence it seems Balotelli knows himself well when he says he is not suited to the lone striker, God knows he hasn't provided any evidence he is made for the role
Rodgers' problem or Balotelli's?
Compared to Diego Costa, Balotelli's failings are blatantly obvious. Costa got his goal by being in the box when a cross came in and was constantly making space for Hazard to torment our defence in, with his layoffs and movement dragging defenders out. Balotelli's one shot was blocked while Costa had five attempts on goal and created a healthy four chances for his teammates. Costa is competing with Sergio Aguero for title of best forward in the league so he is the highest of standards but one can't help comparing his expert lone striker performance to Balotelli's lacklustre imitation. One thing that baffles me is if he is clearly not suited to the role then why play him in such a role? Rodgers can't really complain about lack of options with the money he has spent and players at his disposal. All the players on our bench are his acquisitions and this is firmly his team playing his tactics. It seems unfair, cruel almost, to continue to deploy Balotelli in a system that relies on specific abilities of a striker to function effectively, abilities he clearly does not have.
Even more confusing is the supporting cast. Sterling and Coutinho started the game and we had hardly any width in the game. Coutinho loves to come inside and our full backs played a more conservative role than usual against a lethal counter attacking Chelsea but left Sterling was left completely isolated out on the wing. When Moreno did get forward Balotelli was nowhere to be seen in the box or was the only one to aim at meaning Moreno needed pin point accuracy to find him. How is Balotelli meant to be in the right place at the right time, like Costa was,  if nothing is coming in for him to attack? More disappointingly his one clear cut chance could have been the Sterling cross but he was nowhere near Sterling's pace and the chance completely passed him by.
Balotelli clearly doesn't think he is suited but in defence of Rodgers to say he has not played that role before is untrue. He played a lone striker role a lot at Milan. His goal per minute ratio was 0.842 playing as a lone striker compared to 0.384 when playing with a second striker. He has excellent dribbling ability and last season made more dribbles per game than Sturridge did. He takes more shots than most so his conversion rate is misleading at just a 13.3% conversion rate from 152 shots last season but he also had a healthy 146.8 minutes per goal. We have seen glimpses of these attributes in a Liverpool shirt and statistically he should be more than capable of the playing this role. Another problem beyond Rodgers' control is that Sterling, Coutinho and co are still figuring out how to play with Balotelli. They aren't mind readers and he is so different to what they were used to last season that they have struggled to provide the right balls for him. Rodgers defiantly knows more about Balotelli and the team than us but most damningly his only two goals have come when Borini is on the pitch. Borini probably deserved to start on Saturday and if anything has improved Balotelli it is when he is playing alongside him. Borini is a runner and will selflessly open up space for Balotelli and can be more involved in build-up leaving Balotelli to remain closer to the box.
Balotelli isn't going to change
Balotelli's signs of adapting or improvement have come when he is playing alongside another striker. His first game he showed great promise playing with Sturridge at White Hart Lane and you can't deny he looks better when Borini is playing too. The Spurs game has been the only example that we could possibly reach the heights of last season but we can't dwell on last season. Rodgers can only fix what is in front of him; the players' performance and the team's. Balotelli is a good forward and has scored goals wherever he has gone but he is not suited to performing as a team's fulcrum of attack like Suarez was last year. In 154 games for Man City he provided just one assist. (Although it was for the famous last minute title winner against QPR) For Rodgers he must be thinking well why can't he play the lone striker? He is good enough and statistically he should be more suited to it. But statistics don't always reflect reality and in reality it is much more than just the formation that doesn't suit him. I can't be the only Liverpool fan thinking this formation isn't working and after the reaction to Rodgers' last substitution on Saturday, Anfield has begun to think so too.
Play Borini, don't put Coutinho out wide when we have players like Lallana much more suited to that role. For God sake do something, anything just don't persist with this. It has been a terrible few months and Balotelli, maybe unwittingly, is being scapegoated by Rodgers in this formation because it only highlights what he can't do instead of what he can. Everyone wants Balotelli and Liverpool to improve but it is clearly not going to come with this tactic. Never mind our shambles of a defence give Balotelli what he seems to be craving, a strike partner. It's been a while since Rodgers has had such a bad spell in charge but he can't continue making the same decisions, mistakes dare I say, and expect different results.