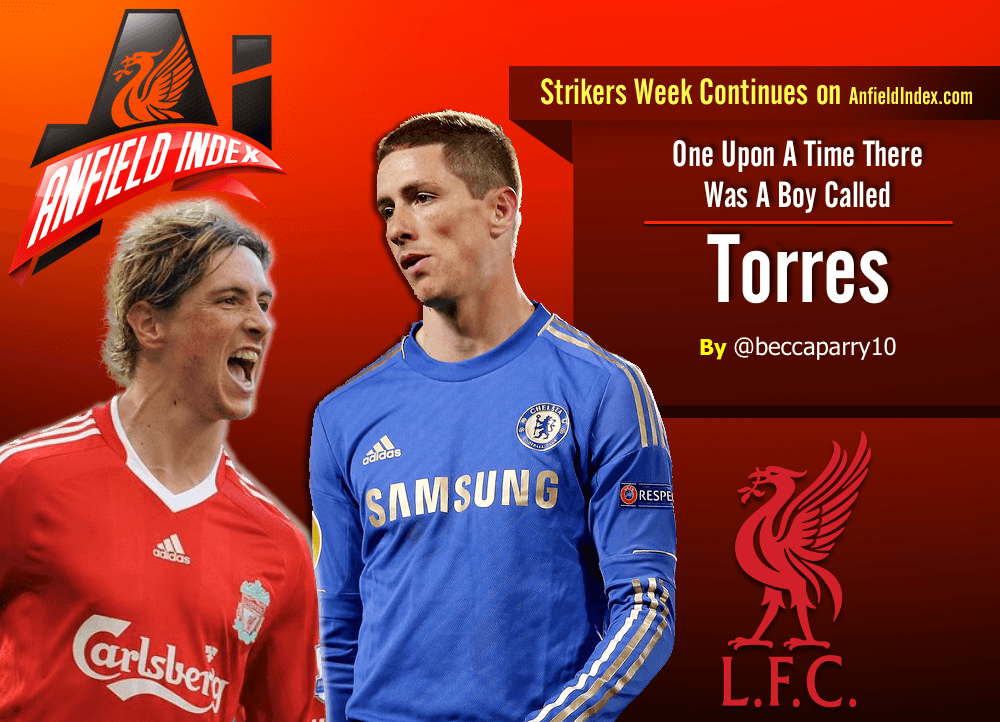 Once Upon A Time…There Was a Boy Named Torres
Think of Fernando Torres, and you think of the story of the past few years. The poor performances, the missed opportunities, failing to be the main man – the ghost of the old Fernando Torres, if you will. As much as his work for us deserves to be remembered, it's hard to look past what happened on his way out of Anfield.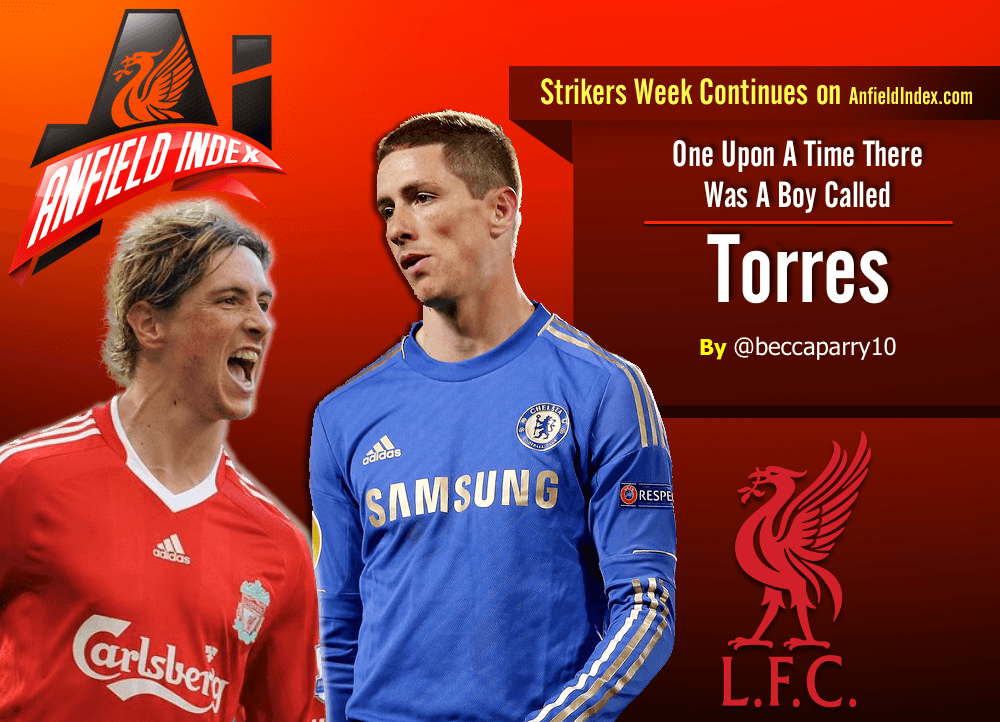 But isn't that always the way with strikers? Especially at Liverpool; they arrive unknown, transform into a superstar and then break hearts when it's time to move on.

But at the start of the fairytale career that once graced Torres at Liverpool, he left his hometown club Atletico in the summer of 2007. After getting to the Champions League final the year before, Liverpool needed a couple of new additions to get back to where we belong, fighting at the top. Although his name was relatively unheard of, a homegrown star striker from a top Spanish side was enough to get everyone excited. This, especially upon hearing rumours that he chose us when Manchester United where also in for him (a hero already…).
A striker who scores in their home debut is always a good sign, and this was no different in terms of the form of El Nino. Although the overall result of the 1-1 Chelsea draw was tarnished because of a poor penalty decision, it marked the start of a truly remarkable season for him. He scored 33 goals in his debut season, and not just a debut Liverpool season, his first campaign on English soil. He broke the record for the most goals by a foreign player in their debut Premier League season, with 24.
A personal memory that stands out for me, not only for that season but for his whole Liverpool career, was at Anfield against Fulham in 2007. As we all know, Rafa was a big fan of rotation, even if that meant resting players like Torres when not 100% fit. For 70 minutes, frustration was building, and it was an extreme rarity at the time that we dropped points to such opposition at home. He was brought on for the last 20 minutes, and within the final 10, he used his body, twisted, turned, and placed the ball past the defenders and keeper as if they weren't there. Coolly and calmly, it wasn't a forced strike, but more of a professional slotting into the back of the net – and it was then you truly realised how talented this guy was. We'd forced the play for 80+ minutes, yet it only took one swoop of his left foot to break the deadlock for us. Anfield erupted.
Interestingly, the biggest proportion of his goals for Liverpool (19) came between 76-90 minutes – and he did have a knack of writing himself into the headlines as a hero.
The following seasons didn't quite hit the dizzy heights of his debut season, yet the goals kept on coming. The further two full seasons, Torres produced 17 and 22 goals, and they contributed towards the conquering of Madrid and Manchester Untied in one week. It was at that time in 2009 that Vidic was known for being terrorised by Torres in those games, and you wouldn't want anyone else leading your forward line.
It was rumoured that in the summer before he actually left, Chelsea came calling, but he decided to give Liverpool another shot. He came out saying how he loved the fans and they loved him, and that he was focused on his football. Whether or not people believe that he already had an agreement with Chelsea, the Hodgson era seemed the final nail in the coffin, and come transfer deadline day in January, Fernando Torres was a Chelsea player.
Football is a strange game, and as much of a fairytale career he had up until those final few months, we all know how the Chelsea chapter turned out. I think it's fair to say that you could look back on that part of his career and say that the grass may not always be greener. It was pointed out so many times, even by Steven Gerrard, that he didn't get the love at Chelsea that he did at Liverpool. The whole team was built around him and for him to do well. When you're then thrown into a big number of "superstar" egos, confidence drops, and it definitely did in this case.
Did he regret the move? He did accomplish at Chelsea in terms of trophies, but he doesn't look necessarily fulfilled because of it. You'd think that one or two trophies at a club that actually means something, would mean more than it being purely a career achievement.
Fernando Torres scored 81 goals for Liverpool across three and a half seasons. Every one of those goals came from open play, highlighting just the impact he had in his prime. He is also the fastest player in Liverpool history to reach 50 goals. Whether or not you've managed to forgive him for turning blue, you can't ignore his contribution over his spell with us.