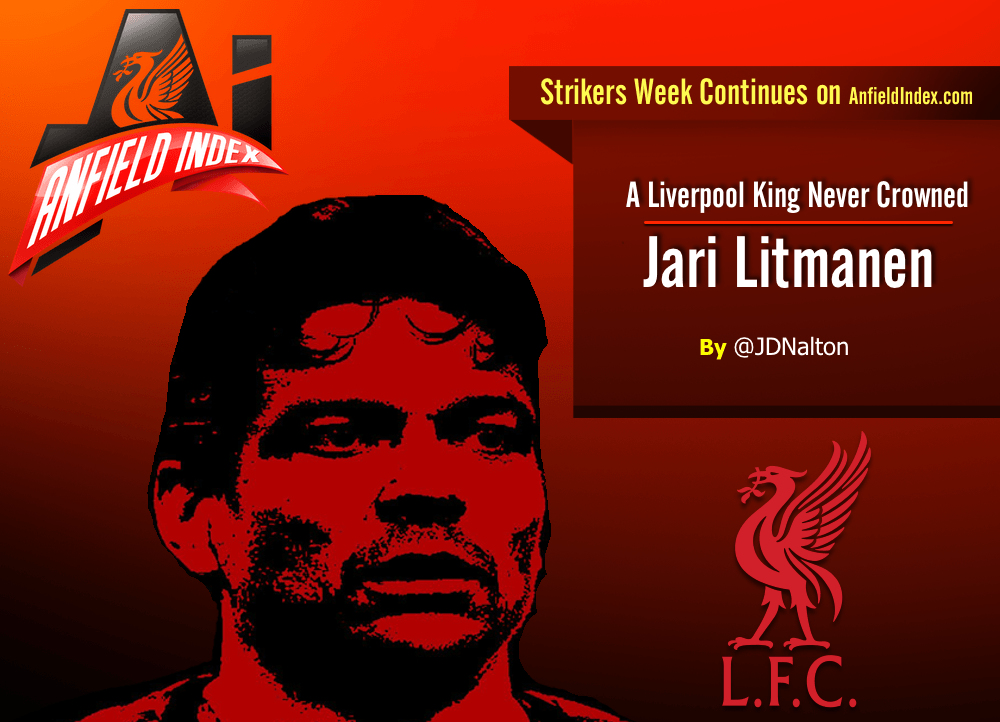 Jari Litmanen - A Liverpool King Never Crowned
As someone who was brought up watching and playing a sport other than association football, I needed some convincing. Jari Litmanen (and Rogerio Ceni) convinced me.
For a long time rugby league was the only sport worth the time of day in that town. Lodged in no man's land between two of the world's biggest football cities, the battle lines were drawn, whilst a few Everton and Manchester City fans looked on from the side.
Games of three-and-in, wállie, Wembley, kerby, and heads and volleys were interspersed with games of rugby. From the concrete streets where ball games used to be tolerated, to the school fields, Warrington was a town of two footys.

League is still up there (despite attempts by media of a certain class to knock it down after someone got punched in a recent final), but the tactical variations, numerous systems of play, and the players who execute these plans, make association football the beautiful game it's often dubbed. A combination of intelligence, physique, celebration, and guile.
---
Jari Litmanen embodies many of the things which make football good. He was part of the unbelievable Ajax team of the mid-nineties which won a European Cup in 1995, and almost won another in '96 when the Finn finished the competition as its top scorer. He also looked like he could be one of the cool guys from Genghis Khan's army, if such people existed.
Litmanen's form around this period saw him take on the number ten shirt previously worn by Denis Bergkamp, achieve third spot in the Ballon d'Or in 1995, and help Louis van Gaal's infamous Ajax side win the Eredivisie for three seasons in a row between 1994 and 1996. They also won the Intercontinental Cup in 1995 after a penalty shoot-out decided the game versus Brazilian side Grêmio. (The opposition line-up featured the once prolific striker Mário Jardel, and the game was refereed by England's own David Elleray.)
He was one of the last players to leave as Ajax suffered a mass exodus of its mid-nineties stars including the manager Van Gaal, with whom Litmanen was eventually reunited at Barcelona in 1999. However, his time at Barca was hampered by injury troubles and, according to Van Gaal, a failure to adapt to the new league:
"Litmanen was a different player at Barca than he was at Ajax" said Van Gaal, who added:

"You have to adapt to a new culture when you move to a different club, and not every player is able to do that."
Competition in the playmaking role eventually saw the equally impressive Rivaldo take the number 10 shirt, and Litmanen decided to move to boyhood favourites Liverpool on a free transfer.
On joining Liverpool, he commented:
"It has always been my dream to play for Liverpool. I have supported them since I was a child. I seem to have been linked with every club in Europe but it's no secret Liverpool have always been very special to me."
Ian Rush, Liverpool's all-time leading scorer compared him with Liverpool's greatest in terms of how he might compliment the team's other forwards:
"I benefitted from Kenny Dalglish's vision an awful lot and I'm sure the current Liverpool strikeforce will benefit from Litmanen in the same way,"
Unfortunately, Litmanen was never as special to the club as it was to him, and he got nowhere near the heights predicted by Rush. He spent much of his time on the periphery of the first eleven despite showing glimpses of class when given a chance.
This class was shown on 19th March 2002, when his coolly taken penalty saw Liverpool defeat Roma at Anfield. It was the crunch game in the second group stage of that season's Champions League, and The Reds' number 37 (a number he chose because it was the closest to the magical number 7 shirt) dispatched the penalty with the nerve and execution of someone who exists on a different plain. At Liverpool, however, his existence was all too often away from the first eleven.
Perhaps it was another instance of failure to adapt to a new league, but there was a lot of confusion amongst certain sections of the Liverpool support, and from the player himself, as to why he was out of favour with Gerard Houllier and Phil Thompson. He has since spoken of his time at Liverpool, alluding to his role as a bit-part player despite some good performances:
"There was something mystical about it, and I never did find out what it was. I always tried to do the job well, but it seemingly made no difference. But, it is just a game, isn't it"
Ousted by Rivaldo at Barcelona, and kept out of the team by Emile Heskey at Liverpool, he returned to Ajax before his career wound down in the lower profile leagues of northern Europe and Scandinavia.
Below: A 40-year-old Jari Litmanen scoring for HJK Helsinki in the 2011 Finnish Cup final.
---
---
After football and rugby league, the next sport down on my list of favourites would be ice hockey, and our footballing hero's participation in this sport only adds to the esteem in which he's held.
Litmanen played ice hockey alongside football until the age of 14, but had to commit to one as training for both became impossible to do. During an interview at The International Documentary & Film Festival Amsterdam in 2012, he commented.
"It was a difficult decision for me to leave Ice Hockey because I like it.

"It's more normal to choose ice hockey because of the weather conditions, and the tradition and history, but the heart was more a football heart. It was easy to choose football if i needed to choose one of the two, but difficult to leave ice hockey"
This interview was set up to promote a documentary called Kuningas Litmanen, or King Litmanen, a piece of film which further demonstrates the high regard in which he's held in Finland, and across the football community in general.
He recently took to the ice again, taking a penalty shot in a charity match between Finland and Sweden. (He missed. Incidentally he scored 3 of the 4 penalties he attempted in a Liverpool shirt).
He's a player who has a YouTube compilation devoted solely to his volleyed goals, such was the regularity of his displays of attacking technique, and one who adapted to the Ajax way despite not being schooled in it, simply by being a cultured, intelligent footballer.
You'll hear the romantics amongst the Liverpool fan base come out with statements like "if only we had him now", or "he'd be ideal for our current system". Well, he hasn't officially retired yet.
Jari Litmanen was one of those players who define periods in football, and a player who you knew was really good but you couldn't quite pinpoint one particular aspect of his game which made him so.
With that in mind, I asked some friends and fellow Warringtonians who know more about football than myself: "what makes Jari Litmanen so good?"
---
From @thequiver20
That turn against Spurs for Liverpool alone.

He was one of those players that made playing look effortless. I've never been able to find a clip of him where he's broken a sweat (although maybe if you're that good you don't have to press and track back much).  

He always looked like he'd decided what he was going to do with the ball long before it ever arrived at his feet. He didn't have a type of signature goal either (apart from mainly excellent). He could finish appropriately to the situation.  

Even when he was hampered by injuries and Houllier at Liverpool, he was so good he almost looked like an imposter in our squad. Why was someone that technically gifted and creative being asked to play in such a rigid system? I always felt I was going to enjoy the match more if he was starting.

Even his name is quality though. Jari Litmanen is not a name that is followed by something negative. The right number of syllables and favourable letter arrangement to flow off any commentators tongue.

And essentially, you could sign him and Real Ronaldo on Sensible World of Soccer for a combined £11.5m and dominate the game for the next 12 seasons.
---
From SamMcGuire90
How can you not appreciate the player that is Jari Litmanen? By the time I got into football his career had peaked and his ability was being questioned. Did he really disappoint though? The player that Ajax brought in to replace Bergkamp, a big ask and yet he excelled and helped them win the European cup.

His status at Ajax is cemented in their museum. When I visited they had a highlights montage playing in their museum of three players; Cruyff, Van Basten and Litmanen. This tells you all you need to know about him.

His mercurial talents are what people fawn over in today's game, yet he was 20 years ahead of them all.

Injuries prevented him fulfilling his potential. Who knows, if he stayed injury free he could have been mentioned in the same breath as Zidane
---
Jari Litmanen won't go down as a Liverpool great, but he's one of the greatest players to play for Liverpool.
Quotes via Rich Nelson's excellent piece here: http://theinsideleft.com/litmanen-liverpool/