"It doesn't matter what you do, we've got God on our side", a fairly common retort from a Liverpool fan in the mid to late nineties. No matter who you were bantering with, which one of your mates' sides LFC were facing that week – United, Arsenal, Spurs, Newcastle, even Sheffield Wednesday at the time – it wasn't important, because we had God, and He was gonna win it for us. And, more often than not, He did!
A shining light; a beacon of hope, who alongside Steve Mcmanaman, would emerge from the thick, acrid funk of the Souness years to usher in a new dawn of hope and belief at Anfield for the second half of the decade. Robbie Fowler had arrived; within months, he would be referred to simply as God.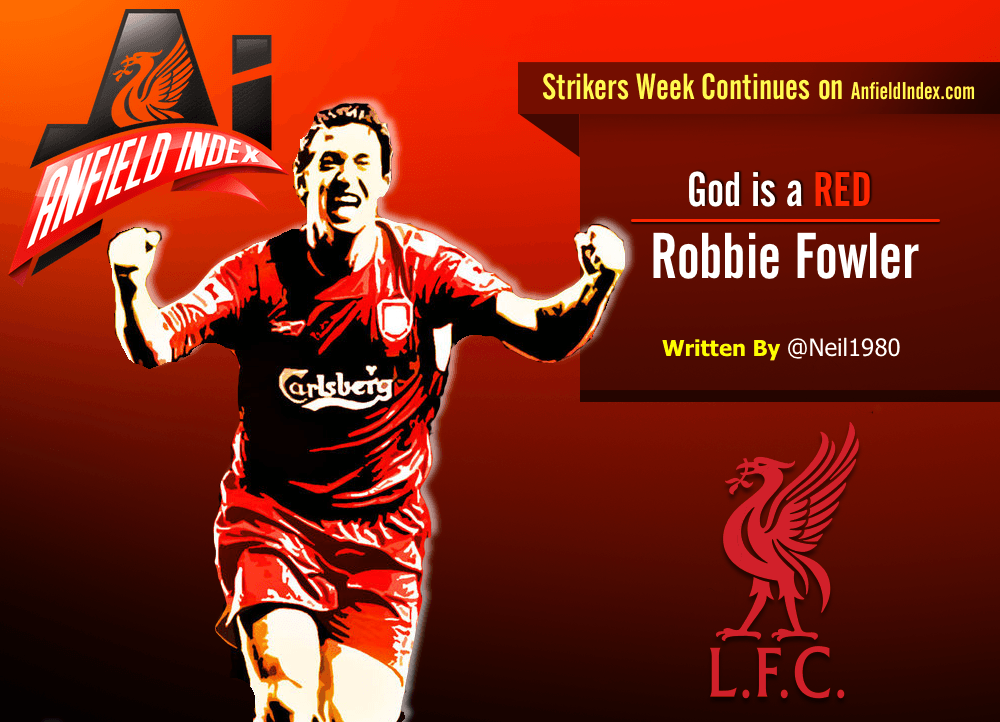 Liverpool fans have been blessed with great players over the years, Keegan, Souness, Dalglish, Rush, Barnes ….. Gerrard, Xabi Alonso, Torres, Suarez, to name but a few. Top individuals can form devastating partnerships, particularly up front, with the Kop witnessing some of the very best over the years: from Keegan and Toshack to Sturridge and Suarez, via Rush and Dalgish and Gerrard and Torres, but McManaman and Fowler can carry themselves proudly at the heart of that list.
Born a Blue, Ian Rush's goalscoring exploits for Liverpool grated on Fowler the boy. So often had he seen his boyhood heroes put to the sword by the Reds' "Welsh Wizard", that he'd begun to resent the prowess of the LFC legend. It wasn't long before Fowler was forced to re-think his mindset however, signing for the Reds, having been spotted playing school football by Liverpool scout, Jim Aspinall. Fowler joined Liverpool in 1991, signing his first professional contract the following year, on his seventeenth birthday.
A substitute for the first team towards the end of the 92/93 campaign, it was the following season that would see the Toxteth Terror's career in a Reds' shirt really take off. His first goal came in his first game, a League Cup tie against Fulham. The Cottagers were well down the divisions in those days – the second division to be precise (modern day League 1), and in the second leg at Anfield Fowler displayed just what a sensation he was going to become, as he smashed five past the Londoners in a thumping 5-0 win.
Five goals for one player in a competitive match; a feat rarely matched by anyone in the game, so for an eighteen year old to accomplish it in one of his first appearances for the club – well, it's something truly remarkable. Goals kept on coming for the lad too; thirteen in his first fifteen games for the club, including a first league hat-trick against Southampton. A broken ankle, suffered after Christmas, put a dampener on the second half of what had been an extraordinary breakthrough season in the first team, as Fowler finished the campaign on 18 goals.
94/95 began much as the previous campaign had for Fowler, with five goals in his first three games, including the fastest Premier League hat-trick of all time, against Arsenal at Anfield. God, as he had now been christened by Liverpool fans, was voted Young Player of the Year that season, and it's not taxing to see why. 25 league goals in 42 games, 31 goals in all competitions, including 2 crucial winners in the League Cup semi against Palace (one in each leg), helping to ensure that LFC would win silverware again that year.
Robbie Fowler was Liverpool's star attraction by the time the 95/96 season got underway. Sometimes certain players can encapsulate an era; provide an insight into the zeitgeist of the time, club and place in which they play, Robbie Fowler did just that for Roy Evans's Liverpool. His swagger, cheek and confidence, backed up by talent, work, and an insatiable desire to keep scoring goals, allowed him to supersede even his best friend at the club, Steve Mcmanaman, in becoming the talismanic figure of that era and a teenage idol of mine.
Another tremendous season domestically led Liverpool to Wembley once more. This time, however, without success as Eric Cantona snatched the FA Cup for United with a late goal, after a thoroughly tepid display from both teams. Nevertheless, Fowler was again voted Young Player of the Year after netting 28 league goals (including 2 at Old Trafford in Cantona's comeback game, two of my favourite ever goals, against Villa, and another treble against Arsenal) and slamming in 36 in all competitions. Liverpool finished third.
Injuries played their part in keeping Fowler out of the team in the early part of the following season, but a run of 17 goals in 15 games signalled his comeback was complete. He managed 18 league goals in all that year, notching another 13 in the various cup competitions, making him the only player to have scored 30 plus goals in each of his first three seasons in English football.
The following season wasn't as rosy for LFCs favourite son; a serious injury, picked up against Everton, kept Fowler sidelined for seven months. Against that backdrop, Gerard Houllier had assumed full control of the club, following the departure of Evans, and a young Michael Owen was emerging on the scene as the pretender to God's cloud.
Machine-like in his ruthless finishing, Fowler was anything but an automaton when it came to emotions. A fiery character on the pitch, bristling with (positive) arrogance, he was never one to shy away from confrontation, or from having a joke at another's expense. Some may disgree, however this part of his personality only served to endear him to me, as a fan, even more. I like players to be human beings, to have fun on the pitch, to wind the opposition up, to make things uncomfortable and difficult, to display anger, passion and to go the extra mile. From time to time, Robbie crossed the line, or snorted it in celebration, and was punished in the form of suspensions for doing so – these incidents/suspensions served to strain relations with Houllier and his assistant Phil Thompson.
Having finally overcome the injury problems which had seen him miss significant chunks of the previous two seasons, Fowler was back in contention for the 2000/01 season, although he found himself not an automatic starter. Tensions with the management team, injuries, the development of Michael Owen, and the signing of Emile Heskey from Leicester City, meant that Fowler found himself Liverpool's third choice striker, much to the consternation of fans such as myself.
Despite not starting a huge number of games, with Houllier preferring the big man, little man approach of Heskey and Owen, Fowler played a major part in all three of Liverpool's cup triumphs in that treble year. He scored a crucial goal in the League Cup final, scored a cracking free-kick in the FA Cup semi, and scored the fourth goal in UEFA Cup victory over Alaves, having been left on the bench at the start of the match. It was from the substitutes bench that he made an impact on the FA Cup final itself, with Owen scoring twice in the final 13 minutes following Fowler's introduction to give Liverpool a 2-1 victory. In the final league game of the season, Fowler's brace against Charlton – including a perfectly executed, and placed, overhead kick – confirmed Liverpool's place in the Champions' League for the following year.
Even though Fowler had played such an important role in the club's success that year, it was well known that relations with the management team were hardly improving, and that not all was harmonious behind closed doors. Matter came to a head when Fowler and Thompson had a training ground bust up. Things were smoothed over and Fowler rejoined the squad, however the writing was on the wall, and after a run of poor form (by his standards) Robbie Fowler was sold to Leeds, on what I still remember as one of the darkest days in my 30 year love affair with Liverpool Football Club.
Ultimately, the decision to sell Robbie Fowler, in what was a very swift and sudden manner, proved to undermine the Houllier/Thompson era at Liverpool. Crucially, they failed to replace him with anybody who could hold a candle to his ability in front of goal, never mind matching the desire and hunger Fowler had to play for the club . Had Nicholas Anelka been retained as Fowler's successor, things might've been different, but the fact that ultimately Fowler was replaced with El Hadji Diouf really signalled the end for Liverpool's success under Houllier, and led him to an increasingly one dimensional reliance on the ball over the top to Owen.
Fowler has always made clear that he was devastated to leave Liverpool , and so it was one of the greatest days of his life, and a joyous day for fans, when after spells at Leeds and Manchester City, God returned to Anfield to sign for Rafa Benitez. He scored eight league goals in thirty games in his second spell at the club and contributed in the cups and Champions League. For Robbie though, and the Liverpool fans, the true beauty of his return to the club was the chance to say thank you, and good-bye, in a manner that hadn't been afforded to either party four seasons earlier.
He went on to play for Cardiff & Blackburn, with spells in Australia and finally Thailand, before eventually hanging up his boots for good. However, it was at the end of the 2006/7 season Fowler and his adoring public bade their true farewells, as the curtain was closed on one of the finest Liverpool careers of the modern era. The boyhood Blue, had become Robbie the Red, the Toxteth Terror – feared by managers and defences around the land – canny, classy, controversial at times, but devastatingly talented and ruthlessly efficient; worshipped by fans, reviled by critics; forever known to us, simply, as GOD!
Robbie Fowler scored 183 goals in 369 appearances for LFC during his two spells at club.
Quotes on Fowler:
"He is often referred to as God which sums up the respect he commands at Anfield from fans and players alike. But don't be surprised if he answers to Bernard, which is his other Christian name." Michael Owen

"I leave it in good hands; Robbie will probably eclipse all that I have achieved at Liverpool." Ian Rush

"After the Fulham game, I went round the chippy with my mates and got a big kiss from my mum when I got home!" Robbie Fowler
Quotes Courtesy of www.lfchistory.net/
Videos thanks to Classic LFC on Youtube