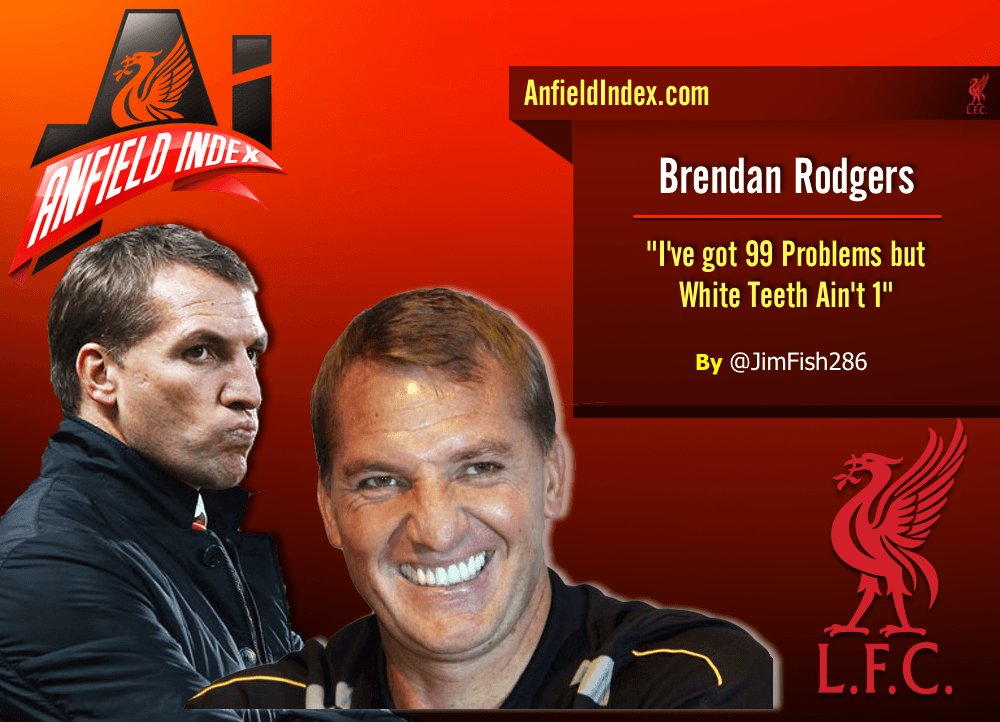 "I've got 99 Problems but White Teeth Ain't 1" | Brendan Rodgers

Okay, maybe 99 is a bit of an over-exaggeration but Brendan is in a bit of a pickle, one which, if we're honest, is of his own making.
He has just embarked on a spending spree that the likes of Jose Mourinho or Manuel Pellegrini would be proud of. You can say that we recouped a large proportion of our outlay from the Luis Suarez sale but apart from Mario Balotelli, who have we brought in that we wouldn't have if Suarez had stayed? The answer is nobody.
Make no mistake, this is Brendan Rodgers' squad. There can be no hiding behind the fact that he's working with players he does not want at the club. In fact, on the whole, he has worked wonders with the players he did not want compared to the many he has asked to be brought to the club.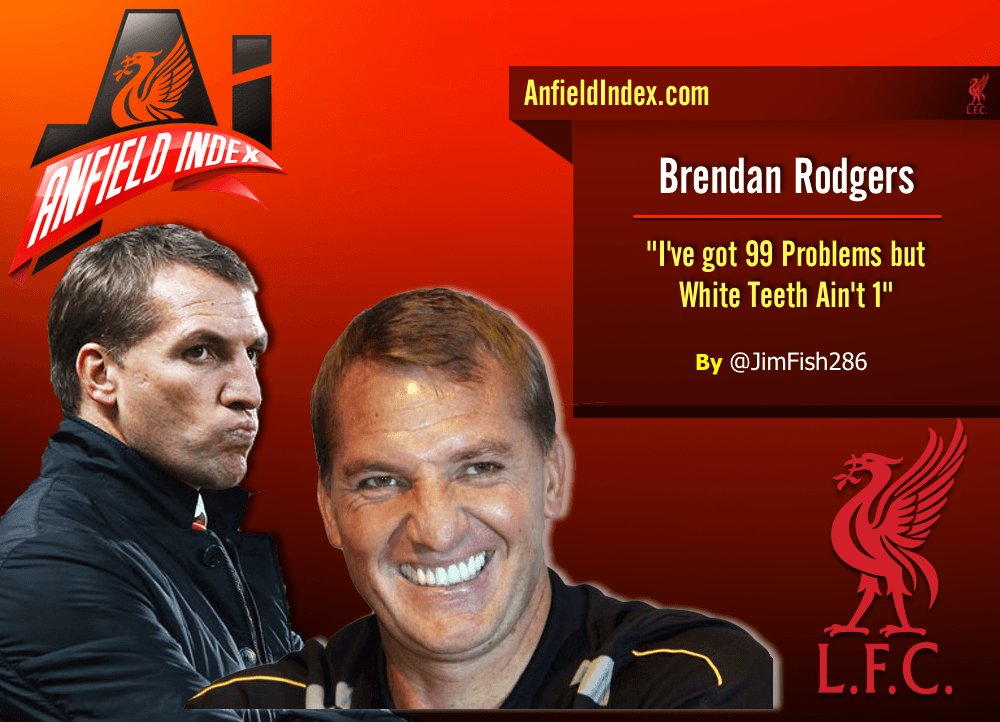 There appears to be a huge disconnect between what Brendan has wanted to do since 2012 and what is actually happening on the pitch right now.
Remember the dossier? Remember the death by football quotes? The "we won the passing" jokes that did the rounds early in Brendan's reign?
At least we were playing with a purpose back then and if and when players made mistakes, such as Skrtel's at home to Manchester City in the 2-2 draw, then we could see it was for the greater good.
Could we say that about any of Skrtel's mistakes now? Lets be honest, there are plenty to choose from.
We currently sit in 11th place in the Barclays Premier League, with 1 win in our last 6 games in all competitions. The performances have been dreadful, the tactics stodgy and devoid of imagination, the team selections baffling and the confidence appears to be drained from the whole playing staff.
The one saving grace is apparently the 3-0 win away at Tottenham all those weeks ago, fans are clinging to this as if the other games don't really matter. Yes, we had Daniel Sturridge playing and yes, we played the diamond formation and appeared to have the freedom and gay abandon of last season but, lets be honest, Tottenham are horrific right now. They have lost at home to Stoke, Newcastle, and West Bromwich Albion.
When taken in isolation you can make the case for the Tottenham game to be the way forward but a win at White Hart Lane is becoming the norm for visiting sides, not something of an achievement.
That particular win papered over the many cracks in the side and they are threatening to turn into great chasms.
The defence and goalkeeper are a huge concern. Brendan's continual selection of Martin Skrtel is becoming more baffling than a Derren Brown special on Channel 4. The £20 million pound signing of Dejan Lovren is, if possible, even more of a head scratcher, especially when you consider he has been signed to replace Mamadou Sakho.
Now before anyone jumps on this and says it's early days for Lovren, he has, in all competitions played 17 games since joining Liverpool, that's almost half a league season. More than enough to make a judgement on him I would suggest.
The 2 new Spanish full-backs could be a saving grace of the summer dealings however, Brendan once again is leaving us all dumbfounded by picking the fit again Glen Johnson over the ever-improving Javier Manquillo.
How is this continuing to happen? Does Glen have photographs of Brendan in an uncompromising position? It's getting to the point where that's the only explanation!
Simon Mignolet appears to be going the same way of many ex-Liverpool goalkeepers, a lack of confidence is impacting the good things in his game and the bad things, we'll they are getting more and more pronounced in every passing game.
When looking at the midfield and attack now I refuse to believe that Suarez leaving has had such a huge effect on the way they are set up and how they play. Gone is the energy in the middle of the field. Jordan Henderson, Joe Allen or Emre Can have been tasked with baby-sitting Steven Gerrard, the Liverpool legend who at the moment is more a problem than a solution.
To watch Henderson trying to play like a former legend who also wore the number 14 shirt is painful. Jordan has many attributes but picking the ball up from deep and trying to dictate the tempo is not one of them. Just watch him struggle when wearing the white of England (if you can stomach Hodgeball).
What's even more painful is watching teams such as West Ham and Newcastle swarm all over our captain. To watch him being left for dead as midfielders run past him time after time and leaving our already vulnerable back four open to attack after attack. Right now, Rodgers is running the risk of ruining Steven Gerrard's legacy at Liverpool Football Club.
Sometimes, you have to be cruel to be kind.
It's further forward that the mystery continues. Yes we are missing Daniel Sturridge from our front line through injury but Rodgers persists with playing Raheem Sterling on the right wing, yet again it appears that he is stealing ideas from the Hodgeball play book.
Its hard to work out why Brendan persists with this tactic. Raheem showed last season that in a free role behind the strikers he is devastating. His pace, movement, ability to run at midfielders and defenders alike would create havoc. An off the ball run would open up space for Sturridge, Suarez, Coutinho or Henderson. He gave us an out ball when we were under pressure, it allowed us to be so devastating on the counter attack. Those tactics seem such a long time ago.
Any side losing a player of Luis Suarez's ability would need to change tactics slightly, I get that. There is no-one like him out there for us to have gone and bought. Perhaps Alexi Sanchez would have been the man, that didn't work out and we ended up with Adam Lallana and Mario Balotelli.
Now I've tried to not jump on the Mario bandwagon but the more I see of him the more I am left scratching my head. I struggle to see what he offers and why he was bought.
I've been told that he had an incredible 2012 European Championships playing up front in a two for Italy and yes, I recall him playing well during that tournament but that was two and a half years ago now.
He wouldn't be the first player to find form during a major tournament and dine out on it for the rest of his career.
Mario just doesn't do it for me. He doesn't have the pace or movement to fit into our side. If we are changing tactics to try and get the best out of him then its not working. He looks isolated, he doesn't get into the box enough and he's looking like he'll beat Peter Crouch's record for most games before his first goal for Liverpool.
Whatever way you look at it, it was an odd signing. Another one in the long list of odd signings this past summer.
We've replaced a striker who got 31 goals and 13 assists last season with a striker who, without penalties scores circa 7-10 goals a season. It's baffling at best.
Last season, when Brendan moved so dramatically from his possession-based ideals to a more direct, counter attacking style it was to get the best from 3 players. Steven Gerrard, Luis Suarez and Daniel Sturridge and why wouldn't you do that?
After all, Suarez was arguably the third best player in the world and Sturridge was proving that given game time, he could become 1 of Europe's most feared strikers.
The game plan was simple, surround Gerrard with energy in midfield with Henderon, Allen or Coutinho and let him ping the ball 40,50, 60 yards to release Sturridge or Suarez. Add to that mix an inspired Raheem Sterling at the tip of a midfield diamond and really, it was no surprise we scored so many goals and won so many games.
It was a masterstroke really and showed that Rodgers can be flexible in his decision making and sacrifice his ideals for the good of the team.
That Rodgers seems a million miles removed from the one who currently prowls the technical area at Anfield. The smile has gone, the witty one liners have disappeared and the excuses have started to be trotted out.
Last season Brendan was hailed as a wonderful coach and man-manager, he was given credit for getting performances out of Jon Flanagan that not even Jon Flanagan thought he had in him. For developing Jordan Henderson and Raheem Sterling into first team regulars and key men. He was the man who helped Luis Suarez realise his full potential and who unlocked the problems of Daniel Sturridge's consistency.
Right now we have a man in charge who seems stuck in his ways, adamant that he knows best and that this way is the only way forward. Perhaps after last season he deserves the benefit of the doubt, the problem is the side that did those great things doesn't exist any more and it's starting to look like that manager doesn't either.
99 problems maybe a stretch but there are plenty for him to solve, white teeth and an attractive young lady on his arm aren't any of them though.