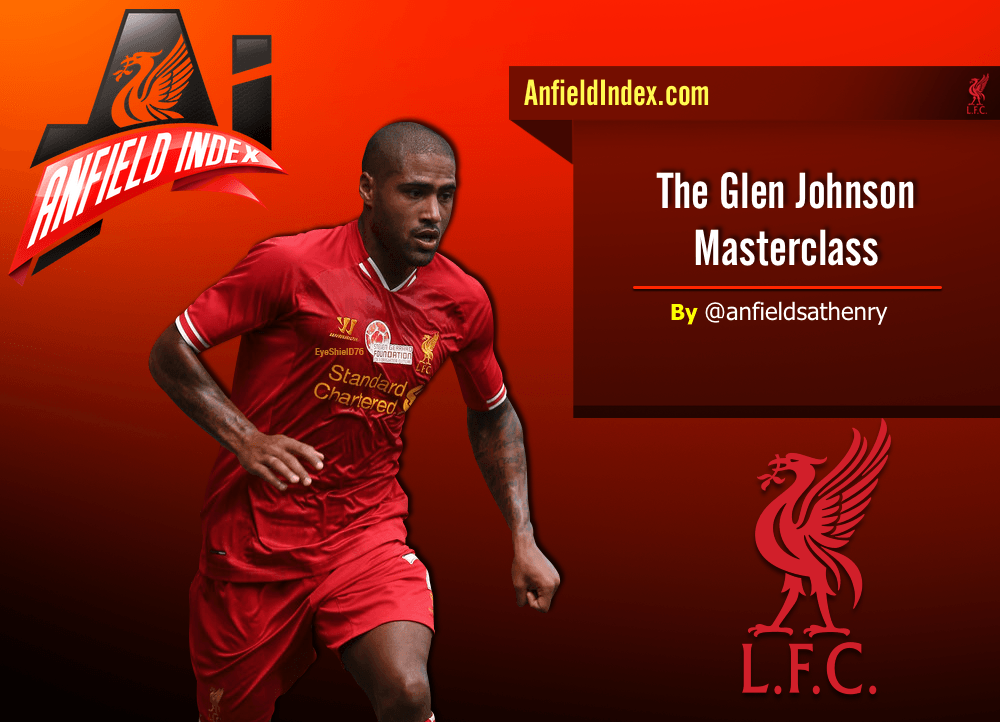 The Glen Johnson Masterclass
In 2009 Liverpool paid 17 million pounds for 25-year-old right-back Glen Johnson. Since then he has been a constant in the Liverpool backline. A constant when he hasn't been injured that is. It was a hell of a lot of money at the time to pay for a right-back who was famously Roman Abramovich's first acquisition and flop of his Chelsea reign. He had however, reinvigorated his career at Portsmouth and had been brought in by Benitez because in his words:
"We were looking for a player of quality and also somebody who is British because of the new Champions League rules. Glen Johnson fits both  categories."
Not exactly a ringing endorsement but Johnson had forced himself into the English frame, becoming a regular international from 2010 onwards. Last week he was dropped from the England's squad marking an acknowledgement of his steady downward spiral of form in a Liverpool shirt. He has always been included in the England squad even if his form has been poor at times since 2010. He has not always deserved his place but England have until now, never really had a viable alternative. Nathaniel Clyne and Calum Chambers have been picked ahead of him and if both do well in the next few games, it may spell the end of Johnson's international career. What then does that say about his place in the Liverpool side?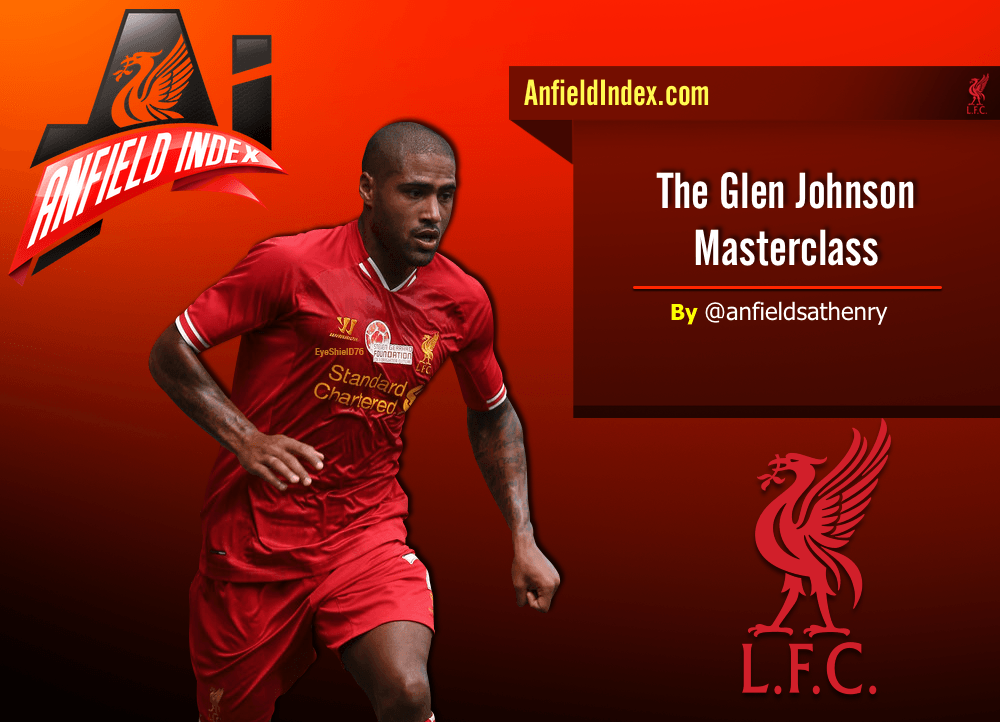 Johnson has never been renowned for his defensive capabilities as a full-back and because of that has often been questioned. However, he has been praised for his attacking prowess and ability to score and create chances. The Glen Johnson Liverpool fans adore is the Johnson who in the second half of the 2011-2012 season scored an astonishing, last minute winner against Chelsea and just a short while later scored another wonder effort against West Ham. The Glen Johnson that we expect is the Johnson who scored and created a goal on his home debut. The Glen Johnson that was a fantastic attacking outlet and could be forgiven for his occasional lackadaisical defending style as long as he was lighting fires upfront. This Glen Johnson has frequently not turned up and in recent times has almost vanished completely.
His defending has never inspired confidence but his recent form is unacceptable as seemingly Liverpool's number one right-back. It is no secret he was part of a shambles of a defence last season. Individual errors, soft goals and terrible positioning was a trade mark of the back four and Johnson played a significant role in that debacle. Although Liverpool were ruthless as an attacking force last season Johnson didn't score in the league, unless you count his own goal in the almost collapse against Manchester City. On top of that he only contributed two assists with 26 chances created upfront. The previous season he created 46 chances for his team and managed a goal, but in theory that contribution should have sky rocketed as Liverpool's attacking form became nothing less than unstoppable last season. His attacking prowess instead stagnated and his defensive work took centre stage.
Nevertheless, that stage was built on unsound foundations and it made for uncomfortable viewing as a Liverpool fan. Continually vulnerable at the back, he was weak in positioning and attackers were gliding past him effortlessly. The new season has ushered in Act II of the Glen Johnson Defending Masterclass, an important supporting performance of the main event, The Liverpool Football Show. Act I was often served with a gluttony of goals meaning you could enjoy Johnson's performance without fear it might ruin the show. In Act II, Johnson continues to aptly demonstrate the art of ball watching, the skill of ignoring your surroundings and the importance of not spotting danger.
The Chelsea game is a good example of this style of defending. In the second half when Azpilicueta keeps the ball in play, he is faced with only Coutinho on Johnson's flank. Johnson is not just completely out of position he literally is nowhere to be seen, in fact he is in the middle of park. There was no scramble in the centre that he got attracted to and Chelsea didn't nick possession while he was in an attacking position, it was a simple long searching ball by Willian that Johnson should have been in position to deal with. Instead he is miles away, a skill, when you consider his instinct should be to stay vaguely in position. No, he fights that urge and manages to leave little Coutinho utterly isolated and Azpilicueta manages to burst by him and deliver a match defining cross. Johnson will still bomb forward but contributes nothing, nothing in a positive sense that is. He is not making darting runs, producing a lethal shot or even managing to deliver a half decent cross, all of which are critical factors if you were to ignore his questionable defending. Both acts showcase a steady loss of confidence in possession, so he has taken to conceding the ball under no pressure. The Glen Johnson Masterclass Act II astonishingly has demonstrated how to invite even more pressure and face palms than Act I, and Act I was pretty face-palm-worthy.
In the Newcastle game for example, Liverpool are attacking and in a good position and Johnson elects to unleash a vapid shot, which results in Newcastle regaining possession. Next Johnson does not track Sissoko's run as Newcastle surge forward and continues to back off Sissoko as he advances onto the Liverpool defence. Johnson then demonstrates how to make a critical defensive decision by abandoning Sissoko to chase an overlapping runner. As the runner gives the ball straight back to Sissoko we can see how expertly Johnson has now left Sissoko completely unmarked in the box as his run leads to forcing the winning goal. Another game defining moment Johnson played a starring role in. In what was less than two minutes of play Johnson amazingly manages to include all key factors of his Masterclass: attacking impotence and hopeless defending. Act II, however, is missing the plentiful serving of goals. Those servings were crucial in order to mask the bad taste that was left over from Act I, a taste now is being intensified in Act II. Intensified without any desperately needed camouflage.
With the whole show beginning to take its true shape in front of its dismayed audience, Johnson remains in the Liverpool line-up. When he has been fit he has started this season. If he is not contributing up the field, what exactly is he doing? Without his attacking qualities it is impossible to ignore his defensive feebleness. Where is the reward in playing him? What do Liverpool get when he plays except another disturbingly obvious weak link? Is he playing because Flanagan is injured and Manquillo isn't ready to step up from understudy? Manquillo hasn't exactly lit up Anfield when he has played but he has at least been reliable in defence. His performance avoids the temptation of flooding forward but instead it consists mostly of prioritising defensive duties over said forward flourishes. His amount of interceptions, tackles and clearances are almost double than that of Johnson this season and that is mostly due to the fact that he remains where he is meant to be, ready to defend. Manquillo maybe doesn't always win the ball but he at least he is there to try, you can guarantee that. Manquillo is less glitzy and less provocative than Johnson but better for the blood pressure of his audience. Johnson's performance has guarantees too but none that can motivate positive change in a struggling Liverpool defence.
This Glen Johnson is a mess. This Glen Johnson is a liability. This Glen Johnson is becoming more and more the main event. Liverpool won't improve while his Masterclass continues to be a star feature of their show. This Glen Johnson has surely has to be dropped.