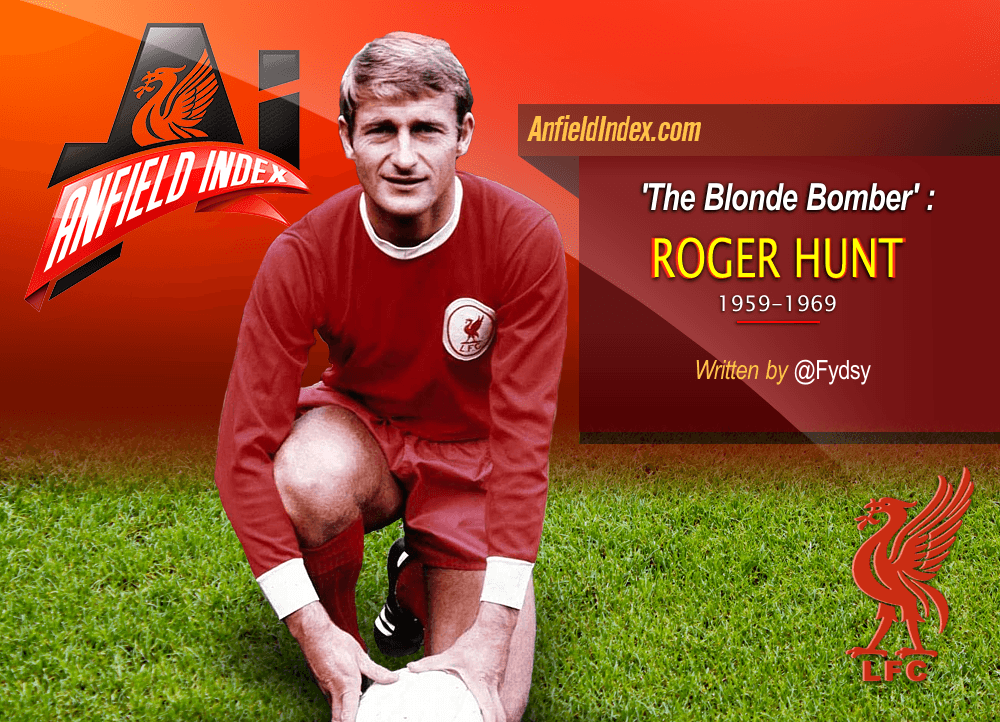 'The Blonde Bomber' Roger Hunt | Strikers Week
Long before there was Daniel Sturridge, Luis Suarez, Fernando Torres, Michael Owen, Robbie Fowler….long even before there was Ian Rush, John Aldridge, Kenny Dalglish or even Kevin Keegan, there was a Liverpool striker who scored 286 goals in 492 appearances – a record only ever beaten by Ian Rush himself over two spells at Liverpool and 23 years later, a player so silken in his touch, so graceful in the use of both feet, so adept at timing a run to appear on the end of a cross or a pass seemingly out of nowhere, that even the great Rinus Michels once told a young Johann Cruyff ' If you keep up your good work, you could be like Roger Hunt'.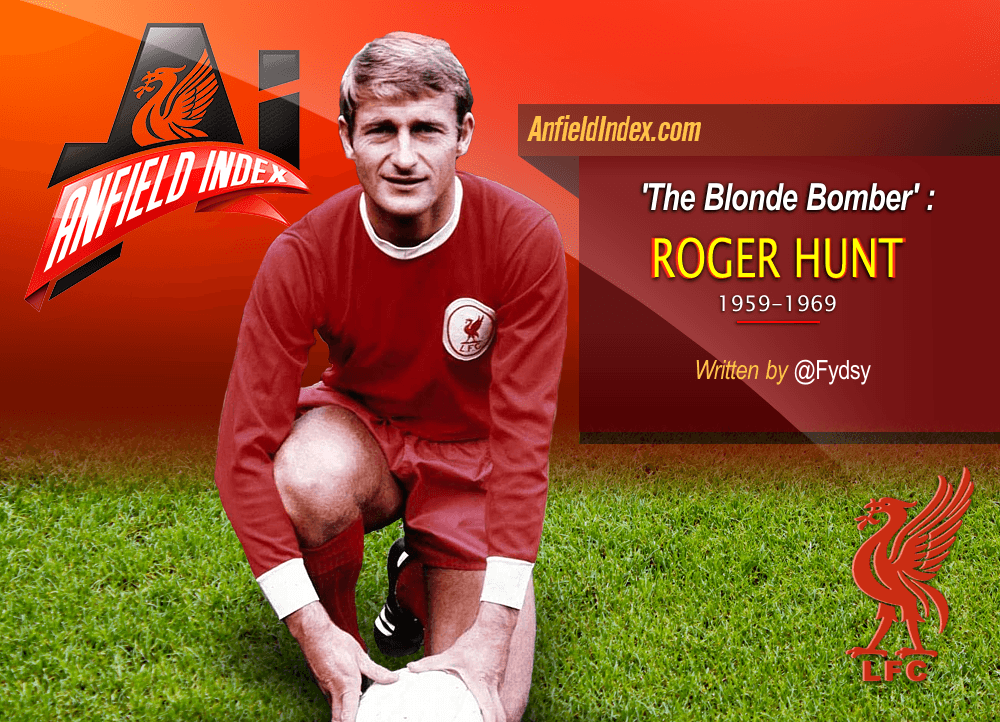 Joining Liverpool fresh from National Service in the Army in mid 1958, Roger Hunt was one of the great footballers of any team, anywhere in the 1960s. Hunt was a natural and gifted athlete with the good looks of a leading man, the poise and balance of a gymnast, yet as fleet of foot as any classical dancer and with a burning ambition to make it as a professional footballer. He would score with his left foot, his right foot, his head, from tap-ins, rebounds, exquisite dribbles, volleys, inside or outside of the area sometimes doing the seemingly impossible and could make just as many as he scored…and best of all, he was Liverpool's shining blonde number '8'. He was one of the first players I ever heard having their own proper song sung loud and proud by a worshiping standing Kop of some 23,000 souls: 'Oh Roger Hunt – is wonderful, Oh Roger Hunt  is won-der-ful' in imitation of a 1960s 'Wonderloaf' bread advert and to the tune of 'Oh when the saints go marching in'.
It was said by one 'Hack'- I use the term advisedly – that Hunt was Ramsay's World Cup 'Battering Ram' in 1966. This does him a massive disservice. If Roger Hunt was a 'Battering Ram', then Rudolf Nureyev was a three-legged carthorse. True, he was strong and quick and had a work-rate Dirk Kuyt would have been proud of,  but aside from being blonde and having an uncanny knack of knowing where the ball would bounce off a keeper, a post, a crossbar or a defender's backside, there the on-field comparison between the two must end. Hunt was a 'glider', but a glider with verve, pace and sure close skills…he could drift past defenders like a skater – even whole defences as if they were not there, he could see a pass two moves and more ahead and would make it or be on the end of it. His understanding with another legend of the time, Ian Callaghan was often uncanny, his understanding with the left winger Peter Thompson almost its equal. Another Liverpool legend, Ian St John fed off him and provided the power to Hunt's elegance, but when it came to goals, Hunt was in a class of his own.
At their peak, between them, Hunt and St John were the terrors of the old first division and the goal-making and scoring duo that finally powered Shankly's reformed Liverpool out of the old Second division (in that title winning season Hunt scored 41 league goals alone), into the promised land of the first division and on to two league titles, an FA Cup and a Cup Winner's Cup final in less than five years. In this cauldron, the bones of the new Liverpool for modern times were forged. Hunt would score 30 or more goals a season for Liverpool on no less than 5 occasions…even Ian Rush couldn't match that. In the mid 60s, the Church at the bottom of Anfield Road on it's outside noticeboard bore the dayglo legend, 'What will you do when the Lord comes to Lead us again?' Some wag painted in reply, 'Move St John to inside left'…no-one suggested moving Hunt, he was Liverpool's top scorer for eight consecutive seasons.
Roger Hunt was rarely injured (He missed only 34 league games in 10 seasons for Liverpool – this at a time when the league consisted of a 42 game season often played on waterlogged, heavily sanded, ploughed-up, unheated pitches, and some of those he missed were because of International duty when the same 'gaps' made in the League calendar today to accommodate internationals were not regularly enforced),  despite being kicked from pillar to post by the likes of then reknowned hard men Dave McKay, Paddy Crerand, Norman 'Bites yer legs' Hunter and others…IF they could catch him, which mostly they could not.  A cherished memory of his ability to make light of the 'hard men' is of seeing him body swerve Chelsea's infamously dirty Ron 'Chopper' Harris so deftly, that Harris ended up kicking a lump out of his fellow defender Eddie McCreadie instead. without a backward glance, Hunt then casually lifted the ball over a stranded Peter Bonetti and into the waiting net as everyone looked stunned, expecting him to slot the ball into the path of an on-rushing Tommy Smith. His goal celebration was almost invariably the same – his right arm up in the air, a smile from ear to ear, a hop, a skip then a jog back to the halfway line. An undemonstrative man, he let his goals do the talking.
There are some half-decent compilations of Roger Hunt playing for Liverpool on YouTube, and fans to young to have known them, should look them up – but given the sometimes blurry old pictures, the mostly monochrome display – few do the real magic of the man justice. I saw him 'walk' two feet in the air to stroke home a volleyed Callaghan cross from 16 yards against a stunned Inter Milan in 1965, the Italian manager later declaring it a goal of real class, of 'true European pedigree'. No-one knows, probably not even the wonderful Roger himself how many offers Shankly received over the years for Hunt's services, but they were many – and most of them were from the great European teams of the day. Hunt finally left the Reds in the autumn of 1969 to join Bolton Wanderers following a showdown and a rare example of bad feeling between himself and Shankly, after his first team appearances began to dry up. The bad feeling did not last and the two were not long after reconciled. Telling Roger Hunt his time was up was one of the worst moments of Bill Shankly's long and illustrious career. Three years later, at the close of his career, Hunt would grace Anfield as a player one last time for his testimonial. The gates were locked more than 3 hours before kick-off such was the demand by fans to see their great hero one last time in red and a stunning  56,000 filled the ground to pay their respects and sing his song one last time. The Police reported that well over 5,ooo remained outside, happily singing his name during the game.
Modern memory and TV being what it is, most fans will only really know Roger Hunt from his exploits with England's 1966 World Cup Winning team, which although a high point in his career, isolated from his wider achievements, does him scant justice if at all. Almost equally forgotten was that Roger Hunt scored against Arsenal at Anfield after 11 minutes on the 22 August 1964 to become the first goal scorer ever on the BBC's new programme, 'Match of the Day' – a game I was lucky enough to be at, sitting on the shoulders of my elder adoptive brother in the old paddock. I never use the 'Sir' so many fans bestow upon him, because he was ours and I don't think he needed establishment recognition any more than Shankly or Paisley did, but from that day on, Roger Hunt  became my Liverpool hero, and he still is. I've been fortunate enough to meet him once or twice over the years, now at the age of 76 he has maintained his striking good looks, his modest, but never artificially diffident manner, always having time for a quiet chat with fans, still closely following the fortunes of the reds and of course, still a regular at Anfield whether for a function or whenever possible, a game.
He was the first Liverpool player I ever wanted to be – and I still do.