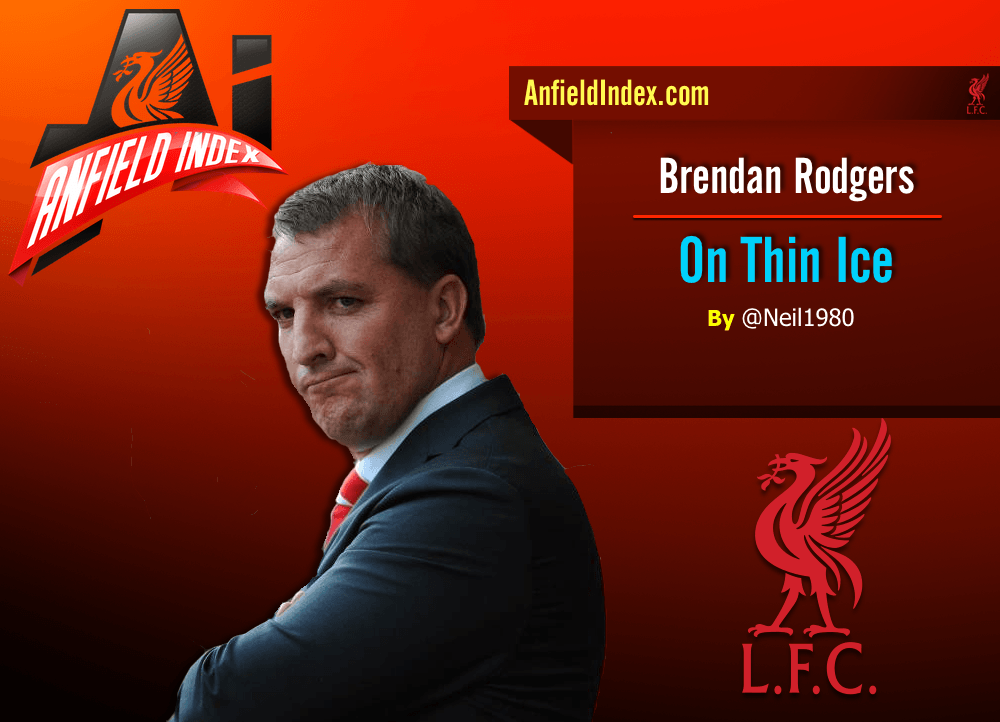 Brendan Rodgers: On Thin Ice
The weekend saw Liverpool's run of abject form continue, as they slumped to a fourth consecutive defeat, further extending their winless run in the Premier League. Not since an injury time own goal spared the Reds' blushes at Loftus Road on 19th October, have Liverpool recorded three points. In fact, a last gasp home win over Swansea, in the Capital One Cup, continues to be the Anfield side's only victory in the last seven – a run which has witnessed five losses.
This latest defeat and, more pertinently, the almost absolute inevitability of it, has sharpened the focus on the future of Liverpool's young manager, Brendan Rodgers, and rightly so. The manager must take responsibility for the shambles that unfolds on the pitch in every game we play, particularly away from home. Six defeats on the road in all competitions, and it's not even December – three home wins is hardly cause for celebration either. Things have gone wrong.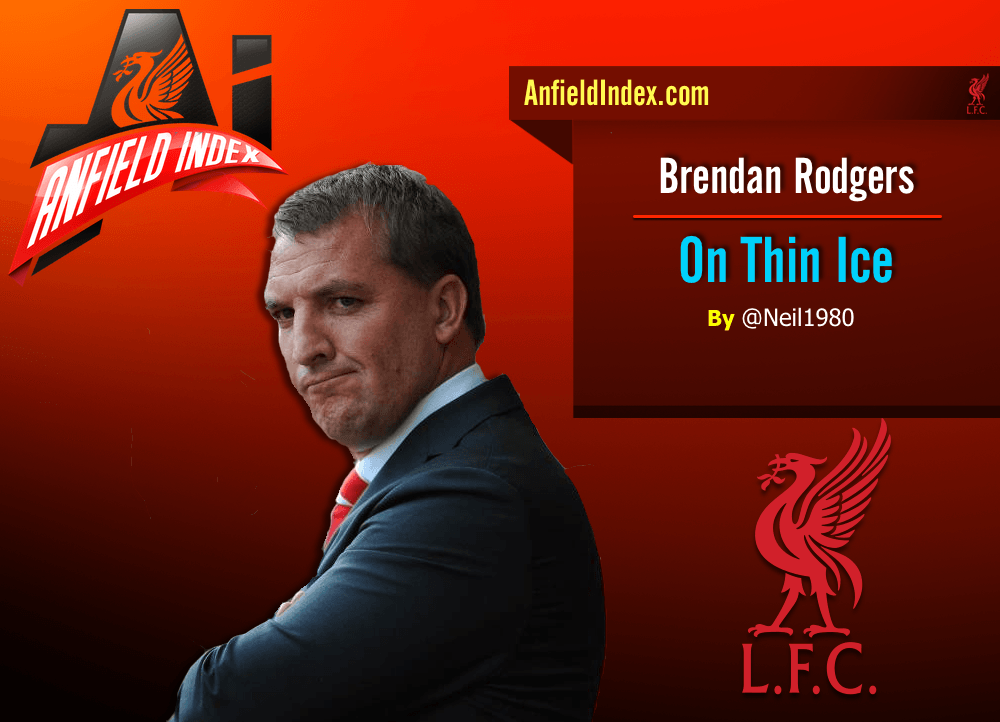 It's possible to look at Liverpool's terrible form this year and offer up some mitigating circumstances, but not many. In fact, the only unavoidable, concrete fact that's contributed heavily to the situation in which ´Brendan finds himself, is Daniel Sturridge's continual injury problem. Even in this case, there's a strong, credible argument that says the manager could and should have been more prepared for this probable situation, especially given Sturridge's record.
That the transfer committee, which includes Brendan Rodgers as an active and prime member, didn't identify the potential problems of being without the main goal threat, the only striker with genuine pace, the one player who strikes genuine fear in the hearts of defenders and opposing managers, was a catastrophic blunder. Having sold Suarez, and knowing the likelihood of Sturridge's hyper-sensitive muscles causing problems, it should have been an absolute must to secure a similar type of potent, pacey striker for this season, to consolidate and/or deputise when necessary.
Losing Sturridge was wholly predictable, and his absence has proved hugely costly for a side whose game is built around quick transitions, stretching opponents and getting them turned, runners creating space for through-balls; without Sturridge, the entire attacking game goes to pot, and so it's proved. Brendan should have been acutely aware of this, and done a lot more to ensure that we weren't left wanting in this position.
The players that weren't signed are a problem, as we've just seen, but so are the players we did, some of them at least. Dejan Lovren has had an unrelenting nightmare since donning a Reds' shirt. Quite how he's been so bad is a bit of a mystery to me, because given how desperately eager Brendan Rodgers was to get him, I would've thought (in fact I did think) that the manager was certain of his quality. Obviously not. Lovren was all over the place again on Sunday, and royally humiliated for Palace's second goal; another one to add to his list of culpability. That the manager can be SO wrong about a player, a player who was easy to scout, is a big problem. The money was there to buy a really top centre back, but it's been utterly wasted.
Others among this year's crop of signings have yet to impress. Lambert, despite his goal yesterday, looks out of his depth and a shadow of the player we saw at Saints; Lallana's had a few flashes, but that €30m looks pricier by the day, while Markovic and Can certainly have potential but need time to develop and adapt. The two fullbacks appear to be the best signings at the moment, with both possessing the attributes to become starters for years ahead. Unfortunately however, Brendan doesn't seem sure about the two of them, and this leads us onto the biggest issue Brendan has at the moment: TRUST!
We're well aware that Brendan is not a very trusting manager. Regardless of how he likes to talk about youth, despite the image of a forward looking, modern manager not afraid to make big decisions, the truth is that Brendan likes to play it safe. Unfortunately for Rodgers, his version of playing safe, is actually a recipe for disaster. That's because Rodgers is seeking safety in reputation rather than reality. Brendan's safety theory involves playing players who are out of form; players who are in desperate need of a rest; players who should be being phased out, or those that simply shouldn't be near the team, whilst overlooking others whose reputations may not be as impressive, but have much more to offer in the here, the now and the future.
Why? He doesn't trust them. Why else do you play Glen Johnson out of position, when you have Alberto Moreno ready to go? Johnson shouldn't be near the team, he has no passion; he plays by the numbers, putting in the bare minimum and even then the holes in his game are glaring – if you trust him Brendan, we've got big issues. Skrtel's another unfathomable selection. The common denominator in Liverpool's worst defences since 1992/93, Skrtel is a centre-half that just does not cover. Fine, he can do his own part well enough at times, but covering is a huge part of a centre-back's game, and quite frankly if you don't do it you're only half a player. I've mentioned before in my musings that LFC concede two a game when Skrtel plays – not only is that thoroughly unacceptable, but it also shows no sign whatsoever of improving.
What really grates though, and what is a deep rooted concern, is the fact that Rodgers seems oblivious to the folly of continually selecting these two, with Lovren, and with Gerrard their protector in front. Gerrard as a deep lying playmaker worked last year because Liverpool had so much going forward, other teams were more worried about defending than pressing Gerrard. The situation has flipped 180 degrees now, and Gerrard is a sitting duck as the defensive midfielder. Continually selecting Gerrard in that position is neither helping the team, nor the player; we have others who can play the role better. The whole thing is an accident which never waits long to happen. Every week this combination makes fatal errors; Skrtel and Lovren lead the way in errors which yield goals, Gerrard and Skrtel didn't manage a single successful tackle against Palace. The mistakes happen consistently, and yet Rodgers's words seem to suggest that he doesn't recognise this fact
"….. we made mistakes. We made mistakes that you would not expect to see at this level for a team that wants to be challenging."
When I saw the team sheet, I expected those mistakes – as I'm sure many other fans did.
Look at the spine of yesterday's team, it's plain to see that somehow, totally opposite to where we thought we were going, Rodgers has assembled a very weak side – Mignolet, Skrtel & Lovren, Gerrard, Allen, Lambert. Compare that to Courtois, Terry, Cahill, Matic, Fabregas, Costa or Hart, Kompany, Demichelis, Toure, Silva, Aguero, even United have stronger spine than Liverpool at the moment, and they have tonnes of injuries and were nowhere last year. Looking at things as they stand, it's difficult to see how Rodgers can turn this around; there's a lack of trust, coherence, cohesion and confidence. The team looks rudderless & the manager seems bereft of ideas;  the opposite to last season's situation, and pretty much the perfect shitstorm
With the dust settled, we find ourselves in the bottom half of the table; 12 games in, 14 points on the board and, bizarrely, still very much in the hunt for fourth place. Things have to change though, and quickly if the Reds are to have any hope of retaining their Champions League berth, and all that extra money that goes with it this year. And that's the real point, we need that Champions League spot, and FSG knows it. Is Rodgers the man to deliver it? On last season's form, unquestionably. On this season's, unlikely.
Rodgers is on thin ice. The Crystal Palace match was the tipping point; the straw that's threatening to break the camel's back, there's a realisation amongst the fans (perhaps the staff too) that Sunday had to be rock bottom; either things get better now, or Liverpool will be looking for a new manager in the very near future. Whether that will be for better or for worse remains unclear, however FSGs requirement of a fourth place minimum has never been debated, and what remains crystal is that while it's achievable, mountains will be moved to attain it.