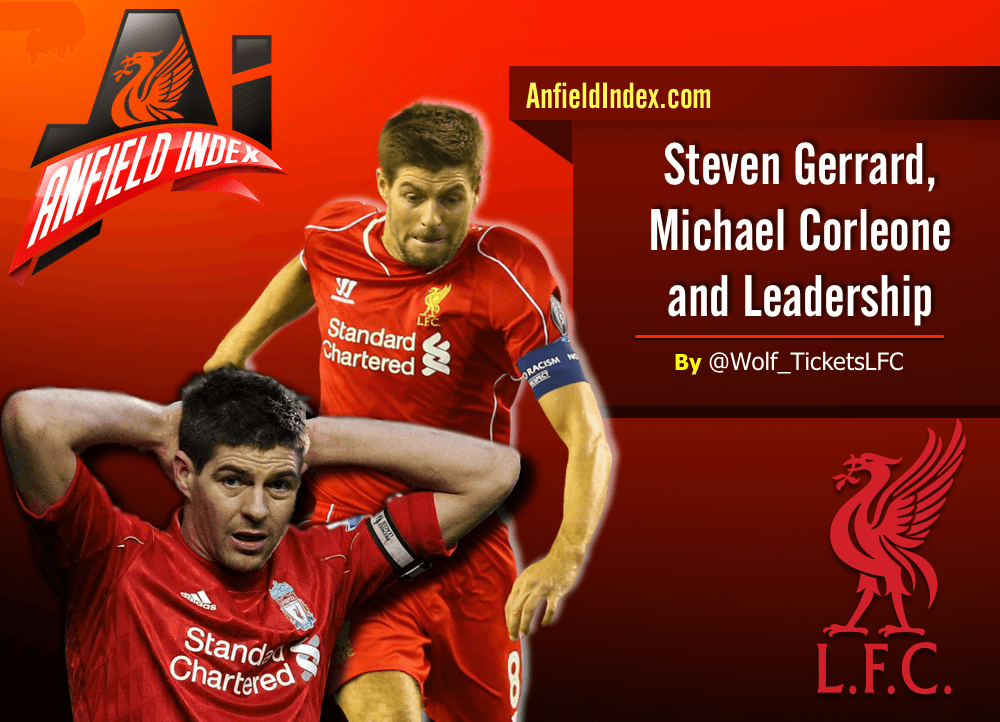 Steven Gerrard, Michael Corleone and Leadership

Jamie Carragher's recent comments on the lack of leadership in the Liverpool team has shone the spotlight on Gerrard's leadership abilities. Whilst Carragher was undoubtedly talking about the lack of leadership throughout the team it is understandable that it has raised questions about the leadership provided by our Captain.
Before I go any further let's get something straight: I believe that Steven Gerrard is one of the finest players to ever play for the club and arguably the most complete player we have ever had in terms of skill set.  However despite this I believe that like any other player there are some parts of Gerrard's game where he is lacking. I believe that Gerrard was a great player – and can still be a good player for us – but he is not a great leader and in some ways he lacks football intelligence and awareness.  Actually that's not quite correct for it would be much fairer to say that he is a great leader – of a type – and he has great football intelligence and awareness again of a certain type.  By this what I mean is that he is a leader who by and large can only really lead by example or by inspiration through his on pitch deeds (and his off pitch duties).  But what about when he is having a bad game or as is occurring now is having a slump in form or if played in a position/style that doesn't suit him?  In short what happens when someone who leads by example can no longer provide an inspirational example through his performances?  The answer sadly is not a lot in terms of leadership as talking to his colleagues and being an on pitch manager is not his style.  This isn't meant as a criticism of Gerrard as you can only be what you are and that just isn't part of who he is.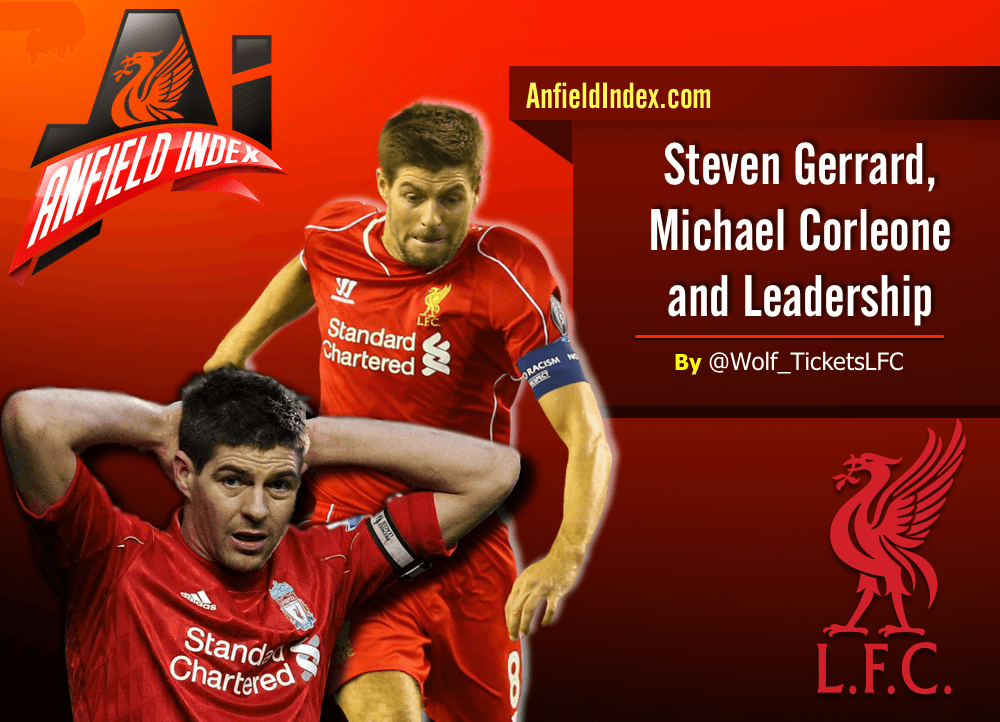 Moreover in terms of football awareness the problem with Gerrard now is that whilst he has supreme football awareness in terms of how to lay siege to an opponent's goal, he has relatively little awareness in terms of protecting his own goal.  I am reminded of a quote in an old military book that said that the problem with demolition experts is that they see the best solution to every problem as being to blow something up.  Gerrard is an attacking force of nature fuelled by passion who wants to attack at every possible moment and sees every problem as being best solved by a rocket shot or a brilliant through ball. These can be massive attributes when harnessed correctly in an attacking role but when playing as the deepest midfielder in a team lacking quality runners and lacking in confidence this is no longer the case. Gerrard's every instinct is to be attacking, that's not to say he can't defend as he can at times be brilliant defensively but due to these instincts he is always likely to be found lacking in terms of defensive awareness as his focus is almost exclusively on how best to attack. A player in the deepest midfield role (I know Gerrard isn't strictly speaking being played as a defensive midfielder) needs to either have a truly pessimistic mindset a la Makalele – to always be on the lookout for danger and anticipating problems as they develop – or be like a Pirlo and have more of a balanced all round awareness. Gerrard understandably as someone who has played as a devastating attacking player for the vast majority of his career doesn't have either of these mindsets.
The limitations in Gerrard's leadership style and football awareness can sometimes be cruelly exposed in his current role.  With the way we attack and the lack of support around him at times it is understandable that Gerrard would struggle as I feel that even a Makalele or a Pirlo would struggle at times.   However due to their differing mindsets and awareness I'd imagine that either of these players would act to address this by trying to slow the game down and/or organise their teammates to try and take the sting out of the game for a while.  I believe that Gerrard would also act to address this but that his action would be to try and create or score which when he and the team are on form can at times be extremely effective but when he and/or the team are off form it is only likely to put him and the team under more pressure. I can remember reading a quote from Paul Scholes recently where he criticised Jack Wilshere's lack of awareness and leadership saying "sometimes as a midfield player when you're up against it you have to say: 'Look, just come in, get in here beside me for five minutes or 10 and stop the flow of attack' and thinking that you would never see Gerrard do that in a game as he just doesn't think like that as his only thought at any stage of the game is how can we hurt the opposition.
Gerrard is an attacking player at heart and at this stage he always will be.  For me what this means is you either play him in an attacking role or you continue playing him as the deepest midfield role for his attacking qualities.  However, Gerrard's defensive limitations mean that the only way that he can be effective in the deeper role is if he has the attacking outlets that allow him to utilise his range of passing and if we play the aggressive front foot pressing system that means that the team is compact so he has people around him harrying the opposition to cut out much of the opposition's threat before they can hurt him and the defence.  Obviously playing in this way only limits the defensive problems caused by our style of play and by having an attacking player as our deepest midfielder but it can certainly be argued that the attacking gains make the defensive weaknesses worth dealing with. However, Gerrard playing this role in the current team and style of play makes little to no sense as he isn't able to utilize his attacking skills meanwhile the space in our midfield as a result of the lack of pressing and the team now being stretched from front to back means his defensive limitations are now too easily exposed.
Ultimately Gerrard is ill-suited to his current role in our current style of play and needs replacing for his own good and the good of the team.  This is no reflection on Gerrard's ability as a player or a Captain it is just that his gifts, mindset and style of leadership do not fit our current situation or the current role he is being asked to play.  It reminds me of when Tom Hagen gets replaced as consiglieri in The Godfather because they needed a "wartime consigliere".  This replacement was no reflection on Tom's ability as consigliere as he was clearly excellent in the role but he didn't suit their current situation and what they needed from someone in that role at that time and I believe the same applies to Steven Gerrard.  If we want a deep-lying playmaker in a front foot team that has penetrative runners and presses the opposition he can still be a very effective option but if we need defensive awareness and defensive leadership in our current less penetrative style of play then he isn't the man for that job.  As a result I believe that Brendan Rodgers should show his own leadership and make the tough decision that Michael Corleone made by standing down a good man and a loyal servant from a role he is currently not suited to.  As Michael Corleone might say 'It's not personal, Stevie. It's strictly business.'