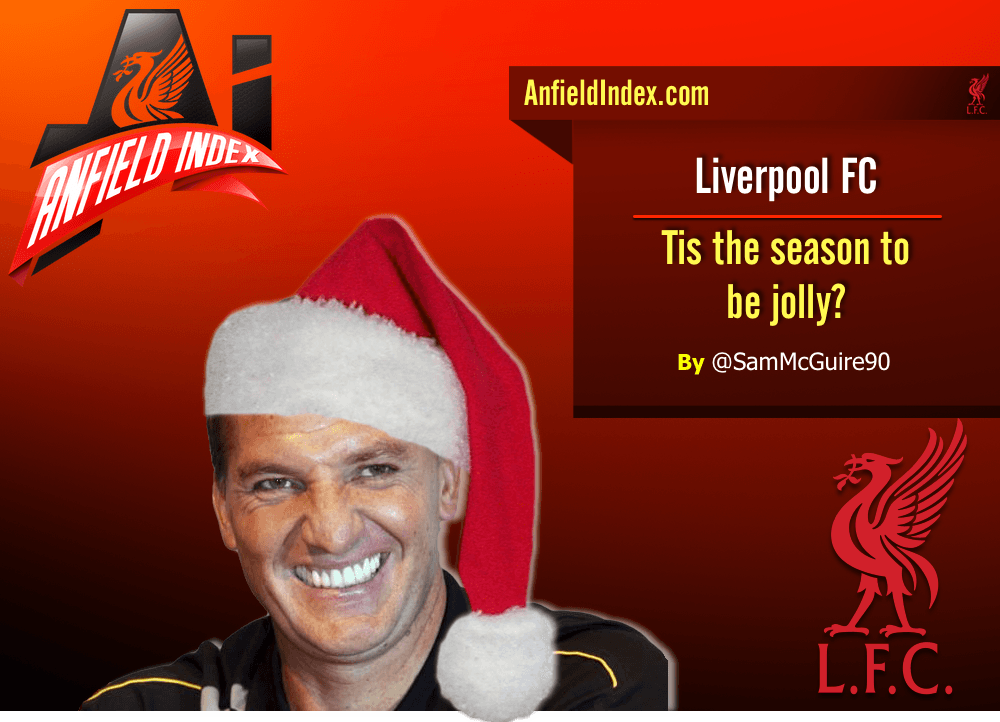 Tis the season to be Jolly? | Liverpool FC

Dear To Santa,
It's that time of year again. I don't want a 54 convertible in light blue or any colour. I realise last season you tried your best, but obviously sorting Eartha Kitt and her ridiculous Christmas list out took it out of you. So my list is even smaller this year. It shouldn't even be considered a list.
Top 4 please.
Daniel Sturridge to become a real man instead of biscuit based.
Glen Johnson to never play for Liverpool again.
FYI – If I'm being honest the latter probably makes the former happen.
Thanks,
Sam (aged 24)
For many, the Christmas period is a time to over indulge. A time to push your limits. Easy to do so when Liverpool are playing six Premier League games alone in the month of December. Throw in a Champions League game and a League cup one you'll be lucky to see me leave the house during the entire month. Not full up from your fix of Liverpool games you push your luck with whomever you live with and watch every possible live game. Come Sunday 28th December at 4.15pm when you're about to watch Newcastle vs Everton having had your New Years eve, eve, eves Roast Dinner in preparation for the dinner itself on New year's day (when you're watching the Liverpool vs Leicester match) and you hear "Sam, why are you watching another football match? It's not even Liverpool and Happy Feet is on BBC1" and you look back and grimace. The season of goodwill towards me, and football, is ending, and also you realise the dancing Penguins would be better than Skrtel and Lovren at centre back.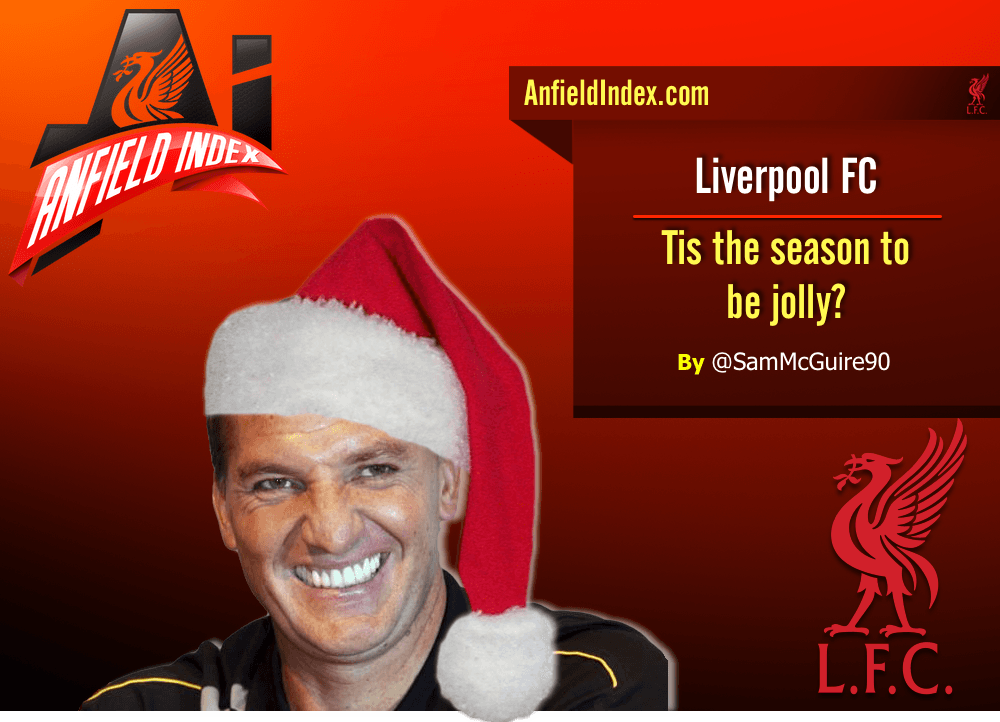 Liverpool fans last season had a bittersweet Christmas period. A loss to Hull on December 1st was then followed up by a 17 goal blitz in 4 games. The Luis Suarez inspired Liverpool dismantled all in their path; Norwich 5-1, West Ham 4-1, Spurs 5-0 and Cardiff 3-1. Two early Christmas presents for us all, top of the league at Christmas and a certain Uruguayan signing a new 'long term' deal. Then two losses in the space of three days brought us back to earth with a bump. Then it became evident Brendan seemingly forgot to ask for a defensive midfielder on his Christmas list.
Fast forward 12 months and Liverpool need a Christmas miracle. There's no two ways about it. No Uruguayan menace whose name I won't say, no shot at the title. No Daniel Strurridge. Its lucky Christmas isn't cancelled in some fans' houses.
Tis the 2014 festive period a season to be jolly?
Leicester, Sunderland , Man Utd, Arsenal, Burnley and finally Swansea. On paper you'd be expecting 12 points from those 18, minimum. In reality though, Liverpool have been dealt a tricky sequence of games. You'd look at Burnley on Boxing Day and think it's an absolute banker, right? Like playing Derby was on Boxing Day in 2007, yeah? You remember, when we needed a last gasp Steven Gerrard goal to win 2-1.
We all remember the annihilation of Arsenal last season at Anfield, but can lightening strike twice? Leicester stuck 5 past Utd, whose defence is only minimally worse than ours has been. Are us fans going to have a 'Nightmare before Christmas' when Di Maria starts running at the Liverpool backline? Or will we all get a Christmas present as the team remembers how to defend and clean sheets become a thing again? Will Mignolet be 'Home Alone' when Lovren vacates his defensive position to follow the ball and leaves him one on one vs Danny Ings. Or could like last year, December be the month teams start paying attention to Liverpool.
Santa had 8 reindeers pulling his sleigh (I don't include Rudolph, he was just the face of it all), maybe Rodgers could finally use effective tactics in the hope of  pulling dragging this side through the Christmas period. The way he manages the squad will be imperative to Liverpool navigating their way through the month of December. If Rodgers continues to be stubborn, he could be left red faced aswell as red nosed come January 1st.
You've all seen 'Elf', even if you won't openly admit it. The scene when Buddy the elf drinks the coke and lets out that incredible burp before saying, in excitement "DID YOU HEAR THAT?!". That moment, that's how I imagine many Liverpool fans felt the latter half of last season. Watching with wide eyes as Liverpool swept teams aside. 'DID YOU SEE THAT' – the thought running through your head as you watched Sturridge backheel the ball right into the cannibal's path against Stoke. That all started in December.
'Expletive- DID YOU SEE THAT?!' as Liverpool's number 7 bent the ball in against Cardiff with ease.
'**** ****, DID YOU SEE THAT?!' when Flanagan showed us what he was packing after scoring against Spurs.
'***** *** *** ****' when Suis Luarez (I never said his name) tore Norwich apart, once again. His third goal was truly a magnificent bit of skill.
December wasn't our kingmaker, but it gave us the confidence going into the rest of the season. We lost to Manchester City and Chelsea. Both games away from Anfield, both games we took the lead and in both games the referee impacted the outcome of the game. There's alot of heart to gain from a good performance against the big teams even in defeat. Granted, the two 'big' games this December aren't as grandeur as last season but a win against Utd is good no matter what time of the year. It could well be a high scoring game that many expect, or it could be won by a moment of brilliance. The only stuffing I want to see this Christmas is on my dinner, so if Liverpool could improve defensively that would be great, thanks.
Last season we faced our title rivals in December, this season we're facing the teams who want top 4 along with us.
This December could be the biggest month we've had for a long time (aside from the obvious, April 2014). Our European fate will be decided in this month, as will progression in the Capital one cup. Fans may not be thrilled about that cup, but a good win and performance could help with momentum. Liverpool can't afford to lose one of the games in December. If not for their season then for their fans. Its torture enough walking around the crowded shops at Christmas without having to hear "It's the most wonderful time of the year" playing on repeat when in fact it may not be a wonderful time of the year at all, at least football wise anyway.
We have something else to dread/look forward to. The January transfer window. If we are to make an impression in the market this winter a selling point for some players will be where we are in the table and what European competition, if any, we're in.
Brace yourself, Christmas is coming.