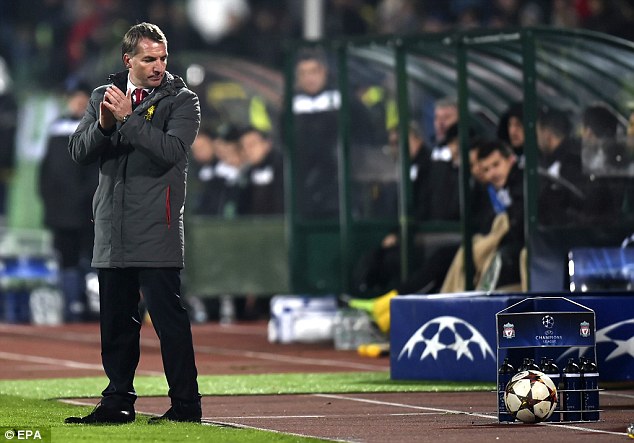 "Season Defining Fixture?" | Liverpool vs Stoke: Match Preview
August the 17th, 2013. A Simon Mignolet last-minute penalty save resulted into Liverpool ending up with a 1-0 win at home to Stoke, and thus kicking off the new league campaign in style. Would I have foreseen such a remarkable campaign to follow suit? Of course not, and here I sit, a year and a bit later with the same fixture about to be played, thinking the exact same thing, however this time, holding a completely dissimilar view.
Important Information and Statistics
Date: 29th November 2014          Stoke League Position: 11th

Time: 3:00 pm                                Liverpool League Position: 12th
Venue: Anfield                               Stoke Current Form: LWLDWL
Referee: Craig Pawson                Liverpool Current Form: WWDLLL
Is it on TV?: No
"Season Defining Fixture"… Is It?
Heading into the week leading up to the Reds' European endeavours and following their crushing defeat at the hands of Crystal Palace, I would argue the case that, yes, this is indeed a season-defining two matches. Two losses and Liverpool's season would be over. As simple as ABC. After Liverpool's lacklustre 2-2 draw at Ludogorets on Wednesday, Rodgers' men now rely on yet another magical Anfield night against Basle in a fortnight if they are to qualify for the second phase, where nothing bar a win will do for the Reds.
With this being said, I do feel that this IS a season-defining fixture, one that will undoubtedly make or break Liverpool's season, and Brendan's career as the Reds' boss. Whilst currently sat 12th in the league table, five points behind fourth place, and a further eighteen behind top spot, yet another loss will, in my opinion, be too much of a gap to reduce, particularly with the loss of Sturridge until January.
Team News – Fitness Updates on Balotelli, Sakho, and Enrique
Whilst taking a breather from first-team action for the last two matches, Balotelli looks a good bet to lead the line for the red men on Saturday, as he looks to kick start his strike partnership alongside the improving Rickie Lambert. Some will argue the case and opt to start Lambert as a lone-striker, however I reckon a match of this magnitude requires the various options Mario would bring to the table.
One positive to counter a number of negatives defence-wise is the fact that Mamadou Sakho has returned to training with the first team. Brendan will very much be buoyed by the return of the 18 million pound man, who will no doubt add a more dominant and committed look to the extremely poor and weakened back line. Who of these counterparts will he replace, however? Lovren? Skrtel? Or the in-form Kolo Toure? It is decision time for Rodgers. The injury-rattled left-back Jose Enrique also returns to the forefront, as he himself looks to cement his place in front of fellow Spaniard Moreno.
Lazar Markovic – The £20m Man Gone Missing
"A 20 million pound Serbian winger by the name of Lazar Markovic has gone missing in the Liverpool region. If found, please return to Melwood. (Or keep him, as long as we get our refund!)"
All jokes aside, the young Serb has been one of, if not the biggest, FLOP of this Premier League season. Apart from his disappearances in large parts of matches he did feature in during the early stages of the campaign, the youngster has now seemingly gone 'AWOL' and vanished from the scene entirely, accumulating a petty four appearances since his arrival in July.
One final question I will pull up for you to ponder about as I begin to dissect Saturday's opposition is this;
Why did Brendan buy Markovic for 20 million, when we already possessed a better player in Jordon Ibe?
Harsh on the Serbian, but true nonetheless.
A Quick Glance at the Opposition
From Mignolet's penalty saving heroics to that staggering 5-3 win at the Britannia, matches between these two very rarely disappoint us fans, and are always filled with acres of tension. (Moving to one side a couple of the extremely boring 0-0 stalemates in the past).
Mark Hughes' men have ridden the storm thus far this season. Whilst not playing 'out of this world' exceptional football, they are keeping up with the teams in the top half of the table, and currently find themselves one point ahead of their visitors on Saturday. Stoke will be without 'Anfield legend' Victor Moses for this fixture, who will be sidelined for the next eight weeks. Other ex-Reds include Charlie Adam and Peter Crouch, who may both feature predominantly this weekend. Loanee winger Oussama Assaidi will be ineligible to participate against his parent club.
Top Scorer: M.B. Diouf, J. Walters, 3 goals each     Red Cards: 0
Goals Scored: 13                      Most YC's: M.B. Diouf, P. Bardsley, 4 each
Goals Conceded: 15                Play-Maker: Victor Moses, 3 assists
Clean Sheets: 2                         Biggest Victory: 1-0
My Prediction and Probable Starting Line-Up
Portraying a pessimistic approach to predictions for a change, I am foreseeing a 1-1 draw between the two sides on Saturday, with Rickie Lambert to net for the third time in three matches.
As for the probable starting line up, things do not differ apart from the keeper, who has not missed a single Premier League match since joining the club two summers ago;
                                                            Jones
 Manquillo                  Skrtel                         Sakho                    Moreno
                                                            Gerrard
                                     Henderson                  Can
                                                           Coutinho
                                   Balotelli                    Lambert
Subs: Mignolet. Lovren, Enrique. Allen, Lallana. Sterling, Borini.
Simon Mignolet has not missed a Liverpool match in the Premier League since his arrival in the summer of 2013. A run of games that began with a 1-0 win at home to Stoke, should, in my opinion, end prior to this home match against the Potters. The Reds' defensive frailties are a well-known factor this season, and it is essential that the boss stands up and makes these big squad decisions in order to improve the team, and thus keep his job at the world's greatest football club.
Liverpool find themselves in a miserable stage at the current moment. The players look unhappy each time a ball is kicked, and fans worldwide are growing ever-so impatient as every defeat passes them by. A large part of them have already played the 'Rodgers Out – Klopp In' card, and I am afraid that, anything bar a convincing win come Saturday afternoon will conclude with a phone call being made from Boston to Brendan Rodgers' office land line.
Till then however, let me lighten up the mood with this video, which shows the goal that clinched the victory for the red men when they last played Stoke at Anfield in the August of 2013: