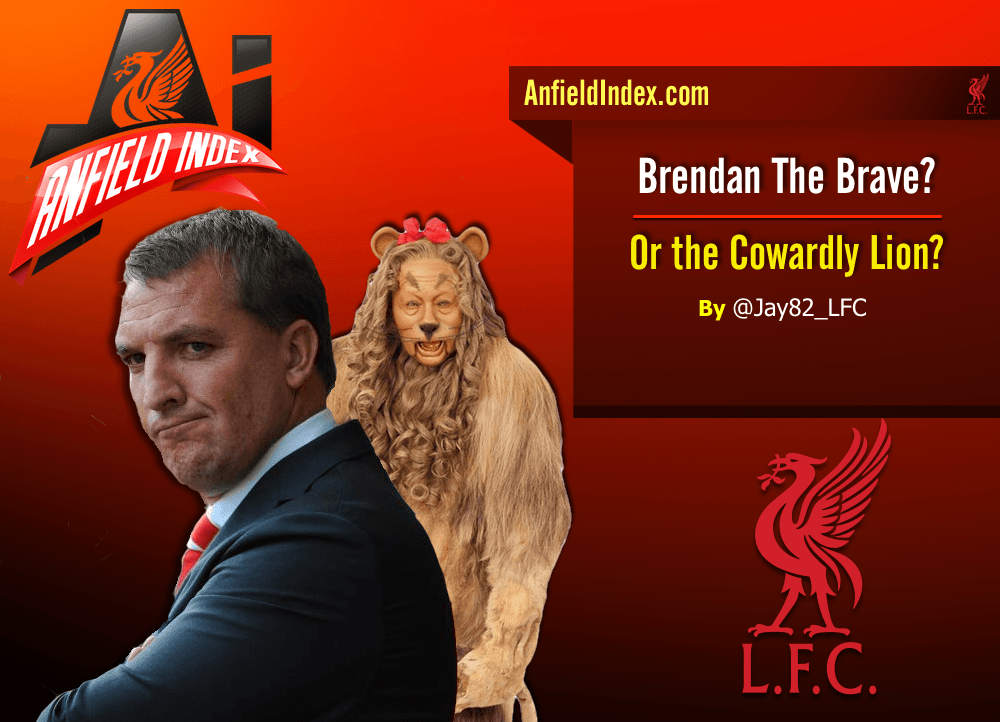 Brendan the Brave or The Cowardly Lion?

Liverpool fans finally enjoyed a weekend of football after Glen Johnson's late winner against Stoke at Anfield. It was a much needed three points and relieved some of the pressure mounting on Brendan Rodgers. Rodgers has faced criticism from all directions including many fans who have questioned his tactics and team selections. Over the past few weeks fans have taken to social media to label Rodgers a coward and to show some balls. So what does Rodgers need to do to show fans he can be Brendan the brave?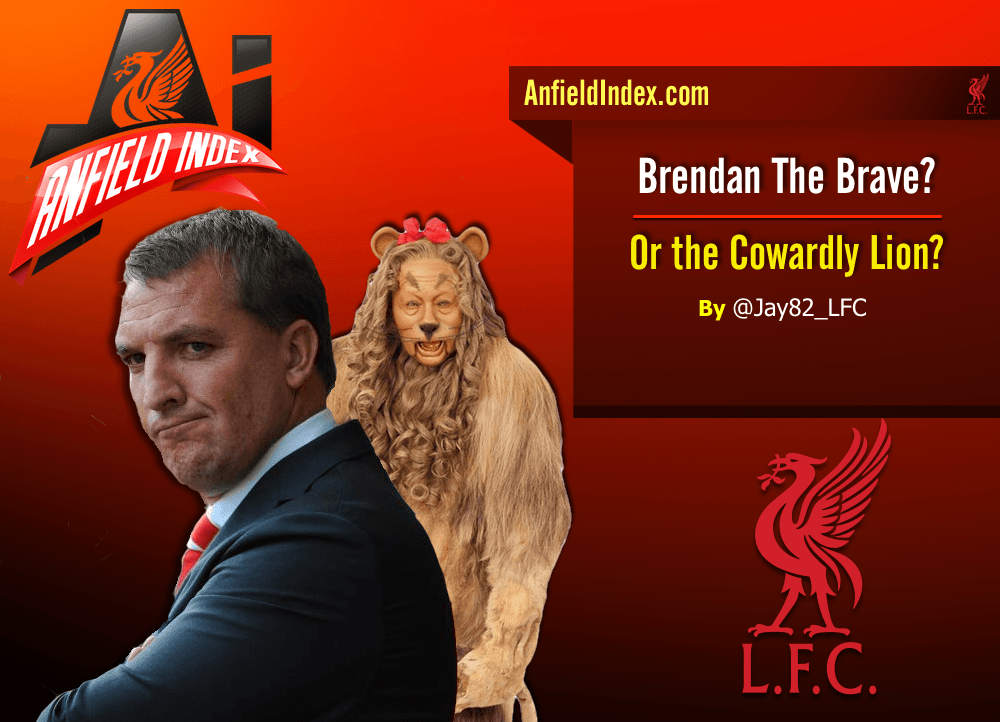 Lovren
Many will argue that Rodgers was brave in his selection against Stoke. He finally dropped his 20 million pound marquee signing Dejan Lovren in a League game. Many fans including myself and have long wanted Lovren out of the team. Putting aside whether he should have been signed in the first place, Lovren's performances had been in steady decline week by week. Rodgers persisted with Lovren longer than we all wanted but given his faith in Lovren as his 'new leader' it was never going to be easy for Rodgers to drop him. Thankfully for the good of the team, Rodgers has recalled Kolo Toure into the team and has been rewarded with good performances from the Ivorian.
Gerrard
The second decision was resting Steven Gerrard or perhaps the scouse elephant in the room. Like Lovren, Gerrard has been poor in his role as the deepest midfielder. He hasn't been helped by his teammates playing poorly around him and it is apparent he is missing the runs of Luis Suarez and Daniel Sturridge. However, from a defensive point of view he has been poor and hasn't helped out his defence like a Mascherano or Busquets would do in that role.
He hasn't been helped at all with Rodgers playing him in every league game and every minute. Rodgers should be managing Gerrard far better in the late stages of his career much like Pellegrini is doing with Frank Lampard and Fergie did with Ryan Giggs and Paul Scholes. A 30 minute cameo with energy and strong leadership is far better than a 90 minute lethargic display – especially when he is being asked to play three games in a week.
Gerrard will no doubt return to the team against Leicester as Rodgers dare not bench him for two games. But why not? Lucas, Allen and Henderson were solid as a unit as offered good protection to the defence – what makes it necessary for Gerrard to stroll back in to the team? I am not Lucas' biggest fan but he offered more protection to the defence in the last two games than Gerrard has this season. If Gerrard is therefore deployed higher up the field from the start is he really going to offer more than Adam Lallana and the other attackers we have in our squad?
Rodgers needs to be braver in dealing with Gerrard for the good of the team and Gerrard himself. Rather than trying to find a role for him, pick the best players in the positions that are available and at this moment in time, Gerrard's best position is on the bench offering a late cameo in games.
Johnson
Speaking of bravery, who would have thought Glen Johnson would be the player putting his head on the line to nick a late winner. It was great to see him showing real effort and desire to get the goal. However, it was a tad concerning Rodgers talking up his performances of late and even his good looks after the game. As Johnson said over the weekend, he hasn't been offered a new contract from the club and therefore Javier Manquillo and Jon Flanagan should be the future of the club at right back. Putting aside age, contract issues and his late winner, Johnson has been a poor performer for Liverpool for over two years now. It beggars belief that he remains in the team ahead of others and even stranger to see him at left back in certain games.
For the good of the team, Rodgers needs to replace Johnson in his first eleven and put his faith into Manquillo and Flanagan – two young players who haven't let him down when called upon and have simply performed far better than Johnson.
Moreno and Can
Alberto Moreno and Emre Can have quickly found themselves as fan favourites. Both young, energetic and offer real quality in their respective positions. It is therefore staggering how they haven't had much game time over the past few weeks – especially Moreno who found himself behind Jose 'selfie' Enrique over the weekend.
It has puzzled fans and even many journalists. Rodgers said recently he wants to play people who he can depend on and who have experience in this league to get us back to winning games. There is an element of sense to that, but if those players (Enrique, Johnson, Skrtel) are simply poor players than why not give the newer players a go?
Rodgers has always said he backs young players and is happy to coach them so it would be good to see him back the likes of Moreno, Can and Sakho when he returns from injury.
What Next
Rodgers is aiming to be solid in his set up with players he has worked with for a while. However, he needs to be braver in his selections in order to climb the league. Let's hope he can find strike a balance between all of the players he has at his disposal so that he can show us again once more why we have so much faith in him to get it right.