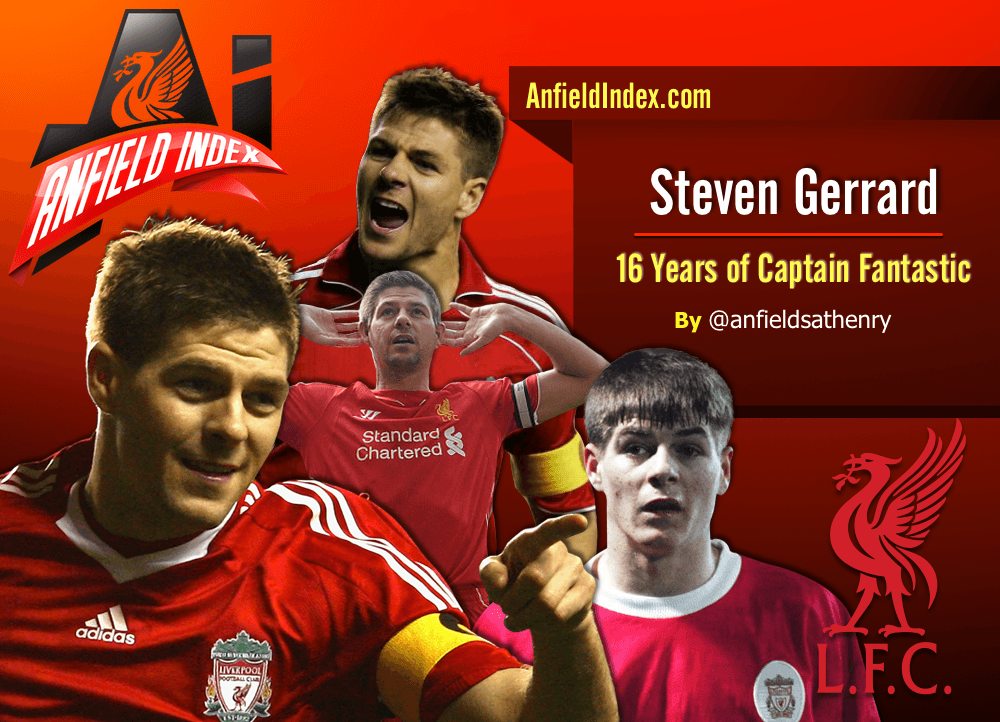 Steven Gerrard | 16 Years of Captain Fantastic
Last week marked the 16th anniversary of Steven Gerrard's debut in a Liverpool shirt. At the tender age of 18 Gerrard made his bow as a last minute substitute against Blackburn Rovers. Since that day he has played over 687 games for his boyhood club, scoring 176 goals.
In 2013 he struck his 100th Premier League goal against Newcastle United and is currently Liverpool's sixth all-time top goal scorer above the illustrious Kenny Dalglish. Only the Premier League title is missing from his honours list as he has lifted every major trophy on offer during his playing career. He was given the captain's armband in 2003 by then manager Gérard Houllier and has earned his title 'Captain Fantastic' a thousand times over. He is not just one of the greatest players ever to play for Liverpool but the proud Scouser is one of the all-time legends of the modern game.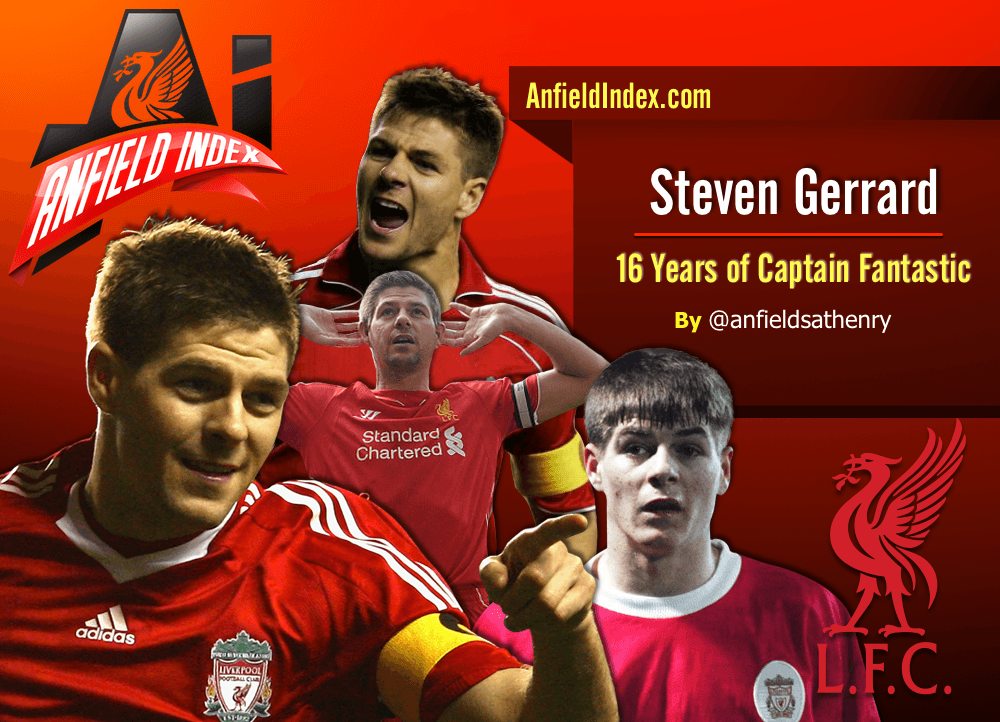 In a week when Merseyside celebrated yet another of their midfielder's landmarks it has emerged that he has been offered a one year extension to his contract that runs out in the summer. As a result there have been many questions on whether Stevie G should accept the offer and finish his career at Liverpool. Of course the resounding, obvious answer is yes.
Yes, if he can accept that he can't be Captain Fantastic every game.
Gerrard has been a mainstay in an ever changing Liverpool side in the last 15 years. Where the Reds' midfield has seen the coming and going of great footballers like Xabi Alonso, Javier Mascherano or Dietmar Hamann, Gerrard has always remained. He has raised his game in times of desperation, like in Istanbul where he lead the fight back in 2005, and has continued to be the man with the shovel through-out his career. But with Liverpool enduring their worst run for five years, it has become increasingly obvious that Gerrard can't do it all by himself anymore.
Last season saw him moved to the 'quarter-back' position as Brendan Rodgers attempted to utilise the midfielder's passing ability without exhausting him. His attacking instincts have always meant that the former England captain would spend games racing up and down the pitch, making tackles and scoring belters, but at the age of 34 he simply can't do it anymore. The skipper hasn't scored from open play since his header, from a corner, in the four nil demolition of Everton in February. He is lethal from set-pieces and has only missed one of his last 15 penalties. These qualities were a crucial part of Liverpool's set-piece success last season as his side notched up 36 goals from corners, free kicks and penalties.
The role that he thrived in last season has seemed to become a burden. He has continually been man-marked out of games as the opposition has realised that letting him have space and time to pick a pass is suicidal with his talent. His impact on games has diminished as a result and more importantly ever since that famous slip against Chelsea, his confidence has plummeted. A player low on confidence is a ticking time bomb at the back.
Rodgers has moved him out from the back recently in an attempt to lighten his defensive responsibilities that have haunted him since the start of the season. Lack of confidence is a huge problem through-out this Liverpool side but when your captain is struggling, it only makes matters worse in a team. Not to say that Gerrard has not tried to shrug off his problems and has continually been the only Liverpool player heard barking orders and rallying his troops, but he just can't get his game going and neither can his team-mates.
One player who has suffered as Gerrard's form has dropped is Jordan Henderson. The former Sunderland man revitalised his career on Merseyside last season as he became an integral part of Rodgers' starting line-up. His energy and awareness were crucial to Liverpool's flow last term but all that has disappeared from his game in recent months. It has vanished because yes, he is nervous and frustrated like the rest of the squad, but he has been toiling as Gerrard's babysitter. There is no question that the Reds' backline needs more help from its midfield when defending but with Henderson constantly looking over his shoulder at his captain he is continually back tracking and second guessing his forward game.
This weekend Gerrard was dropped and Lucas Leiva came into his position and it seemed as though Henderson's shackles were gone. Lucas is as reliable as they come and when he plays no one is wondering what he will do or where he will be, because he is a natural defensive midfielder. Gerrard looks tired and vulnerable where Lucas looks comfortable and instinctive. Henderson doesn't have to worry about him and his influence on the Stoke game was vital to getting the win. In the second half especially, Liverpool's stand in captain was instrumental in raising his side's tempo and forcing mistakes from the Stoke players. It was his cross that found Rickie Lambert in the box just that led to the goal.
Whether it is blasphemous or not to say, Rodgers is managing a great player in decline. No manager has ever coached a Steven Gerrard who will most likely not get better. If Liverpool weren't doing so horrifically then resting the captain at the week-end would not have caused such a stir among the media. It is because Merseyside is in such crisis that everyone is looking to Captain Fantastic to save us but his form at the moment is not helping the cause.
Every season there seems to be a flood of articles proclaiming the end of the Stevie G era but it hasn't happened yet and it doesn't need to. Gerrard can retire at Liverpool if he is managed more carefully and not played in a position that he seems to fear now. He can't play every game anymore and it is reasonable that Rodgers would want to rest him during the coming busy Christmas period.
The performance at the weekend although hard fought, was much improved from the lacklustre Liverpool performances that the supporters have endured so far. Part of that was a solid defensive shape and Henderson's improved energy and these were a direct result of the captain dropping to the bench.
Liverpool will always be a better side with their number eight in it. But only when he is rested, confident and in a position that doesn't require a defensive knowledge and technical ability he doesn't have. There is still no one in the league who is better than Gerrard at moving the ball but the captain as he is now is far from fantastic. He is not himself and has laboured as opposing teams expose his defensive frailties again and again this season in the 'quarter-back' position.
Rodgers can get the best out of the legend but he needs less time on the pitch and less responsibilities in defence. He can still change games in an instant as he always has but he will find himself doing that more and more from the bench. He can't be the be all and end all of this Liverpool side anymore.
If Gerrard can accept that his role is changing and something different is needed not something old, then he should stay. But if he doesn't want to be less important on the pitch and feels he can't stop being Mr Captain Fantastic then maybe it is time to go.
He showed last season that he can adapt on the pitch when the team demands it and now his beloved Liverpool is demanding something extra from him again that might require him being off the grass more often than on it. Maybe he can't do that, but for the sake of my almost breaking Liverpool hearts everywhere, let's hope he signs the contract.