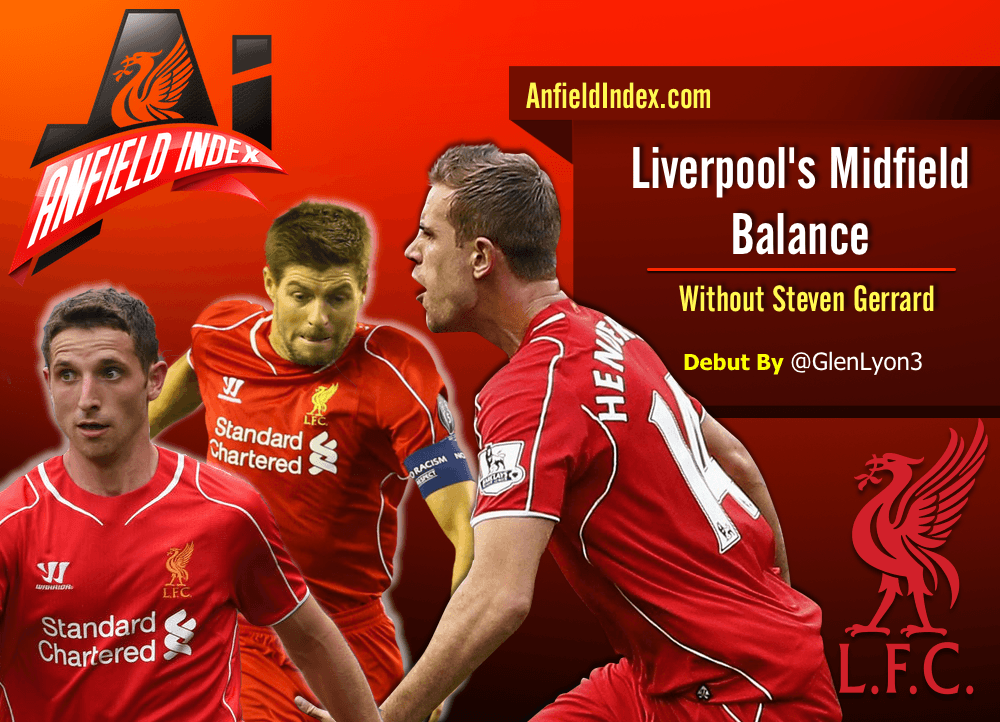 Liverpool's Midfield Balance Without Gerrard
Liverpool manager Brendan Rodgers reached new heights during his second season at the club, seeing his team finish 2nd in the league, just 2 points behind eventual winners Manchester City. After several seasons of disappointment, the Liverpool team looked rejuvenated under Rodgers, striking 101 goals over the course of the campaign and doing so in the most attractive of fashion; Suarez and Sturridge leading the line with 19-year-old Raheem Sterling operating at the peak of a diamond represented arguably the most dangerous frontline in the league, if not Europe.
In recent weeks though, Rodgers has come under levels of criticism that he has not faced since the early stages of his tenure as Liverpool boss – much of it owed to his somewhat questionable team selections and player-management.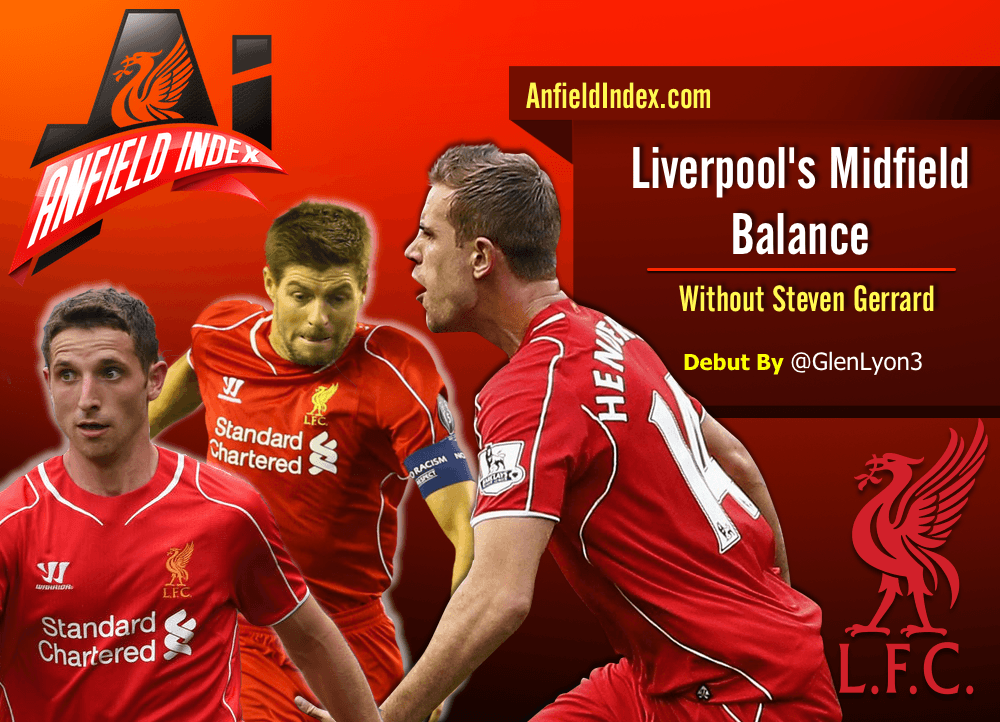 When Rodgers arrived at the club he did so with a promise to promote attractive football, a death by football mentality that fans warmed to despite sub-par performances in the early stages of his tenure. Without doubt, Rodgers' charisma and the clear vision he presented so well earned him the patience and respect he required to set about his work. To begin with, Rodgers' detractors cited a lack of adaptability when aiming criticism in his direction, arguing that he opts for style over substance, refusing to deviate from his philosophy to win games.
That all changed in his second season though where he frequently adapted the formation to accommodate a variety of approaches: 4-2-3-1; 4-3-3; 4-4-2; 4-2-2-2; 3-5-2; 3-4-1-2; 4-3-1-2, you name it, Liverpool fans witnessed it during the 2013/2014 season. Rodgers eventually settled on a 4-3-1-2 formation with the frankly unforgettable Luis Suarez partnering Daniel Sturridge ahead of Raheem Sterling, who earned all the plaudits in the latter stages of the season following a lacklustre start. In doing so Rodgers answered his critics, emphatically demonstrating that he can be pragmatic in the name of results.
The 4-3-1-2 that Liverpool fans became accustom to deployed Gerrard in a deep-lying playmaker role, with Henderson and either Phillippe Coutinho or Joe Allen flanking him. The range of passing Gerrard offered to the team became a key component of the teams attacking play, allowing attacks to develop quickly and ruthlessly through the energy, pace and tenacity of the likes of Henderson, Sterling, Suarez and Sturridge. Gerrard, despite displaying defensive frailties, appeared to settle into the role in just the way you would expect and his presence in the midfield was without doubt one of the key drivers behind Liverpool's title charge. I don't think many fans would argue that last year's team was one of balance, but the sheer unforgiving nature of Liverpool's attacking play was such that no-one really seemed to care.
The miserable truth is though, that this team is totally different to the one that put fans on cloud nine last year. Suarez is soaking up the sun in Barcelona, Sturridge is injured and the alternatives are not exactly Suarez-esque – Liverpool have gone from SAS to SOS in terms of goal-scoring.
Fans have been craving the diamond formation for large parts of this season, but without Sturridge fit and a plethora of attacking midfield options to choose from, Rodgers seems to have settled on a 4-2-3-1, which aims to accommodate Gerrard in a midfield pairing; or a 4-3-3 with Gerrard sitting at the base. The 4-2-3-1 formation goes against everything Liverpool fans have come to love over the last 18 months. Without the fluency of Suarez and Sturridge, Gerrard has failed to influence the game in the same way he did last year, and the change in shape has exposed the defensive weaknesses that were hidden last season.
The problem with Rodgers' team selections this year is that they don't get the best out of anyone: Gerrard struggles defensively so Henderson can't operate in forward positons; Sterling has spent the majority of his game time deployed as a winger and, particularly in a 4-2-3-1 formation, Coutinho can't impact the game as much as fans are used to seeing. Team balance has become a far bigger cause for concern this year and the team selections aren't reflecting the need for it.
The effectiveness of Gerrard was in large parts down to the movement and ability of those in front of him; Suarez and Gerrard had an almost telepathic relationship at times, and the fluency in Liverpool's attackers coaxed the best from Steven Gerrard. In this current team though, his defensive frailties are being exposed and without the presence of a potent strike-force, they are not concealed.
Labelling a player's characteristics by their number is the modern football trend that irks me the most and Coutinho is the perfect explanation as to why. To me, the player in the 'number 10' role is the sort that controls the tempo of the game, has a natural sense for space in front of a defence and has a knack of changing the direction of a game at a moment's notice. Coutinho is not that guy; in my opinion his best qualities are completely wasted there. Coutinho's ability to pick the ball up in deep positions and jink through an opposition midfield before finding a splitting through ball are wasted playing as the 'number 10'. Instead, his creative trade should be applied from deeper in the midfield where he can induce a turnover in play and craft chances for other attacking players.
The best Liverpool performance under Rodgers is arguably the demolition of Spurs at White Hart Lane last season. The way Liverpool pressed the ball and made a mockery of Andre Villas Boas' tactics was a joy to behold – Spurs managed 0 shots on target that game, the first time during their time at White Hart Lane, whilst Liverpool struck 5 from 10 shots on target. In the build-up to the match my Twitter was filled with fans, both Spurs and Liverpool, suggesting that Liverpool would be overrun by the power of the likes of Dembele, Paulinho and Capoue. The reality was quite the opposite. The mobility Liverpool possessed in the centre of the pitch took Spurs by storm and they were totally unable to deal with the intensity that Liverpool harrowed them from start to finish. The team that played that day had no Gerrard, no Sturridge and none of the new defensive acquisitions. Instead, it had a clear game plan and a level of balance that fans have not witnessed since.
Deploying Steven Gerrard in a deep role is fine, but only when his passing outweighs the defensive weakness he brings to the midfield, and that is simply not the case this season. Steven Gerrard would only warrant a place on the teamsheet alongside Emre Can and Jordan Henderson who together could shield him and allow him to play. In my opinion though, he doesn't offer enough to justify sacrificing creativity in more advanced positions in the form of Coutinho. Deploying Coutinho as part of a midfield trio alongside two of Jordan Henderson, Joe Allen and Emre Can offers far more balance and would go some way to achieving the levels of energy that are so pivotal to Rodgers' philosophy.
It's sad to say, but Rodgers' persistence with Gerrard is costing Liverpool this season. As much as I am a fan of playing out from the back and dictating the game from deep areas, Liverpool do not have the attacking assets or the defensive solidarity to allow it with Steven Gerrard. I would much rather see Coutinho, or even Allen, given a bit more freedom in the centre of midfield to encourage composure and mobility in vital areas. Rodgers is not doing Gerrard a great service by playing him week-in week-out. The season is still young, but it is old enough now to see that the midfield needs restoring with balance, power and attacking prowess.