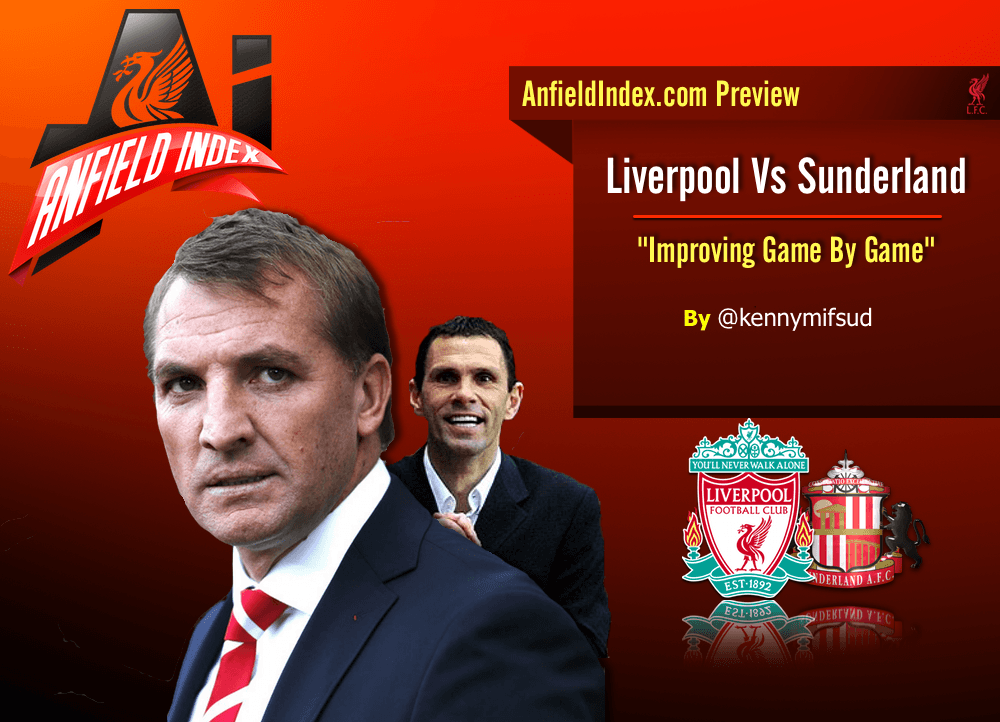 "Improving Game By Game" - Liverpool vs Sunderland Match Preview

"Improving Game by Game"
As I begin to write my preview on the afternoon of the 4th of December, I reminisce back a year ago, where Norwich visited Anfield to face a vibrant and in-form Liverpool side. Four phenomenal strikes from ex-red Luis Suarez meant the Reds ran out 5-1 winners that day. Whilst we have yet to observe the red men push on and excel since the iconic number seven's departure, things have slowly began to stick together, with Liverpool winning two league games on the bounce for the first time this season.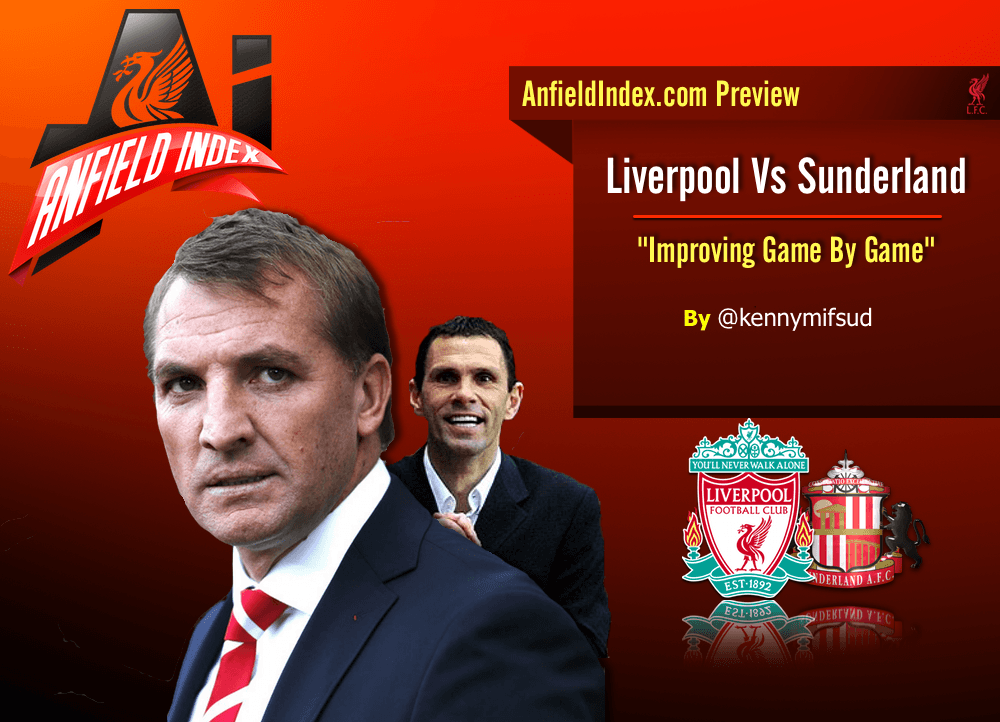 Important Information and Statistics
Date: 6th December 2014    Sunderland League Position: 14th
Time: 3:00 pm (UK Time)   Liverpool League Position: 8th
Venue: Anfield                      Sunderland Current Form: LWDDDL
Referee: Neil Swarbrick     Liverpool Current Form: DLLLWW
Is It On TV?: No
"Back to Back Wins" – A Fluke or A Sign of Things to Come?
Liverpool 1-0 Stoke. A Glen Johnson headed goal, which proved to be the winner, took 85 minutes to arrive. Leicester 1-3 Liverpool. The Reds went behind in the match, and Morgan's sending off played a big part in determining the outcome of the game. Two fixtures that although produced maximum points for the Reds, could have resulted into two very dissimilar conclusions. None were truly convincing, and it is pivotal that Rodgers' men do not become complacent and take Sunderland for granted come the 'Black Cats" visit on Saturday afternoon.
With that being said, Liverpool played some brilliant football towards the latter parts of Tuesday night's match, with Jordan Henderson's strike to kill the game at 3-1 being the pick of the bunch. (I'm not too sure about the midfielder's celebration, however).
https://www.youtube.com/watch?v=Sc9Tr8HMfmk
Rodgers to Opt For Lucas-Gerrard Partnership Once Again?
Roll back the months to summer, where our beloved number 21 was subject to wide speculation regarding an exit from the club. Whilst the majority of the Reds' fans were in agreement with these rumours, I remained implicit and got to work on a personal blog which included five reasons why we should keep the Brazilian. One of the main reasons I brought up was the fact that having Lucas in that defensive midfielder role would mean Gerrard could advance himself up the field and show his attacking capabilities, those of which we witnessed plenty of in our 3-1 win over Leicester on Tuesday.
Lucas has definitely hushed up his critics for the moment, and Rodgers could find this new 'partnership' work a real treat for him and his squad. Does a 34 year old Steven Gerrard have the legs to play that 'number 10' role week in, week out, however?
A Quick Glance at the Opposition
Gus Poyet's Sunderland have become the draw specialists this season. Although win-less since the beginning of November, the Black Cats can be heartened by the string of draws they have produced against reasonably tough opponents of late. (Most notably a 0-0 stalemate against high-flyers Chelsea last weekend). 14th place is not a position Gus would like to see his team in however, and he will look at this weekend's fixture as a possible stepping stone to bigger and better things at the club.
Liverpool's most recent encounter against Poyet's men came at a nervy time for Brendan's team, who found themselves deep in battle at the top of the table when Sunderland made the visit to Anfield in March. Bar a nervy finish, Liverpool ran out 2-1 winners that night, thus sustaining their push for the league title. Sunderland themselves have found joy against the Reds on a number of occasions in the past, however the bulk of these have materialised at the Stadium of Light, rather than under the Anfield limelight.
Top Scorer: Steven Fletcher(4)  Red Cards: 0
Goals Scored: 13            Most YC's: Lee Cattermole
Goals Conceded: 23     Play-Maker: S.Larsson & Van Aanholt, 2 Assists Each
Clean Sheets: 4              Biggest Victory: 3-1, Two Occasions
My Prediction and Probable Starting Line-Up
Whilst portraying a pessimistic view and failing miserably with my 1-1 prediction of the Stoke match, I have since unearthed a new-found faith in Brendan and his team. My prediction this time? A 2-0 win alongside a clean sheet would do nicely heading into our tension-building fixture against Basel next week. As for the scorers, I will go for Steven Gerrard, (Who else?) and Fabio Borini.
My probable starting line-up alters somewhat from midweek, as I am guessing Rodgers will tweak his winning squad vaguely.:
Subs: Mignolet. Enrique, Sakho. Allen, Henderson. Markovic, Lambert.
You may find a key player missing from my probable starting line up, rather, a '20 million pound' figure. Yes, I have opted against including Dejan Lovren in the squad, and the Croat fails to even make the bench, matter of factly. I do believe that Kolo Toure has added numerous traits of which Lovren lacks in abundance: leadership, experience, and downright ability on and off the ball. Kolo has been one of the main driving forces behind the Reds' minor 'revival' of late, and therefore, I do not reckon Lovren is any better than the players I have included on the bench either. The 20 million pound record signing will have to work hard and bide his time on the sidelines.
As yet another magical Anfield night beckons in the near future, it is essential that Rodgers gets his team focused for the preceding match. Basel will have to wait, I'm afraid. The match on Wednesday night will no doubt be lingering on players' minds as we kick off on Saturday, but the team and fans both know that nothing bar a victory against Sunderland is of essence in order for us to keep tabs on the top four and the top four European places.
Brendan Rodgers has been given a life-line with our recent back-to-back victories, let us hope that he proceeds to show us that he is indeed the man to take this exceptional club forward for years to come.