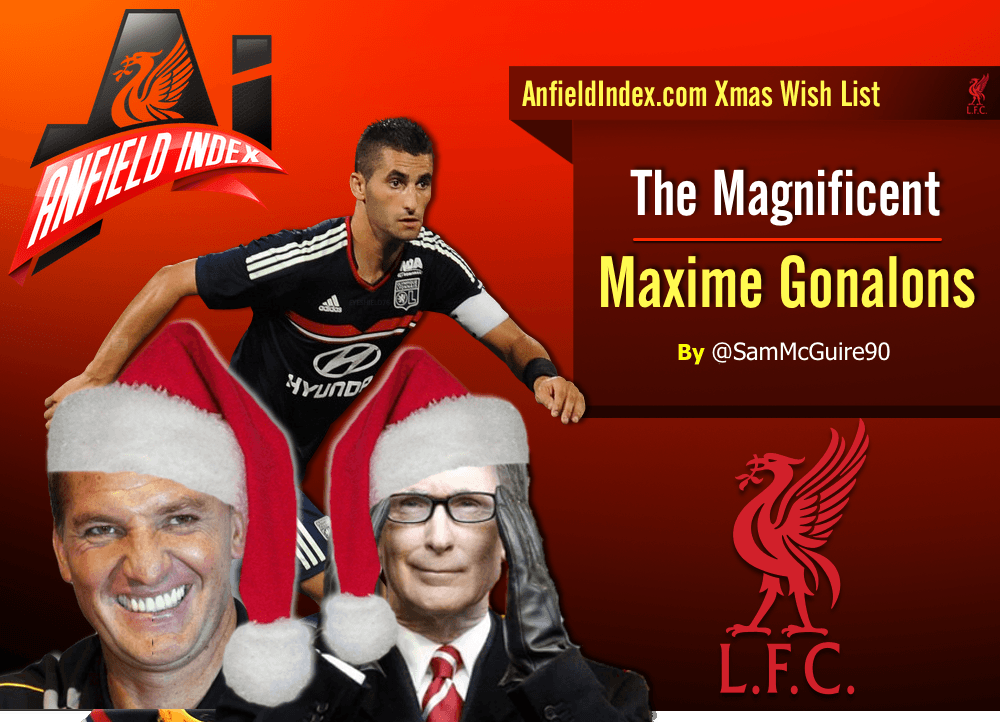 The Magnificent Maxime Gonalons | AI's Christmas Wish List
Editor's Note: We're starting a new feature leading up to Christmas where our writers will be choosing a player they'd wish Liverpool FC would purchase in January and give their reasons for why they've chosen the said player! First up is Sam McGuire with The Magnificent Maxine Gonalons!
Steadying the Ship – Get a Captain on board.
Maxime Gonalons, is to Lyon what Steven Gerrard is to Liverpool, and that's why Liverpool need to sign him.
A youth graduate come good, the heart of their beloved teams and the captain during an everlasting transitional period following on from a domestic dominance.

Like Alaska, the state, which has 65 consecutive days of darkness, both Liverpool and Lyon fans have faced dark times in years gone by.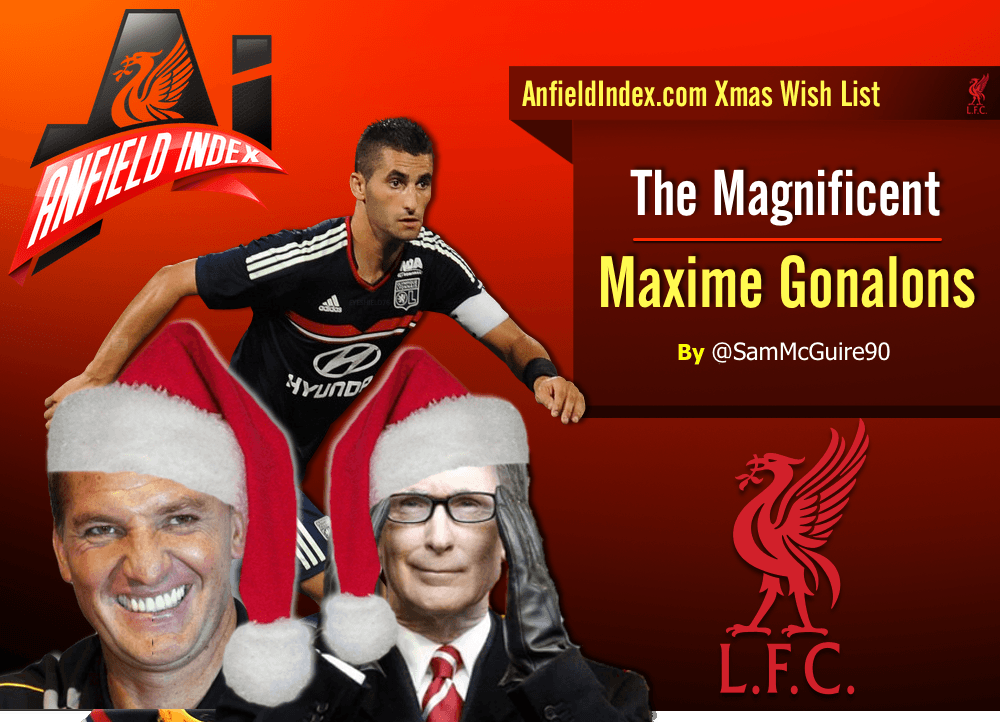 Gonalons' prominence within the team came just as Lyon's unopposed reign of the French Ligue 1 supremacy was coming to an end. It was quite the upturn for the 19 year old midfielder who no less than a year earlier nearly had his playing career cut short before it had even begun; following on from an ankle injury he contracted sepsis, which at the time almost led to him having his leg amputated.
Making his debut in a Champions League playoff match against Anderlecht in August 2009, Maxime then scored his first ever professional goal in the same competition against Liverpool in a 2-1 win for French team at Anfield.
He isn't a specialist defensive midfielder, he has the attributes to be a classic defensive midfielder, shielding the back back line, but also to combine that with lung-busting box-to-box runs, this meant it was a no brainer when Lyon appointed him as captain in early 2013. A player wise beyond his years, the 25 year old is the father of an exuberant Lyon side who this season are back challenging for Champions League football.
He has become a figurehead for the stability so desperately required at a once-great club, currently experiencing a period of transition; Gonalons has remained a consistent leader on and off the pitch. Eerily similar to what's going on at Liverpool right now? A once great club in transition and needing a leader.
Gonalons will never be a midfielder who will hit double figures for goals and assists per season; his real skills lie in his intelligence and ability to assess situations at the drop of a hat. He has the in game intelligence to track back to intercept the through ball just as well as he can push forward and provide the hockey assist (the pass before the assist).  He takes up positions on the pitch which allow him to survey all that's in front of him and be pro active, something Liverpool desperately need. His seemingly non-stop energy levels which allow the ability to run box to box for a full 90 minutes remind you of a player such as Patrick Vieira, or Nemanja Matic. The midfielder also knows how to time a tackle and despite playing 20 games so far this season he has only picked up three bookings.
All of this is not to say he doesn't score goals at all, as his 6'1″ frame means he is a threat at set pieces. Imagine that, having someone who can score from set pieces, even better he is adept at defending them to. On that basis alone Liveprool should sign him.
It's been said that Liverpool currently lack players with experience and the know how to win – Maxime was the last Lyon captian to lift silverware as he skippered the side which won the Trophee des Champions in 2012.
Critics will say he only has 6 International caps and the likes of Cabaye has more. It is worth remembering Gonalons is competing against the likes of Matuidi, Pogba and Schniederlin .When your team isn't performing and competition is so fierce for your position it's no wonder the call ups for Gonalons are so scarce, that's not to say he isn't good enough.
How would he fit in at Liverpool?
I'm stating the obvious, but Gonalons would be that defensive midfielder Liverpool have lacked since Mascherano left. He consumes the area infront of the 18 yard area. I won't throw stats at you, we all know how they can be manipulated (see the Lee Cattermole piece for more info on stats) but if you get the opportunity to watch a Lyon game then do so. He's the midfield metronome. He brings a calmness that Liverpool so obviously lack defensively.
The above image shows how Liverpool could potentially use Gonalons. As stated earlier, he would be the one to keep things ticking over, nothing too fancy, the players ahead of him are all better offensively so you'd let them do the attacking. Signing Gonalons would allow Liverpool to play a higher defensive line, he's not exceedingly quick, but he covers the space much better than any player Liverpool currently have. So instead of the Liverpool back 4 dropping when players are running at them they'd be confident in the ability of their 'shield'.  The red square would be a no go area for opposing number 10's as they'd know Gonalons wouldn't give them a moments rest. That's the sort of player we need, that space on the pitch needs to be dominated by a Liverpool player.
This signing would also allow the full-backs to push higher as there wouldn't be a need to use one of them as an auxiliary centre-back (WHICH MEANS NO MORE GLEN JOHNSON) as Gonalons has experience playing as a CB, this means he can drop to make it a three when necessary and does a good enough job there.  Full-backs pushed higher means there are more passing variants available for all which may seem the fluidity once again back into the style of play.
Hipster Tactic
The above image may throw a few people, but I'm just highlighting the benefits signing Gonalons could bring. It would allow Rodgers to try something different. Right out of the Pep Guardiola tactics book.  Obviously this would be the team on paper, but in game it would change to however the game is panning out. With this line up Liverpool would always win the midfield battle, if that's won then you are more likely than not to dictate the game. It allows one of Gonalons or Can to push to the DM role, which they can alternate between, the width is provided by the full-backs and the creativity from Phil who wouldn't be tasked with any defensive duties. Coutinho and Henderson, along with Sterling would be tasked with choking the opposition when theyre trying to play their way out. Go and press knowing full well you have Can and Gonalons sat behind you waiting to get anything that gets past you. You'd more likely than not see more balls won in the oppositions final third which you'd think would lead to more chances for Liverpool.
This line up would be ideal for teams that come to Anfield and park the bus. You could even deploy Sterling as the RWB and have Lallana as the 10 if you wanted to push your luck.
There are many talented defensive midfielders out there; Wanyama, Carvalho, Matic and Cattermole, but Gonalons would cost around as little as £15million and wouldn't command such high wages, fairly cheap for somebody so experienced. He understands what it's like to play for a prestigious club, he's played Champions League football, won trophies and as I mentioned earlier, he's a leader.
Only stumbling block could be the fact he knows all about Lovren and his deficiencies having played alongside him for Lyon. Extra £10,000 a week needed for putting himself in danger by shielding him and his wayward passing once again.