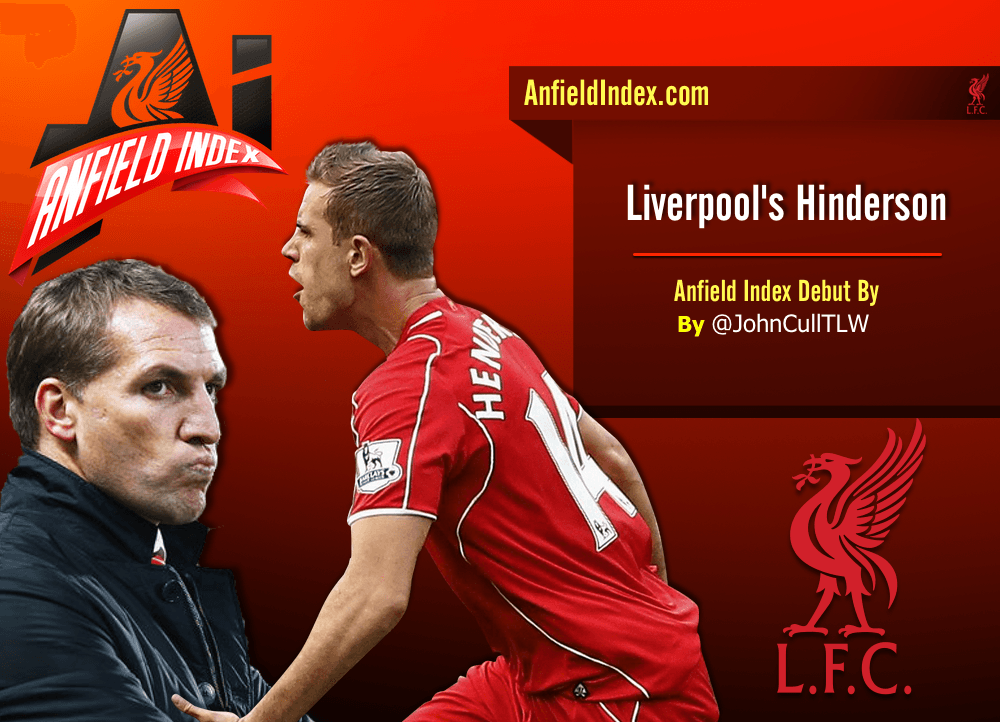 Liverpool's Hinderson

First of all, excuse the awfully punned title.
Although the title is admittedly a poor play on the word 'hinder' and Liverpool's vice-captain Jordan Henderson, it does hold merit. Whilst there are a multitude of tactical and structural problems with Liverpool's team at the moment, the utilisation of Henderson is one that has fallen under the radar.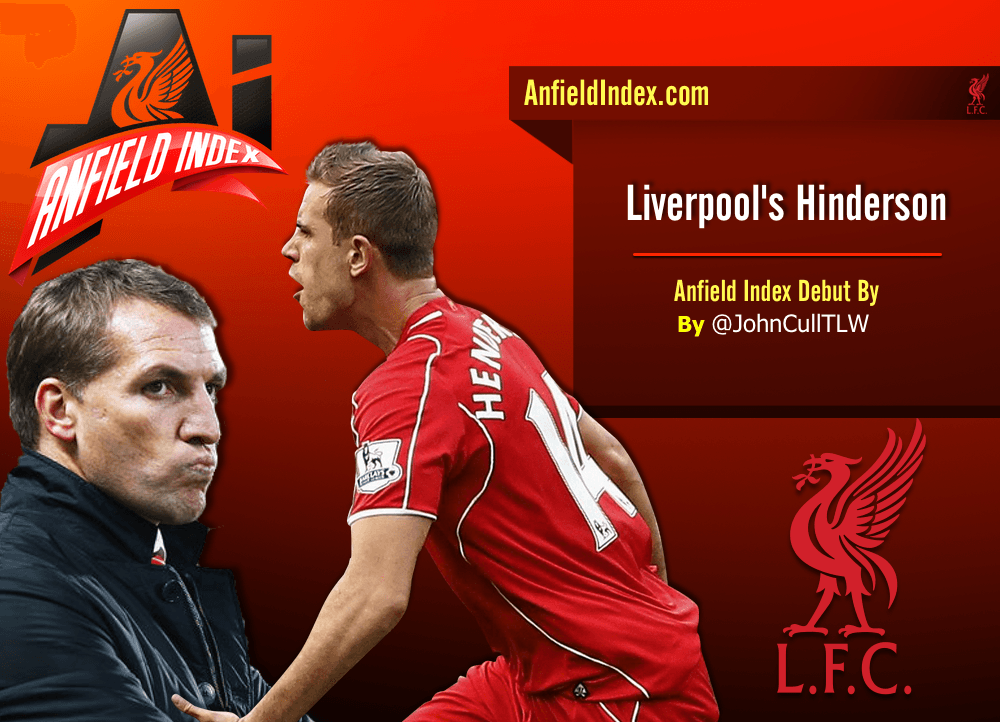 Liverpool have just come off the back of a much needed 3-1 victory away at Leicester City where coincidentally the aforementioned Henderson scored his second goal of the season, while also gifting us a peculiar and refreshing dance number. His goal was almost identical to the winner he scored against West Brom in early October. Being positionally in the right place at the right time and intelligently finding the space to slot home, two Lampard-esque finishes. But why hasn't Henderson found the goal-pouncing positions of a Lampard more consistently? Is it down to himself? Is he being given the licence to roam into these areas by the manager? Or are defensive limitations in Liverpool's midfield forcing him to help out in that regard thus sacrificing his attacking game? Stats and team selections would gear towards the latter, with maybe a sprinkling of the former.
Liverpool have played 14 league games so far this season with Henderson starting in all but two of those games, notably the 0-0 draw at home to Hull City where he came on with a mere 16 minutes to go, and arguably Liverpool's worst performance of the season, the catastrophic 3-1 defeat to Crystal Palace where funnily enough he was not involved in the matchday squad. Of the five games that Liverpool did lose when Henderson played the full 90 minutes, he was selected in statistically his best position on only one occasion, the 3-1 defeat to the far superior Man City.
Of the six wins Liverpool have attained this season, the 24-year old played every minute of every game, however, he has only been selected in his most favourable midfield position for two of those. Those being the 3-0 win over Tottenham where Henderson brilliantly assisted Raheem Sterling, and the 2-1 victory over West Brom where he managed a goal and one of the assists of the season for Adam Lallana.
That 'best position' being the RCM (right-centre midfielder) of a 4-1-2-1 diamond formation or the RCM of a 4-3-3. To show you simply:
Diamond formation:                                                        4-3-3:
Gerrard/Lucas                                                                 Lucas/Gerrard
Henderson-Coutinho/Allen                           Henderson-Allen/Coutinho
Sterling.
Now of course there are mitigating circumstances as to why Henderson plays his best in that position, one obviously being the personnel he shares the midfield with and if those players compliment and maximise his attributes. Unfortunately this is seldom the case as he is being unsuccessfully flushed around into different positions in Liverpool's midfield by Brendan Rodgers to try and get the most out of a diminishing 34-year old legend who's halcyon days are long gone. Why try to augment the already dwindling Steven Gerrard whilst sacrificing one of the vital cogs in a machine that has got you this far? Not a ringing endorsement for Liverpool's future captain. It is a case of nostalgia that has arguably gone too far with the Liverpool manager.
This is not to say that Gerrard and Henderson cannot play in the same midfield because we saw on a consistent basis post-January last season that they could along with Phillipe Coutinho, magnificently. Yet, much of this was to do with the speed and movement of Liverpool's three forwards Sterling, Daniel Sturridge, and Luis Suarez, who were constantly pushing the whole team miles further up the pitch with perpetual mazing runs allowing the space for Gerrard to pick passes at will, granting Henderson and Coutinho alike access to press high in the opposition's half. A successful tactic employed week in week out by the manager. Nevertheless, Liverpool does not have two-thirds of that road-runner-like attack this season, which caused Rodgers to try and re-structure his midfield and attacking dynamic, and so far, he has failed at that task.
His utilisation of Henderson this season has been poor. He has employed him in a deep-lying role more than once which was a total disaster, notably against QPR where he was paired with the scarcely seen Emre Can with Gerrard in the #10 role, which most Liverpool fans would agree was one the worst first-halves of football they had ever seen from their team. He has forced to play with both Gerrard AND Lucas in the same midfield, significantly in the subsequent and unsurprising 3-1 defeat to West Ham. It was unsurprising because of a midfield dynamic that allowed Stewart Downing of all players to carve Liverpool open at will, leaving Henderson chasing shadows as he was forced to compensate for his stamina-stricken midfield partners.
These roles restrict nearly all of Henderson's qualities. His trademark lunge-bursting runs into the final third, his technical qualities in or around the box and his delicate one-two's which successfully came off with one of the assists of the season for Lallana's goal against West Brom. We all remember Liverpool's 5-0 victory away to Tottenham last season with Lucas as the defensive anchor along with Henderson and Joe Allen as the two centre-midfielders, arguably 'Hendo's best game in a Liverpool shirt to date where all these elements came to the fore.
The position nonetheless also heightens some of the deficiencies in Henderson's game. He is not one to build attacks with regular long-range arrowing passes nor does he possess the necessary defensive awareness to fulfil the role, which of course he can be forgiven for because it's not his game.
However this mis-conception of Henderson amongst some fans and pundits as being nothing more than a water-carrier for players like Gerrard is rife. But this is dangerously wrong. Henderson has surpassed Gerrard in terms of importance to the Liverpool setup and has shown this on more than one occasion. It is not Henderson who should have to sacrifice his game to suit Gerrard, rather, the 34-year old should be reimbursed to allow the 24-year old to flourish. Why is Liverpool's future captain being persistently laboured as a utility player Mr Rodgers? Hopefully this is a question that can be answered effectively in the near future, because it benefits the team as a whole if so.  If the situation is not strongly addressed though, it could be of hindrance to Henderson's game moving into the future, and correspondingly the manager's position.