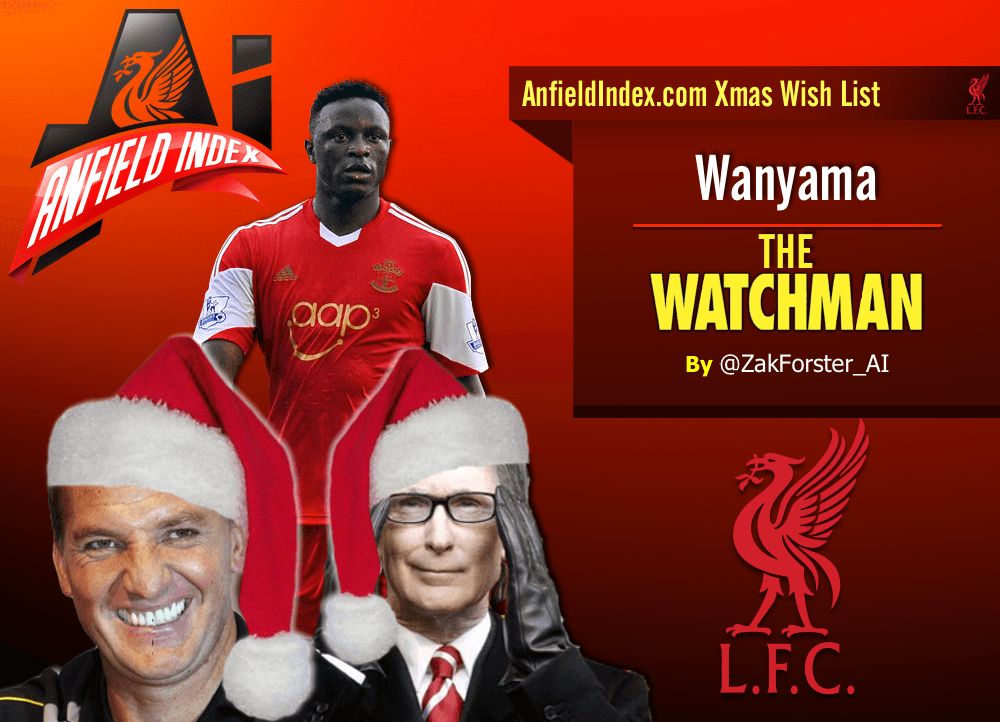 Wanyama The Watchman | AI's Christmas Wish List

Editor's Note: We're starting a new feature leading up to Christmas. Our writers will be choosing a player they'd wish Liverpool FC would purchase in January and give their reasons for why they've chosen the said player! Coming in second is Zak Forster with Wanyama The Watchman!
Watchful Guardian
Victor Wanyama is widely considered to be one of the finest young players in the Premier League. The 23 year old defensive midfield powerhouse has already established himself as one of the best specialist "DM's" in the country with a consistent style and level of football which has impressed across Europe during his time with Celtic and most recently in England with high-flying Southampton.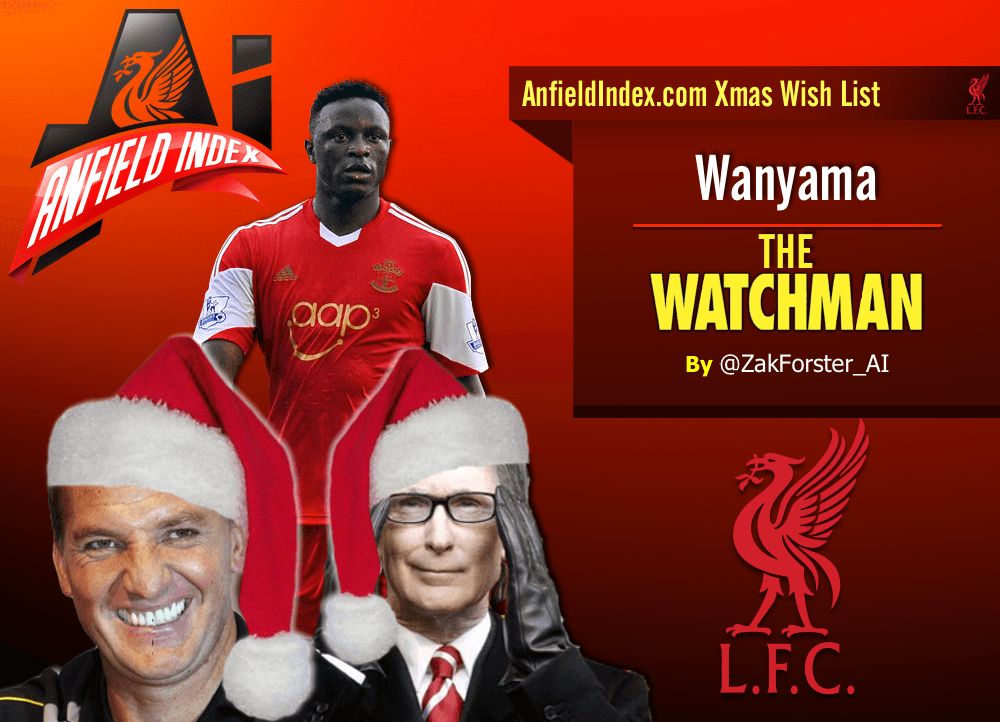 Wanyama was bought from Celtic in a deal thought to be around £12m and the deal is looking increasingly well judged with the Kenyan's value rising as fast as anyone's around his age bracket. High level performances this season have been the most impressive for a Southampton side revelling in being near the summit of the Premier League. How Liverpool's hierarchy looked at Dejan Lovren, Adam Lallana and Rickie Lambert without so much as sniffing at Victor Wanyama is a fabled tale I'd love to hear.
Wanyama's rise to prominence in the European game came during Celtic's amazing 2-1 victory over Barcelona at Celtic Park in November 2012 when Wanyama turned in a fine display against a prime form Barcelona side. Not only did Wanyama handle the occasion superbly, he marshalled the defence with strength and organisation beyond his years and he even scored to cap it off – keep in mind that this performance came at the tender age of just 21.
Typically, Wanyama excels at "destroying" the opposition with his tough tackling and aggressive nature being his main strength. However, assumptions that Wanyama cannot excel in an attacking sense are way wide of the mark with the midfielder scoring three times already this campaign. Don't confuse this belief in Wanyama's offensive abilities to be a promise that he will eventually score double figures in a single season – he probably will not – but he will chip in from time to time and goals from different sections of a team are always an important factor in successful sides. As long as he improved Liverpool's defensive record, I'm sure we'd all be happy.
How would he fit in at Liverpool and why do I want him?
It's a well known fact that Liverpool supporters are obsessed with defensive midfielders (it's been known on Twitter for people to ask if Linda Pizzuti, FSG owner John Henry's wife, can play DM). This isn't some crazed fascination, it's just a plain understanding of the fact that Liverpool haven't had a high level defensive minded midfielder since Javier Mascherano jumped ship as he saw Roy Hodgson fall through the Melwood door. We need one, fact, and I personally believe it should be the number one priority objective this January – hence my Christmas wish being about a defensive powerhouse.
Here is a very brief look at what Wanyama has been like this season, statistically at least. Wanyama's total duels win percentage stands at 51.81% which is far better than both Steven Gerrard's (44.87%) and Lucas Leiva's (38.75%) poor figures. Total duels takes into account things like take-ons, aerial duels and tackle percentages. The evidence pointing towards Wanyama being an excellent "destroyer" continues with the amount of tackles he averages per 90 minutes played (p90). P90 Wanyama averages an excellent 3.82 tackles per game compared to Gerrard's 1.34 (although Gerrard has played some games in attacking midfield). In this category, Lucas shows promise with an average of 4.06 tackles p90 – it cannot be denied that Lucas gets stuck in but Wanyama is far more mobile and has a better engine with which to cover ground, another reason I'd really like Liverpool to sign the Kenyan. 
However, Wanyama is not all brawn and no brains. The domineering midfielder averages 1.91 interceptions p90, which tells us his positioning and defensive movement is akin to someone with much more experience – perhaps Wanyama's 15 appearances in Europe for Celtic have given him a better tactical insight than most, you have to remember that 15 appearances is still more experience than the vast majority of Liverpool players. Wanyama also makes very few defensive errors as shown by the figure above. So far this season, that puts him level with Lucas and one ahead of Gerrard. Compared to our centre-backs, he's basically the coolest man in the house. With Lovren making five defensive errors already, alongside Skrtel's four, Wanyama would bring some much needed dependability to this sorry backline.
Personally, I'd like to see Wanyama playing for Liverpool in this kind of setup.
With a mobile and aggressive DM, Liverpool could afford to push the full-backs on without the menacing fear of leaving the door wide open back at base. A good DM should be able to do this effectively enough, especially if the players ahead of him are pressing the ball when the opposition are in possession as this forces the other team into difficult passes which can be more easily picked off by a Wanyama type enforcer.
All in all, I'd love Wanyama at Liverpool because I loved Mascherano. He can be that guy and at just the right age where we can see his best years develop before our eyes. His aggressive nature coupled with his off the ball intelligence would make him a massive asset to Liverpool and I think having him at the back would allow the forward players to rediscover some of their mojo – because let's be honest, Sterling, Coutinho and even Balotelli are better than what we have seen. Santa, all I want for Christmas is a large, Kenyan man, if you could sort that, it'd be boss.